OUR EXPEDITION IN NUMBERS:
Tony Halik, or in fact Mieczysław Sędzimir Antoni Halik, born in Toruń in 1921, writer, journalist, reporter, photographer, but most of all traveler. Travelling was his life, passion, and love. Through his relationships, programs, and films, he tried to share this passion with other people, infecting them with the unrestrained desire to live in a journey. We strongly encourage everyone to read the books written by Tony, the author's great sense of humor and his light writing style make it hard to escape from reading.  We won't write about the biography of this great traveler, you can simply look at the information you can find on the Internet or, preferably, to read the great book by Mirek Wlazly "I was here, Tony Halik". An obligatory place to visit, for all "Halikomaniacs", will also be the Museum of Travelers in Toruń named after Tony Halik, where you will find many souvenirs from all over the world, which he brought from his travels with Elżbieta Dzikowska.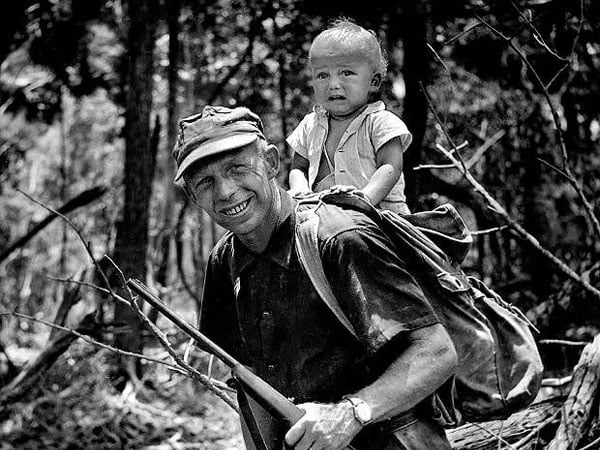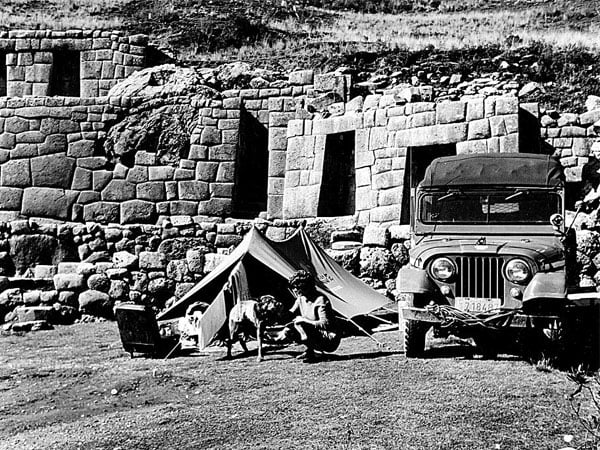 Tony Halik has become an inspiration for us to travel, to live in constant motion, to discover beauty all over the world. That is why, on the 100th anniversary of his birthday, we want to follow in his footsteps and ride the route around both Americas, which Tony, together with his first wife Pierette and his son Ozana, who was born during this journey, traveling in the 1950s. We want to see how much the area has changed over the years. We know that many of the places they visited no longer exist or look completely different. We know that the people Tony met on his way are gone. We know that times have changed, but we believe that there are still real places that Tony wrote about, that there are new people whose stories are worth writing down. And we want to collect and immortalize these stories here on our blog, with photos, films, and stories. It took Tony Halik more than four years to complete this route in his car, how long will it take us on two wheels? We don't know, but does it matter? All that matters is the adventure we want to follow.
We have almost 200 thousand kilometers to go on two wheels, twenty-five countries to visit and explore. From each of them, we will try to get the best, show you the beauty of nature and the diversity of culture. But our journey begins now. There is still a year to go before us, which we will devote to preparations, to choosing the right motorcycle, equipment, accessories, necessary for such a demanding and long expedition. We will try to show you and explain to you how to deal with paperwork before you set off on a similar journey. You can follow our activities here on the website or on our fan page on FB.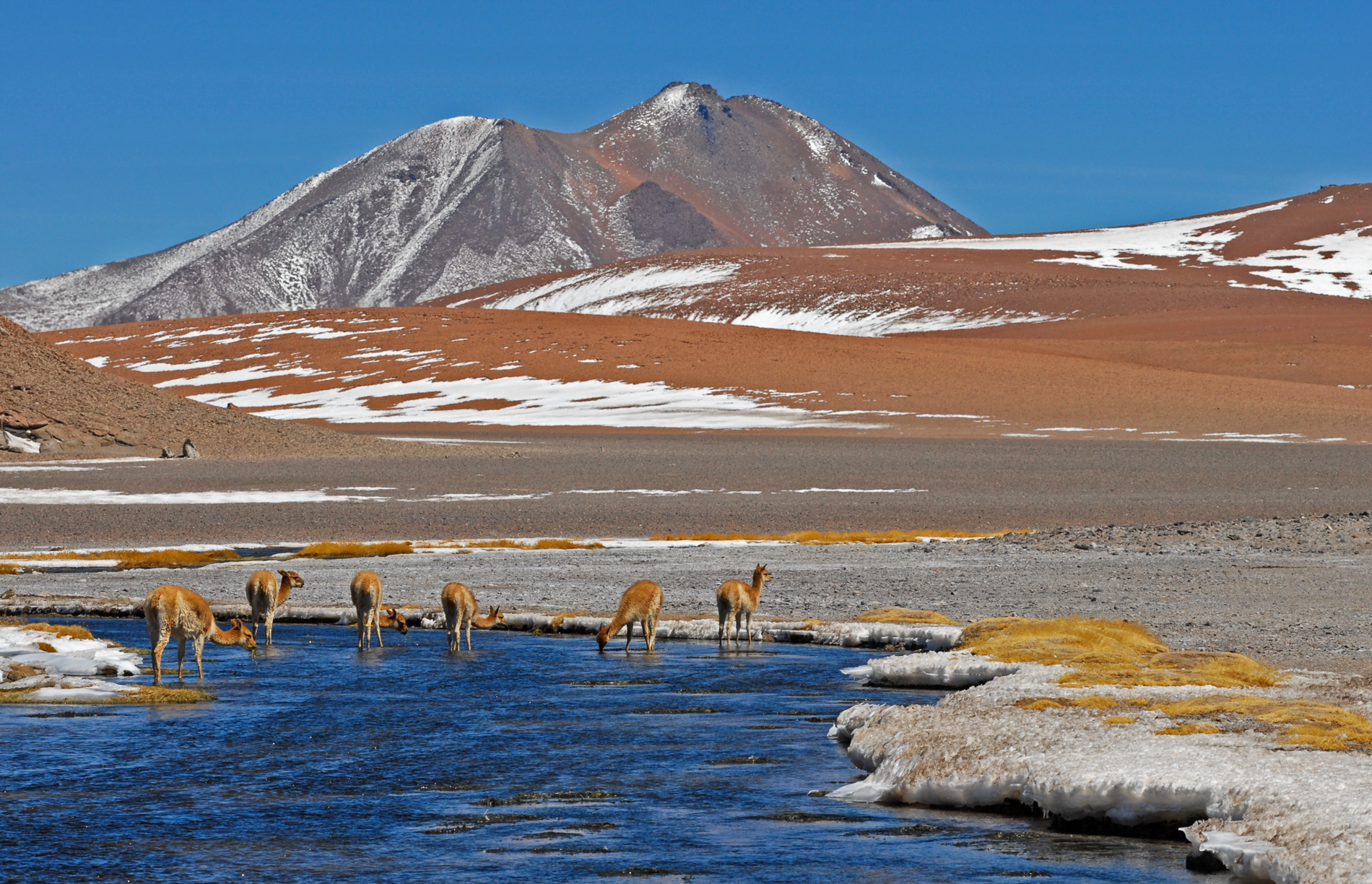 Motohalik 2021

– map of the expedition
Below you can see the map prepared for us by Agnieszka Rajczak-Kucińska, a wonderful and talented person who makes even more wonderful maps. No wonder that many travelers and many publishers use her services. Agnieszka also prepared maps for Tony Halik's books. Looking for information about the places which Tony was visiting, we wrote an email to her. And that's how our friendship began, which resulted in many ideas and common projects, which should also appeal to motorcyclists.  We highly recommend her website www.TwojeMapy.com, where you will find beautifully made maps, perfect as a gift for every motorcycle traveler. You will receive a 15% discount with the "Mototrasa" phrase.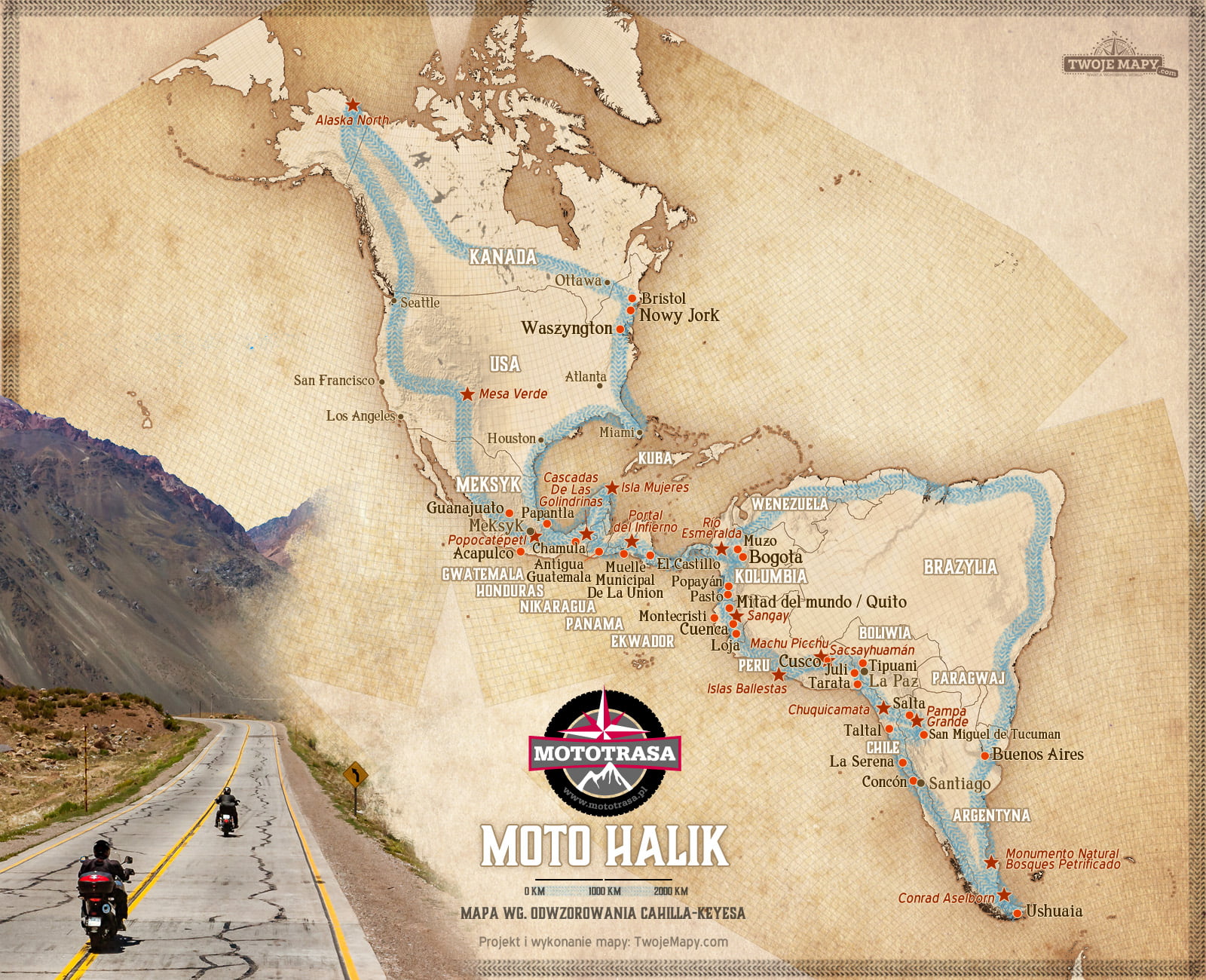 Argentina –
the start and finish

of our expedition
We will start and finish our journey in Argentina's Buenos Aires. We plan to go around the two Americas. First stop in the southernmost town of Ushuaia, one step from Antarctica where we hope we will also be able to set our foot. Further along, the west coast, crossing the Darien Gap, to the northern edges of Alaska. We plan to return by the east coast, probably also visiting the islands of Central America, through Venezuela and Brazil to Buenos Aires. In total it will be about 200,000 kilometers, to be traveled in all possible climate and weather conditions. Throughout our entire expedition, we will pass through at least 25 countries.
We will be publishing articles and posts about the countries we will visit on an ongoing basis even before we leave. You will find there practical information about everything which can be interested to you. Visas, documents needed during the trip, information about people, culture, places we are going to visit and much more. In order not to miss any posts, leave a "like" our FB profile or subscribe to our newsletter.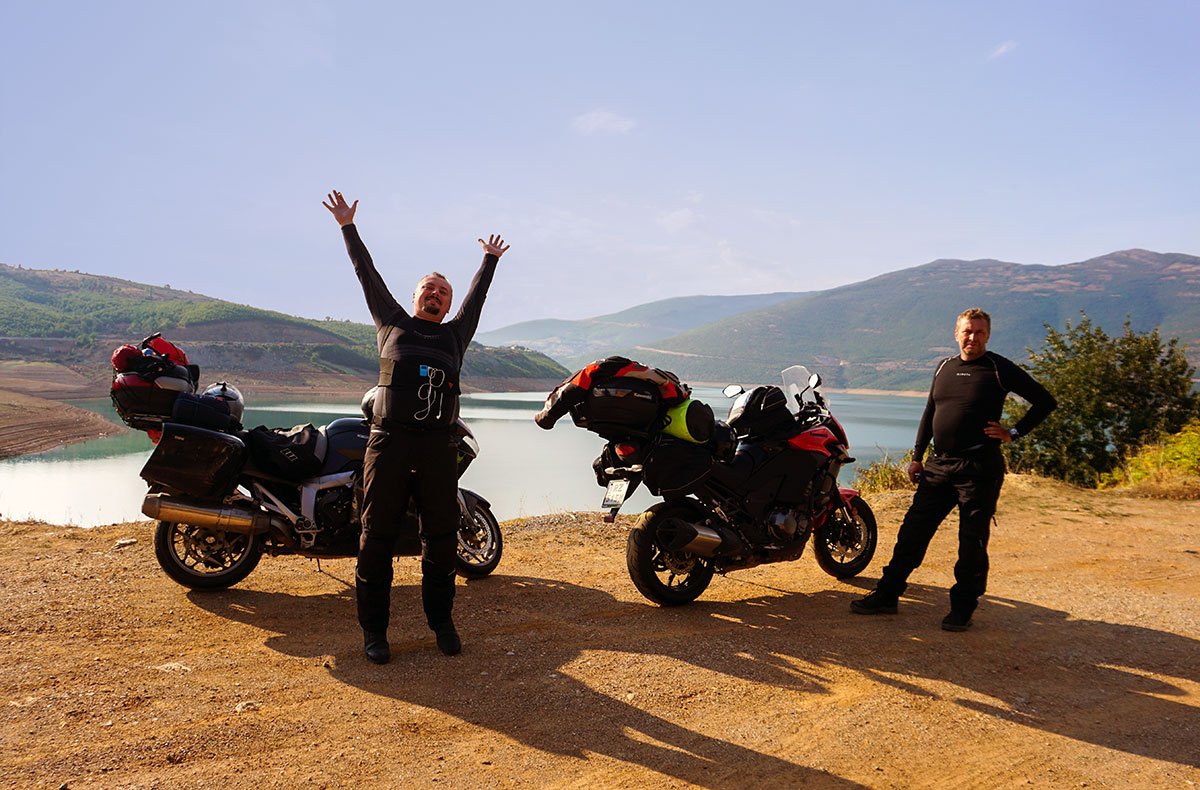 Unfortunately, our Piggy or BMW K1200GT is not a good motorcycle for this type of journey. We need something more flexible, which will be able to run efficiently and safely even on the most demanding off-roads of South America. So with regret, we are parting with our former, faithful travel companion and start looking for something new. We hope that while being at the motorcycle show in Wrocław in March, we will be able to talk to both representatives of motorcycle dealers and other travelers about the strengths and weaknesses of several machines that we have an eye on. We will share with you on an ongoing basis the knowledge we have gained and information about both the selected motorcycle model and the changes that will have to be made to adapt it to cover the 200,000 demanding kilometers with two people and baggage on board.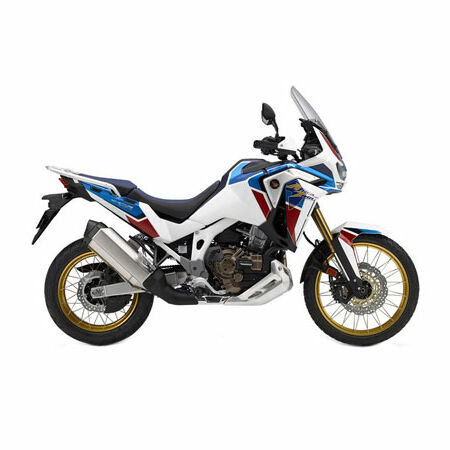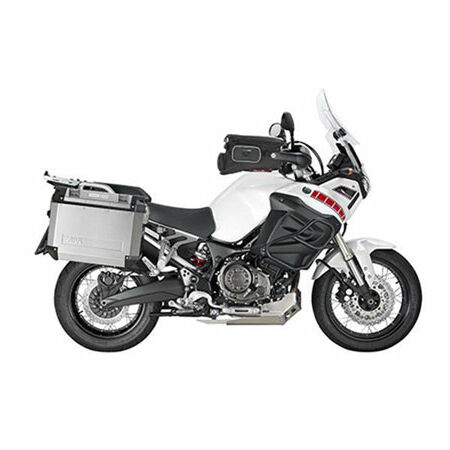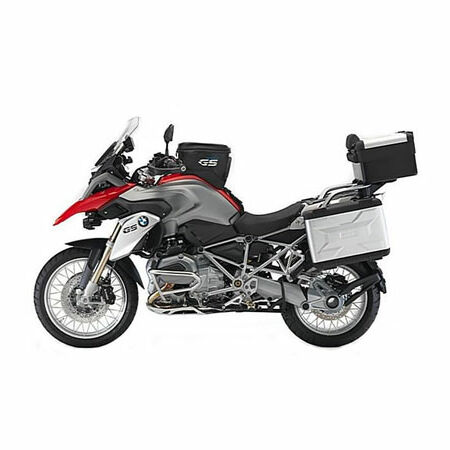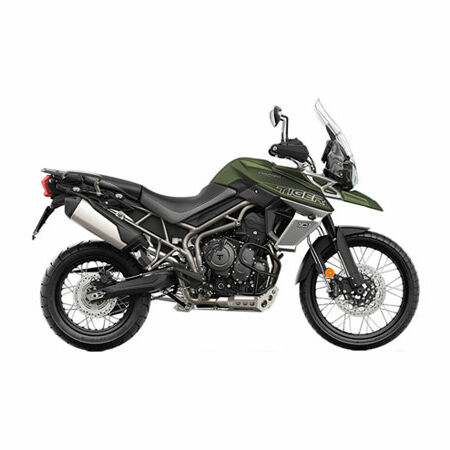 Clothing, helmets, equipment, and accessories
During our journey we will certainly spend the night in various places, mainly under the tent, so we have to focus on the proper selection of camping equipment, sleeping bags, accessories that we use every day. What we take with us must pass the exam both in the desert at +40 degrees, as well as in the high mountains at -30 degrees. Additionally, due to limited luggage, it must be light and compact.
Also, whole motorcycle outfits, helmets, intercoms or other electronics, useful during the journey, will be completed by us during the preparations for the expedition. We can't leave anything to coincidence, but at the same time bearing in mind that our budget, as well as the motorcycle trunks, are not made of rubber. So we will describe for you why we have chosen this, and not others, and how we have packed ourselves and the motorcycle, for a few years' of the journey.
We will try to share with you, through our blog and FB page, our insights and comments about selected and later used stuff. We also encourage you to comment and write to us if you have your own opinion, experience or comments.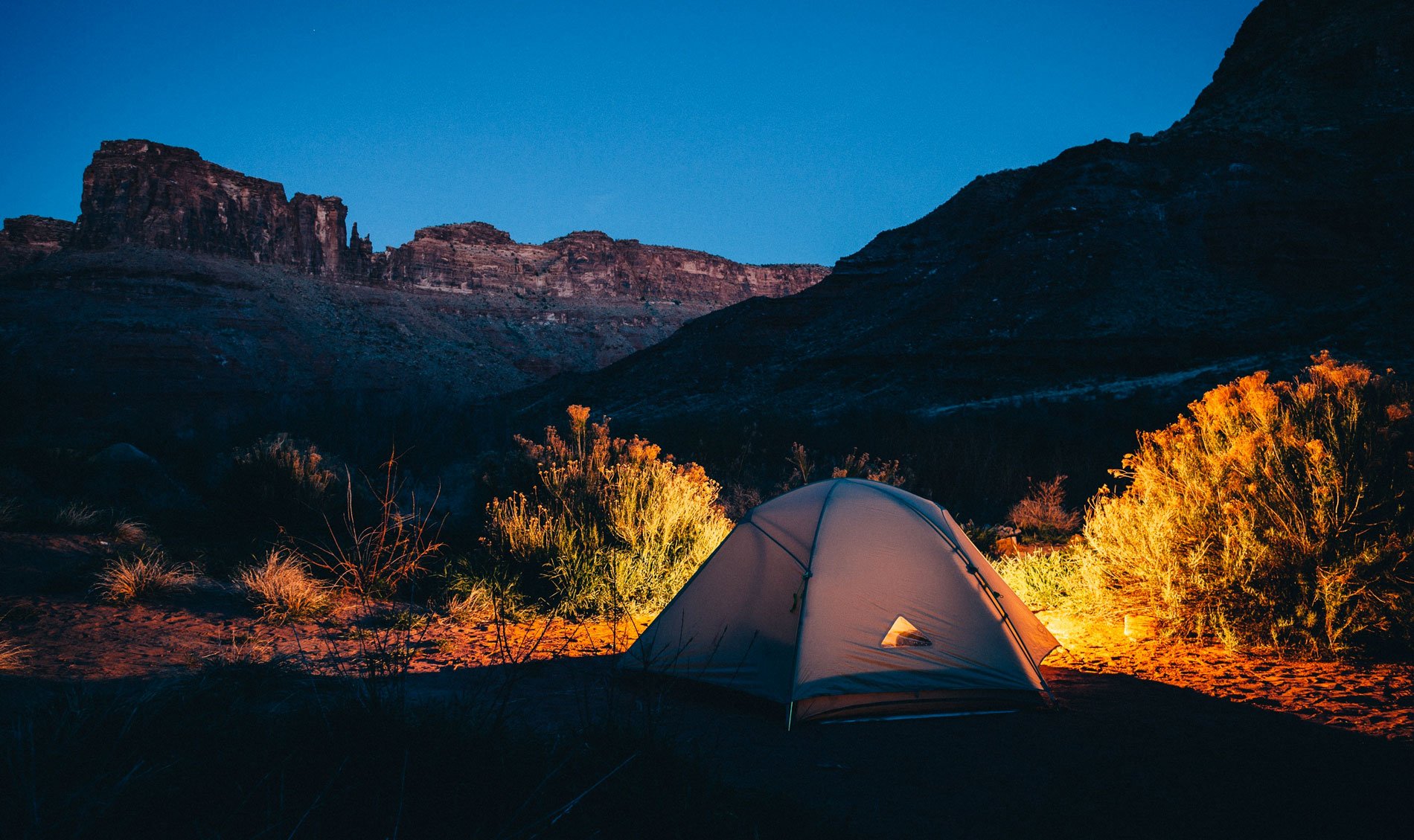 The idea came to our mind to send postcards from the countries we visit those who will be interested in it. There will probably be people who will follow our escapade and would like to get a postcard from Peru or Venezuela, for example.  For now, we stubbornly try to find out the solution, how to logistically and financially solve such an action. Yeah, we know that it is possible to send postcards without stamps with "secret" codes (2FABE, STS) once used by American soldiers and students. However, such shipments can pass in Europe, not in Argentina. No wonder, if you have to spend almost a 4$ on a postcard stamp to Poland…  The result of our brainstorming will surely be announced here on the website and on our fan page on FB. Maybe you have any idea how to "bite" it?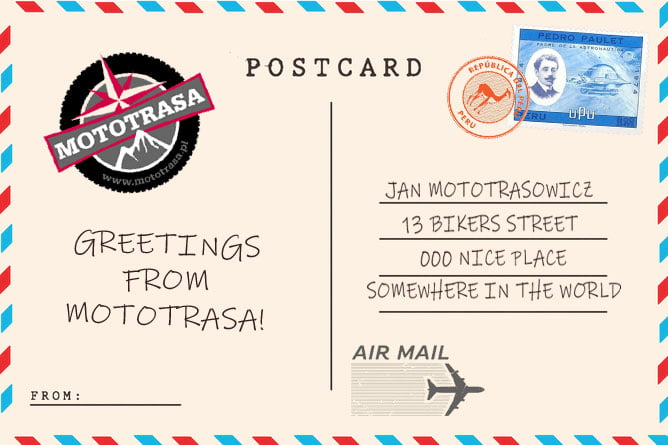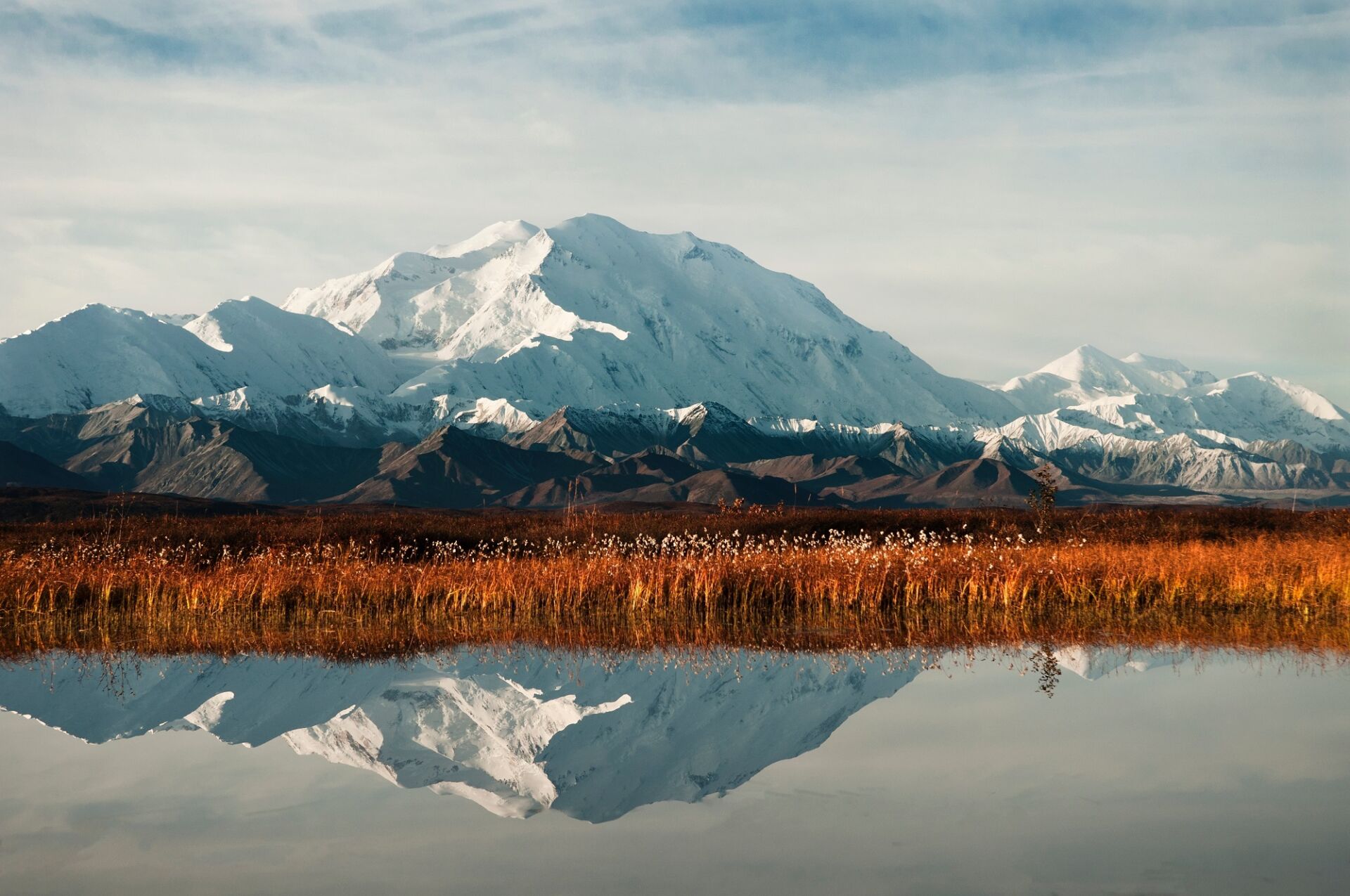 Become a Patron and support our expedition!

We work, we collect, we save. However, for several years of travel, even large savings can be too small. Riding almost 200,000 kilometers on a motorcycle through 25 countries over several years costs a lot, and these costs, at least to some extent, thanks to your support, will be less. Choose the level of help and click the "Subscribe" button on the left, and become the Patron of the expedition around the Americas, in the footsteps of probably the most famous Polish traveler, Tony Halik. With our descriptions, photos, and videos you will see how this area has changed since the 1950s, when Tony and his first wife, and later son Ozana, traveled around the Americas.