We are not one of those people who like to sunbathe on the beach and we prefer to spend our free time in more mountainous areas. If it has already happened, then for a rather short time. We would never say that we would become beach lovers. Well, Iceland is a country that makes a sponge out of our brains all the time. Also, the matter of beaches has completely revolutionized. In the south of Iceland, you must see one of the most unusual beaches – Reynisfjara. Perhaps like us, you will change your mind about sunbathing.
Iceland – a country of

black-colored

beaches
The fact that most beaches in Iceland are black is what we've got used to a bit, but at first, we were surprised by it. There are also gold, diamond and red beaches, and we will certainly write about them. But returning to the black ones, the first contact with the black beach makes an impressive impression. We've heard about black beaches before, we've seen pictures, but seeing them live makes us realize how extraordinary, beautiful and different they are. And Reynisfjara, although it wasn't our first, is definitely one of the most interesting we've seen so far. There is something charming and mysterious about it. We tried to capture it magic in the pictures, but it was still escaping us somewhere – you have to feel it on your own.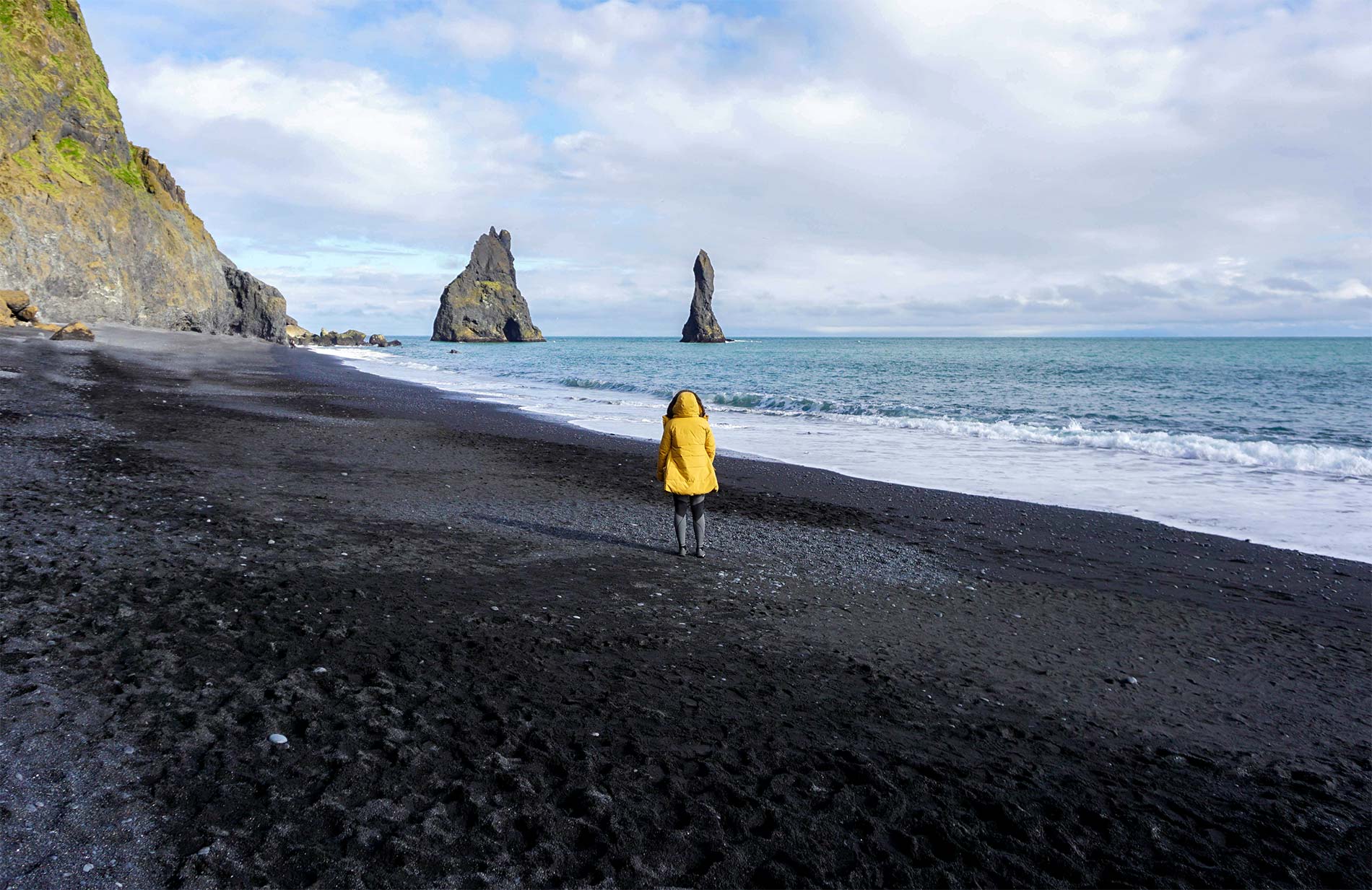 Why is

Reynisfjara

so special?
Imagine a wide, raven-black beach stretching to the horizon with sharp rocks floating in the background, emerging from the ocean like sharp spears, contrasting with the foaming white waves, with the monolithic basalt columns growing on the shore. Something magical and hypnotizing is in this view. And it is these basalt columns named Gardar and the floating rocks named Reynisdrangar, that distinguish Reynisfjara from other black beaches, has made it famous all over the world as the most beautiful. Unfortunately, along with the fame, also came tourists, and each of them wants to take a souvenir photo on the clip-on organs, rocks Gardar. So do we.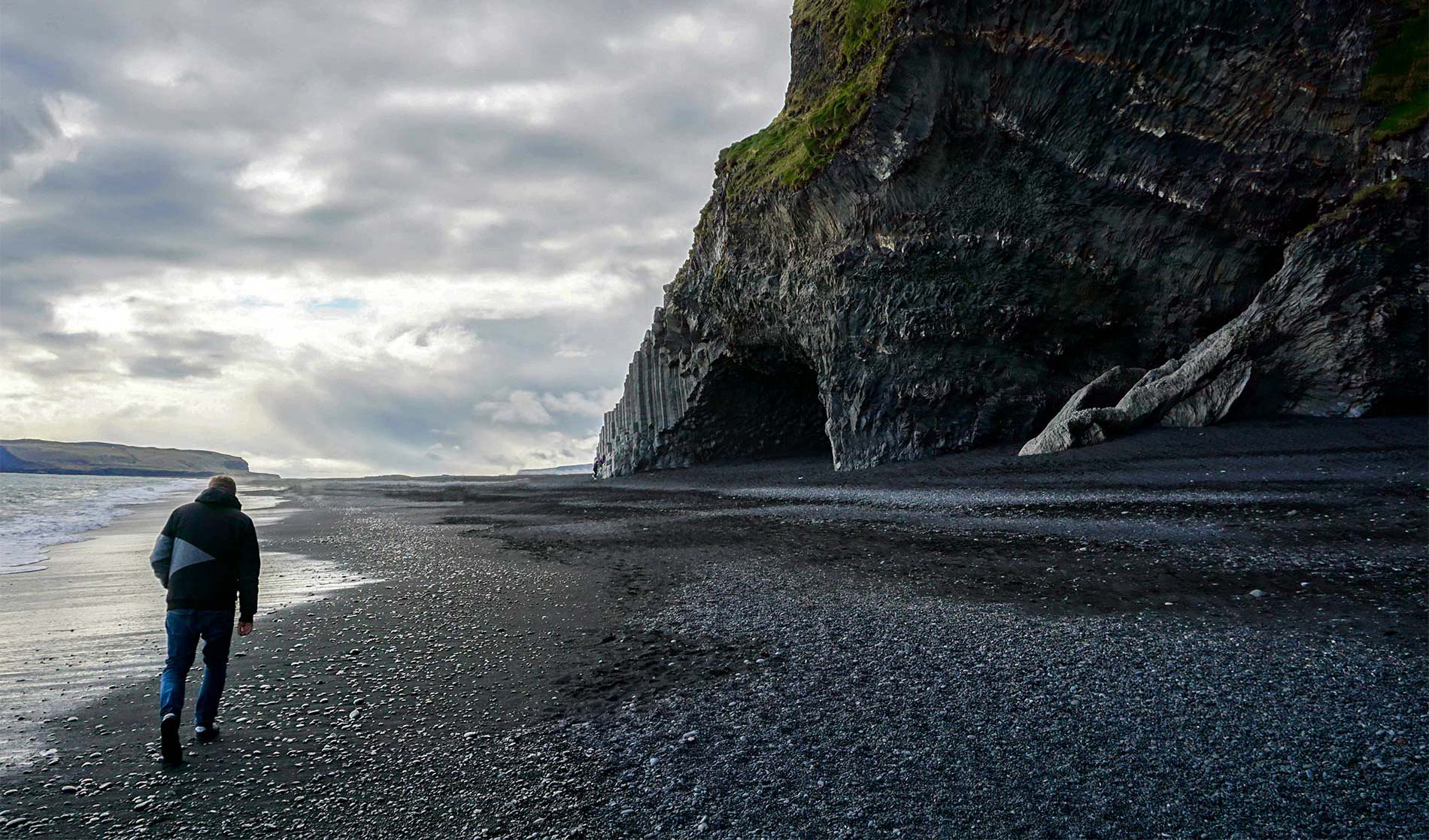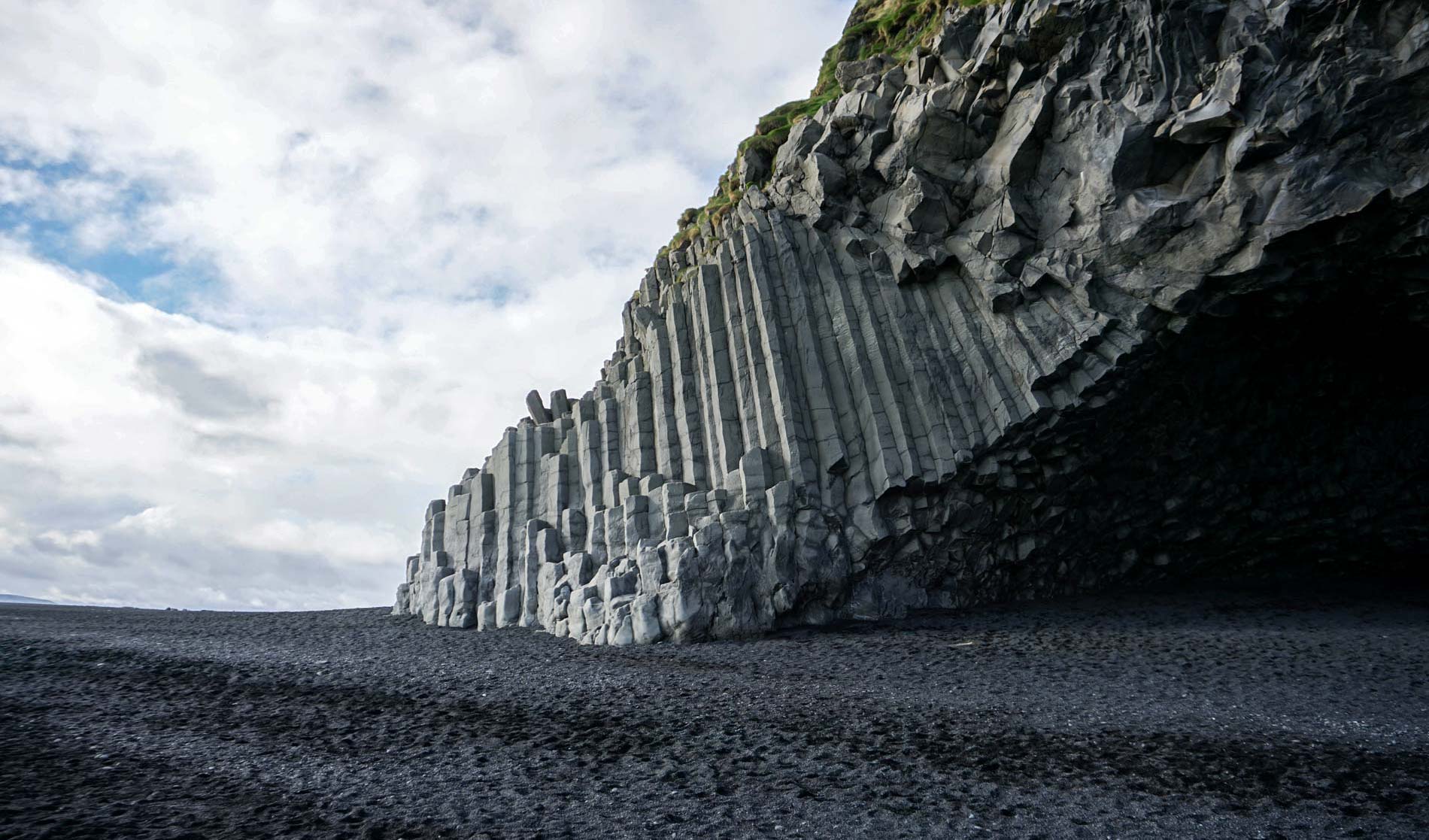 About the fisherman, the seals and the ogres that tried to steal the ship…
A few steps further, walking towards Reynisdrangar, we found Hálsanefshellir. Hálsanefshellir is a small cave, right on the beach, great as a perfect hiding place on rainy days to admire the ocean. There is a legend connected with the cave, based on the belief of Icelanders that seals are related to humans and once a year they go out to the beaches, dropping their skins, singing, playing and dancing till dawn. And it was these songs, coming from Hálsanefshellir, that the fisherman heard walking on the beach. Next to the cave, he found only a lot of skins – the fisherman took one of them home and locked it in a box. A few days later, in the same place, the fisherman met a naked, weeping girl, one of the seals, who was looking for her own skin. The fisherman gave the beautiful girl clothes and hosted her under his roof without revealing his secret, hidden in the box. Sometime later they got married and the girl gave birth to seven children. Years passed by, and one day the fisherman forgot to take the key to the chest with him. The girl found the chest, opened it and, unable to resist her longing for the ocean, said goodbye to the children and put on her skin. She left a letter for her husband: "woe is me, I have seven children in the sea, and seven on land". The girl never came back to land again. But, when a fisherman went out to sea, there was always a seal near the boat, with tears flowing out of his eyes, and when their children were playing on the beach, she came to shore close enough to throw colorful shells and fish out of the sea.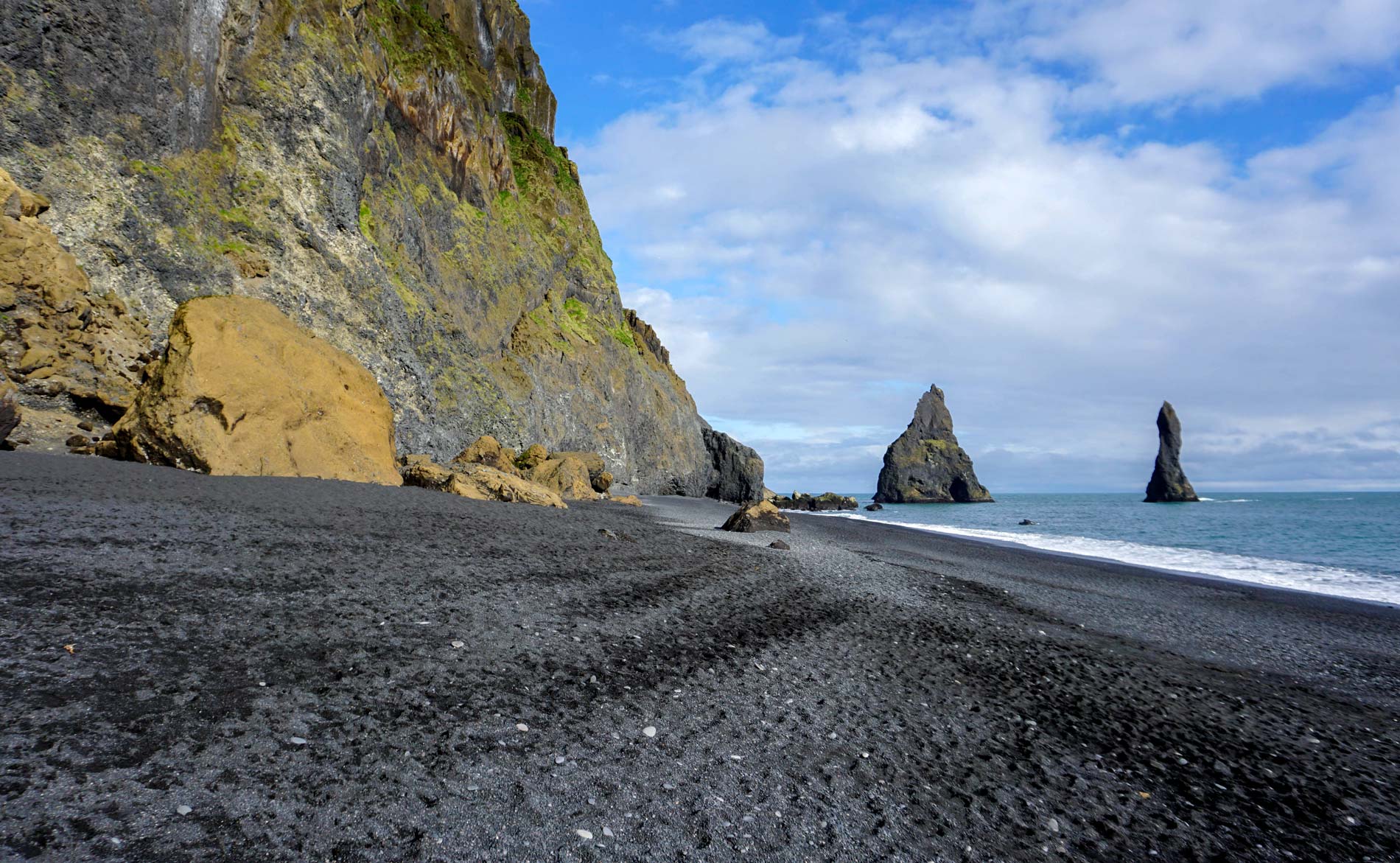 Also, the legend is connected with Reynisdrangar, according to which these rock formations protruding from the sea are trolls, which have devised a clever plan to pull the ship to the beach. They worked under the cover of night and everything would have worked out if it had not been for the dawn and the rays of rising sun turned them into stones. The motif of trolls probably known to all lovers of J.R.R. Tolkien, when the sun saved Bilba and dwarves from landing in a troll pot. Well, the trolls have never sinned with intelligence.

Reynisfjara –

black danger

in southern Iceland

Icelandic beaches are famous not only for their beauty but also for the number of accidents and deaths. All of them are the result of ignorance or disregard for the forces of nature. And despite the warning signs that can be found on almost every beach, every year we hear about similar accidents. Wondering how a beach can be dangerous? All this is due to the waves that can appear out of nowhere, even though the ocean looks very calm and predictable. They are so powerful that they can kidnap a man from the beach, which basically equals death. Seriously and not stupidly. Below, in fact, from another beach, an example of stupidity – ours, and yes, because we have not read the boards before, without being aware of the danger. Learn from our mistakes, and see our picture. P.S. Mom, if you're reading, don't panic, it ended up with wet shoes and trousers.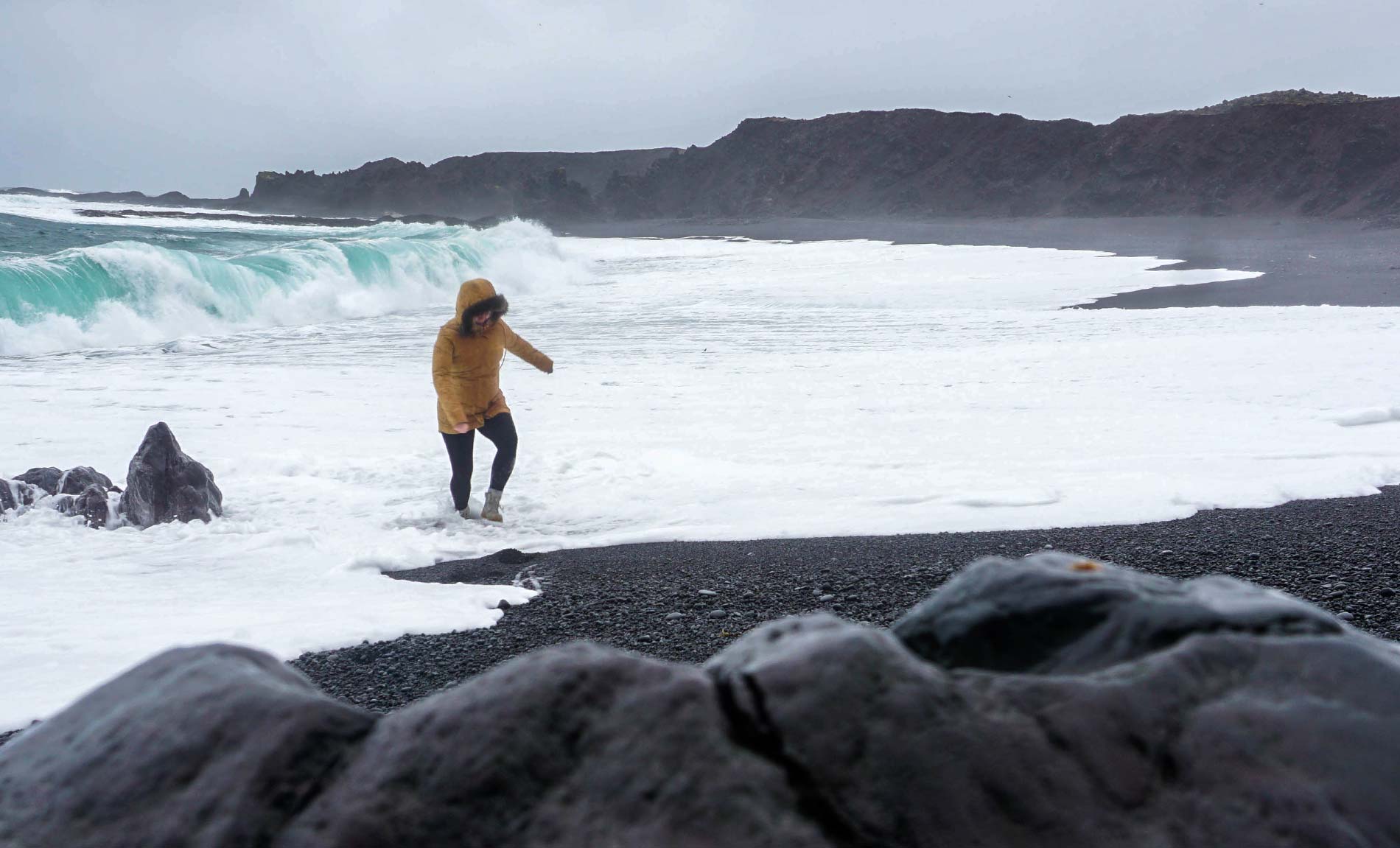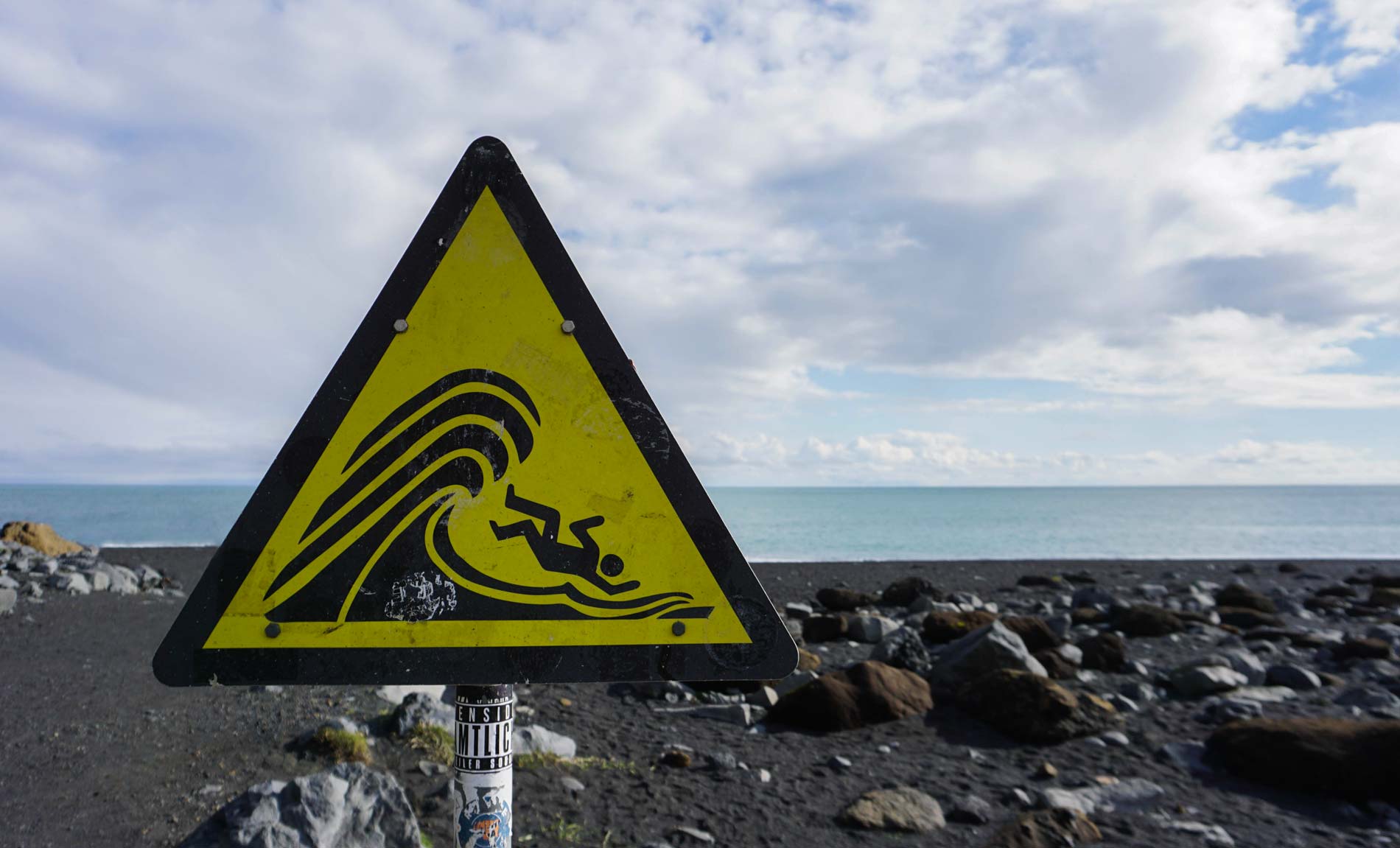 Reynisfjara

– beautiful, dangerous and sinful
No doubt it's a mandatory position to see. Although it is visited by quite a lot of people during the season, and when you see a few buses in the parking, it can be quite crowded and although we prefer to contemplate the beauty of nature in solitude, without unnecessary observers around, Reynisfjara is worth seeing. The tarry color of the beach, amazing rock formations, raw and unpredictable ocean, create a kind of mythical and unforgettable atmosphere, torn out as if from books or fantasy movies. You can almost feel the presence of dwarves, trolls, and elves. And who knows how much truth there is in this Icelandic fantasy? Here you get the impression that everything is possible.
What is it worth knowing before you go to Reynisfjara?
We had the opportunity to be on Reynisfjara twice. Once during the May trip, the second time in mid-August. We have already written here that it may be crowded during the high season, but we didn't realize how much. So much so that we felt a bit like at our Polish sea during the summer holidays in Hel. Just like on Dyrrhólaey, here, too, we recommend to go on a different date than July – August. Unless such wild crowds suit someone.
Also here you can meet the puffins. Unfortunately, their nests are high on the cliffs. The best spot to observe these birds is, according to us, Latrabjarg.
The Reynisfjara can also be visited in winter. The road is available all year round and you will certainly not hit crowds of tourists.  You can and should go, because the snow-covered Reynisdrangar look stunning.
Are you looking for an unusual accommodation in the area? You have to spend the night at the Þakgil camping site. It's just over 20km from Vik, but it took us over an hour to get there. Once, the road was pretty bad – dirt, lots of stones and holes. Second, views on the road are so beautiful that we stopped at every turn. Remember to take provisions with you. The nearest shop is in Vik.
Apart from the above mentioned camping, we have a choice of two others – Skógar and Vik.
For those who prefer comfort, we have prepared a selection of hotels in the area. Links can be found below.
Below you will also find links to our other articles from southern Iceland. Be sure to take a look if you are planning to travel in this part of the country. If you don't like planning, renting a car, looking for hotels, etc. and you just want to come and have everything organized, we suggest you take advantage of the excursions offered by local companies. You will find the tours we have chosen below.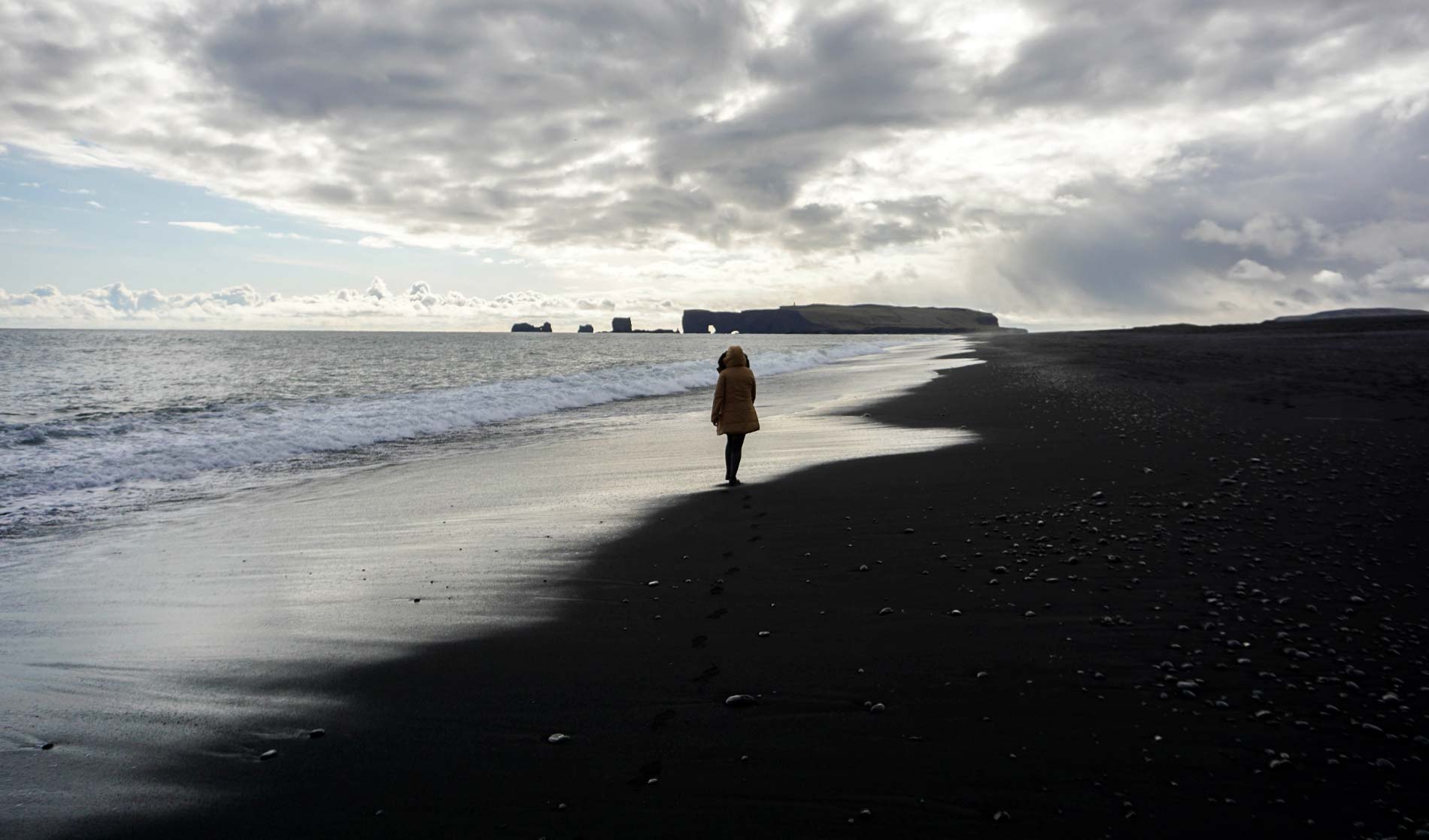 Are you planning a trip to southern Iceland? You can also look here:
A few words about the surreal wreck of the Dakota plane, which is located on the black Sólheimasandur beach.
Read our report from Dyrrhólaey. You will find there pictures, description and some useful tips.