Not far from Reykjavik, less than 2 and a half hours drive by road number 1, we came to the place where we felt the real magic of Iceland for the first time. It was love from the first sight, as soon as we stood on the slope of a 120-metre cliff. Dyrrhólaey only confirms what we already knew before – nature paints the most beautiful pictures.
Dyrrhólaey –

Door Hill Island
The Icelandic language may seem very complicated during the first contact, but after learning a few words, it is easy to notice that Icelanders create words and name places in a very simple and "illustrative" way. Dyr – door, hóla – hole, ey – island, so we have an island with a hole/gate. Dyrrhólaey was originally an island created by an underwater volcano that later joined the mainland to form a small peninsula. Looking at the photos from Dyrrhólaey it is not difficult to guess where this name comes from.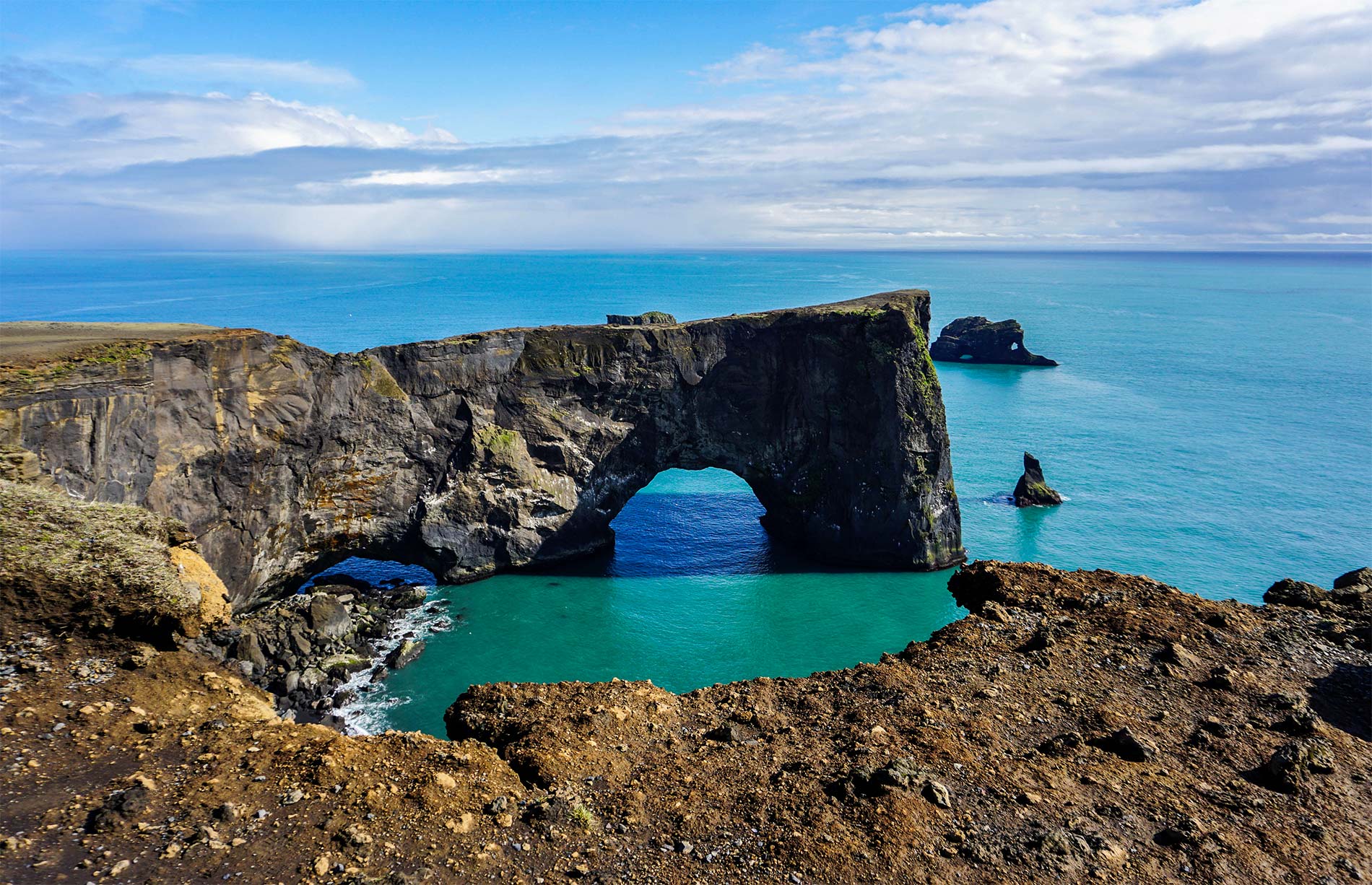 Arc on Dyrrhólaey

– according to many, the biggest attraction on the peninsula
The biggest one? We do not know, but certainly the most recognizable. The arch itself was created as a result of erosion, creating a picturesque arcade in the Dyrrhólaey cape, which can be seen in many, many photographs from Iceland. It is so well known that in fact most of the people and trips, just go there to look at the arc, take a picture and then return to cars or buses, completely ignoring the landscapes which are around. Personally, we liked the views on the other side of the cliff more, and we fell in love with them at first sight. Sometimes it is very worth to look around.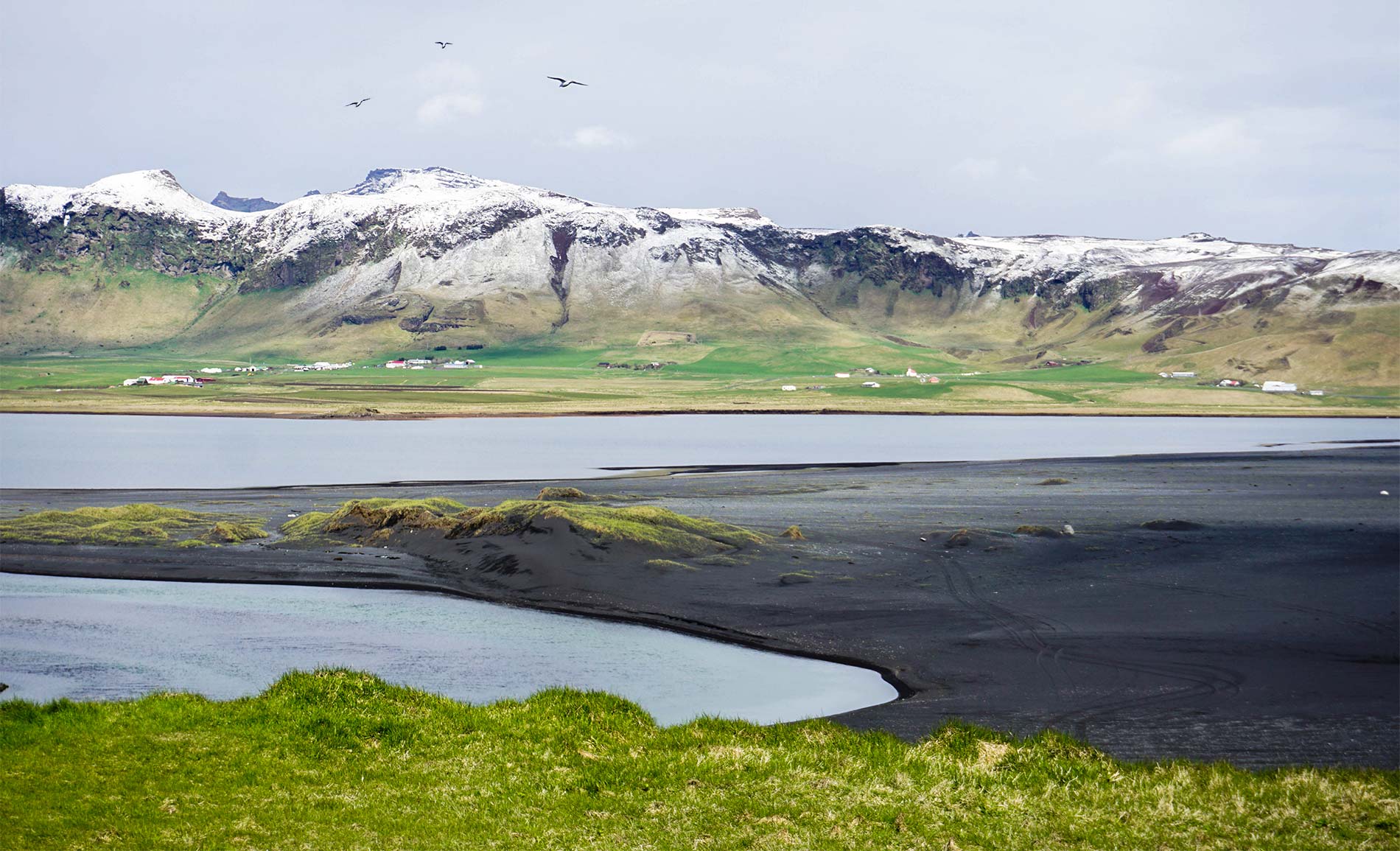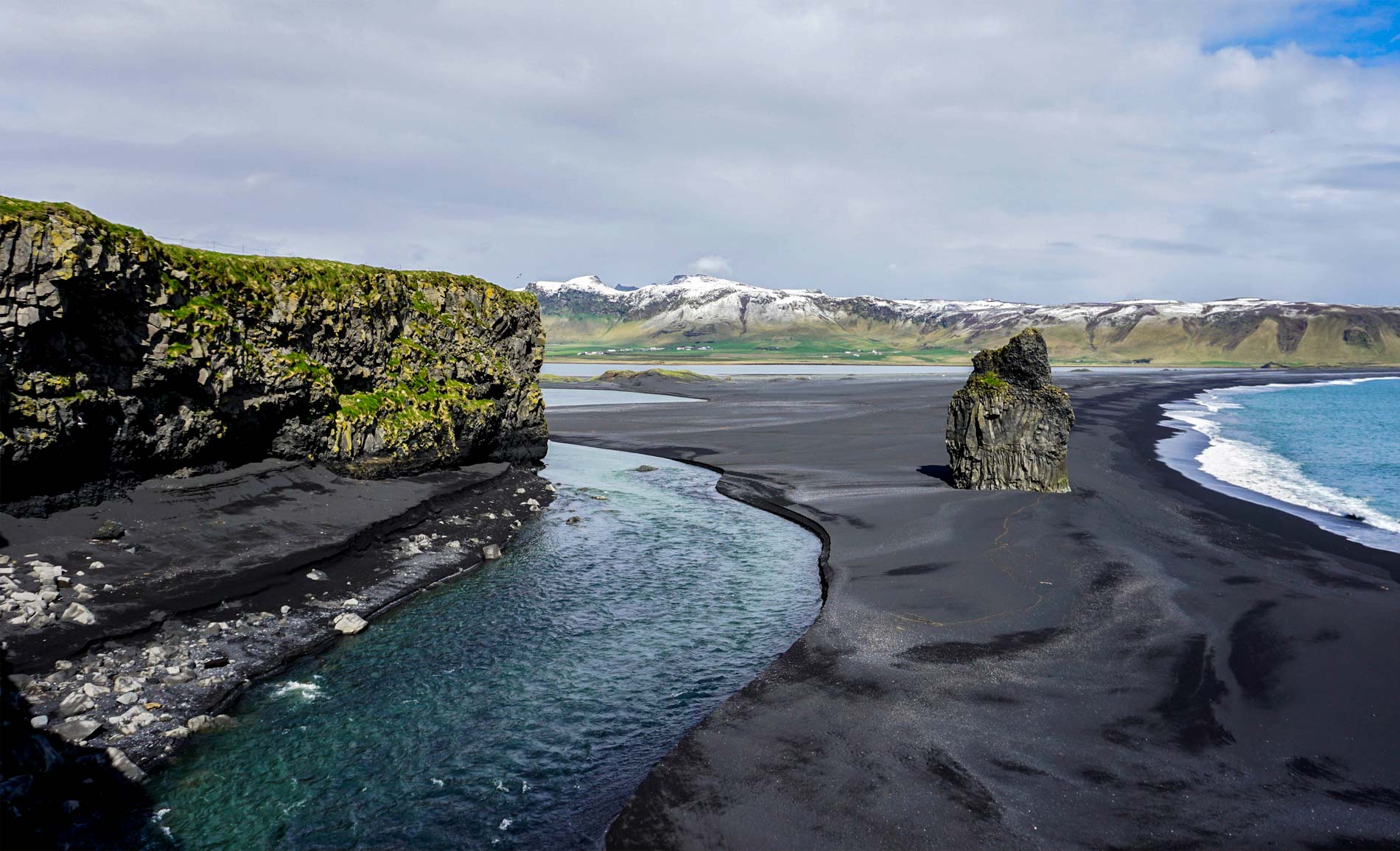 Dyrrhólaey – a real

bird's paradise

on 120-meter-long cliffs
We are told that this is one of the places where we can see the puffins. If you don't know how a puffin looks like, here you can see a picture. Like a parrot crossed with a duck. The puffins are one of the most recognizable symbols of Iceland. Unfortunately, these little monsters have not appeared to us yet, despite the fact that we were looking for them not only here. Still, we haven't lost hope that we will be able to see them – we have time until mid-August and then the birds will return to the open waters of the ocean.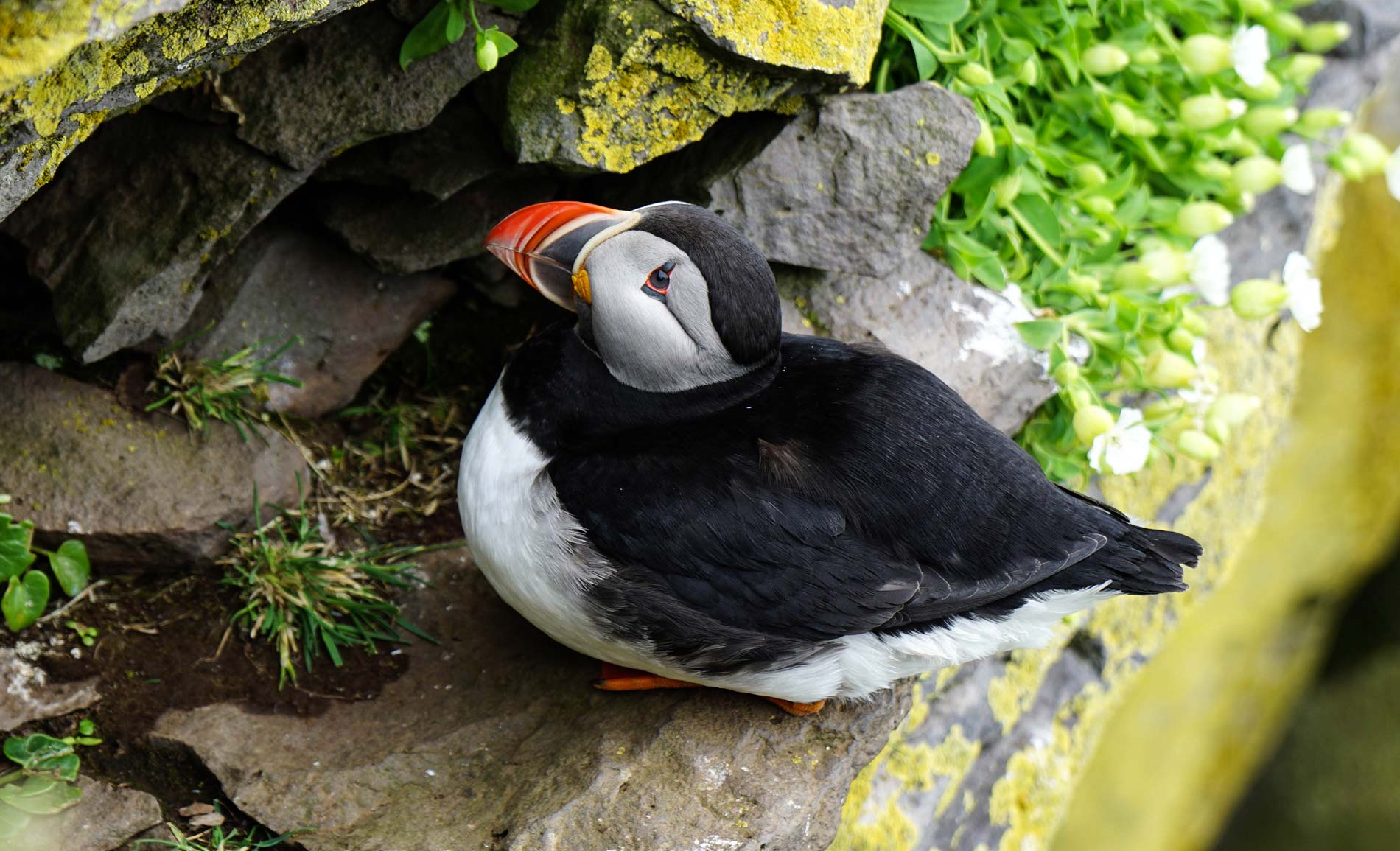 Dyrrhólaey is also home to a large number of other birds, most of the gulls and guillemots. Many times, traveling around Iceland, we had the impression that it is almost a bird paradise. And not only because of the favorable conditions and availability of food but also because of the care they receive from the Icelanders. During the breeding season, entry to Dyrrhólaey may be limited. It happened that the peninsula was completely closed in May and June. It's a nice change to see that sometimes nature is more important than money. We were unaware of anything, so on the first day of our visit, we saw a closed gate and a nice park worker who informed us that the entrance to Dyrrhólaey, from the beginning of May to the middle of June, is only possible until 6 p.m. If you had the same plan as us – to admire the sunset on Dyrrhólaey, then before you go, better check first if you'll be able to enter the park.
Dyrrhólaey – a

must-see

in South Iceland
For us, it is certainly one of the most beautiful places we have visited so far in Iceland. Admiring the vast landscape, which was drifting before our eyes, the blue sky, the distant ocean, unwittingly playing with the black coast… It was a really magical experience. And we wish you the same. Always. The same feelings and emotions.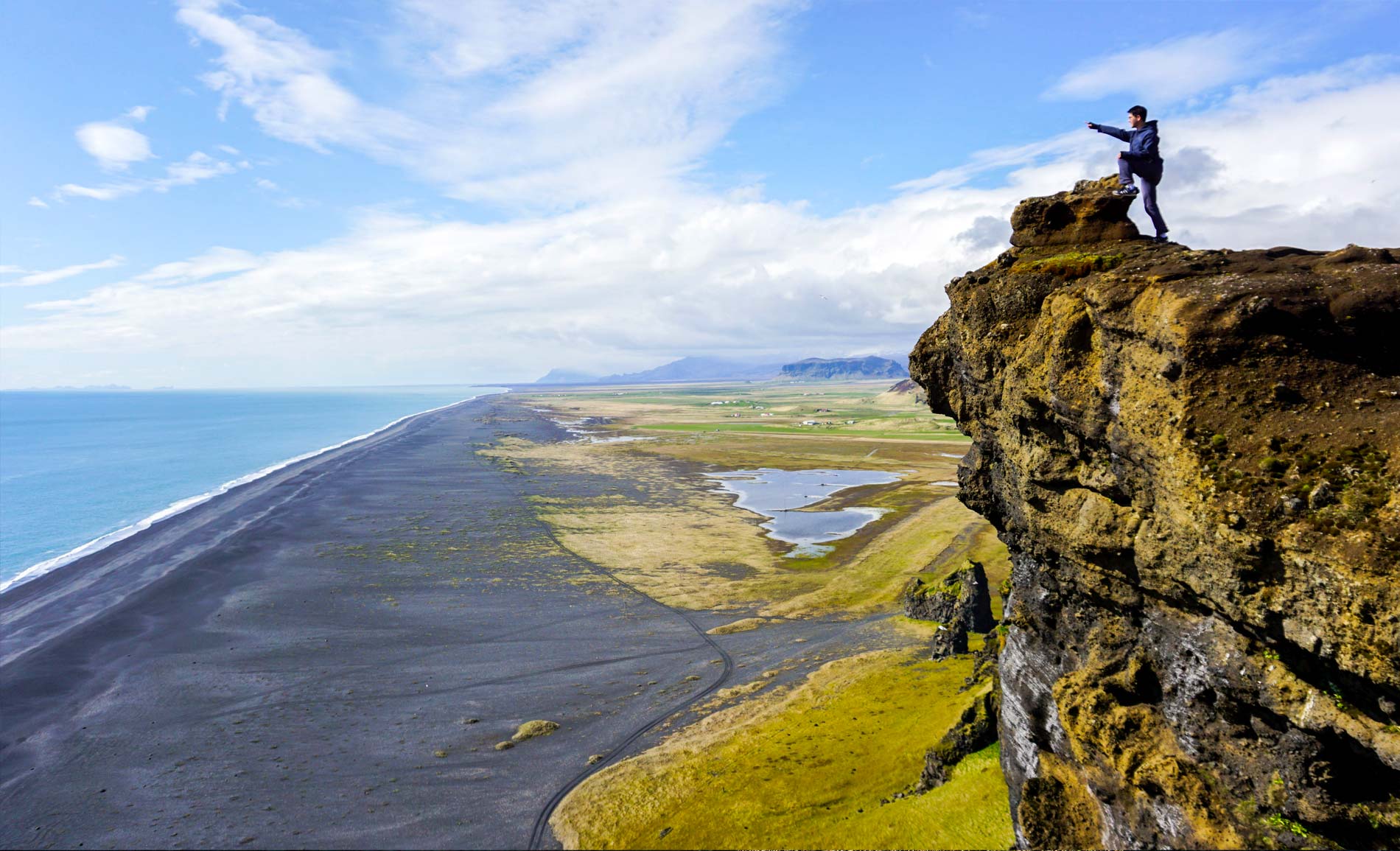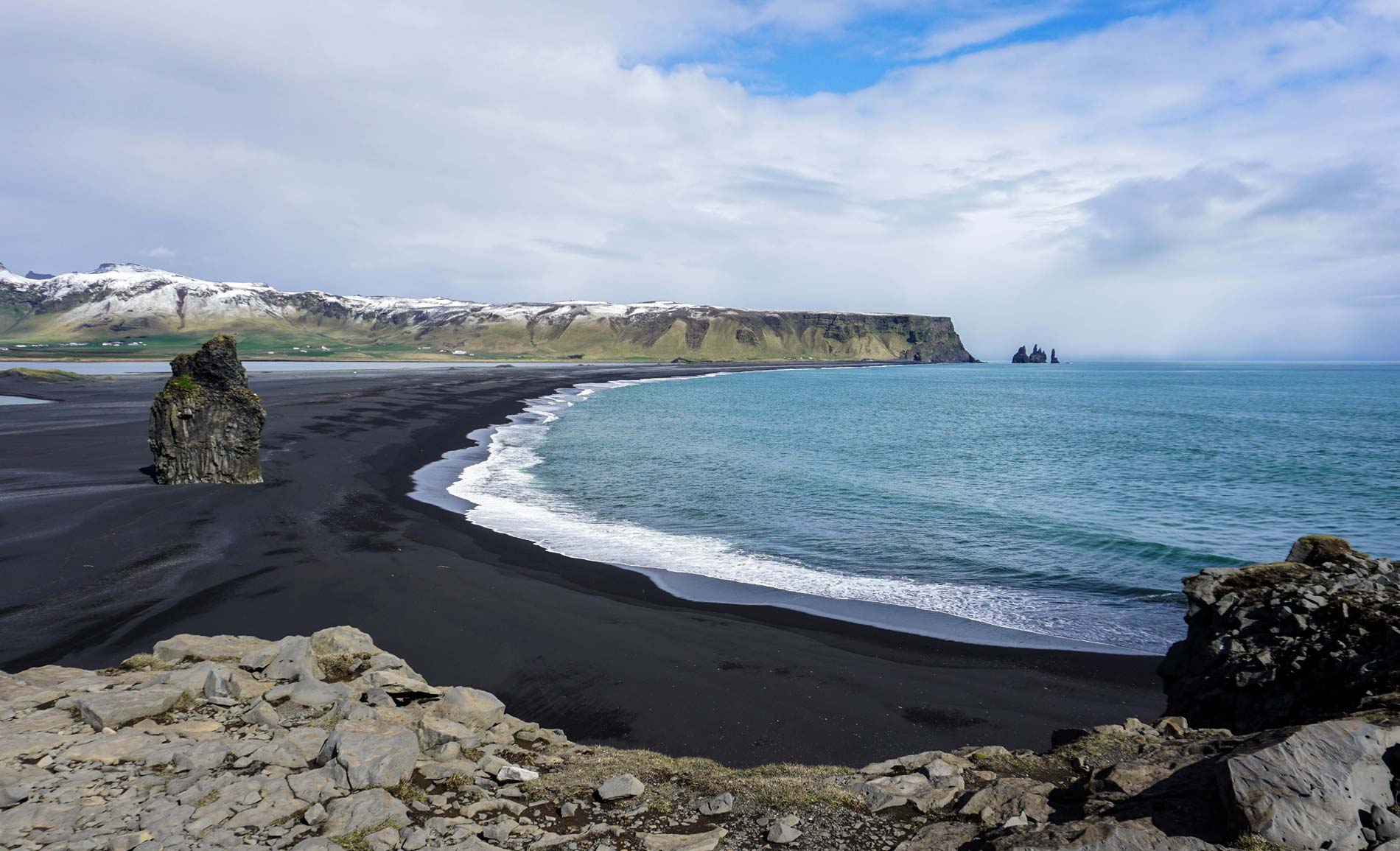 What's worth knowing before you go to

Dyrrhólaey
We were on Dyrrhólaey twice. At the beginning of May and in August. Our article, impressions, and feelings, were written freshly after the first May trip. July and August are the months when Iceland is visited by the largest number of tourists. Probably if we were there for the first time in August we wouldn't be so delighted with this place. Yes, it is still beautiful, but it has fallen victim to its own success and the success of Justin Bieber's song, which was recorded there. At the parking, there was a huge crowd of people, mainly Asians. A lot of buses and cars. People were making a mini picnics or looking for a place where they could meet their natural needs to avoid paying for toilets. Noise and hustle and bustle. The only thing missing was the indulgenced feast bazaars. If you are planning a trip in July or August, we strongly advise against the south of Iceland, and even more so against Golden Circle.
During the August trip, we were able to observe the puffins. If someone told you that this is the best spot to watch these lovely birds, he was probably never been on Latrabjarg. At Dyrrhólaey the birds were at quite a long distance from us and without a good lens, you are basically without a chance for a beautiful picture of a puffin. Equipping yourself with binoculars is also a good idea.
If you dream of such a picture of a puffin as we threw above, and you wanna take that picture with a standard camera, then you should definitely visit the West Fjords and Latrabjarg. There you'll find the best places to admire these birds. We also heard opinions that Borgarfjörður Eystri on the East Fjords is also a great spot. We have been there twice, but we have seen one or two puffins, in a distance approx 10 meters. Despite everything, we think that the Western Fjords are the best in this respect.
Dyrrhólaey in winter is a great option, the road is available all year round and there are no crowds of tourists. Remember to dress warmly, because Icelandic 0 degrees is not a normal European 0 degrees, you'll feel it like -10 degrees. All because of the wind. And dress as best as ogres – in layers, like onions.
Have you heard that you can rent a room in the lighthouse on the top of Dyrrhólaey? Yes, it was possible, but until 2016. Currently, the building is closed, but we heard that it is still rented for special occasions. Recently we saw people who looked like wedding guests – so maybe it's worth trying to make the moments spent in Iceland really special. If you succeed, let us know. Btw., it was the only lighthouse in Iceland where you could spend the night, but for lovers of strange hotels, we have another treat – accommodation in… church. Link to the blue church – guesthouse – on the East Fjords you will find here.
Are you looking for unusual accommodation in the area? One that will surely fall in your memory? You are not afraid to sleep in a tent or camping house? You have to spend the night at the Þakgil camping site. Evening cooking in a cave carved in the rock by the light of a small fireplace and dozens of candles is an amazing experience. It is just over 20 kilometers from Viku, but it took us over an hour to get there. Once, the road is quite bad – dirt, lots of stones and holes. Second, the views on the road are so beautiful that we stopped at every turn. Remember to take provisions with you. The nearest shop is in Vik.
Apart from the above-mentioned camping, we have a choice of two others – Skógar and Vik.
For those who prefer comfort, we have prepared a proposal for hotel accommodation in the area. Links can be found below.
Below you will also find links to our other articles from southern Iceland. Be sure to take a look if you are planning a trip to the southern part of Iceland!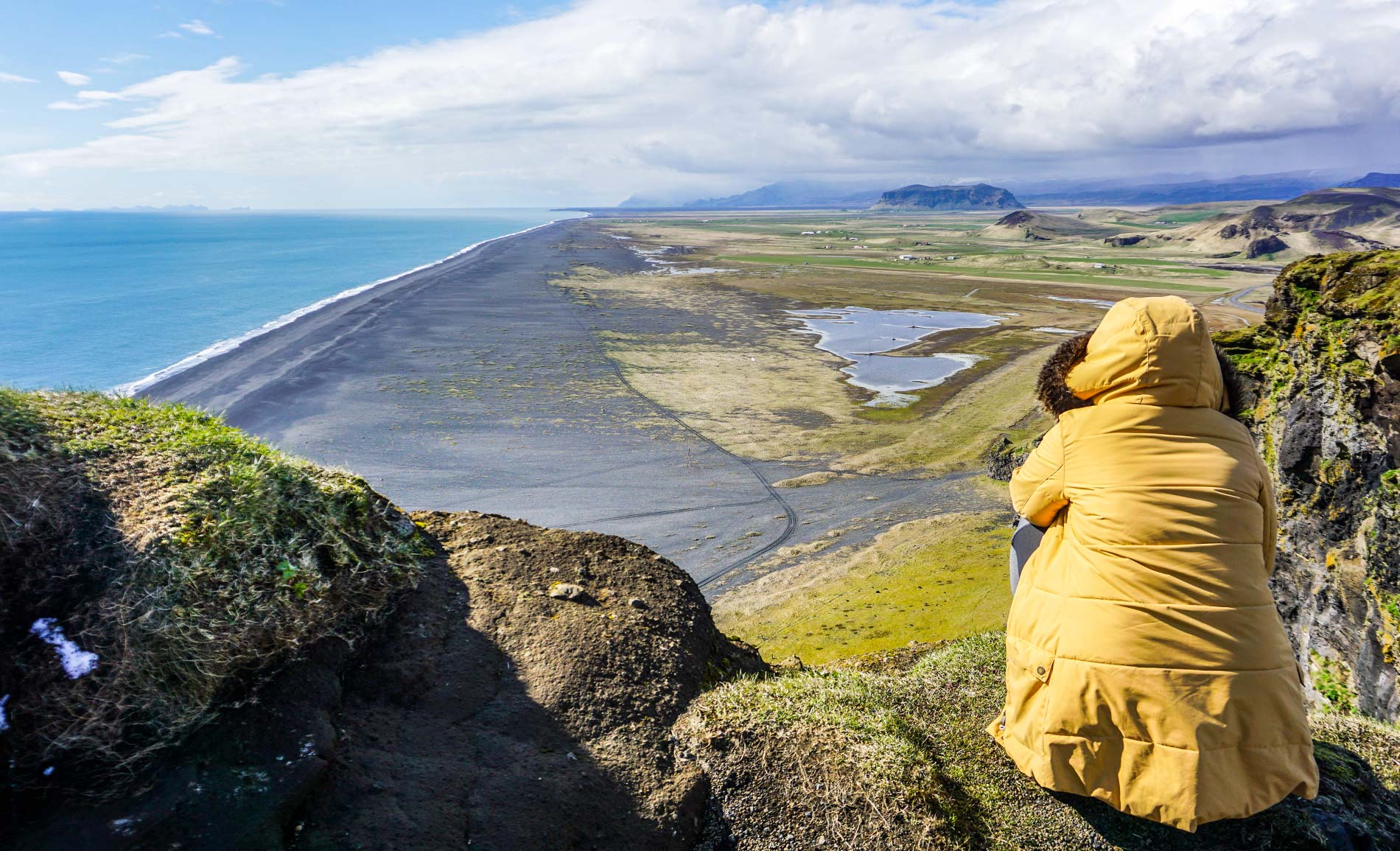 Are you planning a trip to southern Iceland? You can also look here:
A few words about the surreal wreck of the Dakota plane, which is located on the black Sólheimasandur beach.
A story about a black beauty – Reynisfjara – of the beach, which is considered to be one of the most beautiful non-tropical beaches in the world.