Every time we traveled towards the Snaefellsnes peninsula and further north, we avoided the Reykholt area. Living in the Reykavik area, Reykholt seemed close enough for us to postpone our tour. And when there was time to travel (and decent weather, which is sometimes harder to find than time), other places seemed much more attractive again and we usually chased somewhere further north. And so a year passed and we didn't even once look around two amazing waterfalls – Hraunfossar, Barnafoss and the largest geothermal fields in Iceland. Till the world conquered the virus from Wuhan, and we stayed with an excess of free time.
To clarify, Iceland has never introduced such rigorous restrictions as Poland. During the worst months of the pandemic, we could travel freely, leave home, and enjoy the spring. Of course, there was a ban on mass meetings, all swimming pools, and schools were closed, but we were probably (or better to say – we got stuck) in the best place at this difficult time.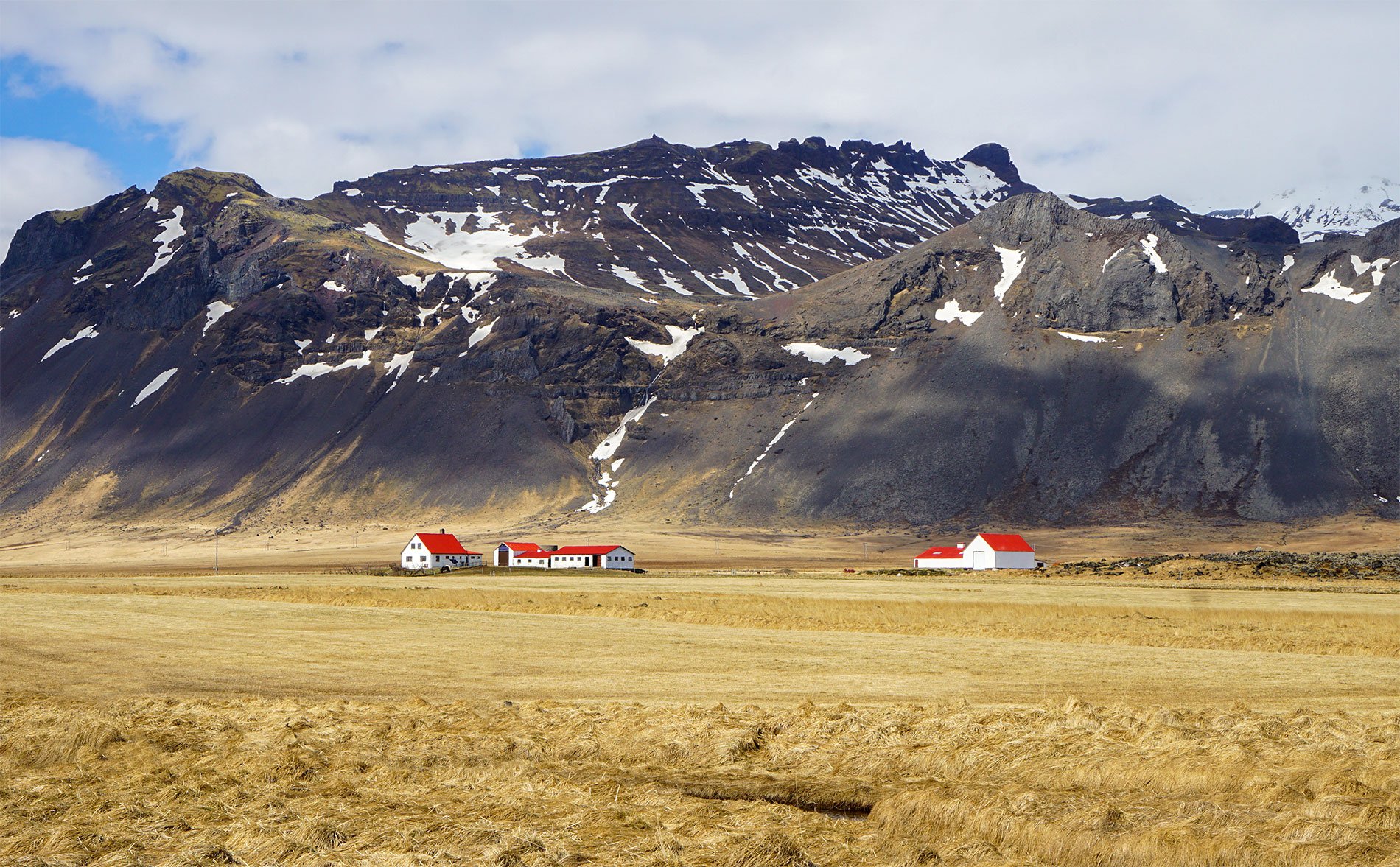 Coming back to our free time. The airport was closed, and because we were working there, now we were left with this free time in excess. After the first week of enjoying doing nothing, there came a time when we decided that we had to start doing something because we will go crazy spending the next weeks at home. And so a plan to go to an Icelandic farm was born in our minds, in fact, the plan had always been there, but now we decided that this is the time. It turned out that in times of coronavirus it is not as difficult as we thought at the beginning and two weeks later we were already preparing to go to Western Fjords. Along the way, we were planning to see a few places we hadn't been to yet – Glymur, Hraunfossar, Barnafoss, and the Reykholt area, and a few which we simply like – the Snaefellsnes peninsula, the pool at the end of the world and the red beach. And so after this long introduction, we come to the heart of this entry, the first day of our expedition. :))) We invite you to read!
The road to Glymur Falls and a few words about how to prepare yourself well
We got up relatively early in the morning, quickly threw our things into the car, and headed towards Reykjavik. On the way with a stop for the most mundane shopping, which was the least romantic shoes in the world – wellingtons. These wellingtons turned out to be the most successful purchase ever. If you are going to Iceland, especially in the time of melting, the wellingtons may not save your life, but they will certainly protect you from wet socks and cold.
Next, already in the new boots, we started on the road no. 1 and just before Akranses we descended on 47th towards Glymur Falls. What surprises us to this day, Iceland, after more than a year of living here, still amazes us, as if we came here only yesterday. An ordinary road, and along with it ordinary Icelandic views – still snow-covered mountains reflected in bays like in a mirror, clouds rushing through the sky and thousands of birds. This is the everyday life here, which definitely never gets boring. :)))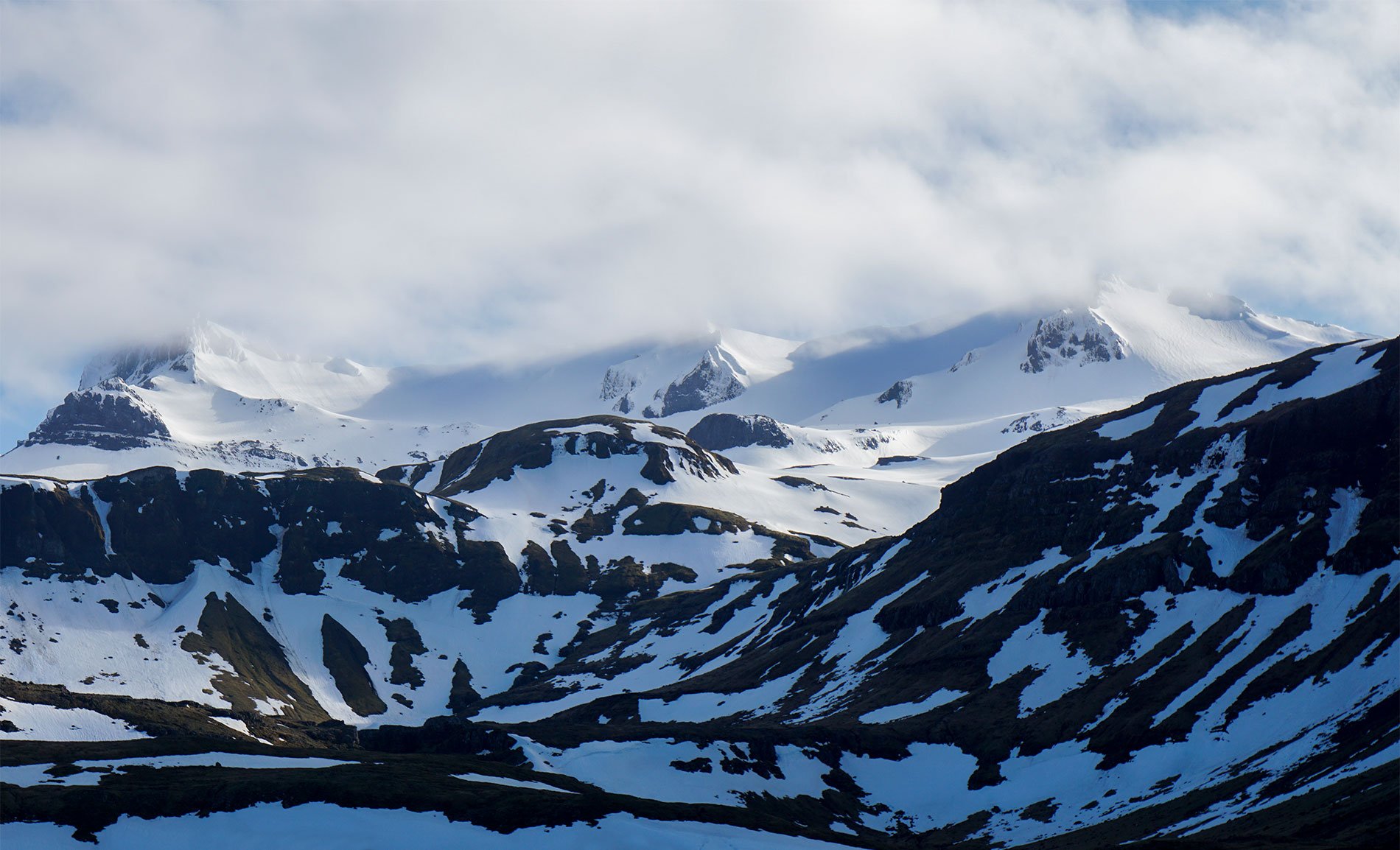 After about 70 kilometers full of fabulous views, the road ended up in a small car park, from where we were to conquer the Glymur – the second highest waterfall in Iceland – on our own feet. It was the highest a few years ago, but in 2007 it was dethroned by another one, created by melting of the Morsárjökull Glacier – Morsárfoss. We changed our clothes, left our new wellingtons and changed our shoes to lighter, sports shoes – that was our first mistake. We quickly looked at the trail board, picked the shorter one, and, going through the gate leading to the trail, took a look at the second trail board about some log that we didn't see, so we ignored. These were our mistakes numbers two and three. After about 20 minutes, when the trails suddenly split and no one was marked, we regretted that we hadn't studied the map board better, or at least we didn't take a picture of it. As the journey so far had already revealed our lack of fitness (now you can laugh all you want), we went for an easy one and chose the one that seemed lighter for us. :))) After another 15 minutes wandering through the Botnsadalur Valley, we reached the Þvottahellir cave. We went down (be careful, because the stones in the cave are wet and quite slippery) to the river and we walked for a while along its bank, until a sign with the inscription Glymur disturbingly pointed to the rapid river current and a log was lying in the bushes nearby. Normally an apparition. :))) As we later read on the Internet, the log is thrown (in mid-May or early June) to the other side of the river, creating a kind of bridge, enabling further wandering. Without losing hope, we were still wandering around the area in search of another way. Unfortunately, the only path leading to the mountain after a while ended up with a ban on entering, and we preferred not to risk, though unlikely, a fine. We came back looking for a place where we could cross the river. The Botnsa, like all the rivers during the thawing, was quite fast, but at times it looked as if we could cross it. Here for a second, we thought that we had outsmarted our fate because we have the wellingtons to realize in a moment that the fate mocked us again. :))) We had, but not on our feet because we decided that sports shoes would be better for a walk. And that was the moment when we officially gave up, we took a photo with the inscription Glymur and went back to the parking lot. So that our failure would be more complete: A) most of the pictures from that day, turned out to be blurry and to be thrown out because we forgot to change the autofocus settings in the camera and B) our friend, two days later, threw in beautiful pictures with a waterfall in the background. And let someone say that life is not mean. :)))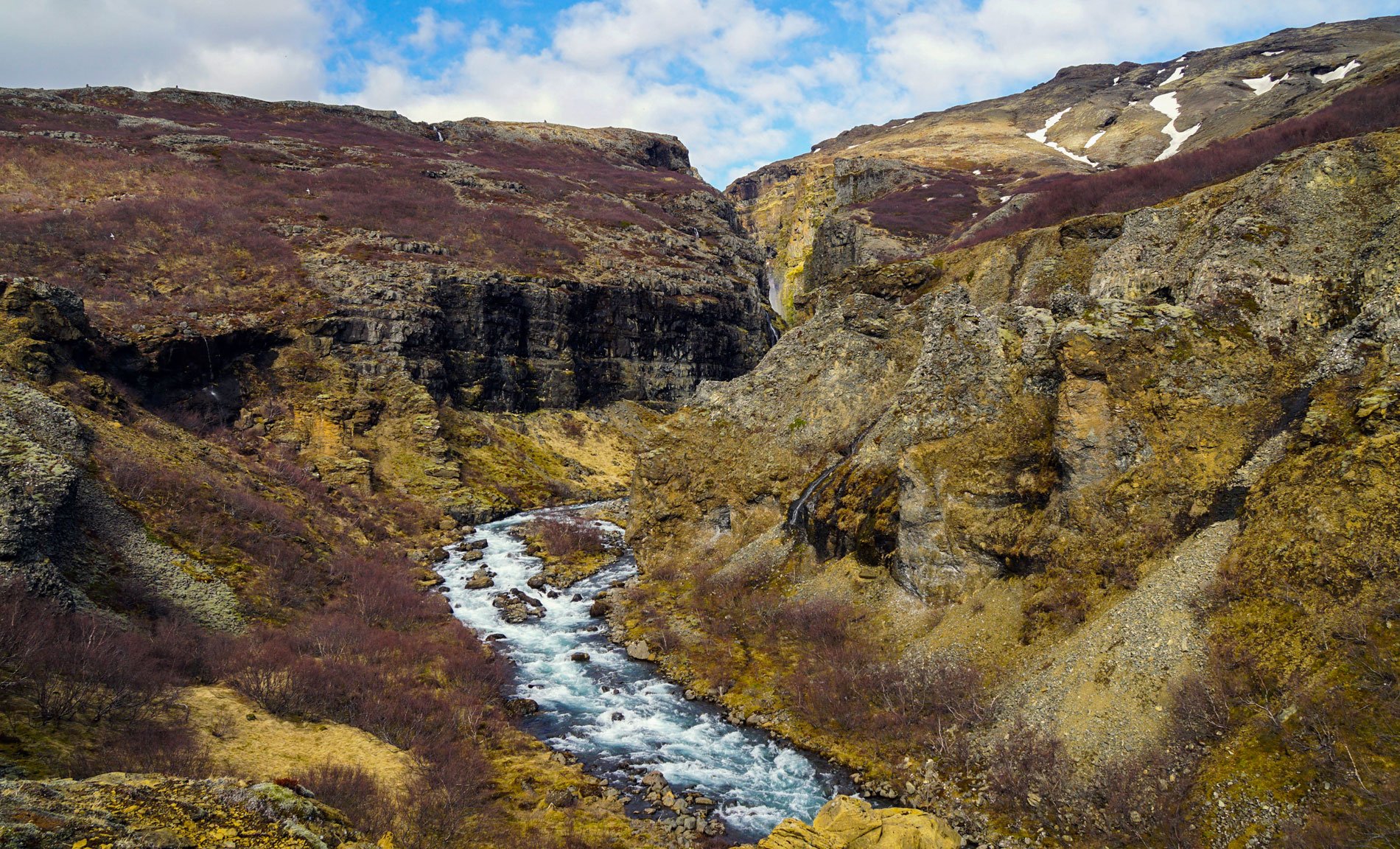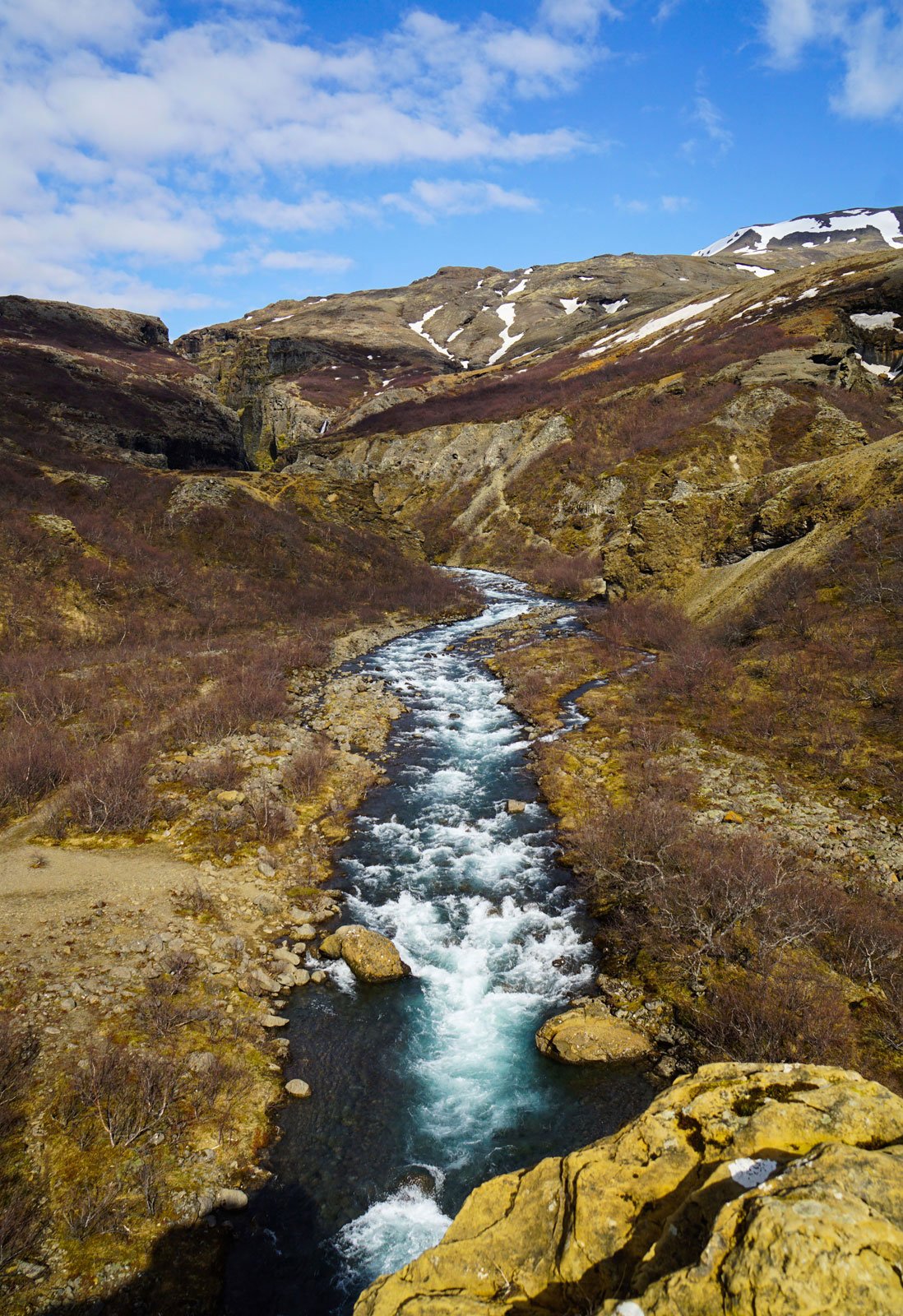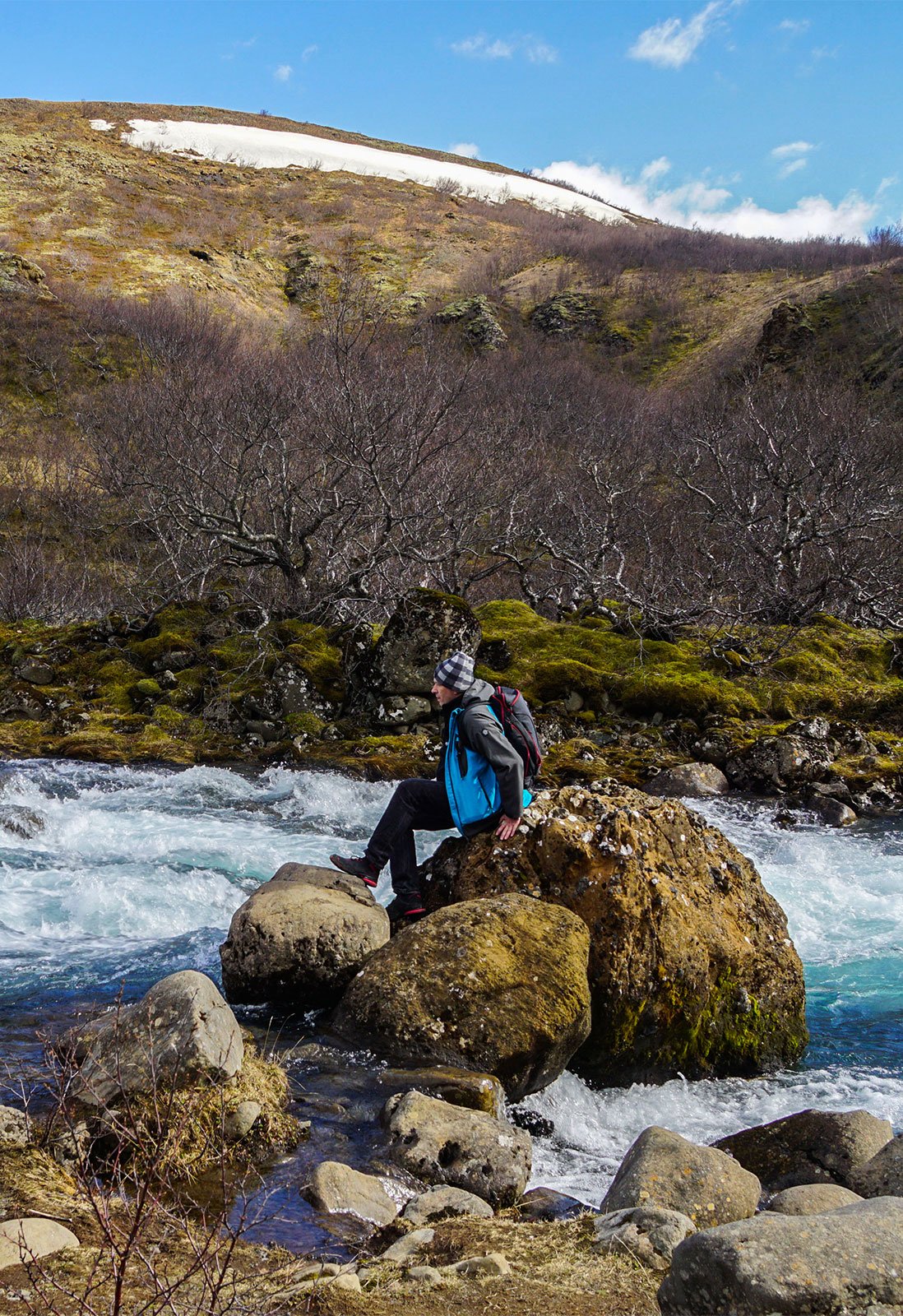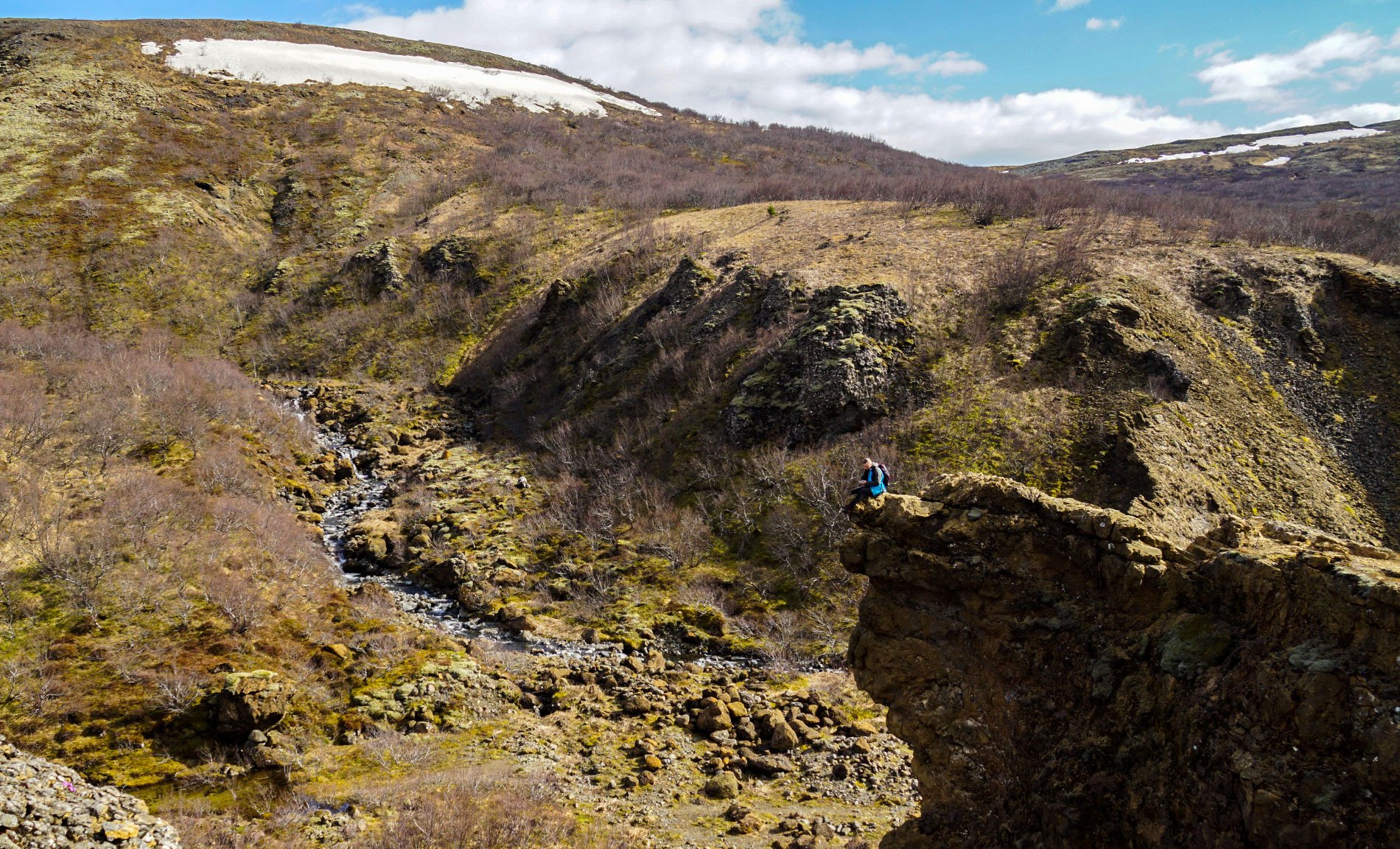 Reykholt – the oldest geothermal pool, waterfall across – Hraunfossar and his colleague Barnafoss
The next point was Rekholt, the place where Snorri Sturluson, the famed, if not the most famous Icelandic poet and writer from Viking times, came from. The museum was closed for obvious reasons, there were several houses around, a pretty church (although in the background something started to be built that definitely spoiled any photos), some trees and bushes, which is not normal in Iceland and the biggest attraction, the 10th-century hot tube – Snorralaug. Very nice looking and encouraging to bath, but unfortunately bathing is forbidden. Perhaps, if we could visit the museum and get to know Snorri's work and life better, if we could get to know the historical background, we would not leave Rekholt with a slight feeling of disappointment, because somehow this place did not impress us much. Okay, place to visit, but not to go on a special trip right away.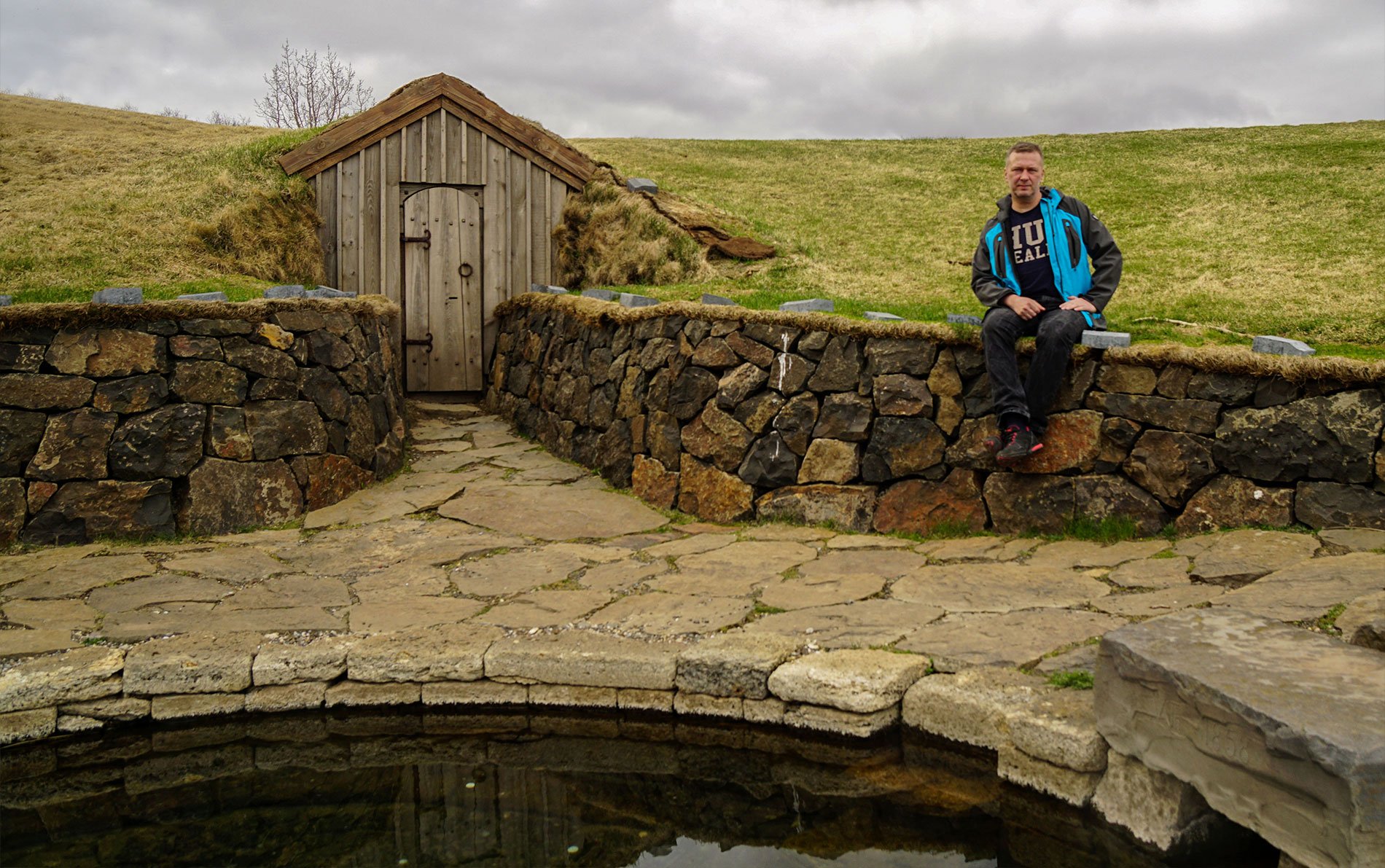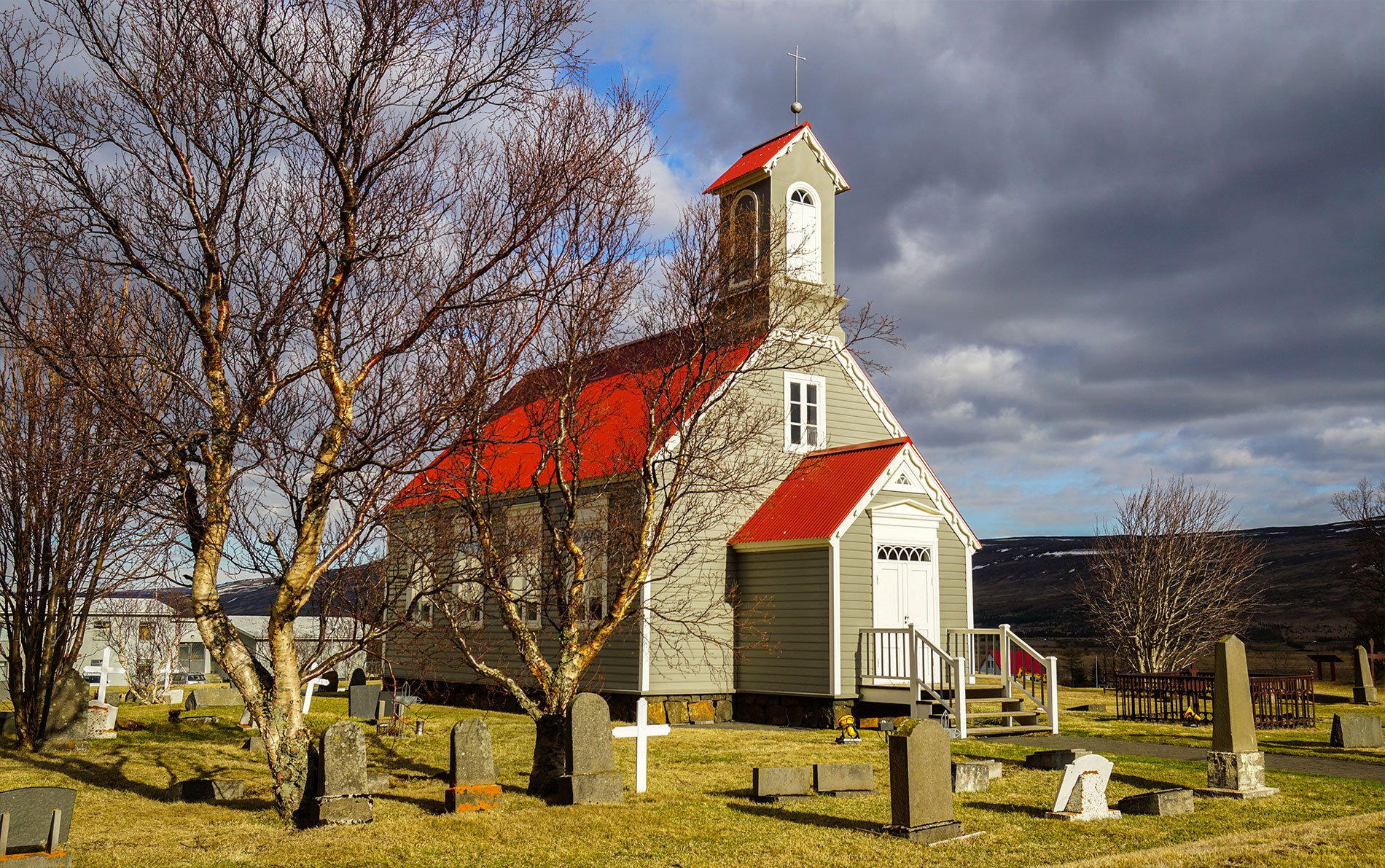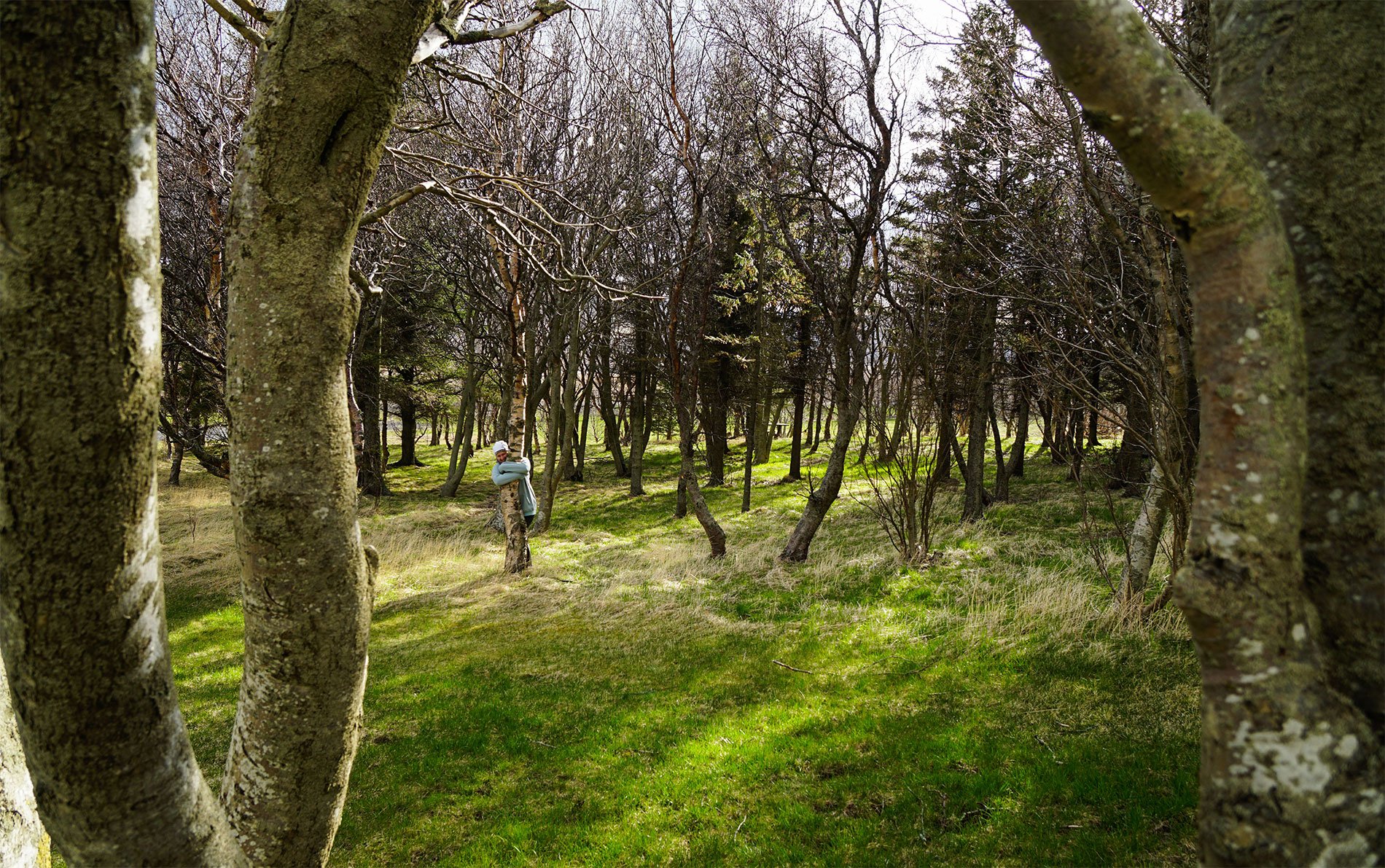 Next, two waterfalls awaited us – Hraunfossar and Barnafoss. A short walk from the car park and we found ourselves in front of the first one. We had high expectations towards it, we were looking at the pictures with beautifully gilded trees all around, looking as if they had been taken out of the land of the elves. And although there were no gilded trees, it did not disappoint us. We do not know if you have noticed this, but Icelanders have a unique gift for naming things :))). Hraunfossar, that's hraun – lava fields and foss – waterfall. Water comes out from under the lava fields, making mini waterfalls, which falls into a flowing river was something we had not seen before. We cannot say the same about neighboring Barnafoss, just a small waterfall like many in Iceland, so we went back to Hraunfossar and there, catching the last rays of sunshine that day, we tried to take some interesting pictures. Unfortunately, as it turned out, with a poor result, because most of the pictures were not sharp anyway and ended up in the bin.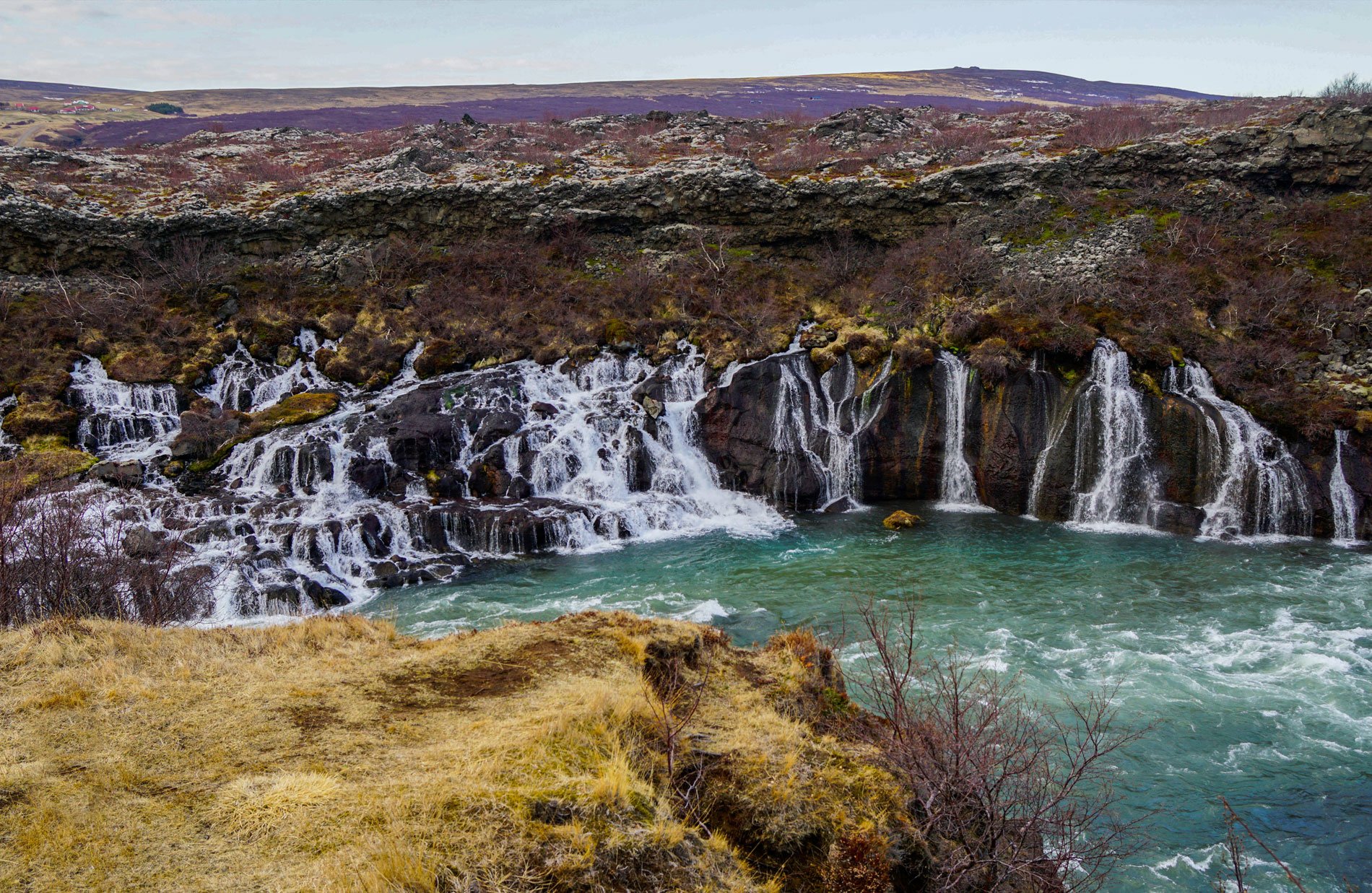 Warm shower in Deildartunguhver
Slowly heading towards the Snaelfellsnes peninsula, we had to stop at the Deildartunguhver geothermal fields. We got out of the car and just a second later a characteristic smell of a rotten egg reached our nostrils. This is a sign we were is in the correct place. The water flowing out of the ground here reaches about 97 degrees, which means that a bath is not advisable, but if you think about taking a shower in the range up to about 60 kilometers from Deildartunguhver, you have to think about this place, because the water flowing on you probably comes from these very springs. The fields themselves did not make a big impression on us – some bubbling water, a warm river, floating fumes, and large pipes distributing water around the area. If you want to see really cool geothermal fields, which make a huge impression, we recommend the most Martian ones in the Myvatn area.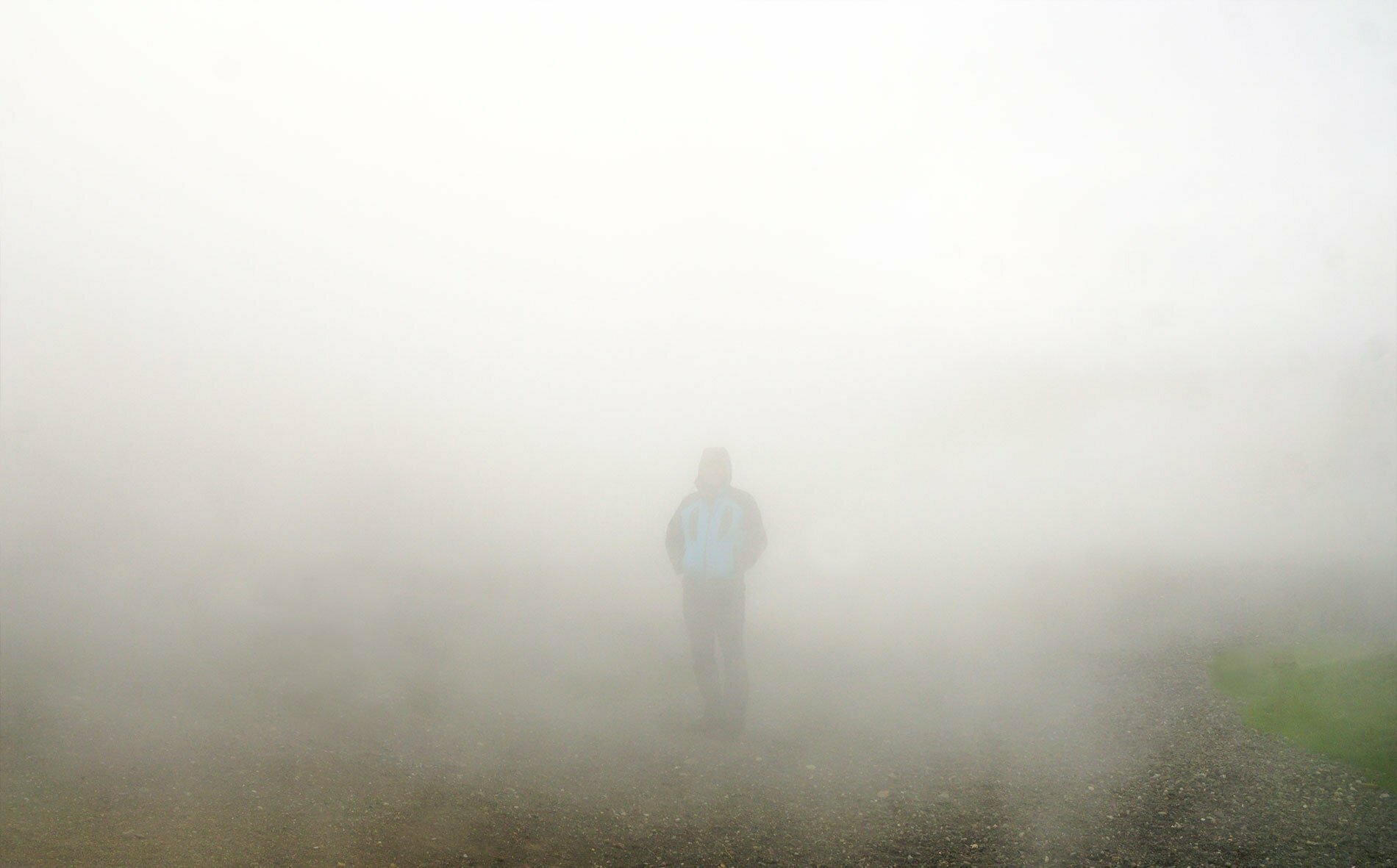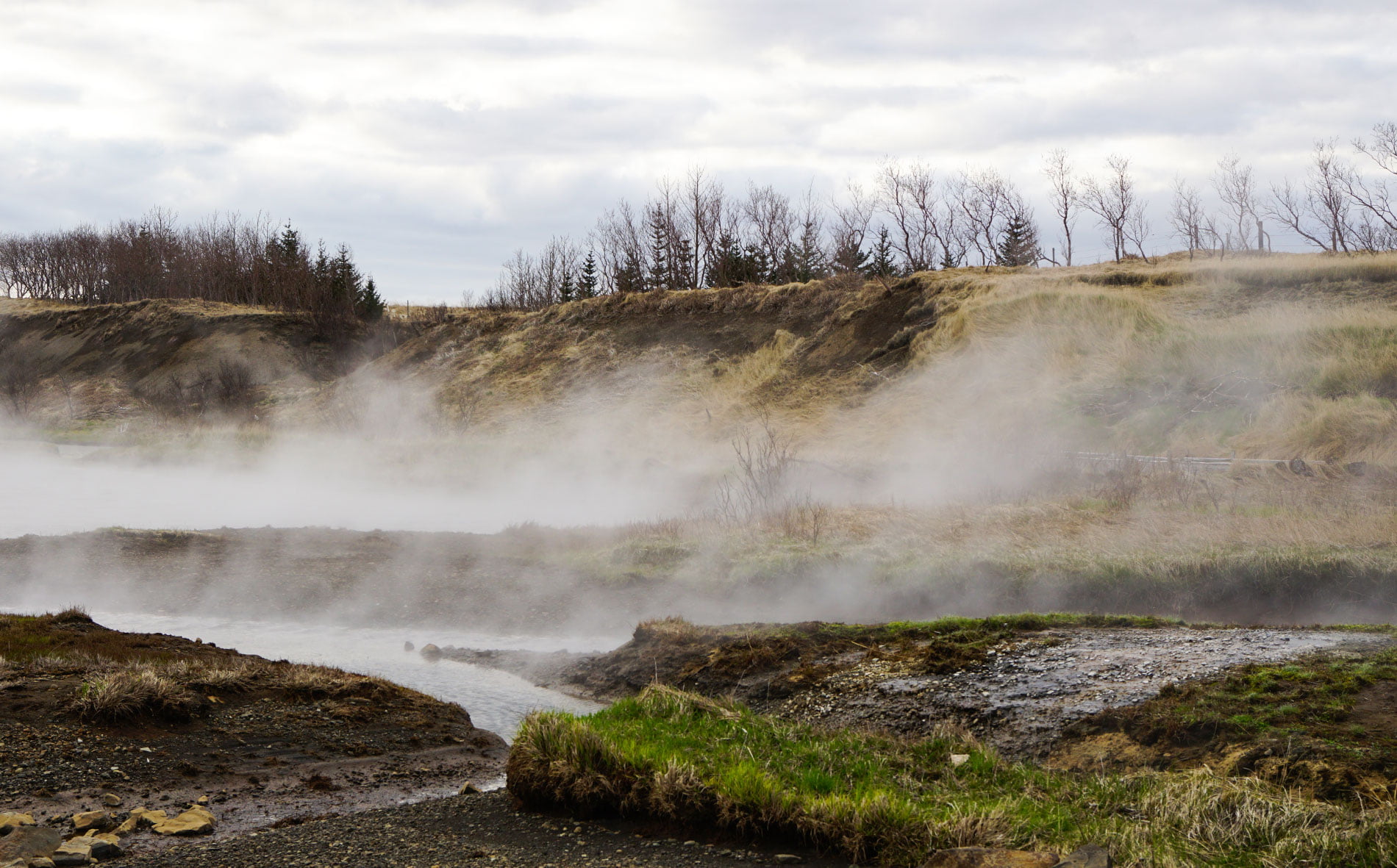 "Mysterious" Snaefellsnes hot springs
The last attraction of that day was the "mysterious" hot springs, on the Snaefellsnes peninsula. There are or were many mysterious places in Iceland. Some of them have ceased to be mysterious when, for example, the owner built a parking lot in front of it and one of the tourist offices takes tourists to this attraction for a "modest" fee (yes, yes, you can read about the famous mysterious wreck of Dakota here). Others, like our springs, are only seemingly mysterious because on Google maps you can find them without any problem, but we have seen when on different discussion groups people sharing that locations were banned out for "betraying" the mystery. And all you have to do is type "hot spring" in Google Maps, look for red dots on the Snaefellsnes peninsula and suddenly all the mysteries are solved. :))) What doesn't change the fact that even if stripped of mystery, these springs are one of the coolest we have visited. Ideal for spending a romantic evening with a glass of wine for two (because only two people can fit into the hole) or an option to look out for the polar lights in the heated water. Of course, bath there without other peoples during the summer season probably is close to a miracle, we were several times and mostly always a few persons were there, only twice it was empty. If you are in a larger group, there is also a less romantic option, right next to it, in the middle of nothing, there is a pipe sticking out, from which the same, warm water flows into the shallow pools. Unfortunately, the bottom is not so pleasant, it is quite muddy and soft. So much for the Landbrotalaug itself, you have to see and experience it.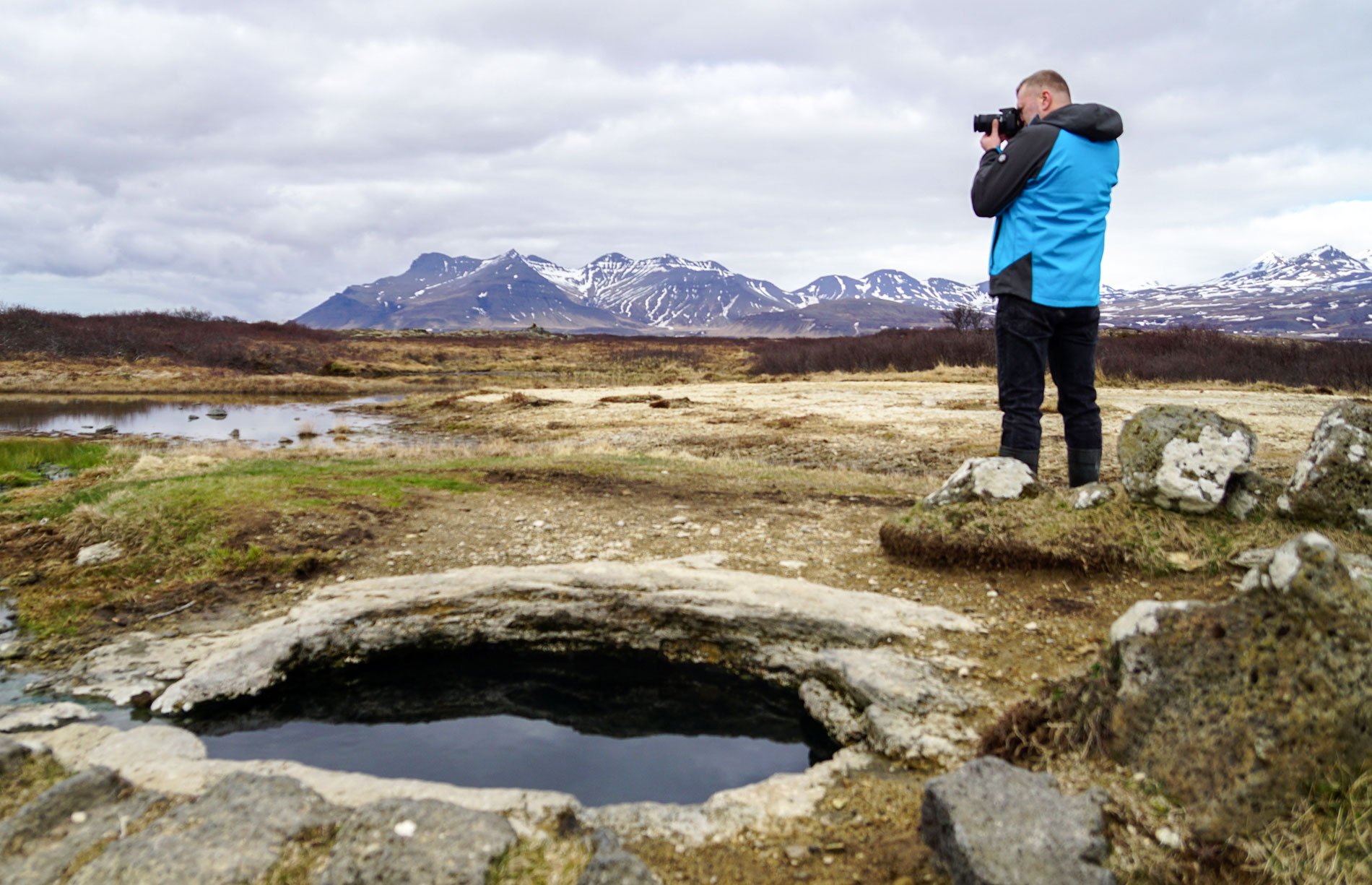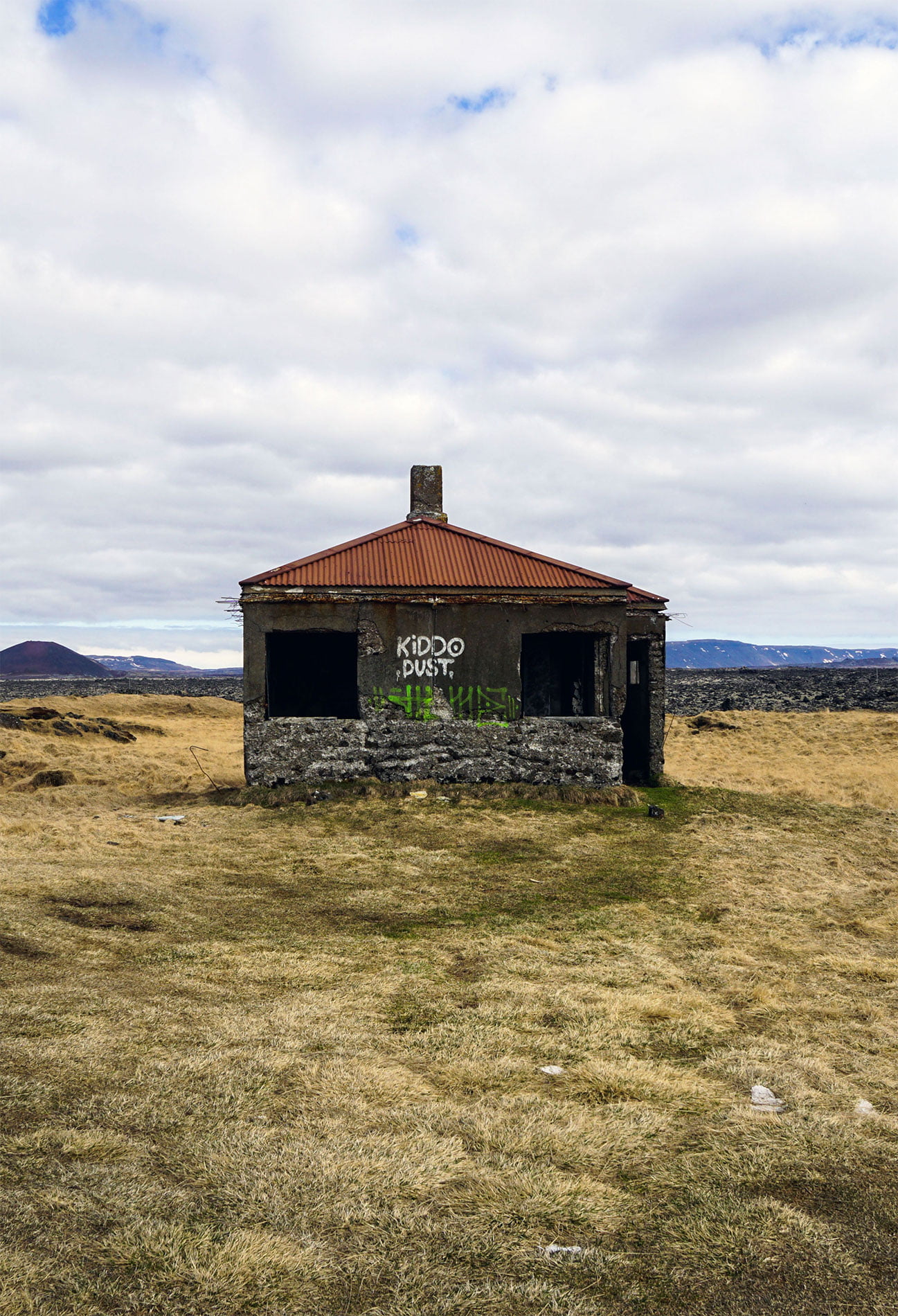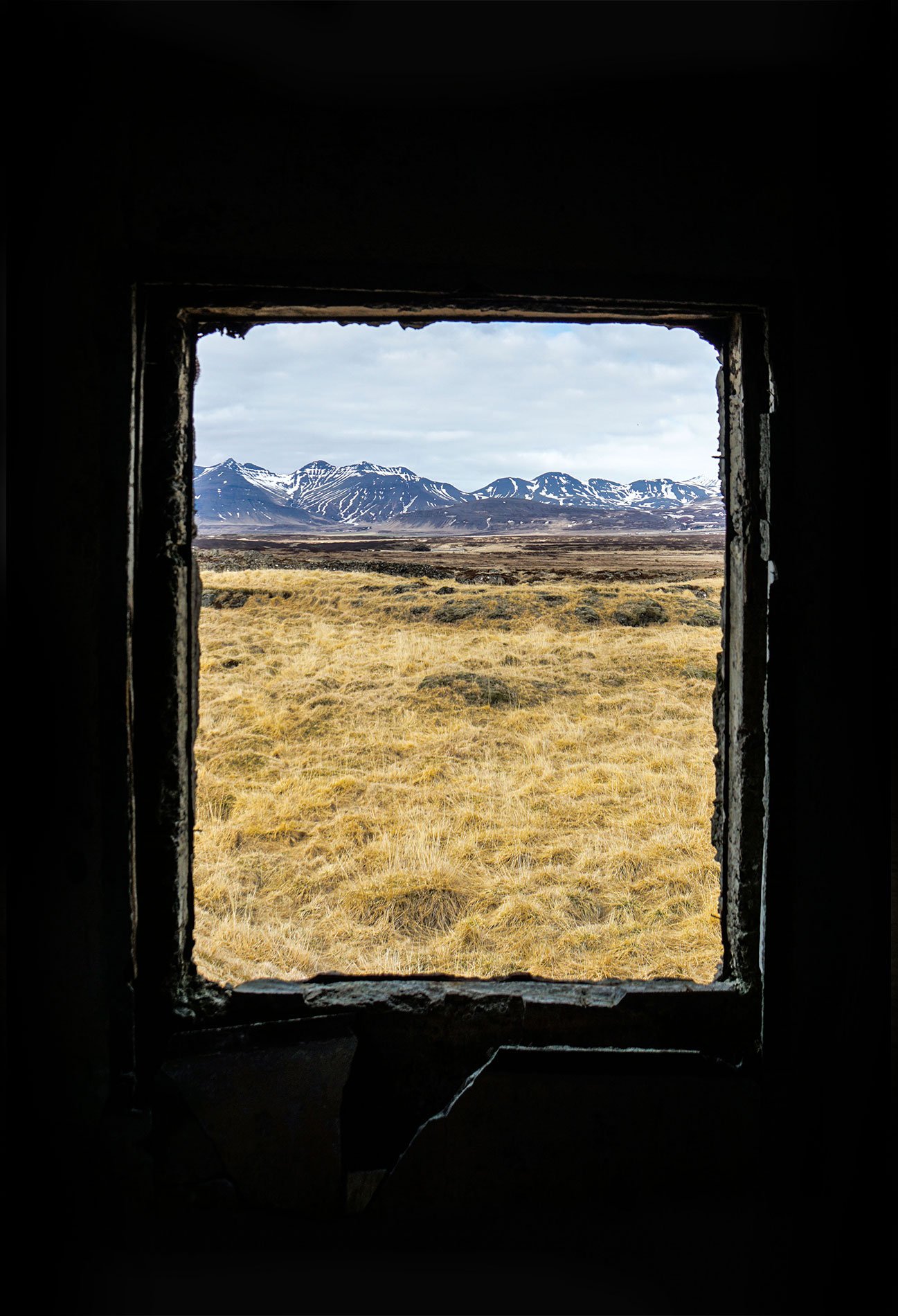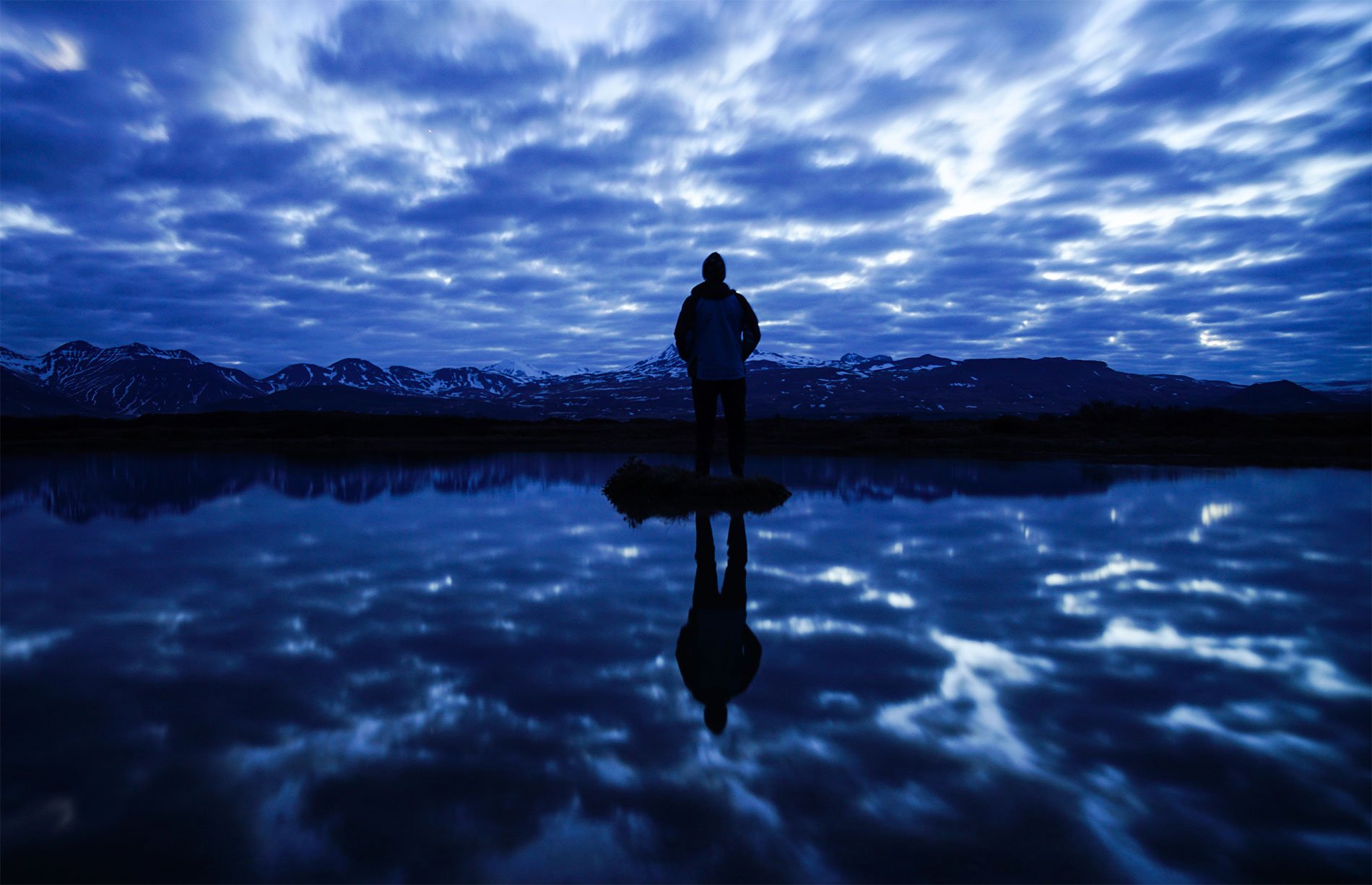 We spent really long hours splashing and soaking in perfectly warm water that day, enjoying the solitude and listening to the birds screaming. No civilization, no lights on the horizon. Pleasantly relaxed and in great moods we went to sleep, wondering what kind of weather would bring us the next day because at night the sky was covered with clouds. P.S. wellingtons came in handy again, great for night hikes in the area. :))) For those curious, we leave you a map of our route and a link to the next day of our expedition.