Do you also have such a feeling that when you think about the Alps you immediately see high mountains with snow-covered peaks, green pastures around, forests, grazing cows, sheep and marmots by the stream? And here is a surprise, because as it turned out the Italian Alps are not only high Alps (those with Stelvio, Grossglockner, and marmots), but also completely different scenic – Dolomites. Sure, if we had listened better to the geography teacher, there wouldn't have been such a big surprise (positive, of course!), because the Dolomites captivated us more and more with every kilometer we traveled. Jagged ridges, high tops and… great roads. And among them all – Passo di Giau – our number one in the Dolomites.
Why is the

Passo di Giau

our number one in the Dolomites?
In fact, we do not know why we found so little information about that beautiful mountain pass before. We heard about that place, but we didn't expect such a WOW! The route is really great! The entrance from the west, from Passo di Fedaia (which we will certainly describe as a separate post), as well as from the other side – from Cortina d'Ampezzo is an extraordinary experience. For the compare: 62 turns at 28 km on Passo di Giau, and only 44 turns at 49 km on Timmelsjoch. The route climbs up in sharp turns, revealing views of the surrounding peaks and green meadows below. Here you can really fall in love in only a few moments and you'd like to stay here forever.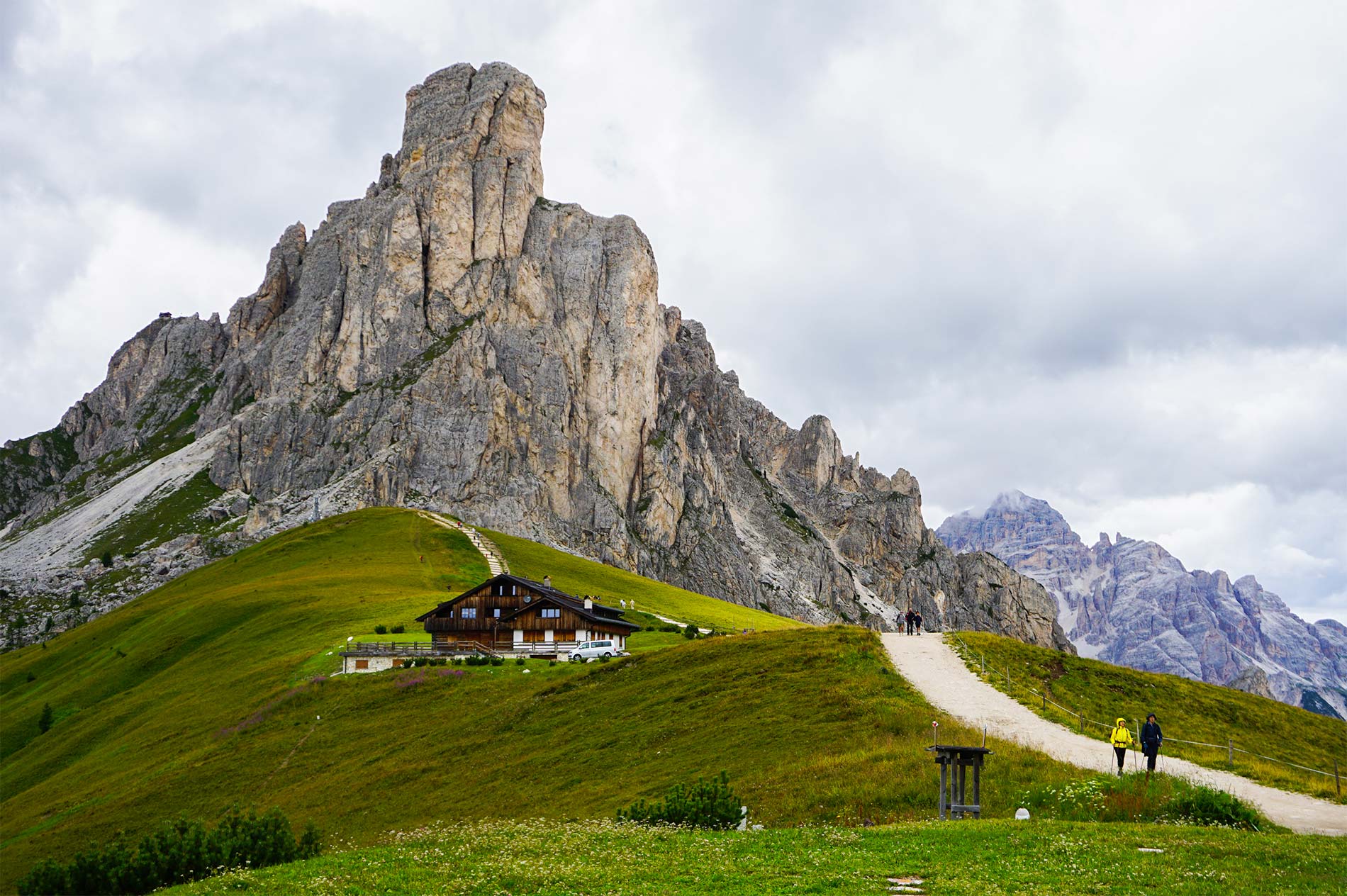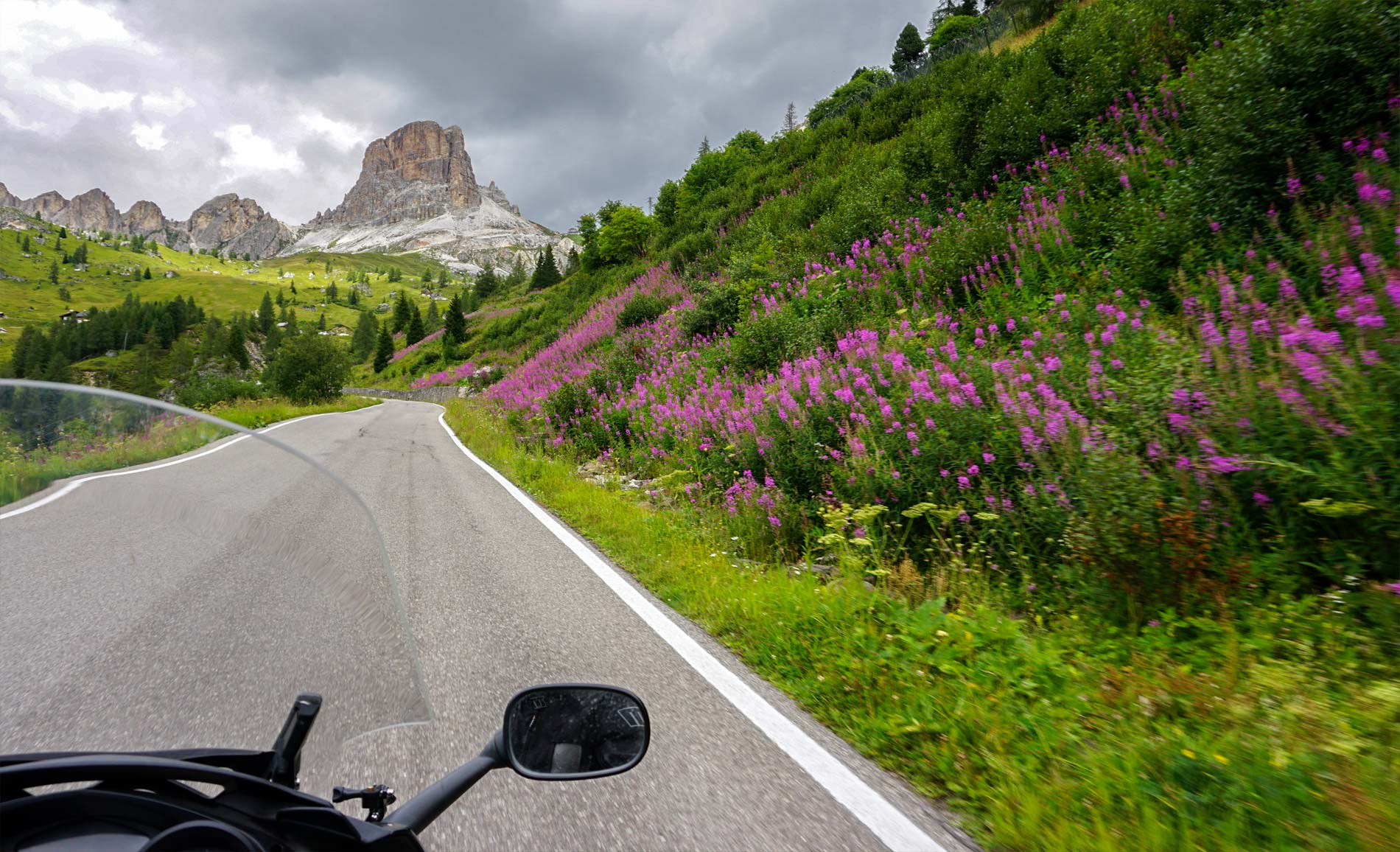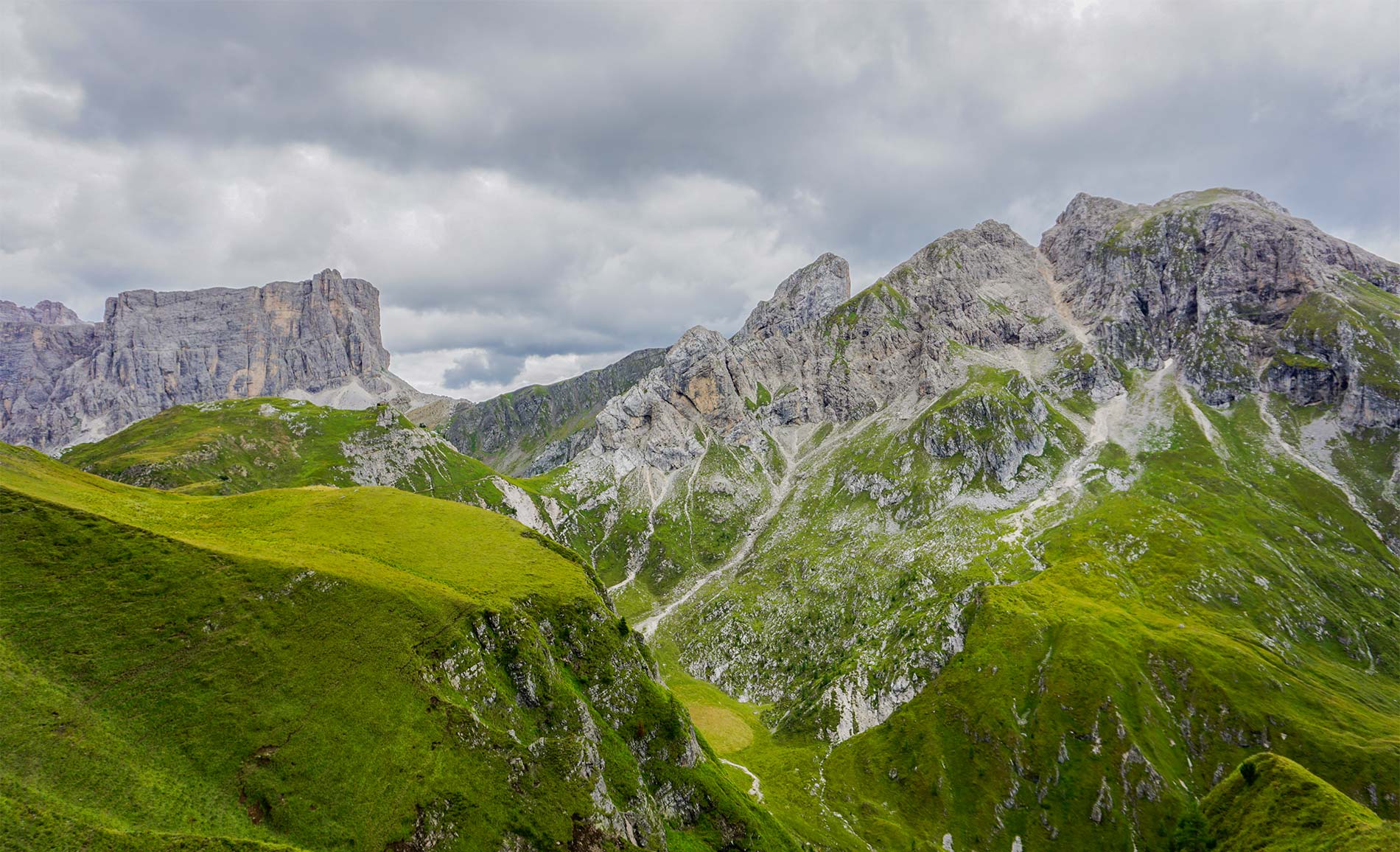 Passo di Giau by motorcycle

– what will you find at the top?

Apart from stunning views, you will see a small, climatic hostel glued to the rocky slopes of the mountains. Inside you'll find accommodation for the tired, hungry and thirsty – quite decent food and delicious beer at quite indecent prices and… a cat. A cat, like other cats, ignoring the whole world around him, he admired a beautiful landscape with a window from a very comfortable and warm place. Or maybe he admired the passing through motorcycles because Passo di Giau is a favorite place to meet the lovers of these machines. We have to admit that you can see them and hear them from afar. Besides, in the hostel, you can buy a sticker from that mountain pass or a lot of other souvenirs.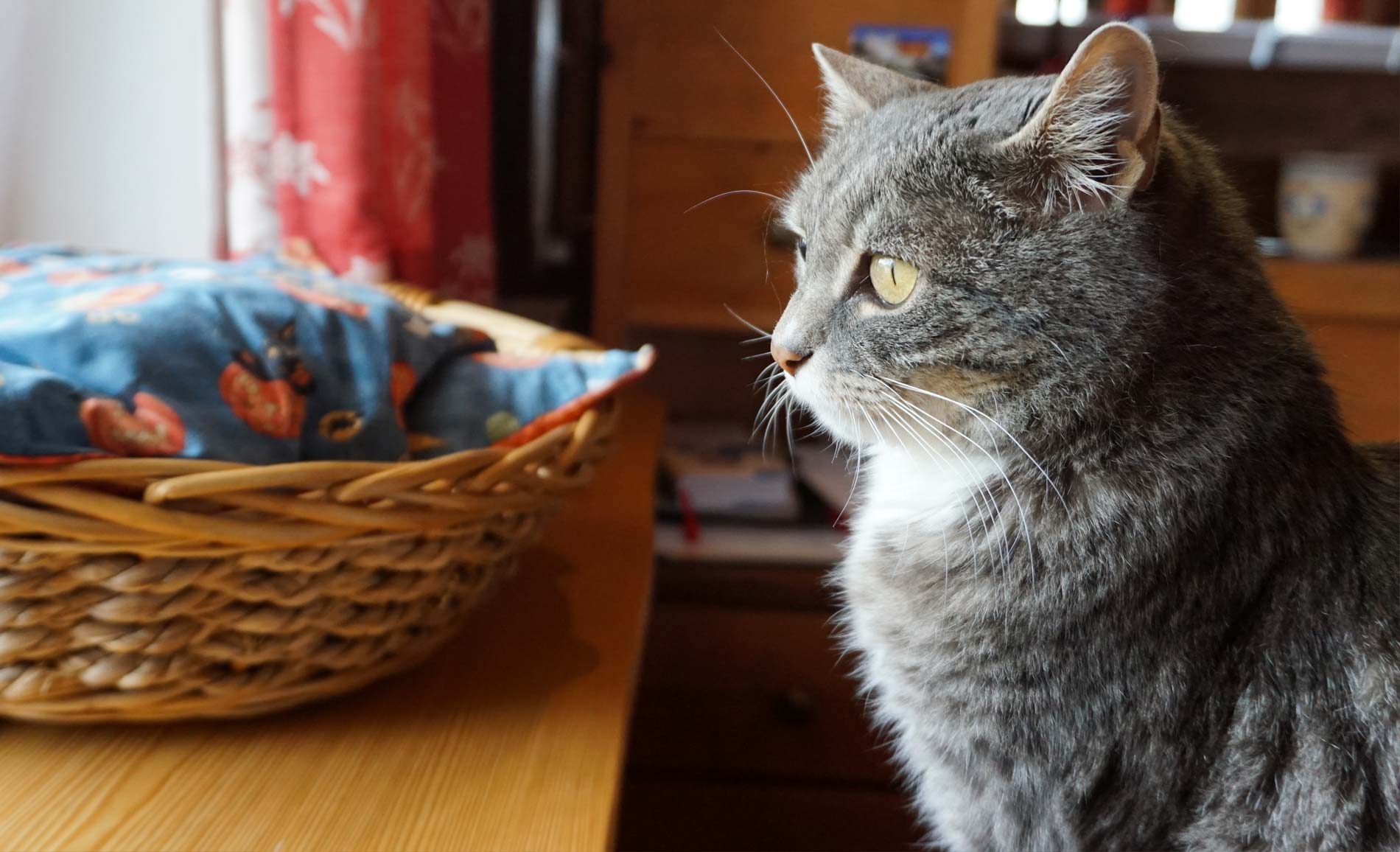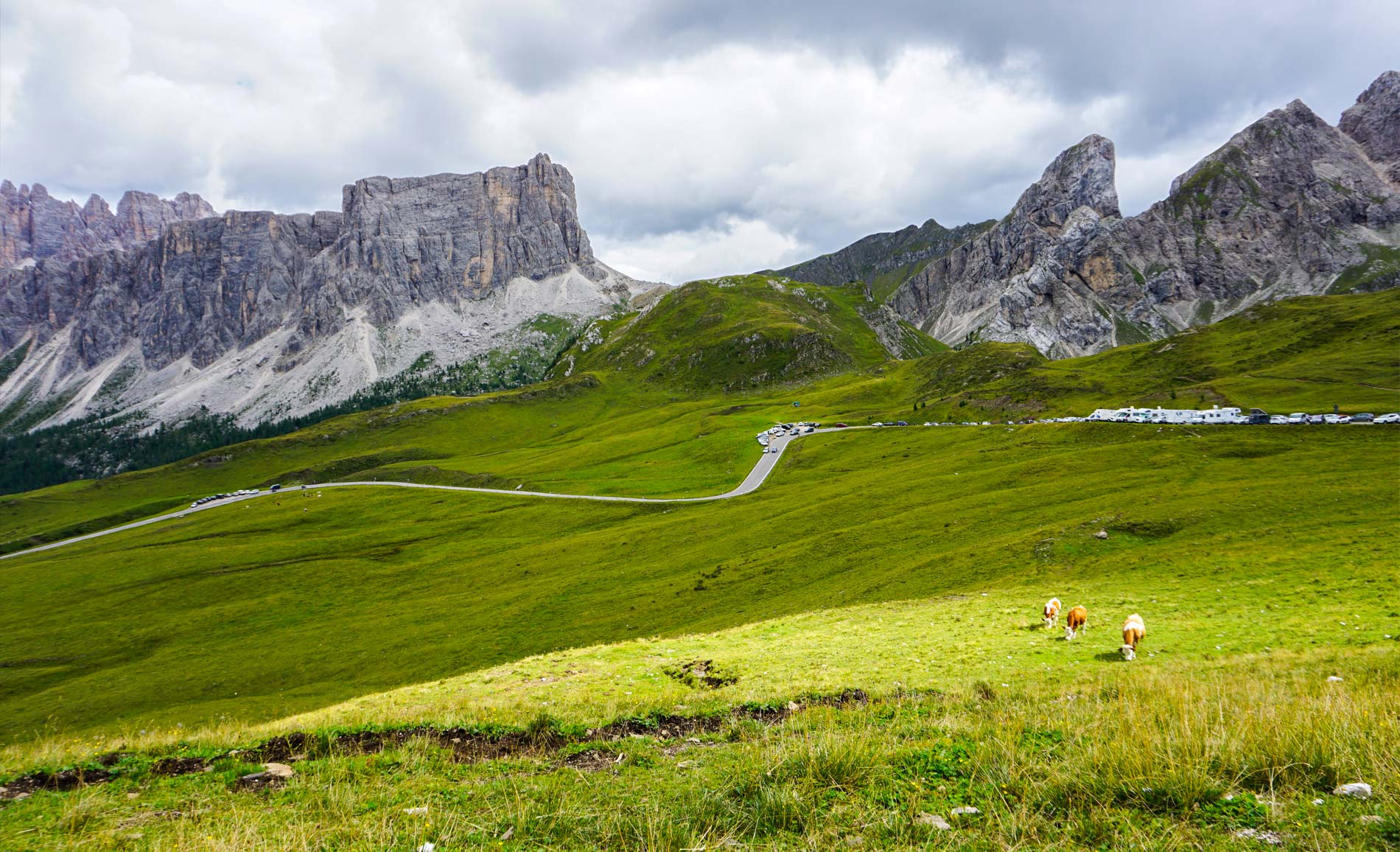 Passo di Giau by motorcycle –

what is

worth knowing

?
The route is open between May and September.

Altitude 2230 m above sea level, max. slope 12.4%.

The surface is quite good, sometimes cracks can be seen, but we have not recorded any major cavities.

The route, in our opinion, is of medium difficulty. The turns are so wide that you don't have to be stressed like on Stelvio and also have a nice surface.

Passo di Giau has 62 turns at 28 kilometres.

The route is free of charge.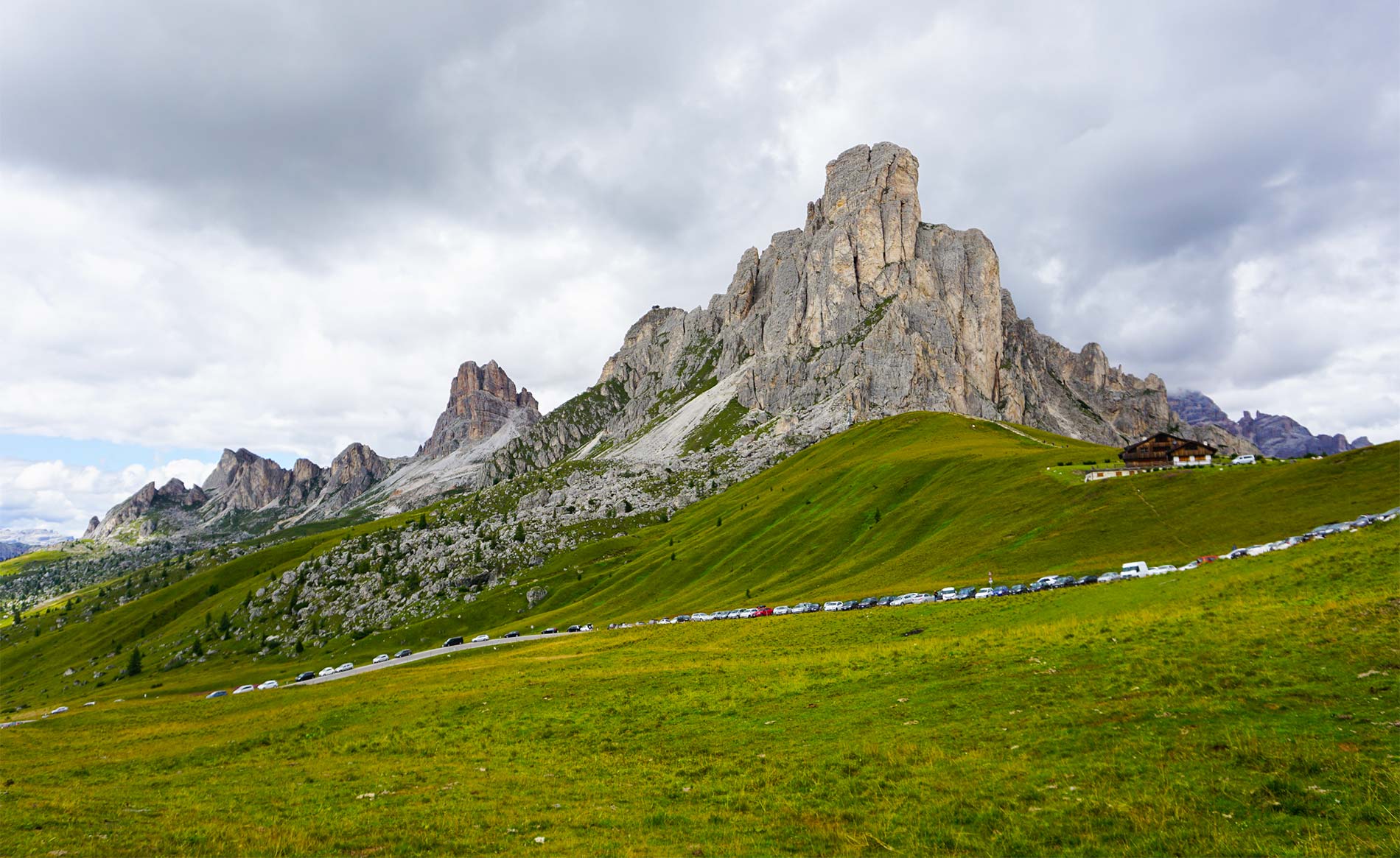 It is worth

discovering the Alps

anew – from the Dolomites' side
The Dolomites on a motorbike were a nice surprise for us. We are used to rather medium quality Italian roads, and here we have a pretty nice and well-kept asphalt. Each subsequent pass was only more beautiful than the previous one and over them all the dominant Passo di Giau – Dolomites' Stelvio. We will certainly write about the Dolomites more than once because we brought a whole lot of photos and memories from this trip. We will write and certainly, we will return there again, and we strongly encourage you to discover the Alps from this beautiful side.

A bunch of useful links at the end

Before your trip, please read about the Revolut card. We recommend it because it is a really great solution abroad. Take a look at our article about it.
What to take on a motorcycle trip? Download the checklist from our subjective guide.
We have also prepared a ready plan for the trip to the Alps and Dolomites. If you don't have time to plan your route or you don't have skills for it, take a look at

our article

.