While preparing for our trip around the Americas, we started looking for new camping equipment. We looked around for minimalist solutions, taking care of every pound of luggage, because our Basiorek has to carry us for more than 200 thousand kilometers. And so we thought to ourselves that it would be a shame not to share with you our types and comments on why we chose such equipment and not others. We'll start with what we ourselves started with, which is our home for the next few years – a tent. And what kind of tent to choose for a motorcyclist? What guided us and what are your types? We invite you below!
Our search began, of course, with good research on motorcycle groups and forums. The topic of a tent for a motorcyclist is almost as certain as the topic of tires for a motorcycle. :))) We collected all the recommended models, put them into tables and started comparing them (for the purpose of this post we supplemented the tables with your types of tents for a single motorcyclist). You will read about our choice at the end of the article, and it does not at all mean that ours is the best. Everything, of course, is an individual matter and depends on what you expect from camping and what your budget is. Before that, however, a little knowledge about the tents themselves, so that our choice is an informed one.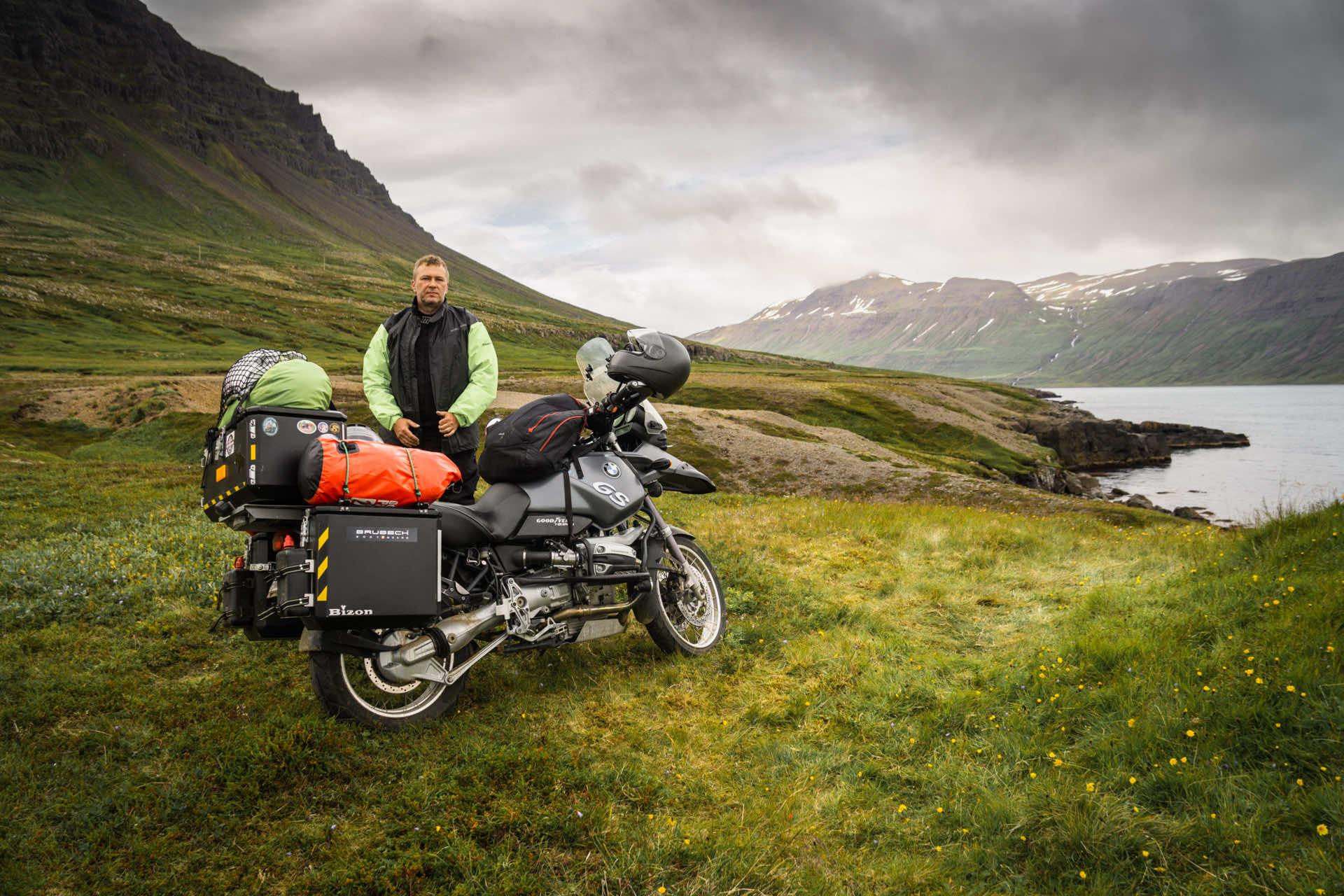 WHAT TYPES OF TENT CONSTRUCTION DO WE HAVE?
It's probably worth starting with a few words about the construction of tourist tents, because just getting acquainted with the types of tents available, their advantages and disadvantages, will partly facilitate our choice. With regard to construction, we distinguish between tunnel tents, dome tents, geodesic tents, 2Y tents, tents with an external or internal frame and various vestibule structures. Below are brief descriptions of the most popular of these.
Dome type tents are freestanding structures. Which means that once pitched, the tent stands on its own without lashings or pegs and can be moved without dismantling. This is very important if you plan to camp in areas where the ground is very hard or very shallow, or just the kind that makes it impossible to drive the pegs. This type of tent construction also makes them resistant to wind gusts, which is quite problematic in some regions of the world. Having traveled around Iceland ourselves, we've seen how easily the wind can put down a tent, although it wasn't just any breeze. The downside of tents based on a dome structure is the available usable space, which is greatly reduced by the slanted walls of the tent.
Geodesic tents are also a dome structure, but have been reinforced with additional stakes that make such tents very sturdy and resistant to wind gusts. Since surveying tents are mainly expedition tents, they are also quite low and staggered, constructed to best grip the ground in extreme conditions. Those extra risers, however, also added pounds to them.
Tunnel tents need to be carefully laid out, because their water- and windproofness depends on it. All lashings must be well fastened, the pegs must be solidly hammered, which unfortunately takes time. In addition, before unfolding, you need to choose a good place, because any relocation will involve unfolding the tent from scratch. Also, the tunnel tent will not pitch on every ground, which, for us, is its biggest disadvantage and basically disqualifies all tents of this design, despite the undoubted advantage of space inside. Here, the optimal height of the tent is along its entire length and is not diminished by slanted walls as in the case of dome tents.
Tents based on two letters Y(2Y) are a combination of a typical dome tent and a tunnel tent, such a hybrid design. As a result, you get more usable space than in a dome tent, and the use of fewer arches means that such tents are usually very lightweight. This type of construction can be found in the ultra-light MSR Hubba Hubba NX or Naturehike Cloud Up tents.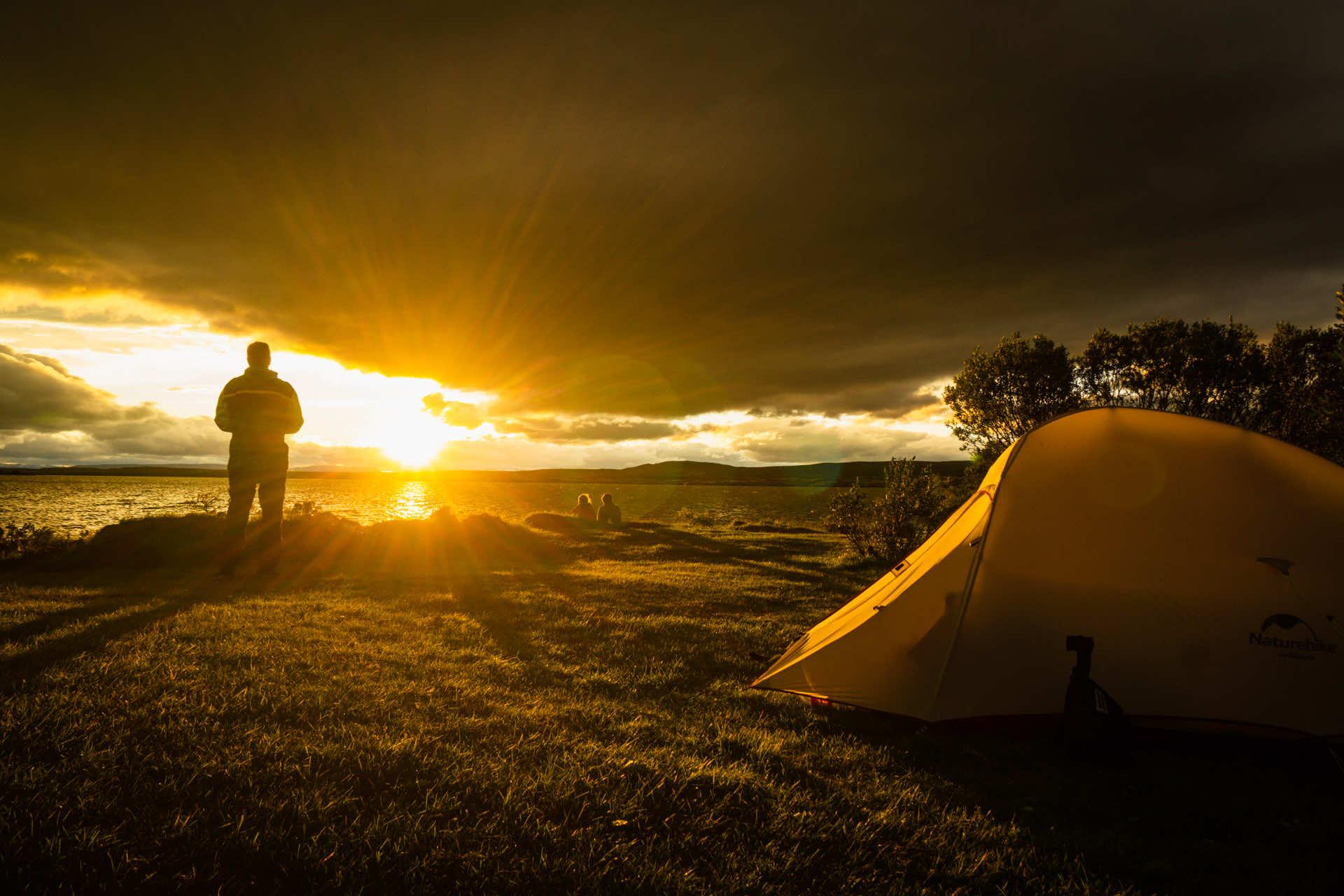 SINGLE, DOUBLE OR TRIPLE? HOW TO CHOOSE THE SIZE?
When it comes to a tent for a motorcyclist, it is best to choose a tent one number larger than the expected number of people sleeping in it. :))) That extra person will be our goodies, which it would be nice to store somewhere – jacket, pants, helmet or tankbag. While a helmet strapped to a motorcycle for the night can get away with it, stuffing motorcycle clothes by force, or worse – leaving them on the motorcycle for the night, is a mediocre solution. We once tried to prove to ourselves that we could sleep in a 2-person tent, which was really great, but after a month of sleeping in it every day, the tent went into the closet, and we ordered the 3-person equivalent of the same tent. Of course, there are some people who go for total minimalism, who don't even mind sleeping under a trapdoor, but for a bit of personal comfort, it's still worth thinking about a bigger tent, having in the back of our minds the things we'll want to pack into it for the night.
For this reason, you will not find tents that are designed for only one person in the comparison. We conclude that a motorcyclist traveling alone will choose a double for himself, not a single.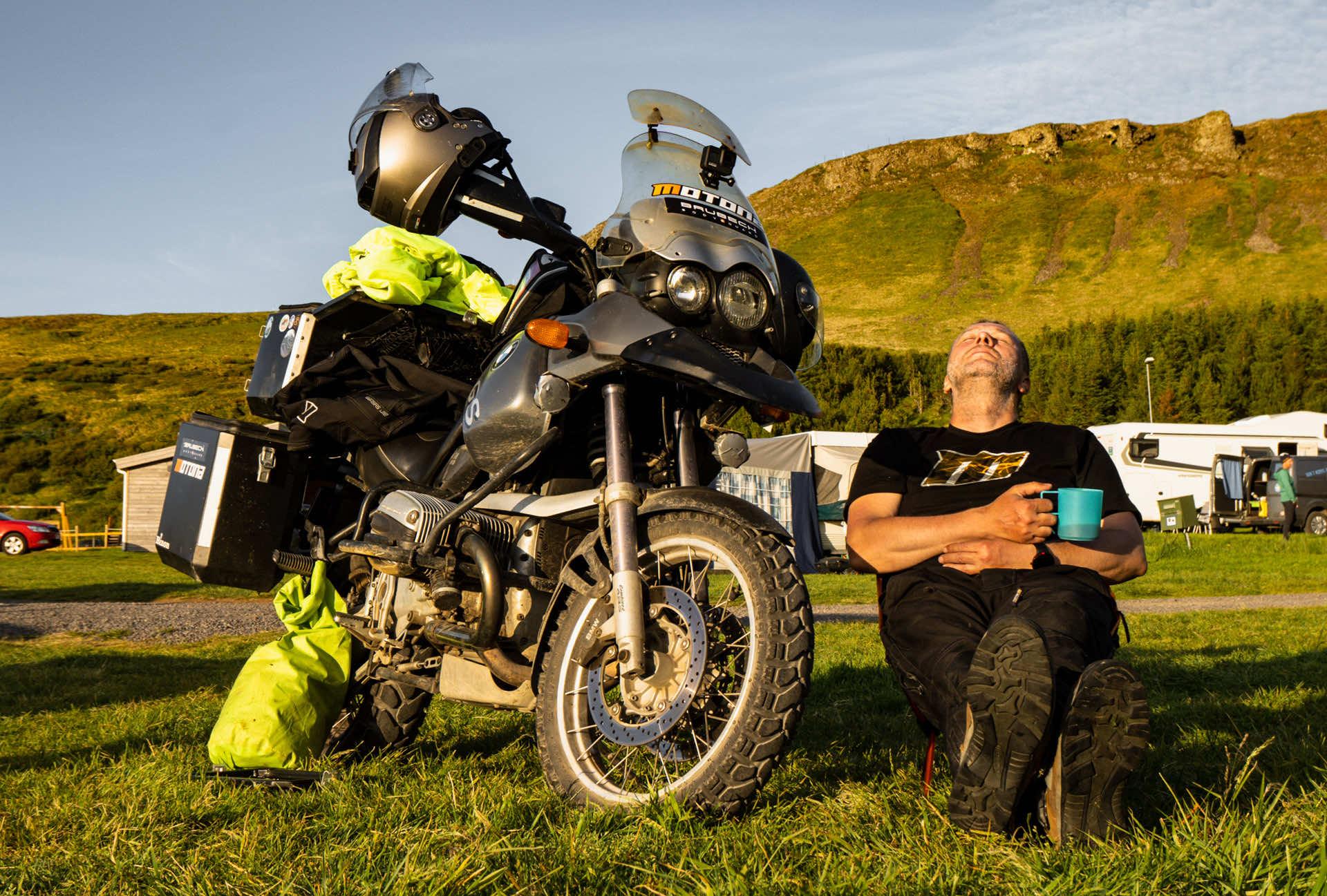 TENT FOR MOTORCYCLIST – SEASONALITY OF TENTS
Seasonality is another important criterion for dividing tents. They can be year-round, 2-season or 3-season. Summer tents will tend to be lighter due to the use of more mesh materials and, on top of that, more breathable, so we won't boil in them during hot summer nights. 3-season ones are probably the most popular and versatile, while winter ones will be a bit heavier and are not uncommonly equipped with additional snow aprons, allowing you to sprinkle the tent with snow, further protecting it from the wind. Thinking about when and under what conditions we will be camping will certainly make our choice easier, because if we are not thinking of pitching a tent in late autumn or early spring, we won't need a year-round or 3-season tent. This way we save money and do not burden our motorcycle with unnecessary kilograms.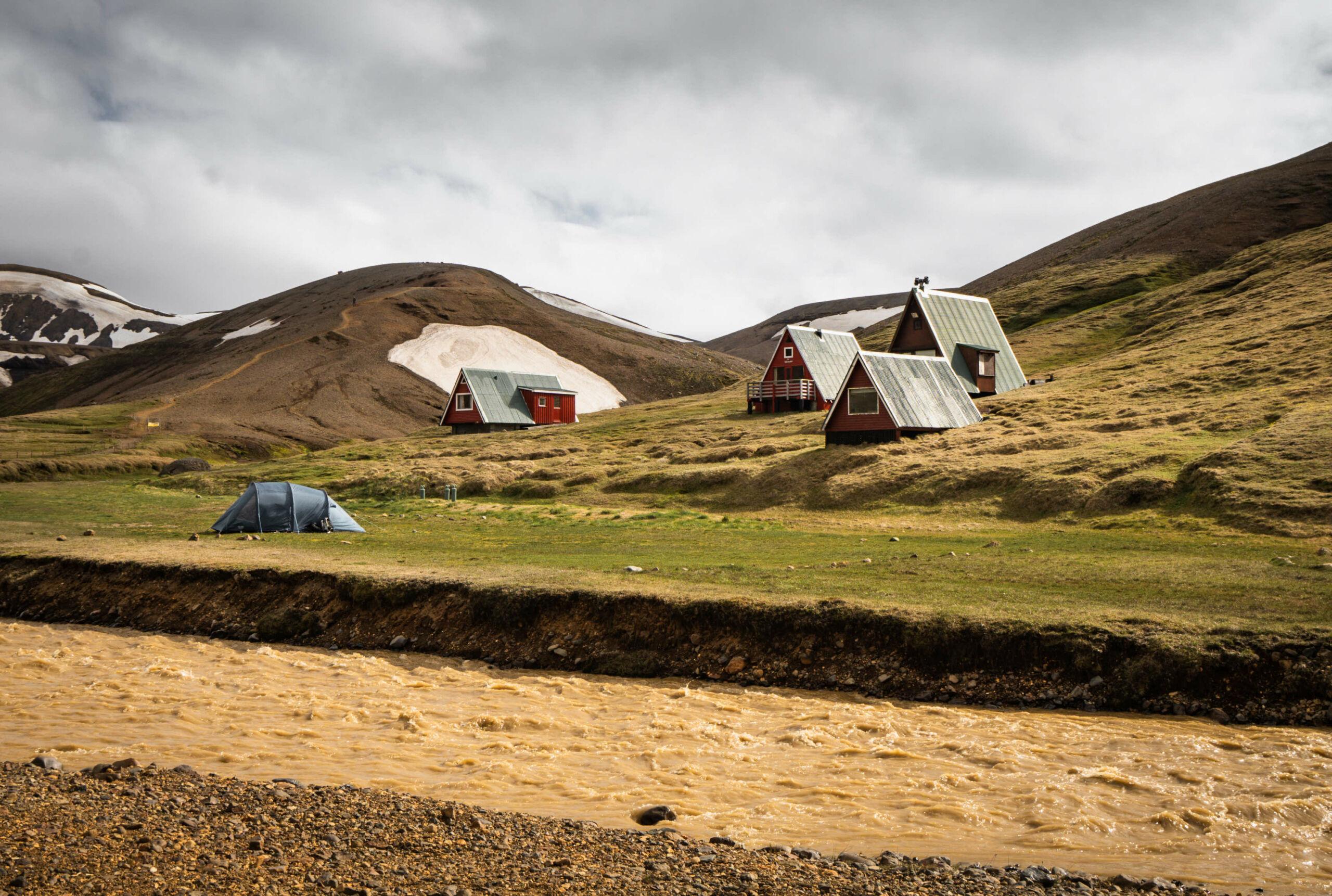 A TENT FOR A MOTORCYCLIST – WITH OR WITHOUT A VESTIBULE?
Our dream tent was one that had to have enough bedroom space, a vestibule with a floor spacious enough to sit in and cook dinner in peace on rainy days, on less rainy days roomy enough to fit our trunks and all our gear. And on top of that, self-supporting, lightweight and one that won't ruin our budget. If anyone has a similar dream, we'll say right away – it can't be done. All tents that have a large vestibule are not lightweight and are usually not self-supporting either. Often recommended by motorcyclists is Fjord Nansen's Corsica III. It's spacious with a really impressive vestibule, but we couldn't afford a tent that requires lashings and won't set up everywhere due to its tunnel construction, and it still weighs a hefty 5 kg. Of the self-supporting structures, there is also a recommended tent from our Czech neighbors – Hannah Set 3, but this one is also not among the light ones, in various specifications its weight ranges from 4.5-4.9 kg, so a lot, and besides, this model, is now withdrawn from production.
A large vestibule is a cool thing, but it already ceases to be so cool when it turns out that having one unfortunately significantly increases the tent's sheer weight and size when packed. Making a compromise, we were left with tents with a small vestibule (or two, depending on the model). Those completely without a vestibule we rejected, because it's really nice to at least stash your shoes somewhere, not necessarily smelling of violets after weeks of travel. In several models of tents, e.g. Naturehike P-Series or Big Agnes Copper Spur Bikepack, we found a very interesting solution that allows you to make a canopy over the entrance to the tent from the vestibule, using ropes or poles. In general, there is a lot to choose from when it comes to tents with small vestibules, so we won't elaborate too much, you can find more details in the tables.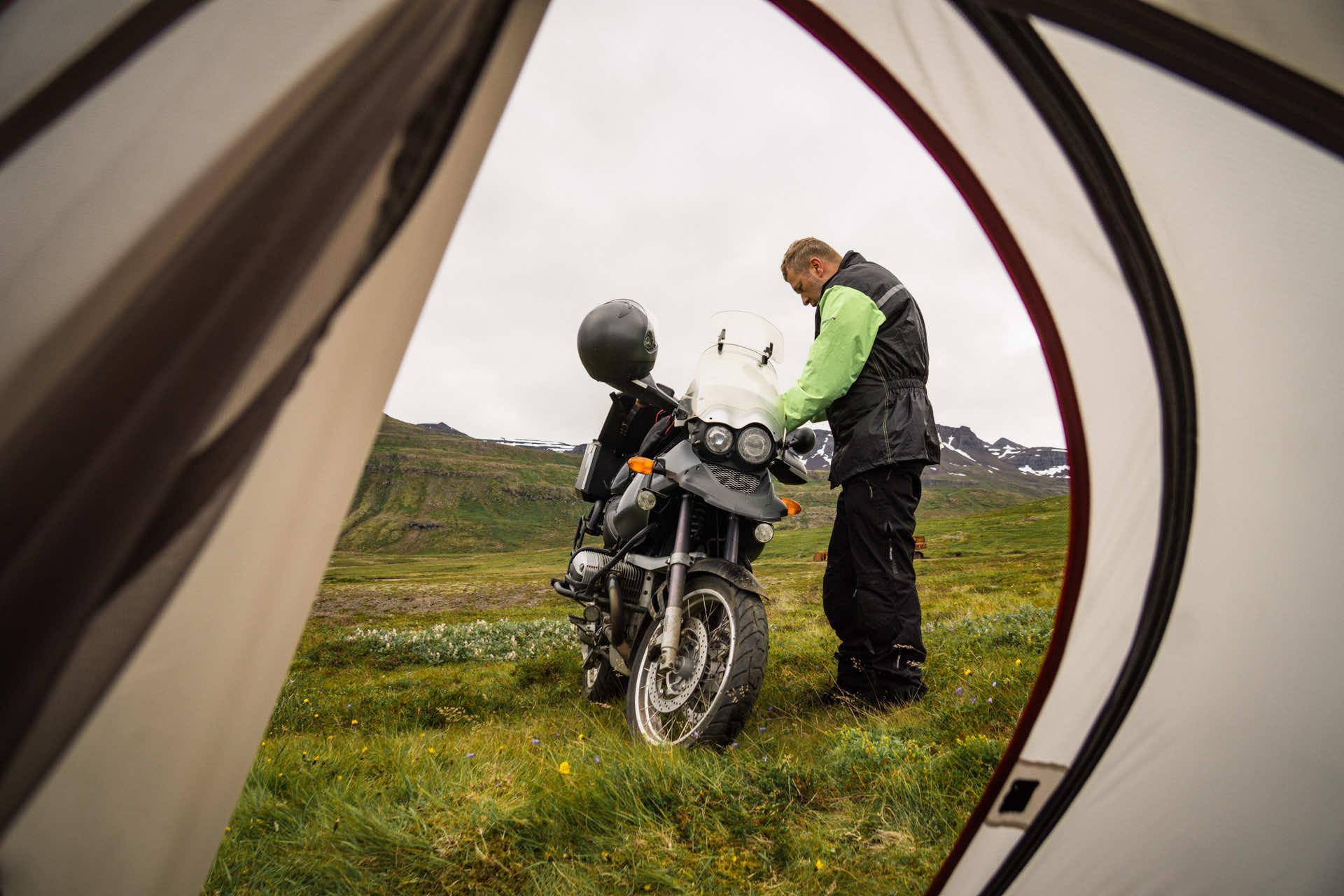 HOW IS IT WITH THIS WATER RESISTANCE?
To be honest, when thinking about tents at the very beginning, we completely disregarded the aspect of their waterproofness, and the numbers quoted by manufacturers told us nothing. We assumed that the tents were waterproof enough to handle a rainy night. Well, and that assumption works for the most part, but what if the same tent will be standing in the rain day after day? What if we go to Scandinavia, where the rains can go on unabated for weeks? What if we hit the monsoon season, where it's not just the rains that are a problem, but the constant moisture in the air? And at this point we started looking for information on what those magic numbers given by manufacturers mean. :)))
Water resistance, or water column height, is an indicator that expresses the material's resistance to water pressure. The higher it is, the more our tent can withstand. Theoretically, a fabric with parameters of 1500 mm water column is already resistant enough to withstand a big rain. To keep our tent dry in all conditions we should choose a fabric with parameters of 3000 mm. Theoretically, because it all depends on how correctly we set up our tent and take care of the correct tensioning of all lines and lashings. Deciding on a tent with weaker parameters, we can expect that it may start to get wet for us. However, it is important to remember that water seeps not only through the flysheet, but also through the floor, which is why reputable companies usually equip their tents with a floor that is much more durable and waterproof than the flysheet, even up to 10000 mm water column. This is also due to the wear and tear of the material, which loses its properties after a while, and the floor is the most vulnerable element.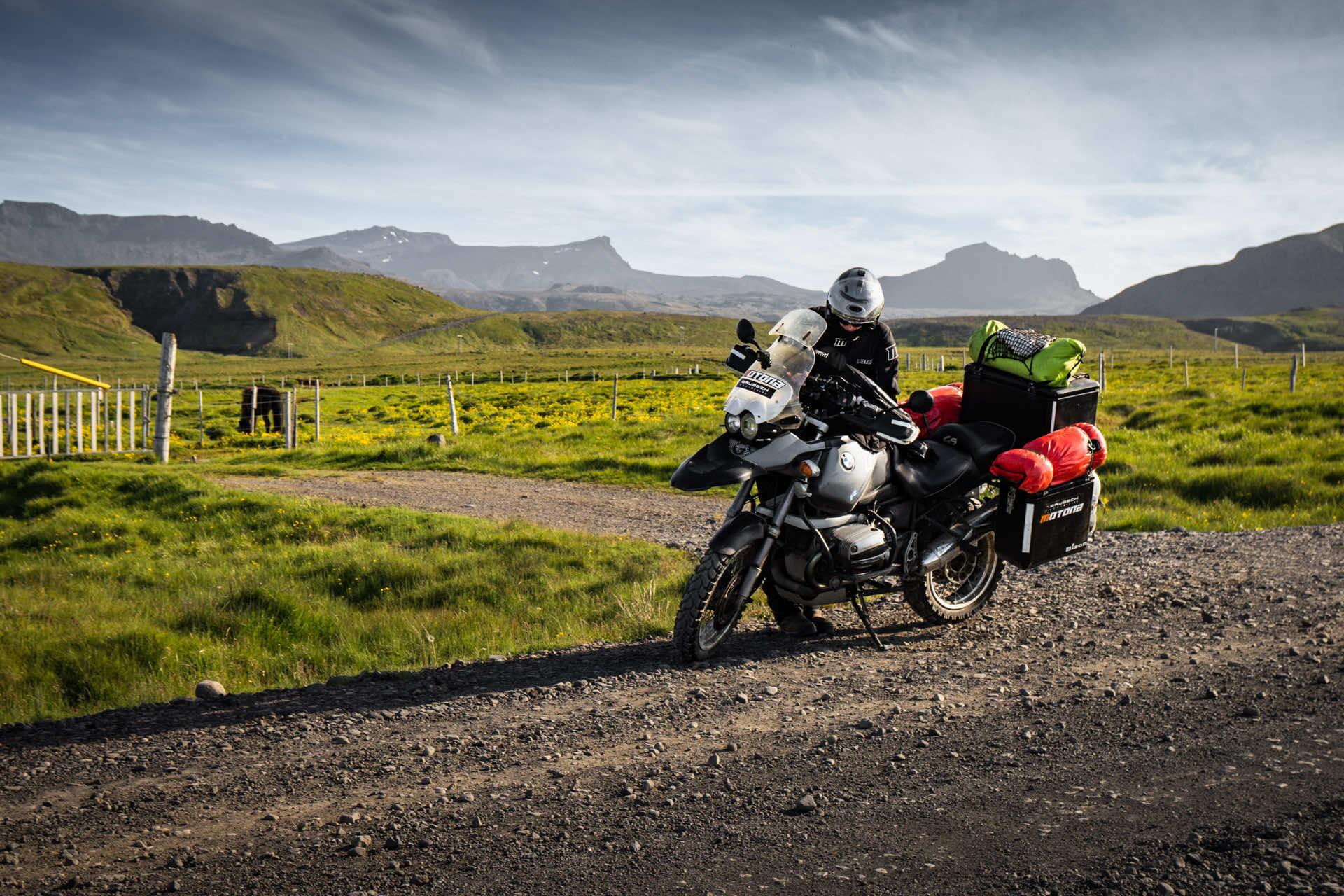 We, when choosing a tent for our trip, assumed that we were interested in a value of not less than 3000 mm water column and not more than 5000. Why not more? The higher the water resistance of the fabric, the more rigid, heavy and prone to tearing. Less elasticity of the fabric means less resistance to wind, especially to side winds, which we will face, for example, in Patagonia. When buying a tent just for a summer vacation in Poland or southern Europe, we would choose from the 1500-2000 mm range.
What else is worth knowing about the water resistance of tents? Parameters with parameters, but manufacturing technology is also important. For example, MSR tents, at first glance, do not have high water resistance parameters, but the DWR technology used in them makes them much more resistant to water than you might think, looking at the pure parameters. Also, before buying, it is also worth simply reading about the product we choose.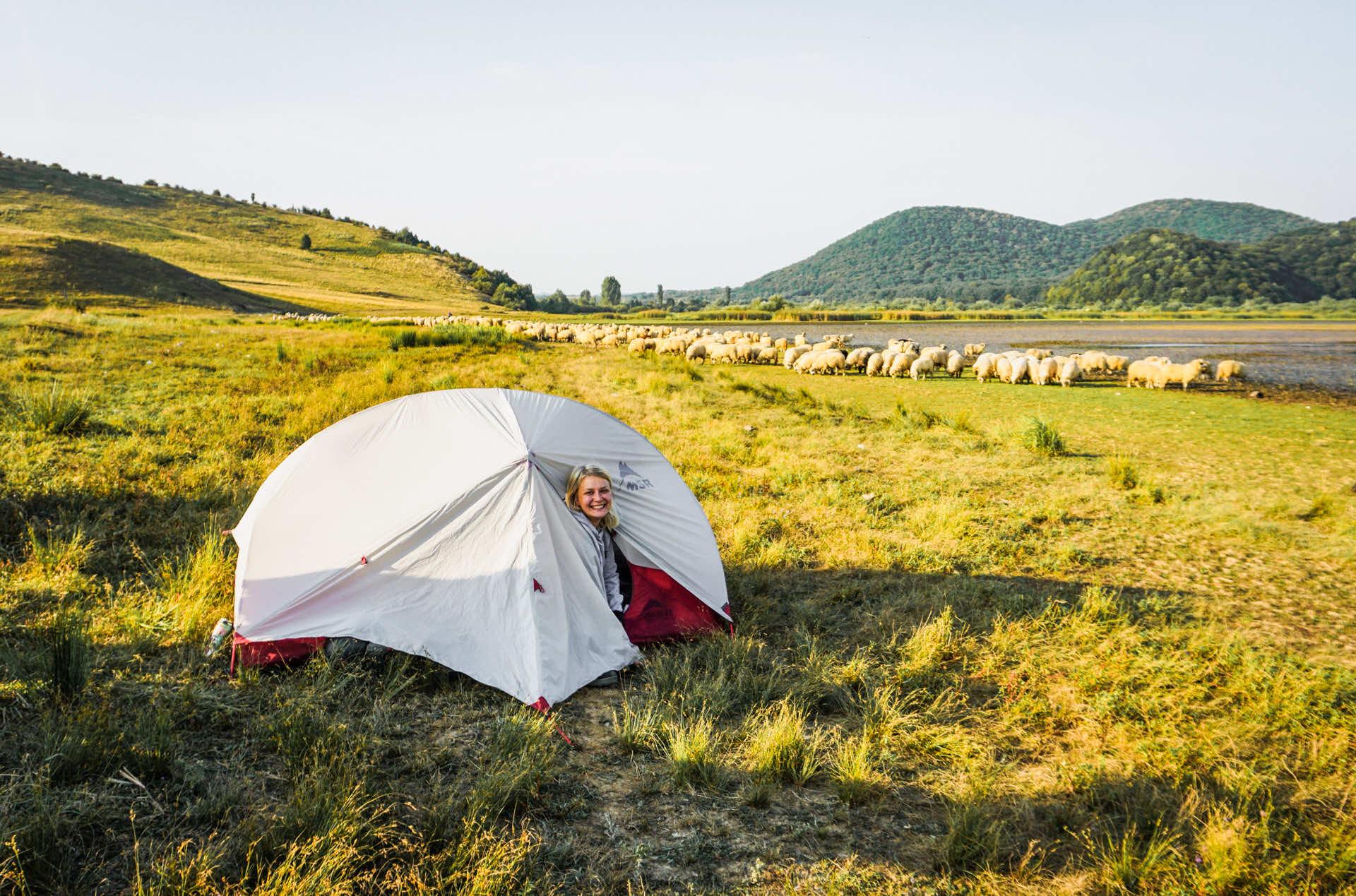 A TENT FOR A MOTORCYCLIST – WHAT IS WORTH CONSIDERING?
You've probably heard more than once that a good tent for a motorcyclist is one where you can pitch the flysheet first and then hang a bedroom. Such tents are called double-skinned or double-layered, and you will certainly appreciate their functionality when you come to camp in the rain. Putting up a tent usually starts with the bedroom, because it's just easier, but if conditions are unfavorable, having a two-layer tent you can start with the tropics, and your bedroom and the interior of the tent will stay dry. Single-layer tents have an integrated tropic and bedroom, making them very light and small when packed, but they perform poorly in rain and cooler climates. For a summer trip to the south of Europe – ideal, but if you have Scandinavia in mind, for example, a two-layer will be better.
The number of entrances to the tent and their arrangement. Seemingly a minor issue, but imagine situations where a couple goes together to a tent that has only one entrance on the long side of the tent. By force of things, one of the people to go outside will have to go to the other, which is not necessarily cool in the middle of the night. :))) That's why most often tent designers put the entrance on the head side or on the side of both sides, which has an additional advantage, because you can unzip it and make a nice airing. Most often, but not always, and it's also worth keeping in mind.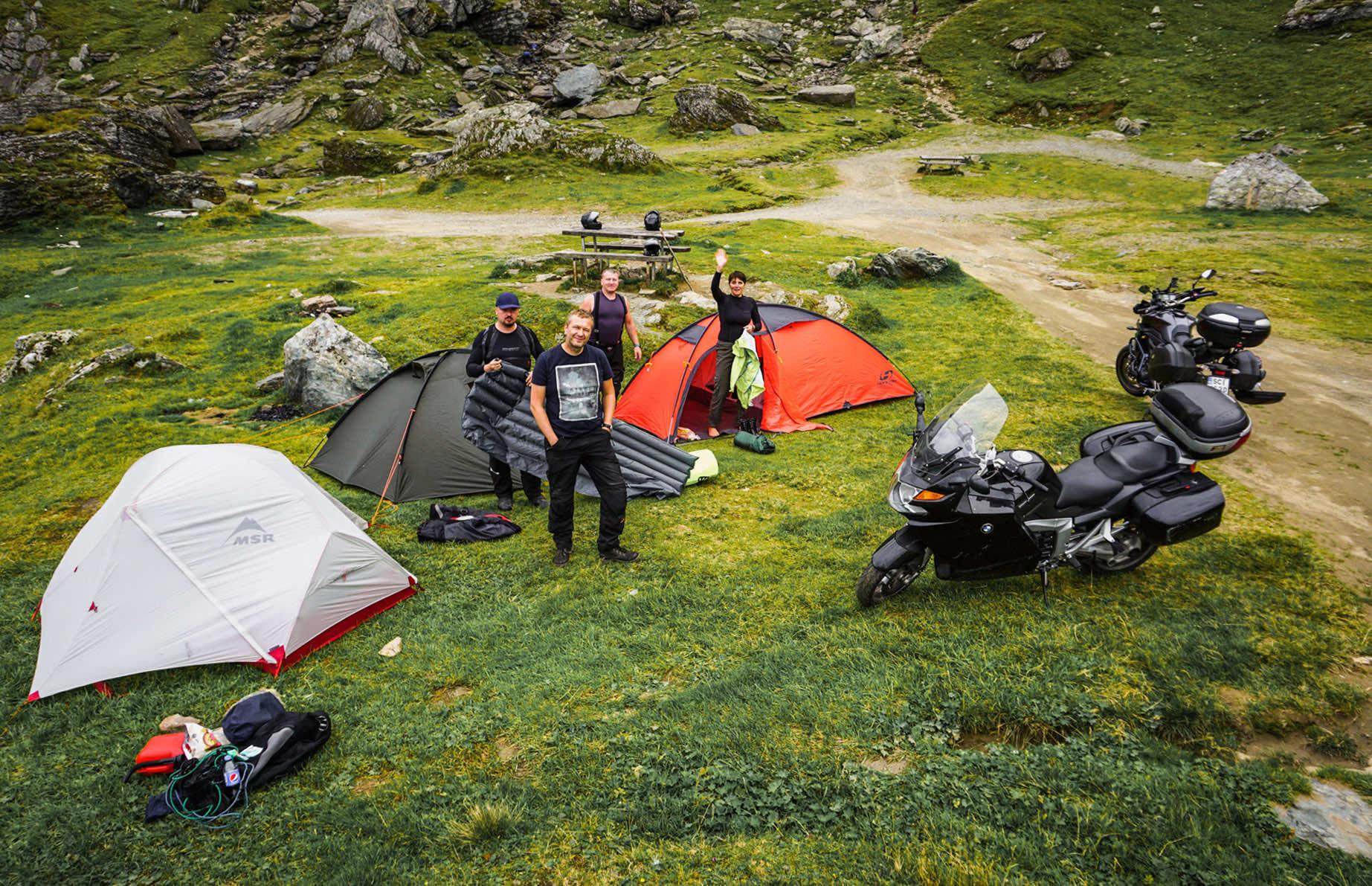 A TENT FOR A MOTORCYCLIST – SIZE, WEIGHT AND PRICE
And at the very end we come to what probably everyone is most interested in – weight and price. :))) The truth is that if you want a very light and packable tent for a motorcyclist, you have to pay more than for an ordinary tourist tent, the size of which you do not care, because it will end up in the trunk of your car anyway. Unfortunately, in ultralight tents, completely different technologies are already used, which mean that we will not buy such a tent for 400 hundred dollars. We were personally impressed by the MSR Hubba Hubba NX tent, which we had the opportunity to use during one of our trips, lightweight, easy to set up, self-supporting with a clipped bedroom in case of rain. Everything great, but however, price-wise it put quite a strain on the travel budget, so we looked for other solutions. We succeeded and we think we found the tent we were looking for, but about that at the very end. :))) Now it's time for numbers and specifics – that is, tables. :)))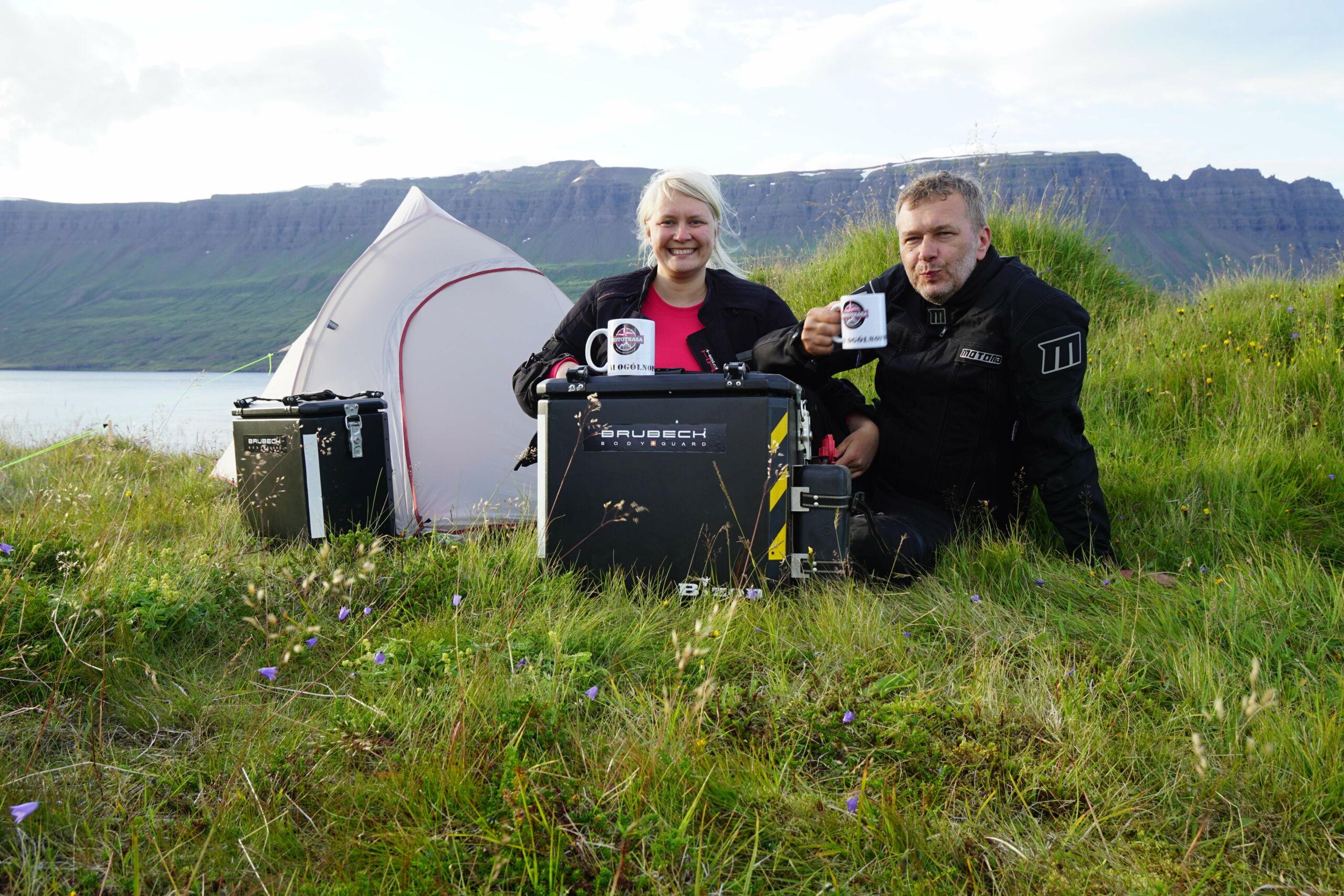 In the comparison, we focused on brands that are well-known and popular in Europe and can be easily bought in Poland. There are a lot of great tents from American brands, e.g. Big Agnes, unfortunately they are not very popular in Europe, so we didn't focus on them too much. For that we found a lot of tents from Naturehike, which are becoming increasingly popular in Poland and have become part of the permanent offer of many mountain stores. Although they are still cheaper on Alli. :)))
We have also discarded all models that are still available in stores, but the manufacturer itself has abandoned them. We have tried to collect all recommendable items, however, if we missed any tent that you think should be included in the comparison, please let us know. :)))
For your convenience, the tables can be freely sorted, and under the names of the tents there are links to the manufacturers' websites or online stores, where you can find more detailed information about them.
TENTS OF DOME CONSTRUCTION
| Name | Company | No. of persons | Dimensions when unfolded (dimensions when folded) | Weight (kg) | Vestibule (number and length) | Water resistance (track, floor) | Price (approximate) |
| --- | --- | --- | --- | --- | --- | --- | --- |
| Minipack | High Peak | 2 | 190x120x95 (42x12x12) | 1,6 | NONE | 1500 mm, no data | 169 PLN |
| Lima II | Fjord Nansen | 2 | 195x215x100 (48x16x16) | 3,2 | 1 vestibule - 65 cm | 3000 mm, 3000 mm | 629 PLN |
| Andy III | Fjord Nansen | 3 | 240x210x125 (55x20x20) | 4,1 | 1 vestibule - 90 cm | 3000 mm, 3000 mm | 679 PLN |
| Tordis II | Fjord Nansen | 2 | 250x205x105 (50x16x16) | 2,7 | 2 vestibules - 65 cm | 5000 mm, 5000 mm | 1200 PLN |
| Sierra II | Fjord Nansen | 2 | 260x215x100 (50x20x20) | 3,6 | 2 vestibules - 65 cm | 3000 mm, no data | 759 PLN |
| Veig Pro III | Fjord Nansen | 3 | 325x215x110 (50x20x20) | 3 | 2 vestibules - 80 cm | 6000 mm, 5000 mm | 1259 PLN |
| Rekvig III NG | Fjord Nansen | 3 | 325x215x110 (48x14x14) | 2,5 | 2 vestibules - 80 cm | 6000 mm, 3000 mm | 1899 PLN |
| Quechua MH 100 2-osobowy | Decatlon | 2 | 210x130x107 (58,16,16) | 2,6 | NONE | 2000 mm, 2400 mm | 139 PLN |
| Quechua MH 100 3-osobowy | Decatlon | 3 | 210x195x110 (59x17x17) | 3,4 | NONE | 2000 mm, 2400 mm | 199 PLN |
| Forclaz MT900 2-osobowy | Decatlon | 2 | 249x205x106 (39x12x12) | 1,95 | 2 vestibules - 62 cm | 2000 mm, 3000 mm | 999,99 PLN |
| Forclaz MT500 Fresh&Black | Decatlon | 3 | 340x220x119 (39x19x20) | 3,95 | 2 vestibules - 60 cm | 2000 mm, 5000 mm | 799,99 PLN |
| Quechua 2 Seconds Easy Fresh&Black | Decatlon | 2 | 225x205x110 (59x20x20) | 4,7 | 2 vestibules - 40 cm | 2000 mm, 5000 mm | 499,99 PLN |
| Quechua Fresh&Black XL | Decatlon | 3 | 280x210x115 (55x20x20) | 5,3 | 1 vestibule - 70 cm | 2000mm, 5000 mm | 399,99 PLN |
| Cloud Up 2 | NatureHike | 2 | 270x125x100 (40x13x13) | 1,4 | 1 vestibule - 60 cm | 3000 mm, 3000 mm | 754 PLN (169.95 $) |
| Cloud Up 3 | NatureHike | 3 | 300x180x110 (45x15x15) | 1,85 | 1 vestibule - 85 cm | 3000 mm, 3000 mm | 1017 PLN (228 $) |
| P-Series 2 | NatureHike | 2 | 175x200x100 (44x14x14) | 2,1 | 1 vestibule - 45 cm | 2000 mm, 2000 mm | 445 PLN (99,95 $) |
| P-Series 3 | NatureHike | 3 | 205x205x110 (46x16x16) | 2,3 | 1 vestibule - 45 cm | 2000 mm, no data | 599 PLN |
| Star River 2 | NatureHike | 2 | 195x215x110 (45x15x15) | 2,2 | 2 vestibules - 60 cm | 4000 mm, no data | 735 PLN (164,95 $) |
| Doppelwand Kuppelzelt | Louis | 2 | 310x215x120 (55x18x18) | 2,8 | 2 vestibules - 80 cm | 5000 mm, 7000 mm | 940 PLN (199,99 €) |
| Taurus 2 | Peme | 2 | 220x210x110 (54x15x15) | 3,7 | 2 vestibules - 80 cm | 4000 mm, 6000 mm | 459 PLN |
| Tondo 2 | Hi-Tec | 2 | 200x210x120 (58x14x14) | 3,4 | 2 vestibules - 50 cm | 3000 mm, no data | 224 PLN |
| Arco Red Line 2/3 | Marabut | 2/3 | 366x223x92 (47x18x18) | 3,55 | 2 vestibules - 105 i 50 cm | 3000 mm, 4000 mm | 1930 PLN |
| Polinezja | Marabut | 3 | 325x200x165 (60x21x21) | 4,8 | 1 vestibule - 125 cm | 3000 mm, 10000 mm | 1420 PLN |
| ADVTent | Lone Rider | 2 | 187x203x100 (41x15x15) | 3,35 | 2 vestibules - 65 cm | 10000 mm, 10000 mm | 1850 PLN |
| Bronder | Husky | 2 | 345x170x130 (50x18x18) | 4,3 | 1 vestibule - 130 cm | 6000 mm,10000 mm | 1058 PLN |
| Darwin 2+ | Coleman | 2 | 310x140x110 (57x15x16) | 4,3 | 1 vestibule - 100 cm | 3000 mm, no data | 479 PLN |
| Darwin 3+ | Coleman | 3 | 320x180x120 (50x19x19) | 4,9 | 1 vestibule - 110 cm | 3000 mm, no data | 499 PLN |
| Hubba Hubba NX | MSR | 2 | 279x213x100 (45x18x18) | 1,7 | 2 vestibules - 72 cm | 1200 mm, 3000 mm | 1999,99 PLN |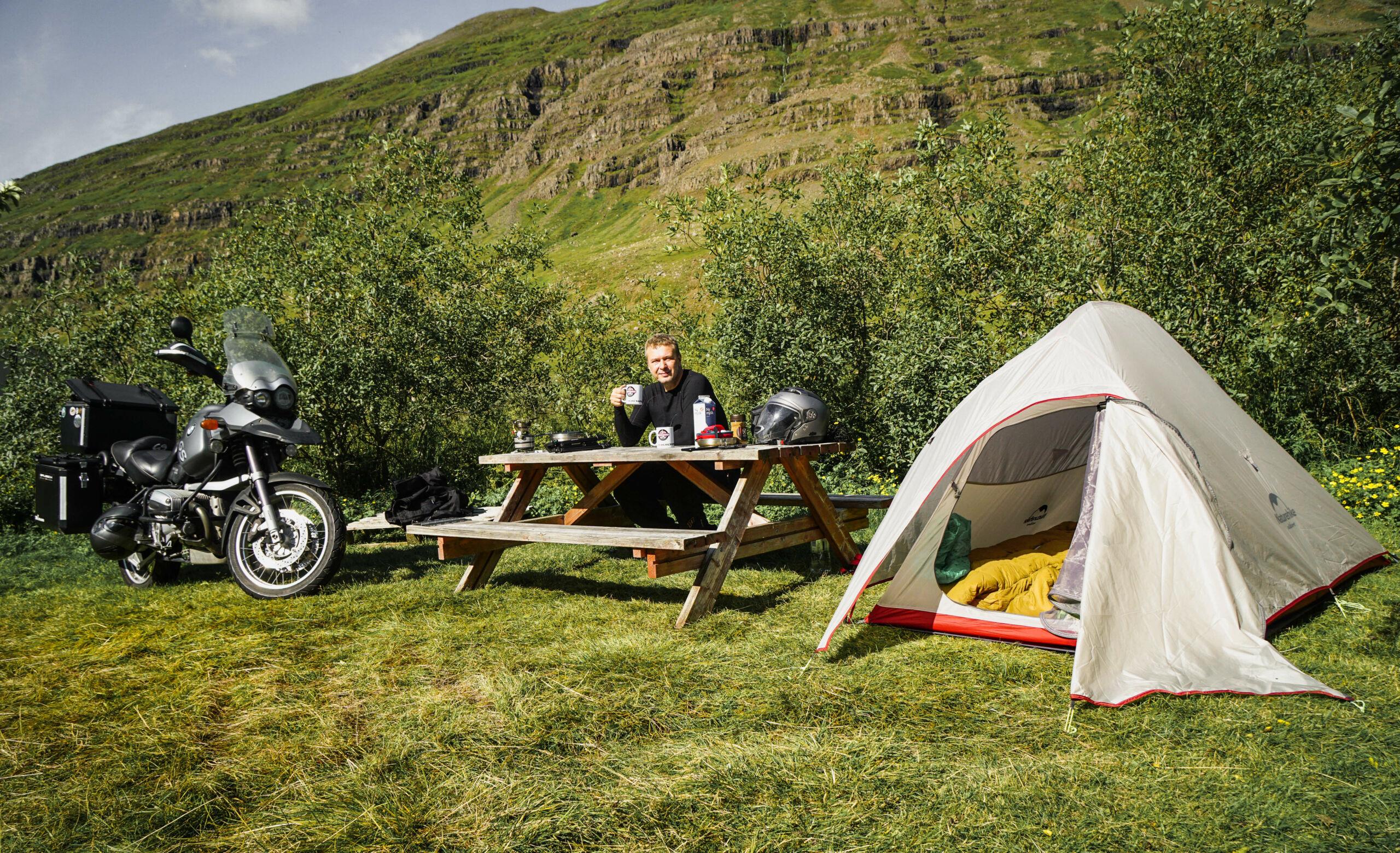 TENTS OF TUNNEL CONSTRUCTION
| Name | Company | No. of persons | Dimensions when unfolded (dimensions when folded) | Weight (kg) | Vestibule (amount, length) | Water resistance (track, floor) | Price (approximate) |
| --- | --- | --- | --- | --- | --- | --- | --- |
| Siskin 2 | High Peak | 2 | 230x120x90 (38x8x16) | 1,6 | NONE | 3000 mm, 3000 mm | 369 PLN |
| Forclaz MT900 Ultralight 3 | Decatlon | 3 | 315x180x95 (40x16x17) | 2,3 | 1 vestibule, 100 cm | 2000 mm, 3000 mm | 1299 PLN |
| Bedrock 2 | Coleman | 2 | 225x260x93 (54x14x14) | 2,5 | 1 vestibule, 90 cm | 3000 mm, no data | 460 PLN |
| Batumi | Marabut | 3 | 337x210x145 (57x17x17) | 4,7 | 1 vestibule, 167 cm | 3000 mm, 10000 mm | 1390 PLN |
| Korsyka III | Fjord Nansen | 3 | 385x210x115 (48x18x18) | 5 | 1 vestibule, 175 cm | 3000 mm, 3000 mm | 959 PLN |
| Tasman III | Coleman | 3 | 400x180x100 (61x17x18) | 5,2 | 1 vestibule, 190 cm | 3000 mm, no data | 879 PLN |
| Atmos 3 | High Peak | 3 | 380x180x100 (58x19x19) | 5,5 | 1 vestibule, 160 cm | 4000 mm, no data | 770 PLN |
| MotoTent | Lone Rider | 2 | 415x240x200 (60x20x20) | 5,44 | 1 vestibule, 275 cm | 10000 mm, 10000 mm | 2385 PLN |
| Atacama Expedition | Redverz | 3 | 495x233x195 (53x25x25) | 6,35 | 1 vestibule, 254 cm | 4000 mm, 10000 mm | 3121 PLN (699 $) |
A TENT FOR A MOTORCYCLIST – OUR CHOICE FOR THE COMING YEARS
Everyone expects something different from a tent and, above all, everyone travels differently, so it's impossible to say which is the best. Each has something to offer, some are ultralight, others are very durable, and still others are super cheap. Any choice will be good if it fits our expectations and travel style.
We were looking for a tent that would serve us for the next few years, or at least for as long as possible, giving us a roof over our heads every day. Protecting us both on hot days spent in hot deserts, rainy days in tropical climates or cold days somewhere high in the Andes. We also didn't want a tent costing thousands, because you know – equipment like equipment – it can get damaged, torn or otherwise damaged. After a long search, we found a tent that theoretically met all our requirements, but…. Well, exactly one but, because we found it on Alliexpress, and who a good few years ago was not skeptical of products from Alli? :)))
But we thought we'd take a chance, because the reviews were pretty good, and besides, we found our tent at a super price for a little over £300, because we still snagged some promotion. And so the Naturehike Cloud Up 2 came to us less than a month later. Well, and we have to tell you that it strongly surprised us when we put it up. It was confusingly reminiscent of another tent from MSR Hubba Hubba NX, which we had previously had the opportunity to take to the Balkans, and we liked it terribly. The Cloud Up 2, at first glance, was in no way inferior to other high-shelf tents we had previously looked at in stores and considered. Self-supporting, double-layered, ultralight (because it weighed 1.4 kg) with aluminum tubes and decent waterproofing performance.  For that, price-wise it swept the others. 300 PLN versus 1000-2000 PLN, however, makes a big difference. We decided to take it to Iceland, because if it works there it will also work for our trip around the Americas.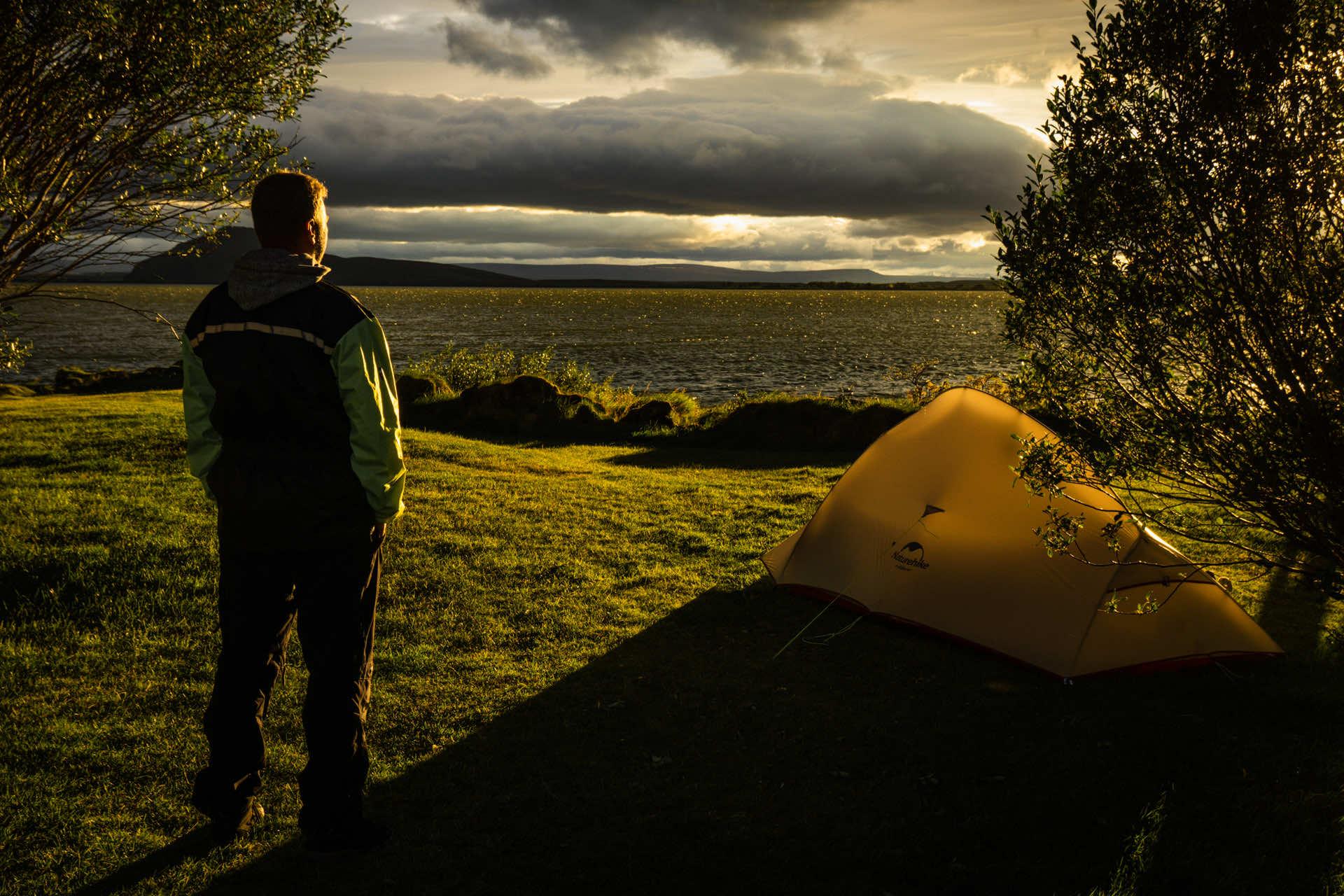 Those of you who have been following our trip already know this, those who are new readers with us don't yet, but not to prolong it – it performed brilliantly in all conditions, cold, rain and winds reaching 120 km/h. The only change we made after our trip in Iceland was to replace the double with a triple with snow aprons – Naturehike Cloud Up 3. Still, the double was too small for us and while, for a week-long trip it would be fine, in the long run of use, it was becoming tiresome to stuff everything into such a small space. We also decided to invest a little more in a tent with snow aprons, which give extra protection from the wind. Price-wise, the tent was still attractive, and we only added 300 g of extra weight. We bought our Naturehike Cloud Up 3 for 600 PLN, now it will be rather hard to find one at this price. One, Naturehike has already made a name for itself, as evidenced by the presence of their tents in many mountaineering stores, two, products from China are already officially subject to customs duties and VAT, which we unfortunately have to pay when buying directly from Alliexpress.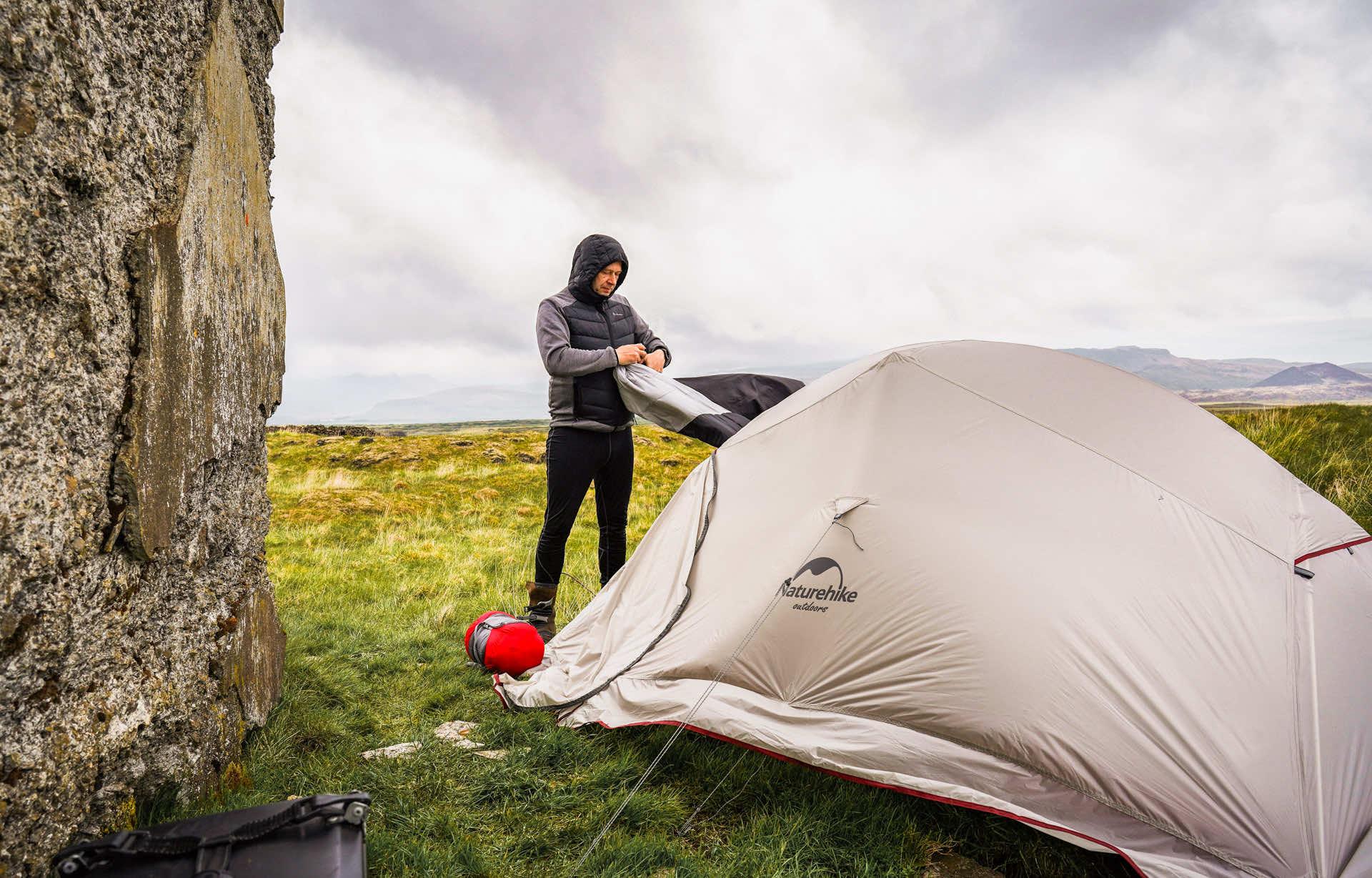 To be fair, the Naturehike Cloud Up is not a perfect tent. Ventilation is not super solved here, the tent has vents, but nevertheless our friends complained about water condensation inside the tent. Cloud Up, both two- and three-person, also has only one entrance on the side of the shorter side, nevertheless, the entrances on the side of the longer side are more convenient, and besides, if there are two you can make a nice airing. Cloud Up 2 seemed to us quite cramped and low for a two-person tent, the bedroom was such a minimum for us to accept (in a three-person we did not have this problem, or we so big? :))) ).
However, these few downsides, can not overshadow the undoubted advantages of this tent, and if we had to choose again, we would probably choose similarly. :))) Also, if anyone is wondering what tent to choose for a motorcyclist, Naturehike meets almost all the criteria – lightweight, packable, proves itself in the field, and is still attractively priced. We can confidently recommend it to anyone, it has survived a lot with us and has given advice.
And in fact, any tent will be good if it meets our expectations. :))) It doesn't matter whether for 150 or 1000 PLN, a well-known brand or not. There is no need to wait – pack up and go, the whole beautiful world is waiting to be discovered! :))) And we hope that we have contributed at least a little to it. Drive safe!