The West Fjords, this seemingly sometimes forgotten piece of Iceland, is exceptionally close to our hearts. Nowhere else did we feel such a close connection with the surrounding nature, nowhere else did we experience such peace and quiet. Even the landscapes seemed more beautiful here than anywhere else in Iceland. We decided to collect all our memories, photos and tips in one place, and that's how today's entry was created – The West Fjords of Iceland – what to see, a map of our favorite places. We invite you and hope that you will also fall in love with this part of Iceland.
The West Fjords of Iceland – here the road becomes the destination
We were going to start by listing all our favorite places in the West Fjords, but after a while we came to the conclusion that it's not them that make the Fjords such an amazing place, but the road itself. Winding, sometimes leading us around the fjords, sometimes zigzagging up and over the peaks. In some places it is still gravel and requires more concentration than national road 1. Like the most eminent guide and expert of Iceland, it leads us and discovers new treasures – unnamed waterfalls, charming coves, valleys, majestic ranges of fjords. It is enough to follow her, because here – in the West Fjords of Iceland, it is indeed the road that becomes the destination.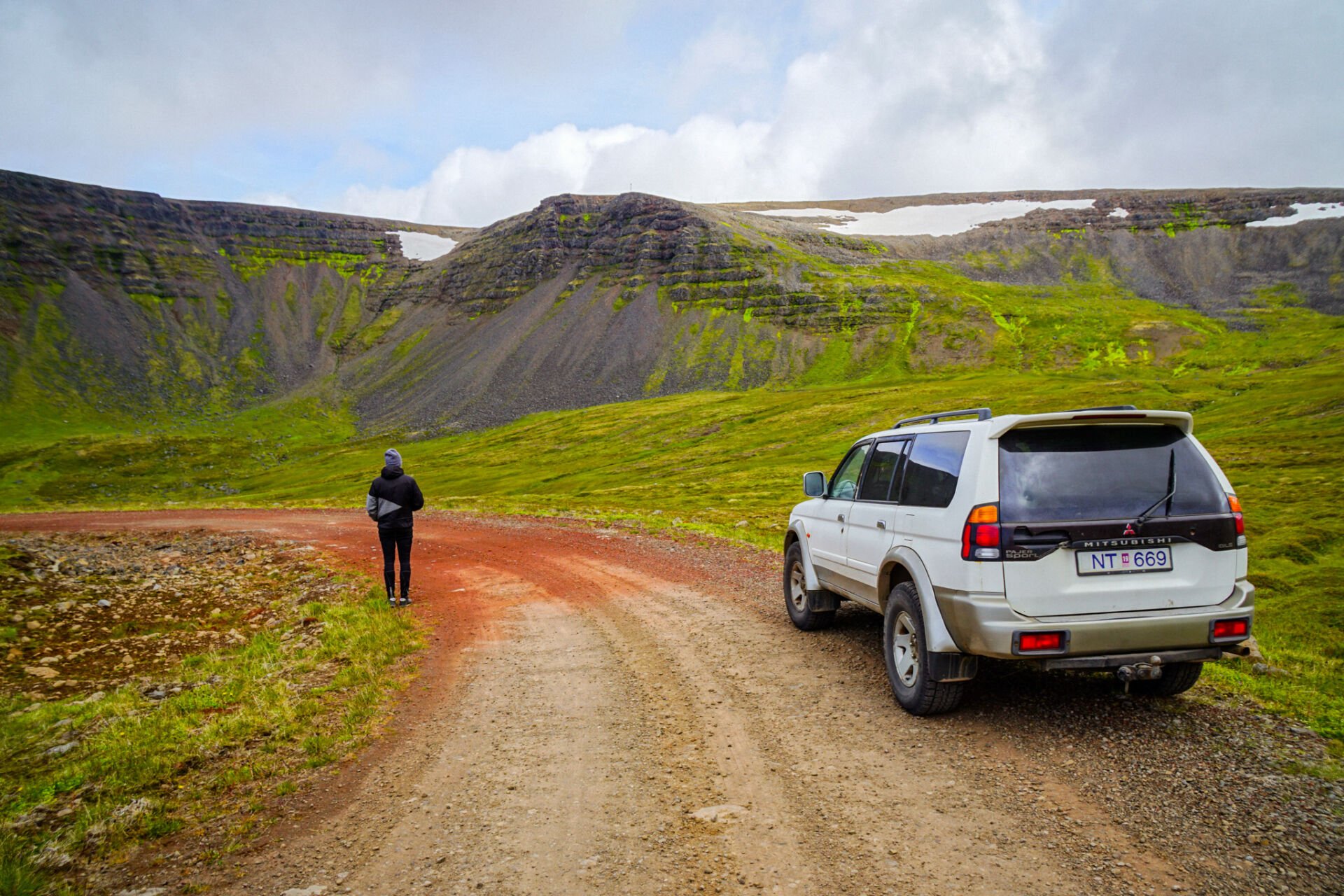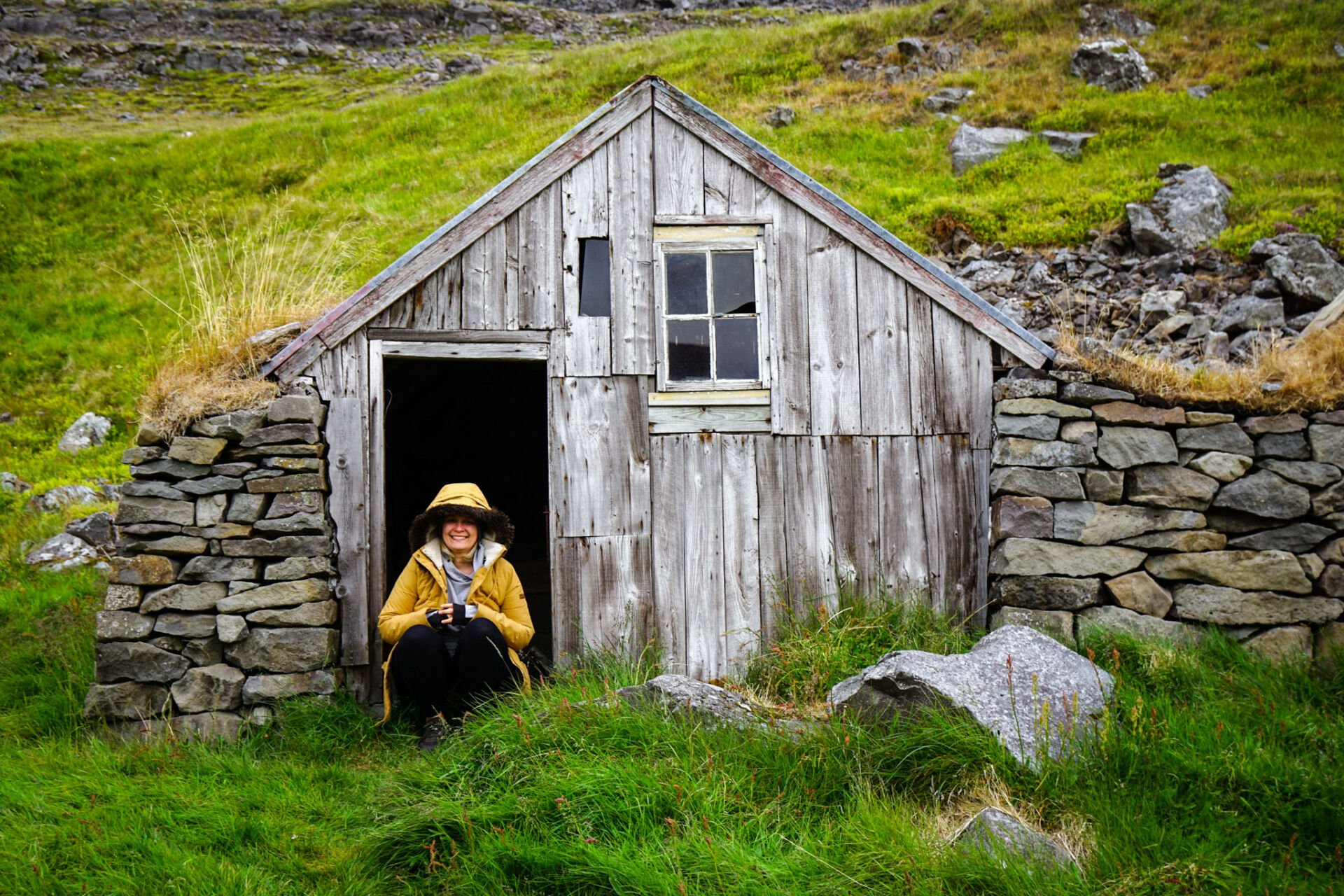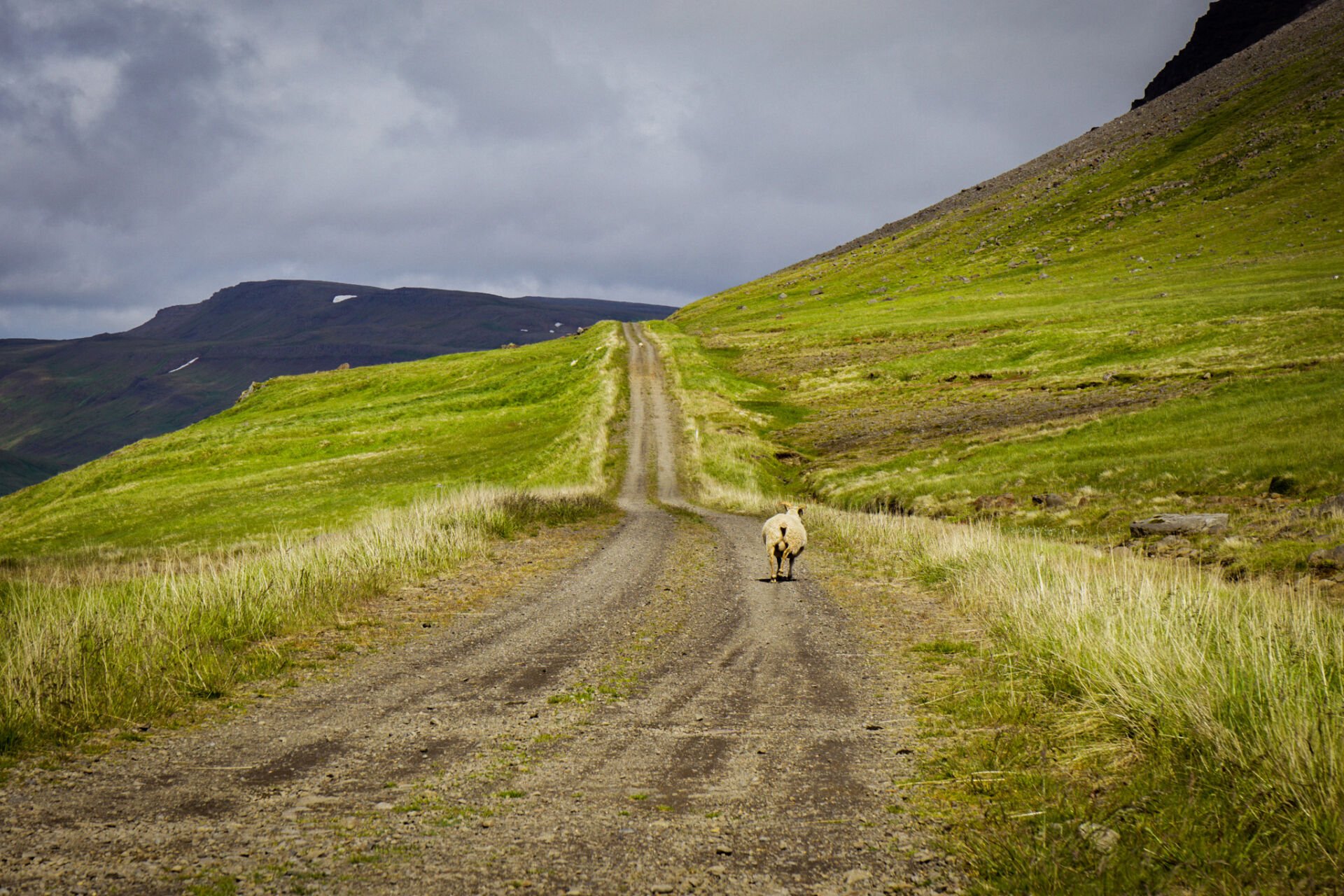 And now it's time to be specific, because the road is expensive, but it's worth at least taking a direction. :))) Below is a list of our favorite places we think you must see in the West Icelandic Fjords. Below is a map that will help you plan your trip, with all points marked. The order in this entry is completely random and should not be followed.
Bird Paradise in the West Fjords of Iceland – Latlabjarg Cliffs
We remember to this day our first trip to the Latrabjarg Cliffs and the West Fjords. We had only traveled around the south of Iceland before, but this June trip was in many ways unforgettable and probably the best of all. It was here, at Latrabjarg, that we first saw live mascons – the winged symbols of Iceland. If you didn't know about the existence of these charming birds before, Iceland certainly won't leave you in the dark for long. Already at the airport, all travelers are bombarded with plush mascots, suvenirs with their likenesses, and even a huge mascon beak sticking out of the ceiling.
Puffins can be found all along the coast, but definitely the Latrabjarg Cliffs are one of the best places to observe them. We've been to many others, but only here we had the opportunity to see them so close, almost at arm's length, you could say beak to beak. :))) What's more maskonur on Latrabjarg, did not look at all scared, did not hide in their holes in front of us. They were as curious about our presence, as we were about them.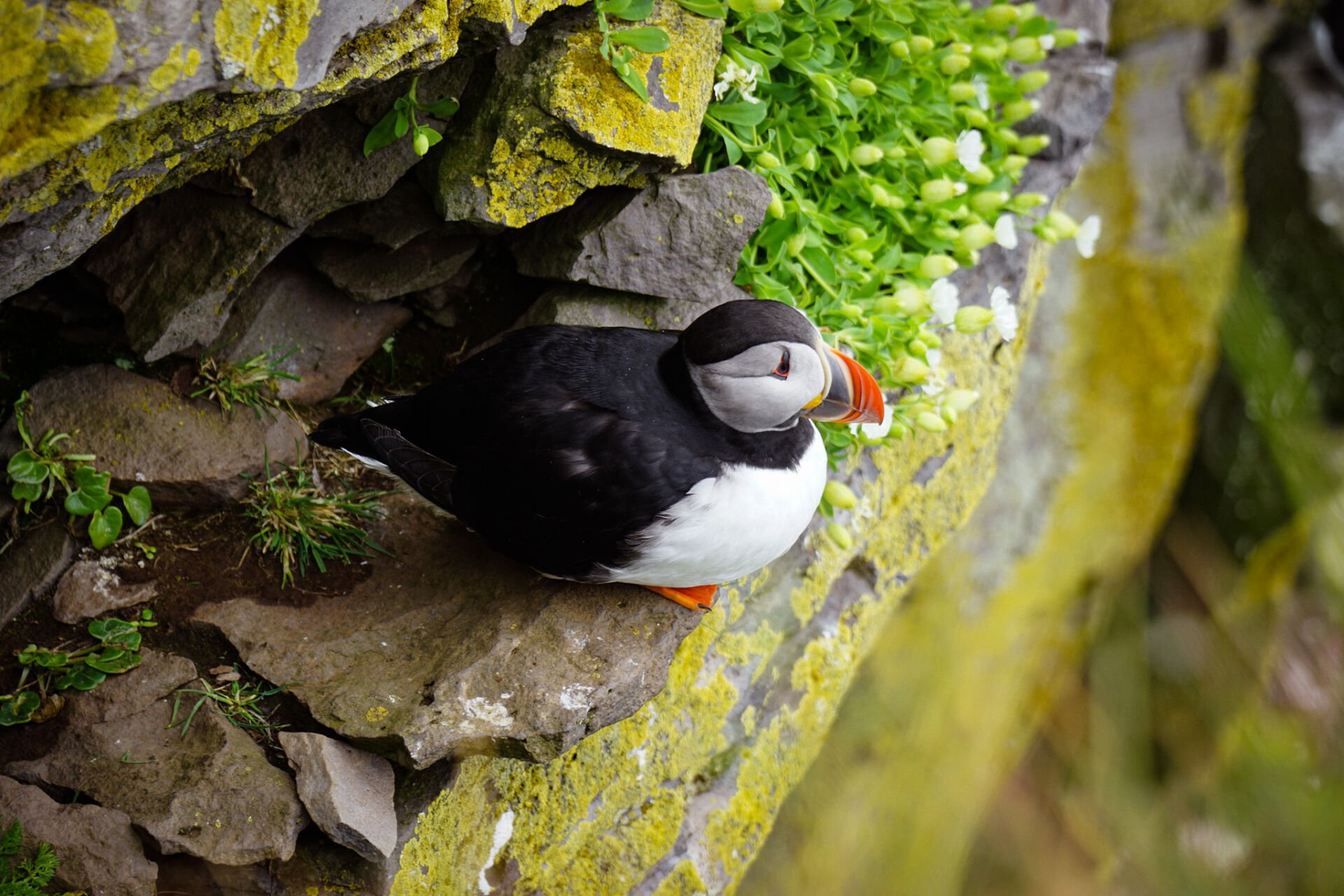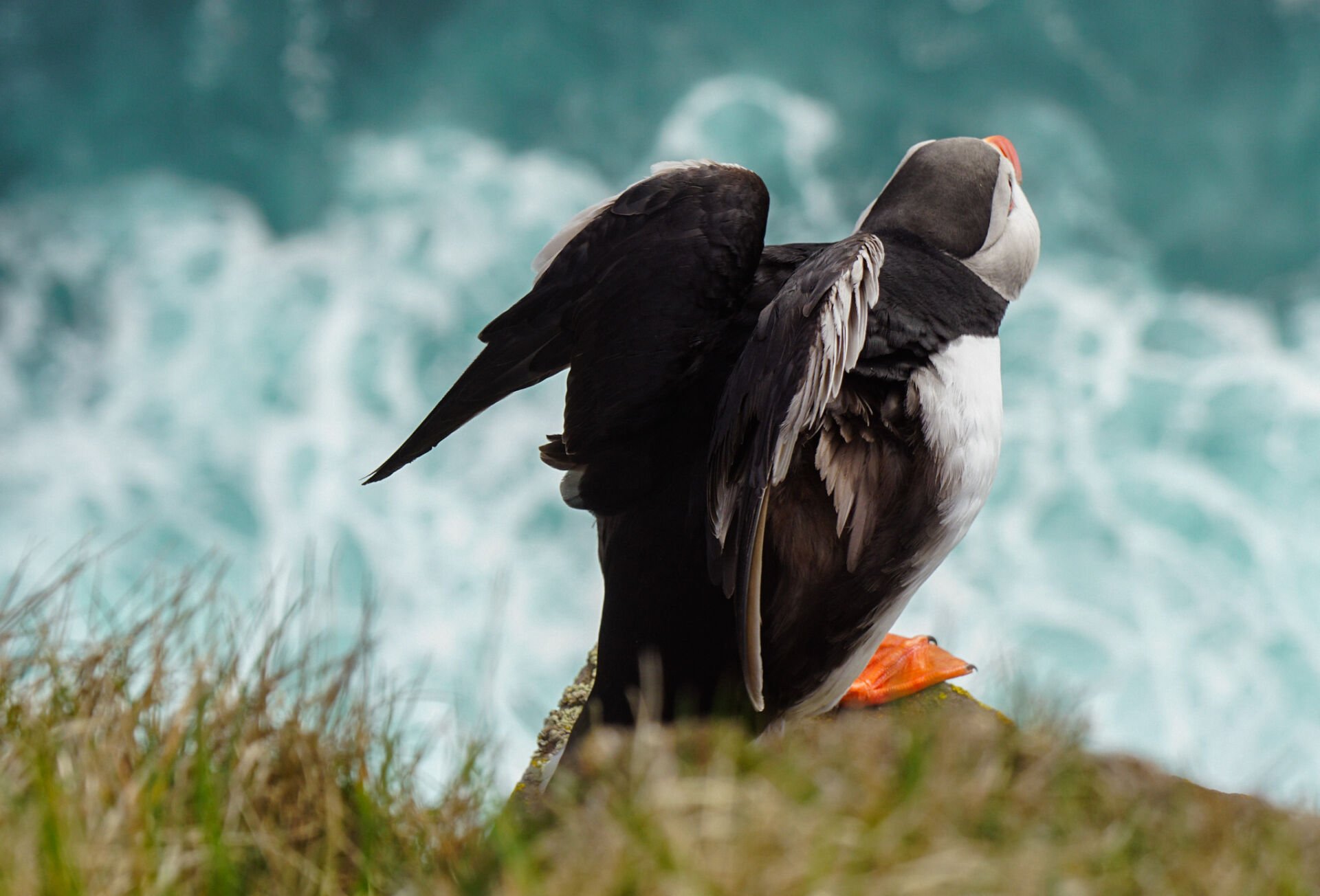 Latrabjarg is not only a puffins paradise, we must admit that it is one of the most beautiful cliffs in all of Iceland. Proud and majestic, over 400 meters high rocks, made a huge impression on us and judging by the reports of others, not only on us. Have a look at our earlier post about the way from the end of the world to the other end of the world. :)))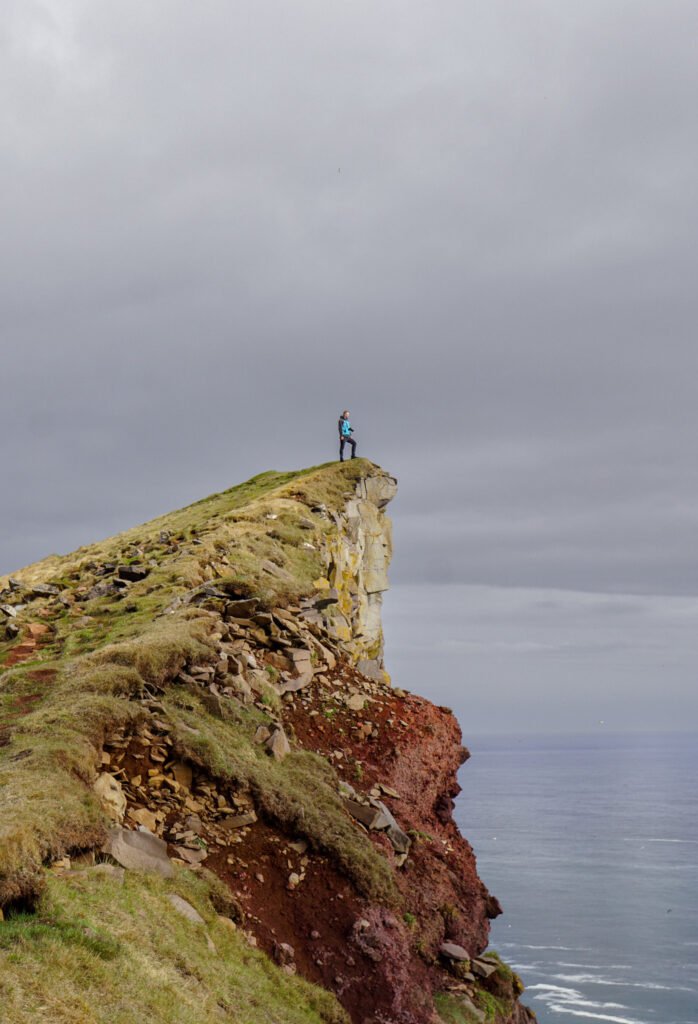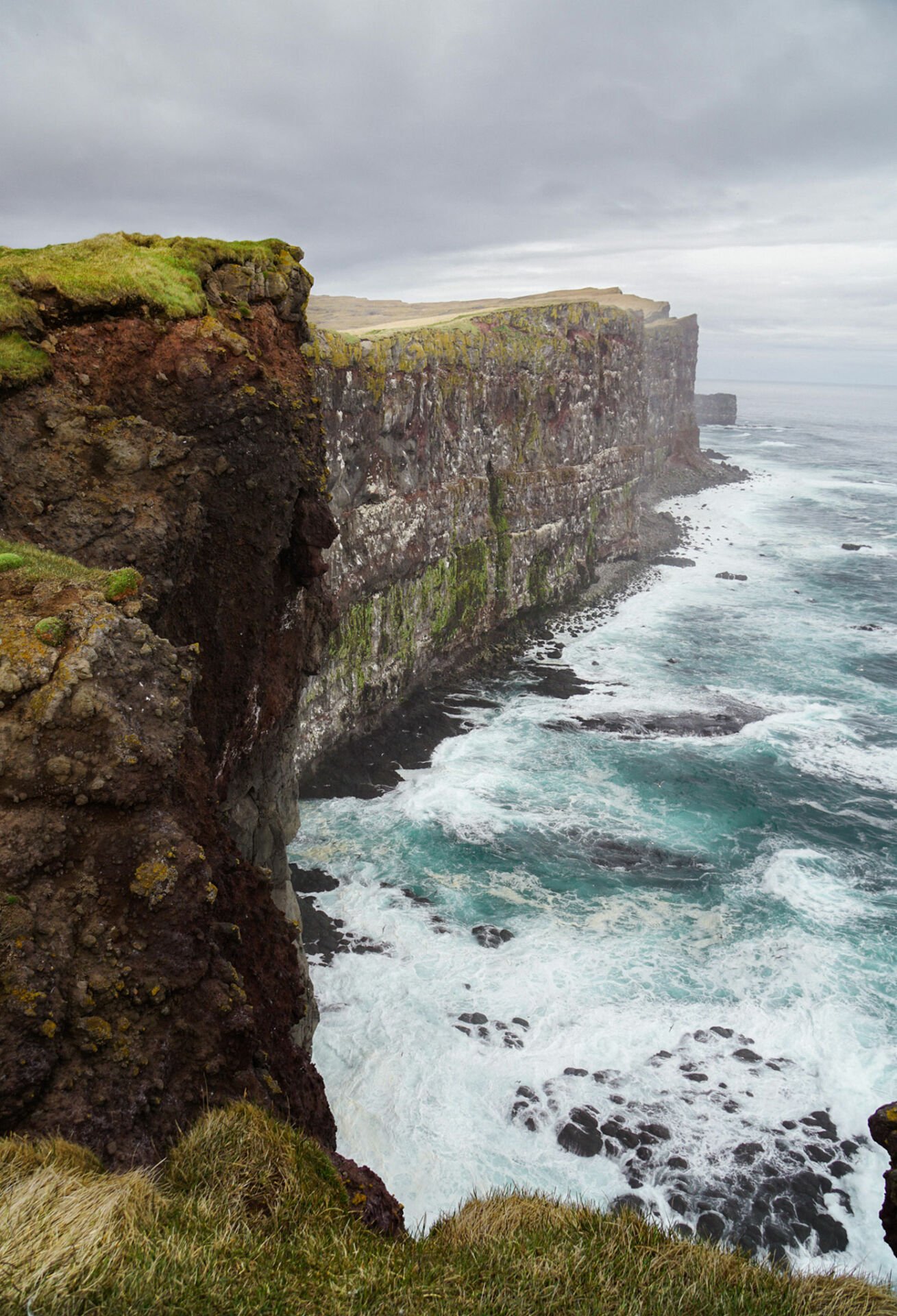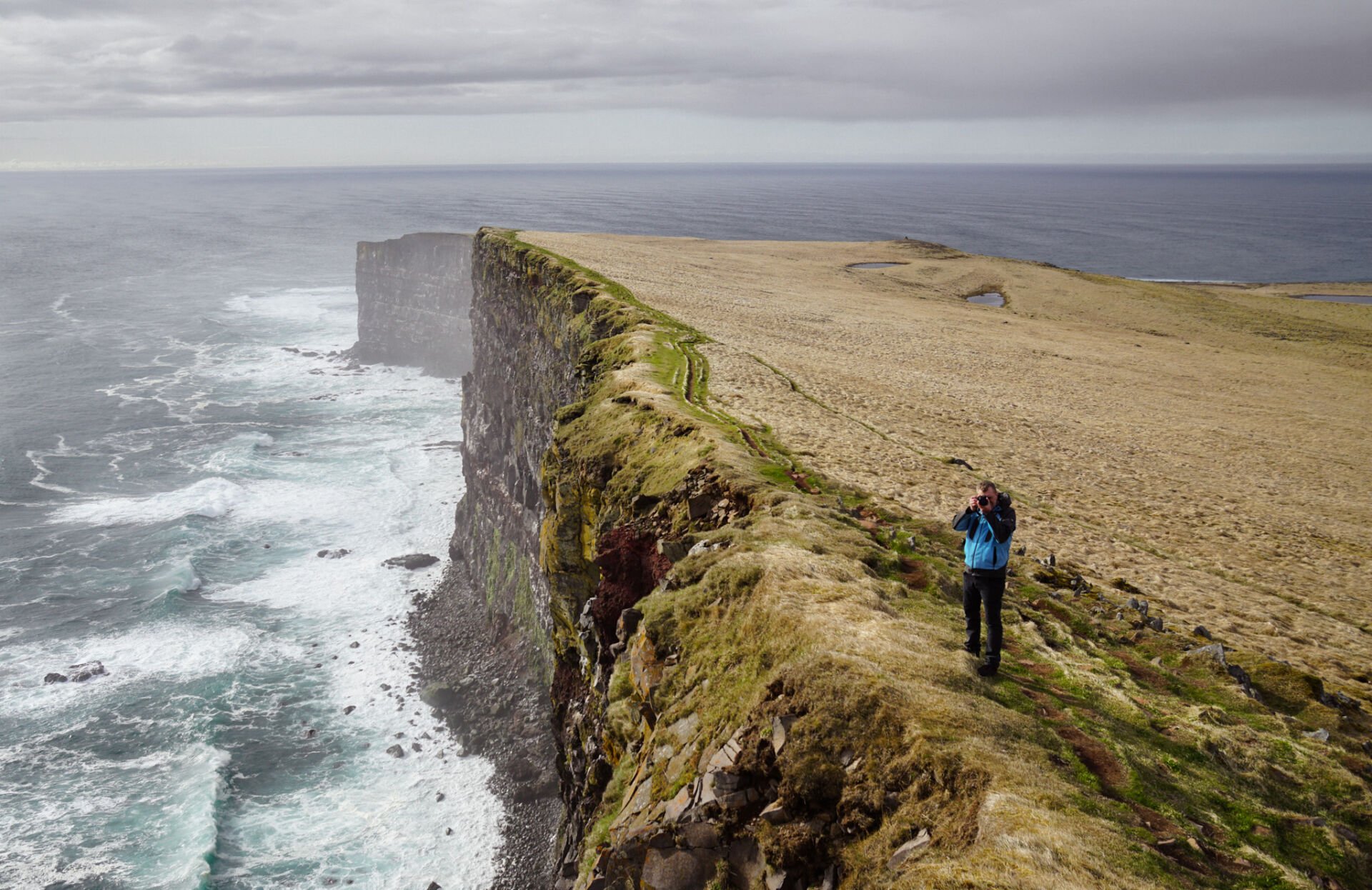 AMAZING RED BEACH – RAUDISANDUR
Right next to the Latrabjarg cliffs is another unique place called the Red Beach. Raudisandur, unfortunately, is not quite as red as it seemed inferring from the name. Apparently, its color depends on the time of day and the angle of the sun, to us, unfortunately, it never showed up in red. She would paint herself gold, fall into orange and brown, and even turn pink at sunrise, but never red. Every time, regardless of the color, this 10-kilometer wide beach stretching hen, hen far away stunned us with its vastness and enchanted us with an unusual atmosphere of tranquility.
In summer, whole flocks of birds arrive at Raudisandur, and they were basically the only ones who accompanied us on our walks along the ocean shore. Birds and sheep, however, stuck more to the land, grazing among the luscious green grasses. Only occasionally did the wind-borne sound of their bleating reach us, interrupting the monotony of the steady hum of the waves and the cries of the seagulls. We were delighted by the boundless tranquility of the place. And if anyone is looking for tranquility and solitude, this is the perfect place to spend more days here.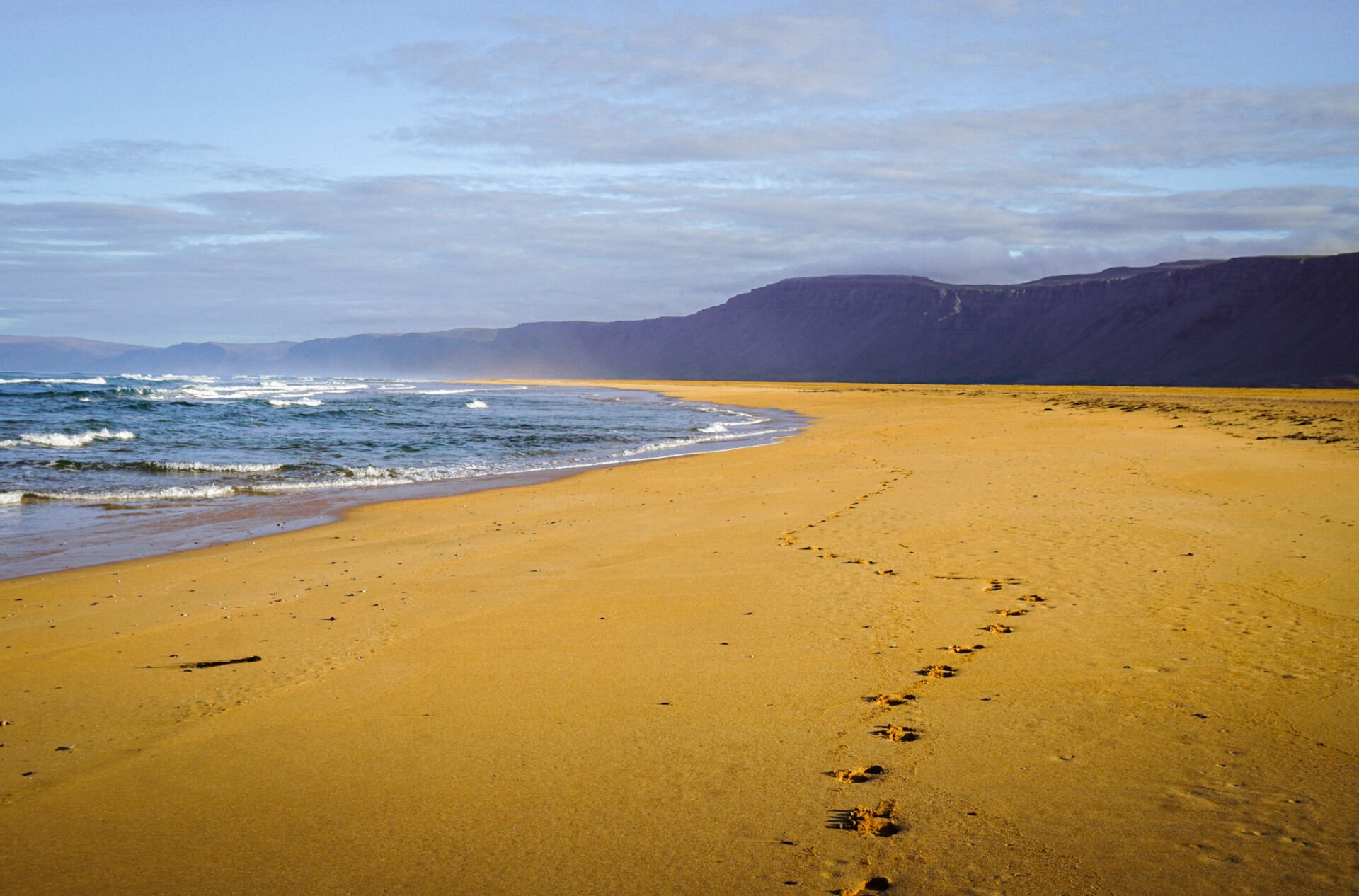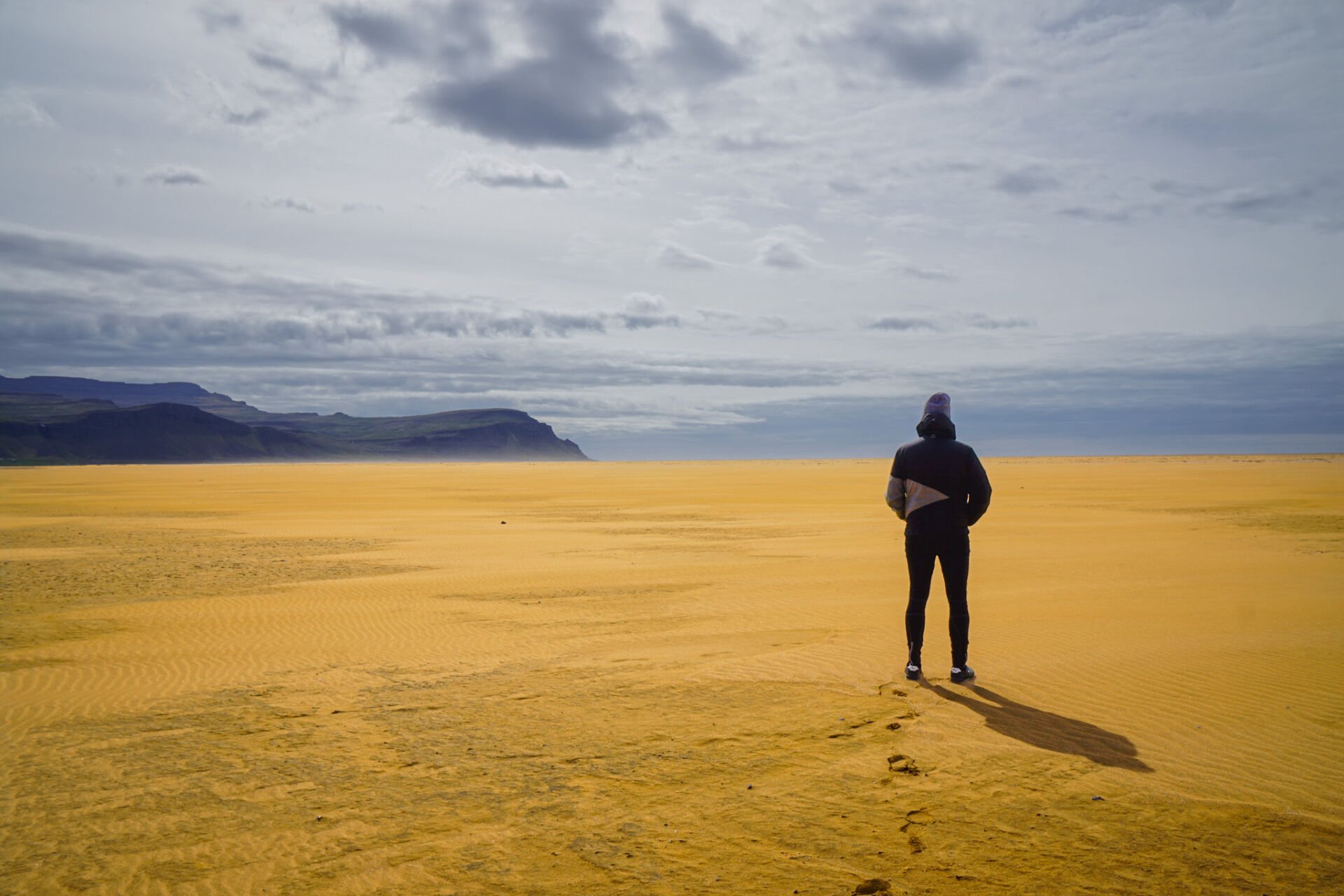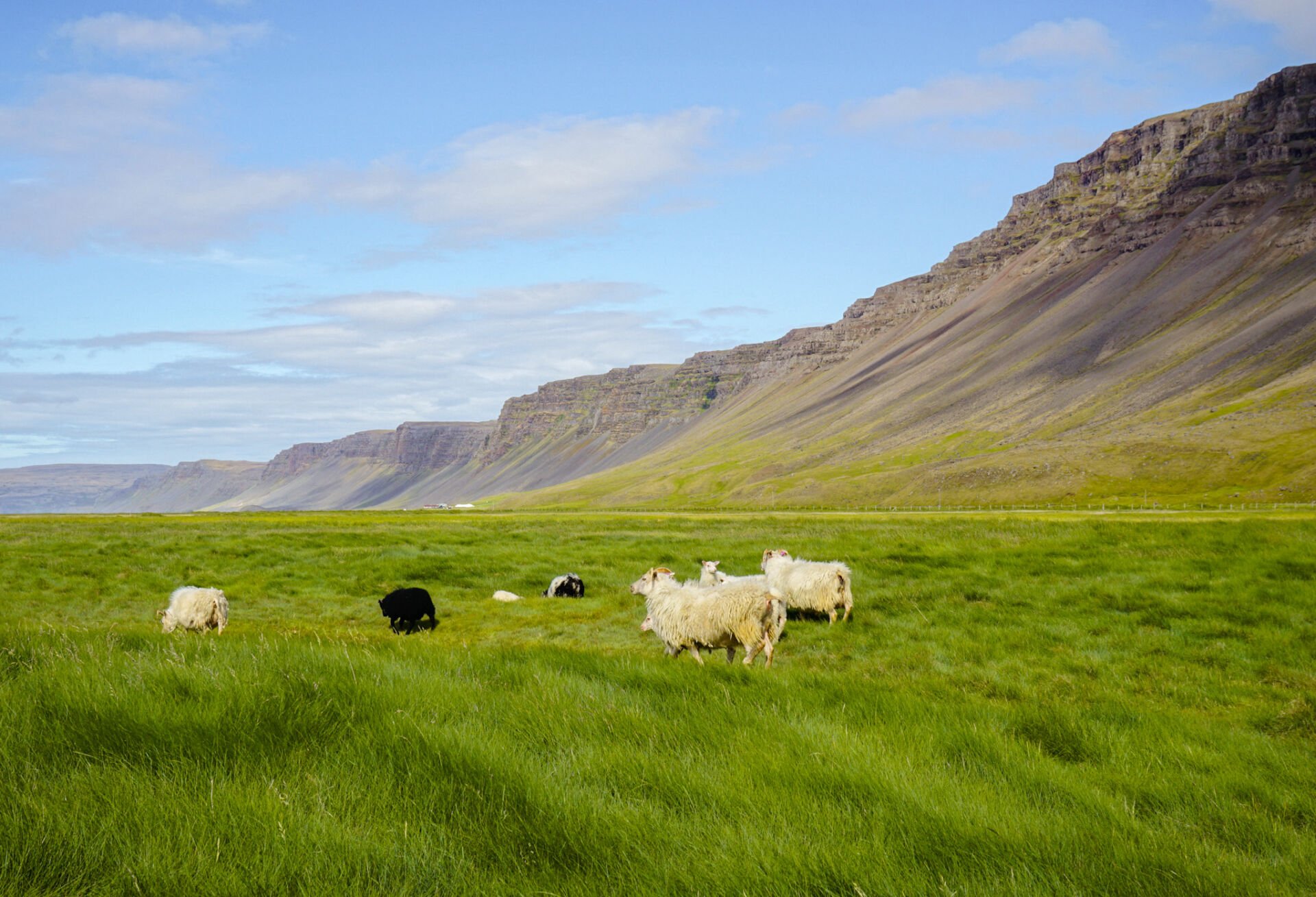 WEST FJORDS OF ICELAND – GARDAR BA 64 SHIPWRECK
Driving towards the Red Beach, it is impossible to miss the shipwreck that has anchored for centuries on the beach. This is the Gardar BA 64, one of Iceland's oldest steel ships. It first set sail on the ocean in the same year as the Titanic disaster – 1912. The Gardar was a state-of-the-art whaling ship for its time. It passed from hand to hand until it finally ended up in Iceland after World War II, where it was converted into a herring fishing boat.
Gardar BA 64 served valiantly for many years to finally finish its life in Skapadalul Bay. Although somewhat rusted and eroded by the passage of time, it still looks very proud. When we were last there, it was still possible to sleep in the old cabins. We didn't use this option, because the Gardar inside looks like it was taken alive out of some horror movie and was a bit creepy. Dusty, creaking and creaking at every turn. The only thing missing was the ghosts of sailors to complete the set. We said no, but probably more than a few will be tempted. :)))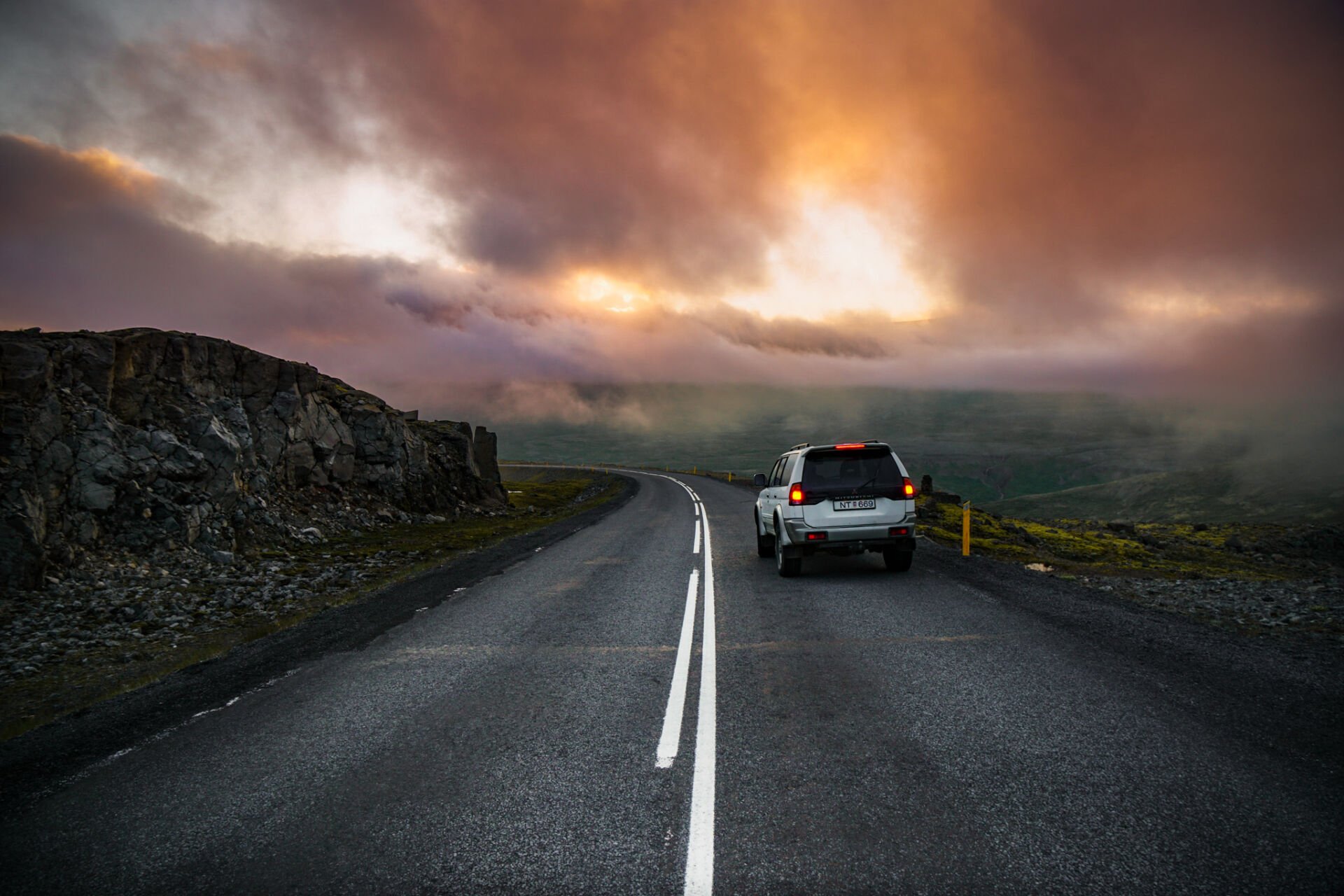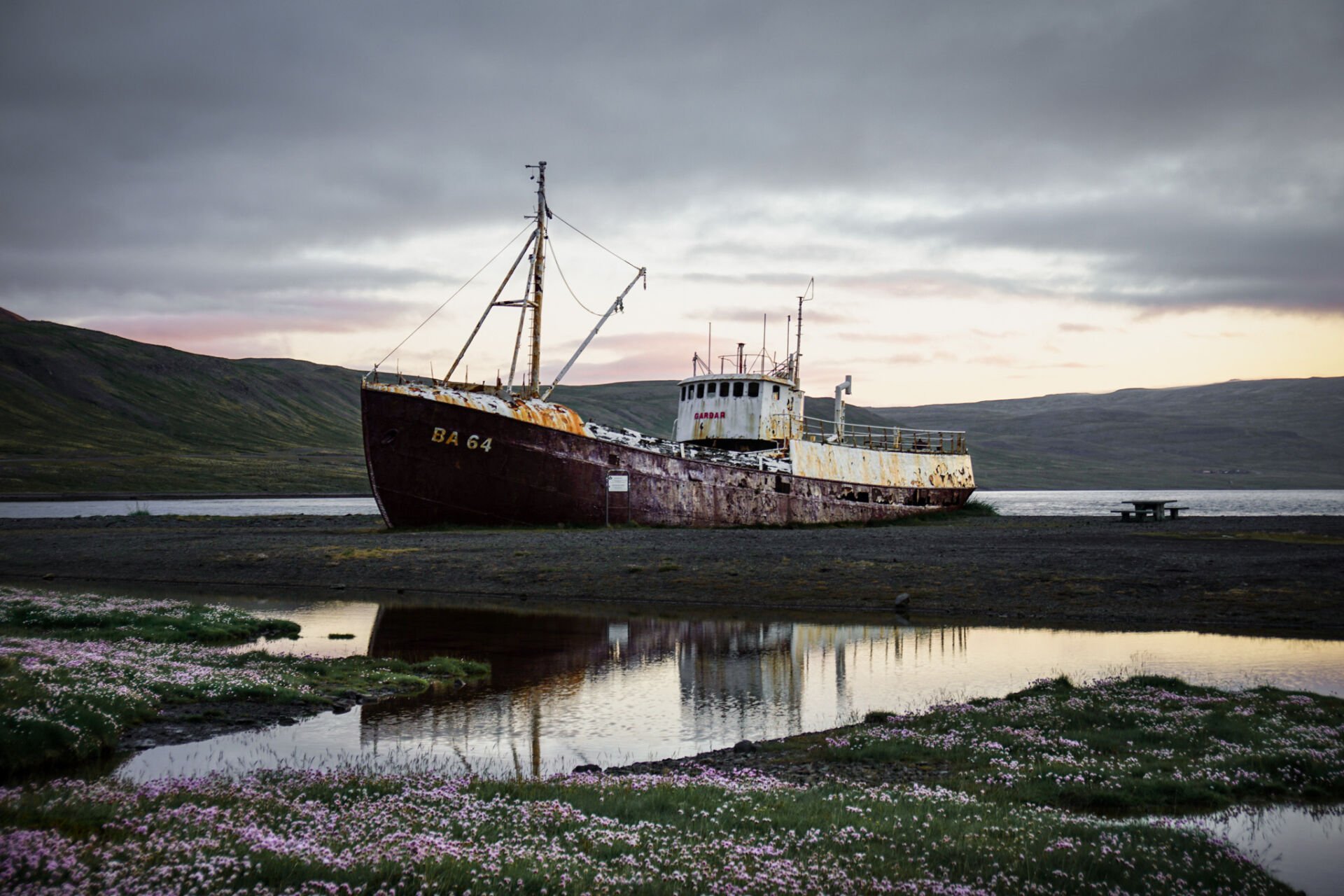 WEST FJORDS of Iceland AND THEIR CROWN JEWEL – DYNJANDI
Iceland is famous for its waterfalls, and each one is amazing and unique. When we arrived at Dynjandi waterfall for the first time it was the middle of the night, and the setting sun was barely breaking through the clouds, illuminating the bay with bright sheaves. Icelandic summer is truly magical, and perhaps it was this magic of the moment that so enchanted us that from now on, when asked about the most beautiful waterfall in all of Iceland, we will unanimously and without hesitation answer – Dynjandi.
The mighty, ("dynjandi" literally means "rumbling" and this time it is definitely true), more than 100 meters high, waterfall cascading down a steep slope is simply stunning and worth every extra kilometer. Standing at its foot, looking up and listening to the roar of water falling with tremendous force, one realizes how powerful nature is.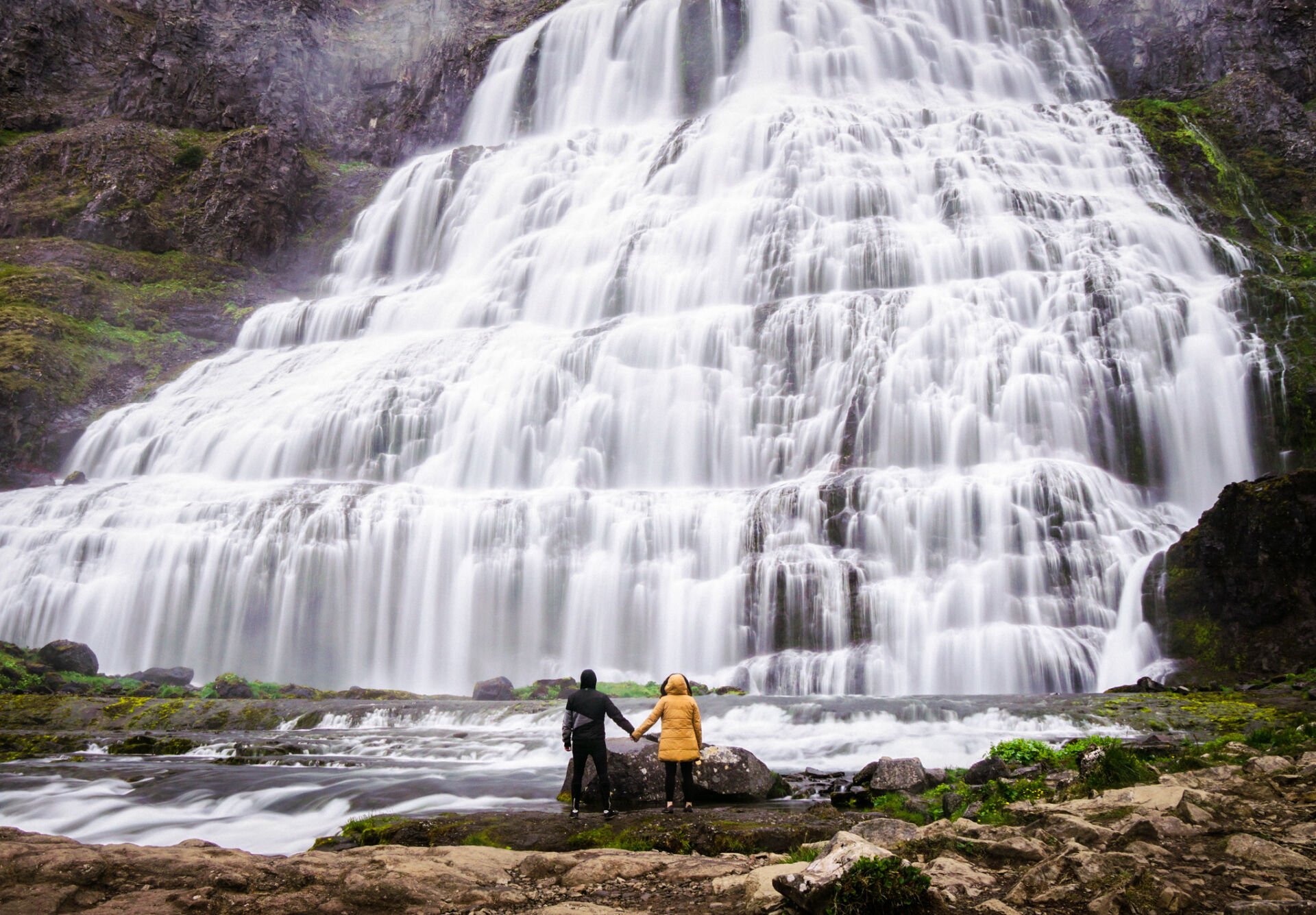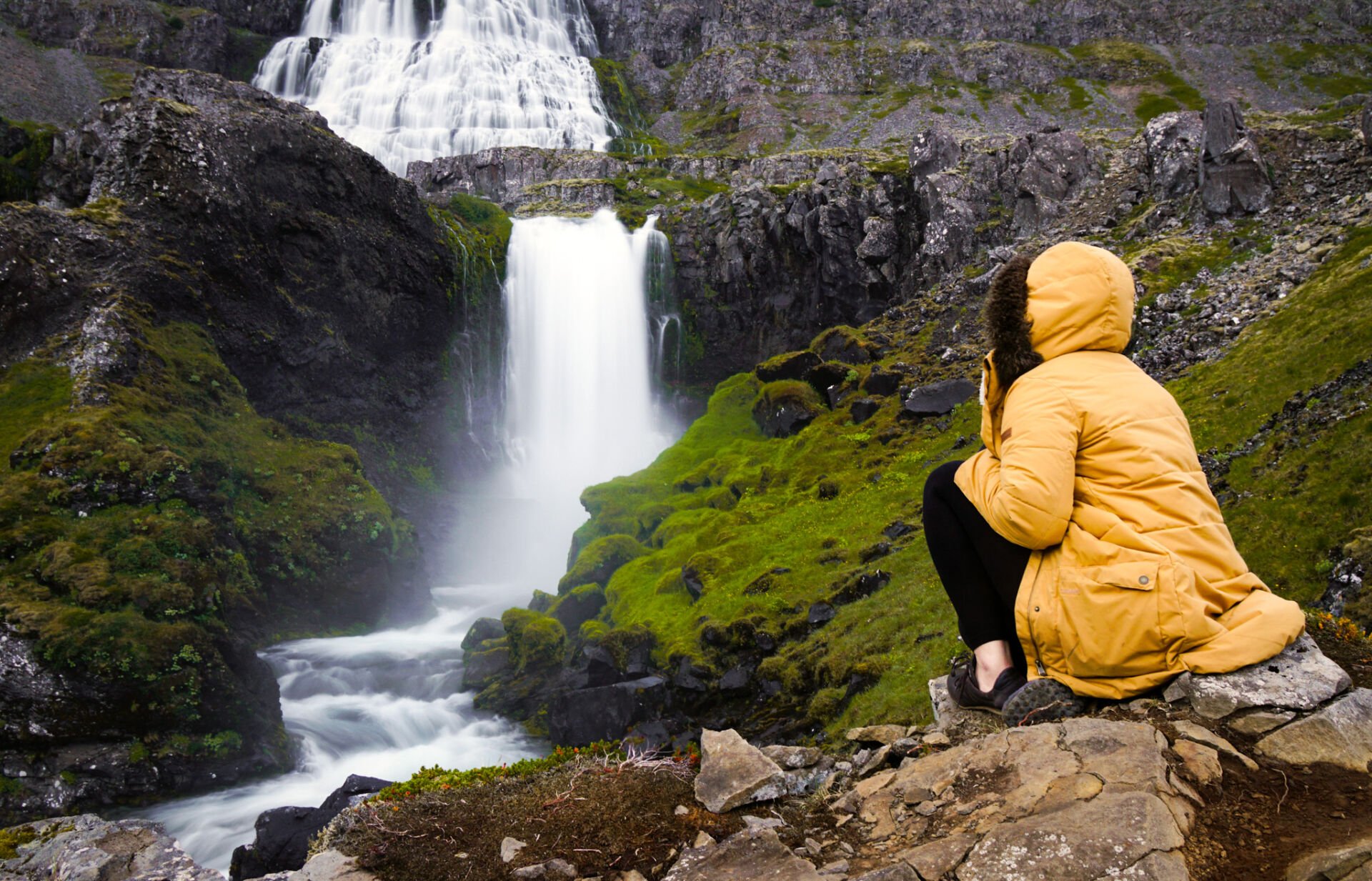 TOWN AT THE END OF THE WORLD
Imagine our amazement when, after several dozen kilometers of driving in the middle of nowhere, we ended up in a tiny, sleepy town. All around us was truly post-apocalyptic scenery – a whole lot of rusted cars, fishing boats that hadn't been used for years, scrap metal of all kinds, and an old herring factory towering above. For a long time we weren't sure if anyone still lived here, until a fat dog ran across the road, and later on the porch of a small hotel, its owner appeared. She kindly waved at us and chatted. We were in Djupavik.
Djupavik is currently inhabited by only a few families, some of whom move there only for the summer period, when the occasional lost tourist looks in. But it wasn't always like this, it all started with the "herring boom," when one of the largest factories in all of Europe was built here in the 1930s. Unfortunately, just as it started with herring it also ended with them, and the factory closed more than 20 years later. The town after that became deserted and went to sleep for many years.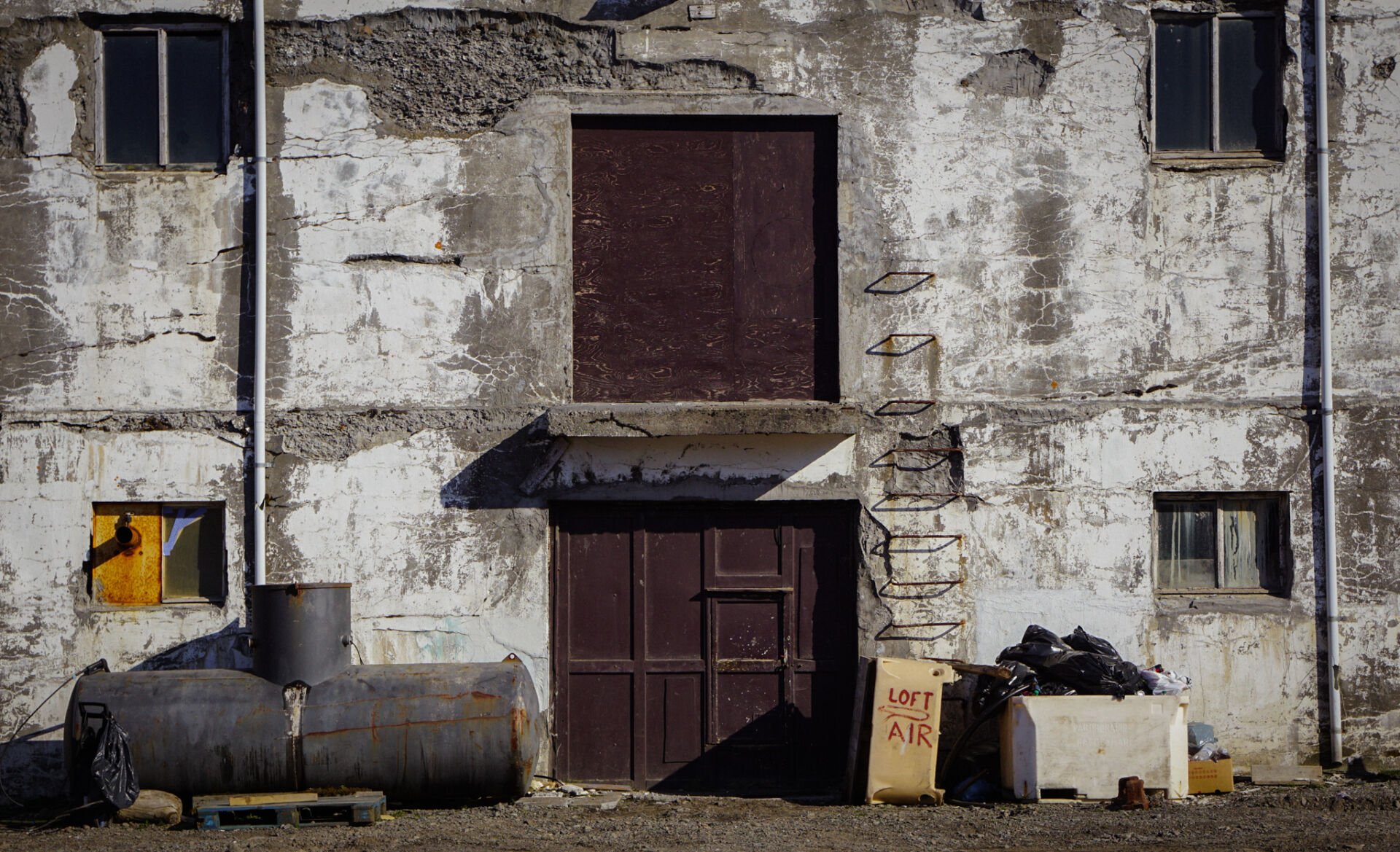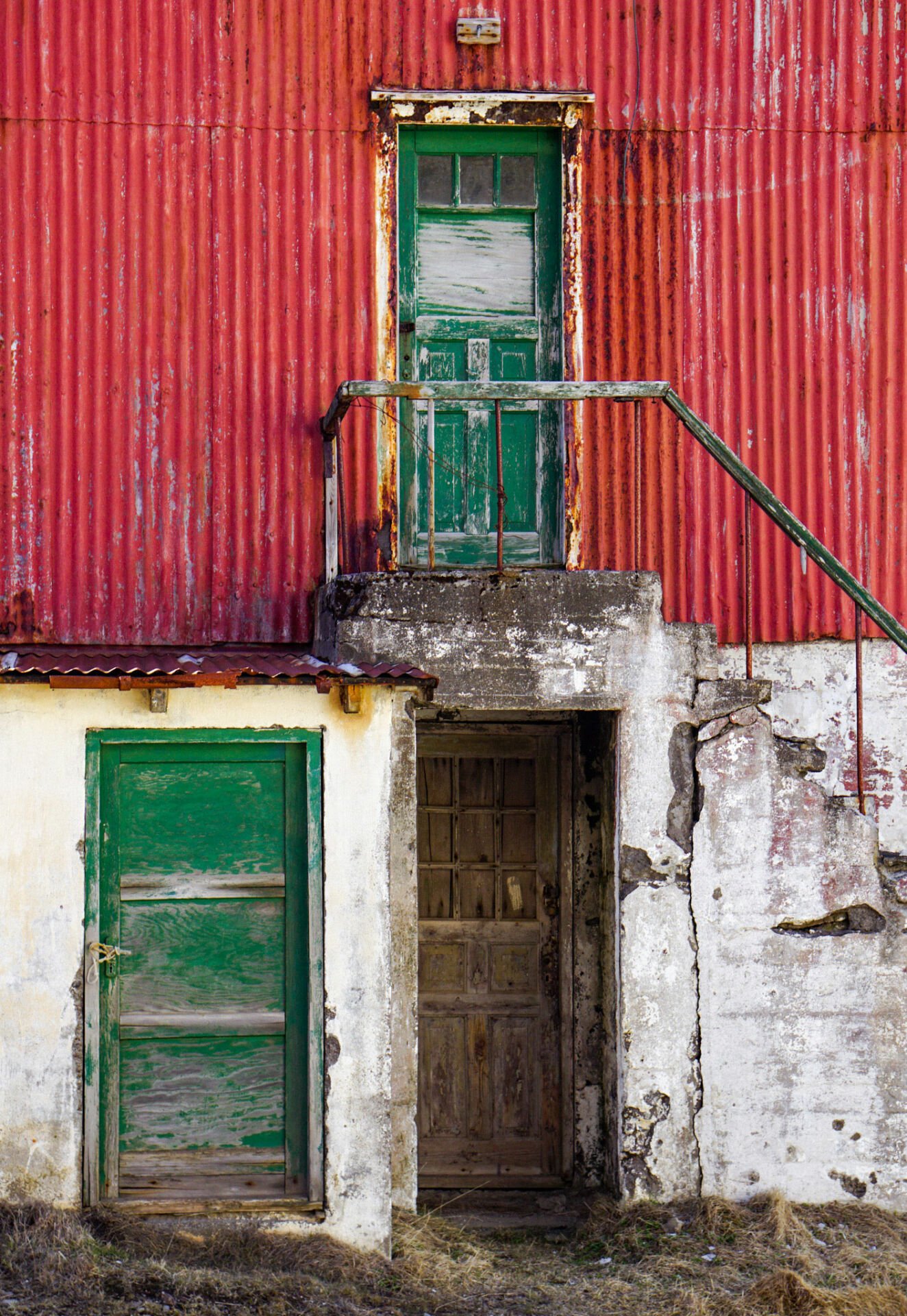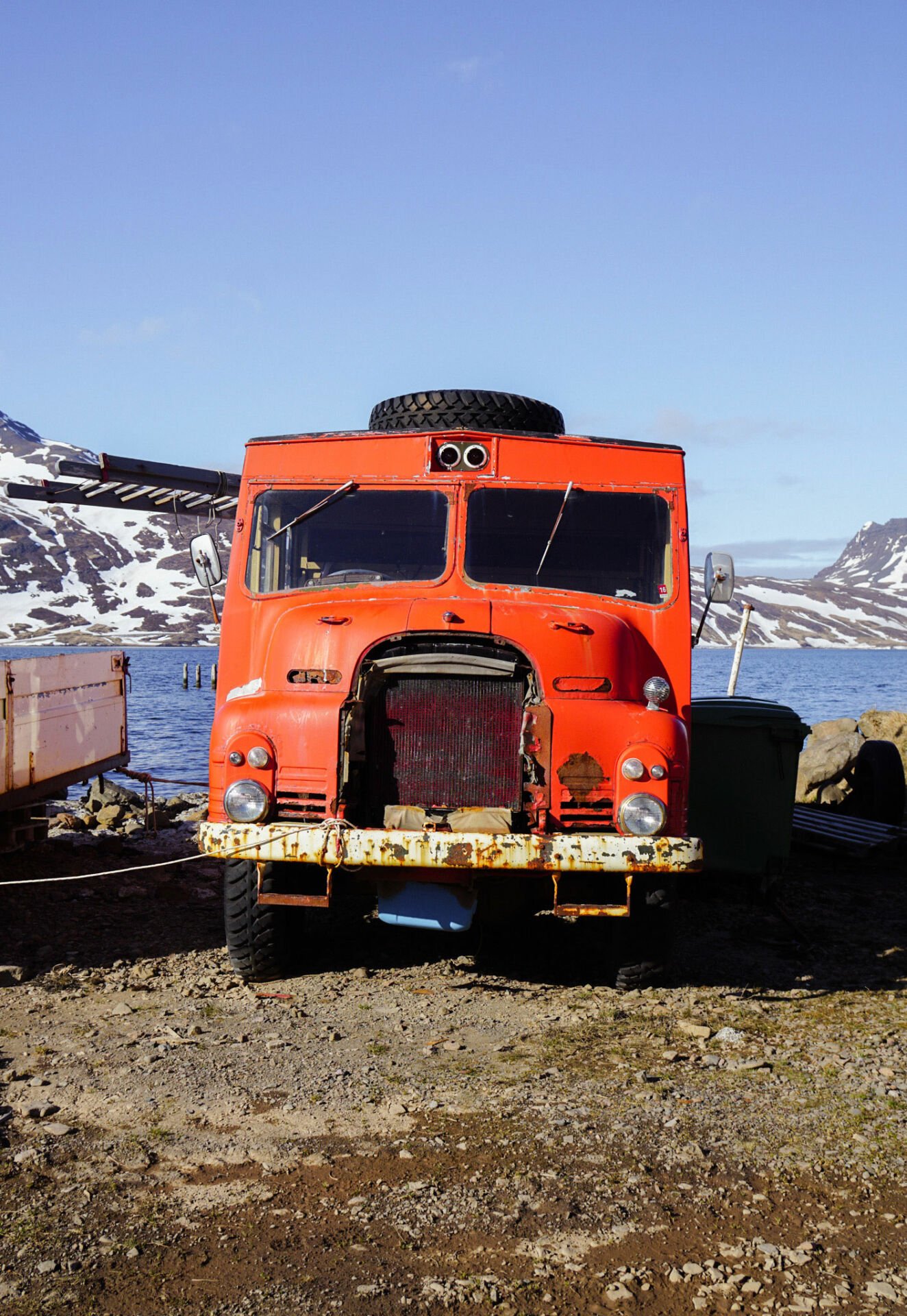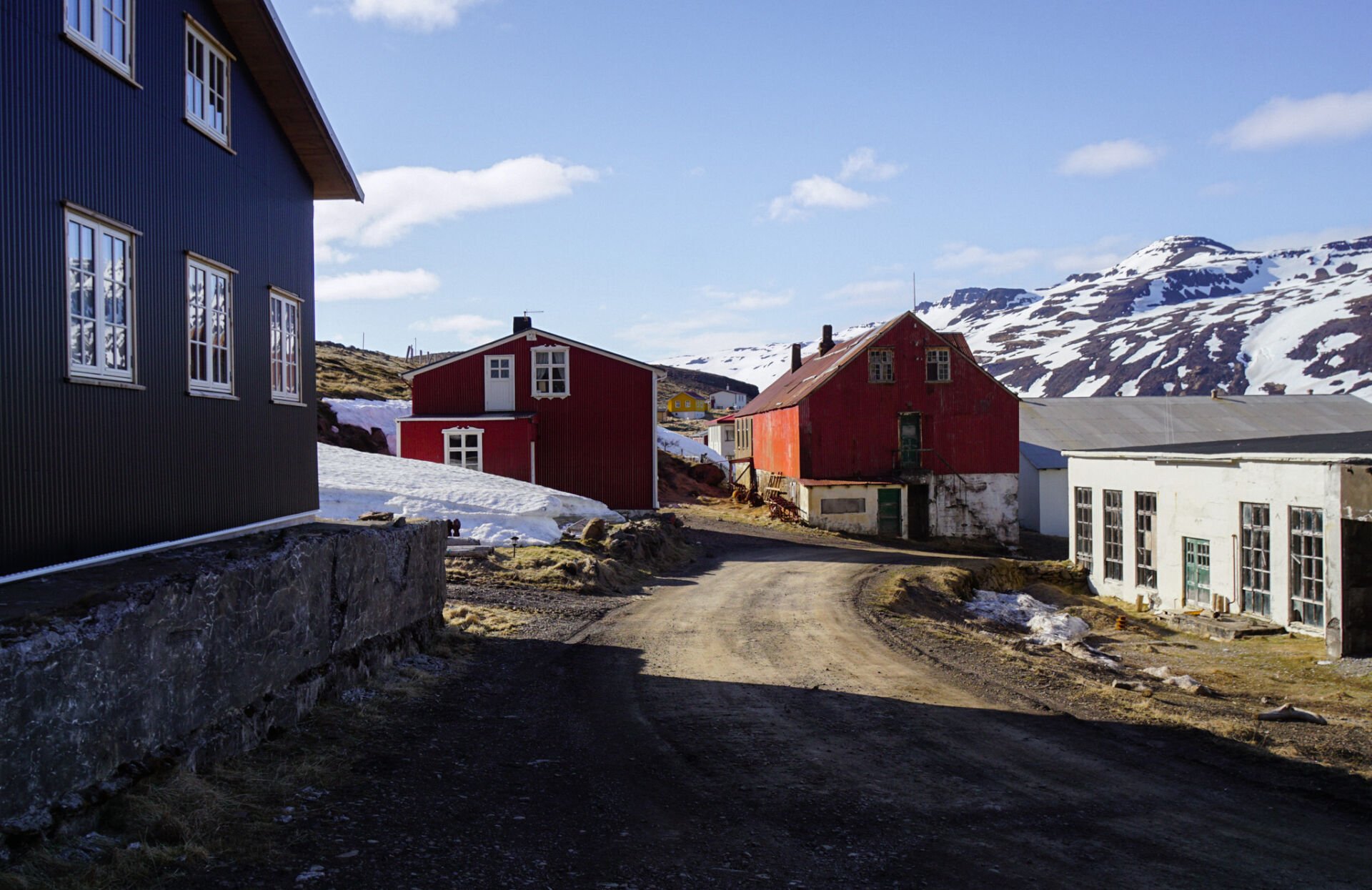 The area around Djupavik is definitely not a popular destination, to get here you have to make up dozens of kilometers, deviating from road number 61, which most choose, going around the West Fjords. What's more, it's also the only way back, so many will probably think it's not worth the effort. But it is. Truly Djupavik has an amazing atmosphere and is strongly memorable. Mysterious and melancholic, a sad reminder of how everything passes quickly.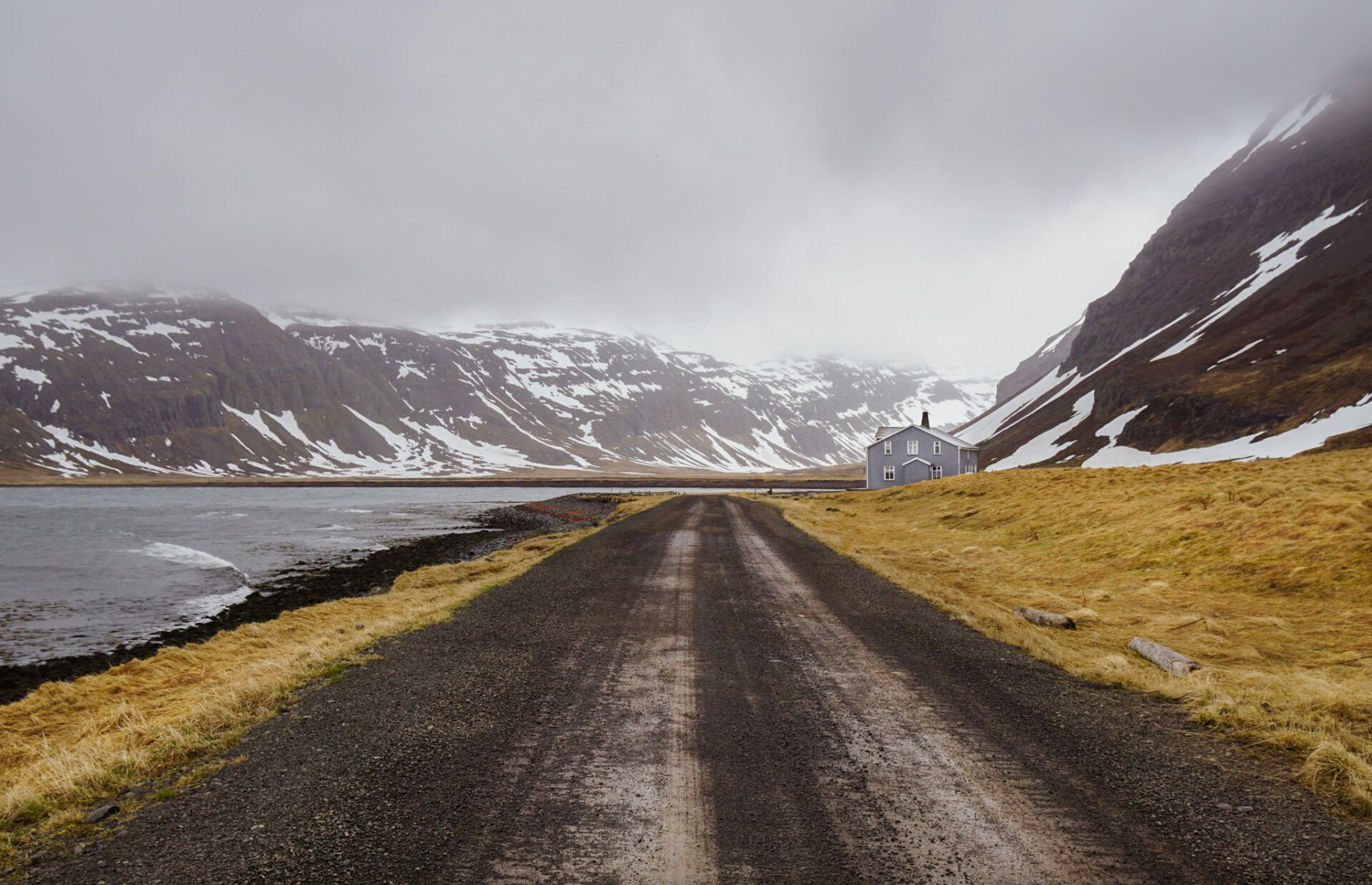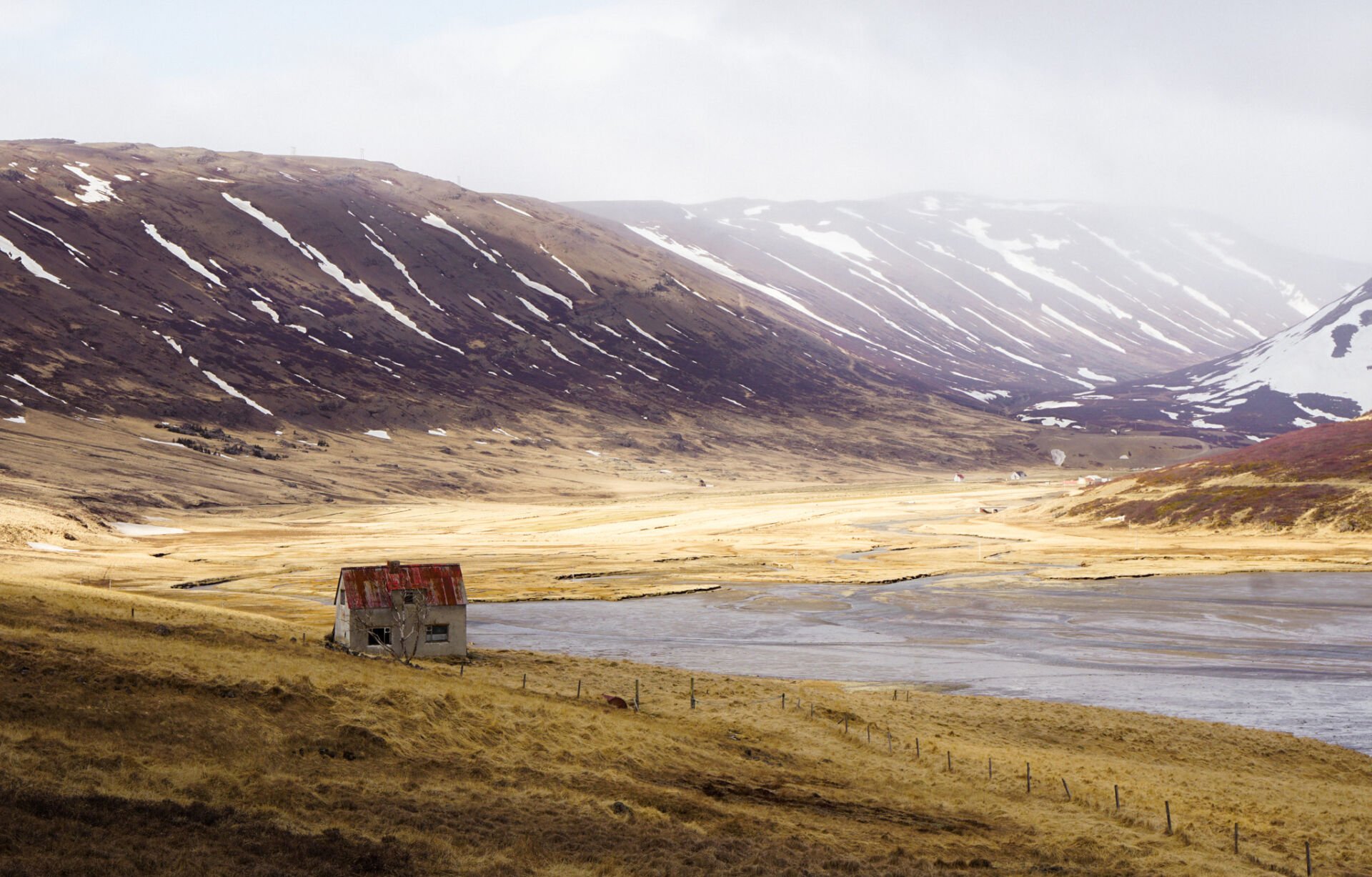 HOT SPRINGS AND GEOTHERMAL POOLS
It is said that when God created Iceland cold, rainy and dreary, he decided to give it hot springs for consolation. Such is the legend, and is it true? We don't know. What we do know for sure is that Iceland boasts a huge number of natural springs and warm geothermal pools, and Iceland's West Fjords are one of the best places to explore them. Above all, due to the smaller number of tourists reaching the West Fjords of Iceland themselves, they are very intimate and usually located in places with stunning views of the cliffs or the ocean. On the map below, we've highlighted all the ones we know exist. We have personally visited most of them, and of these we recommend above all: Krosslaug with its unearthly view of the bay and mountains, the end-of-the-world pool of Krossneslaug and the warm-weather Hellulaug.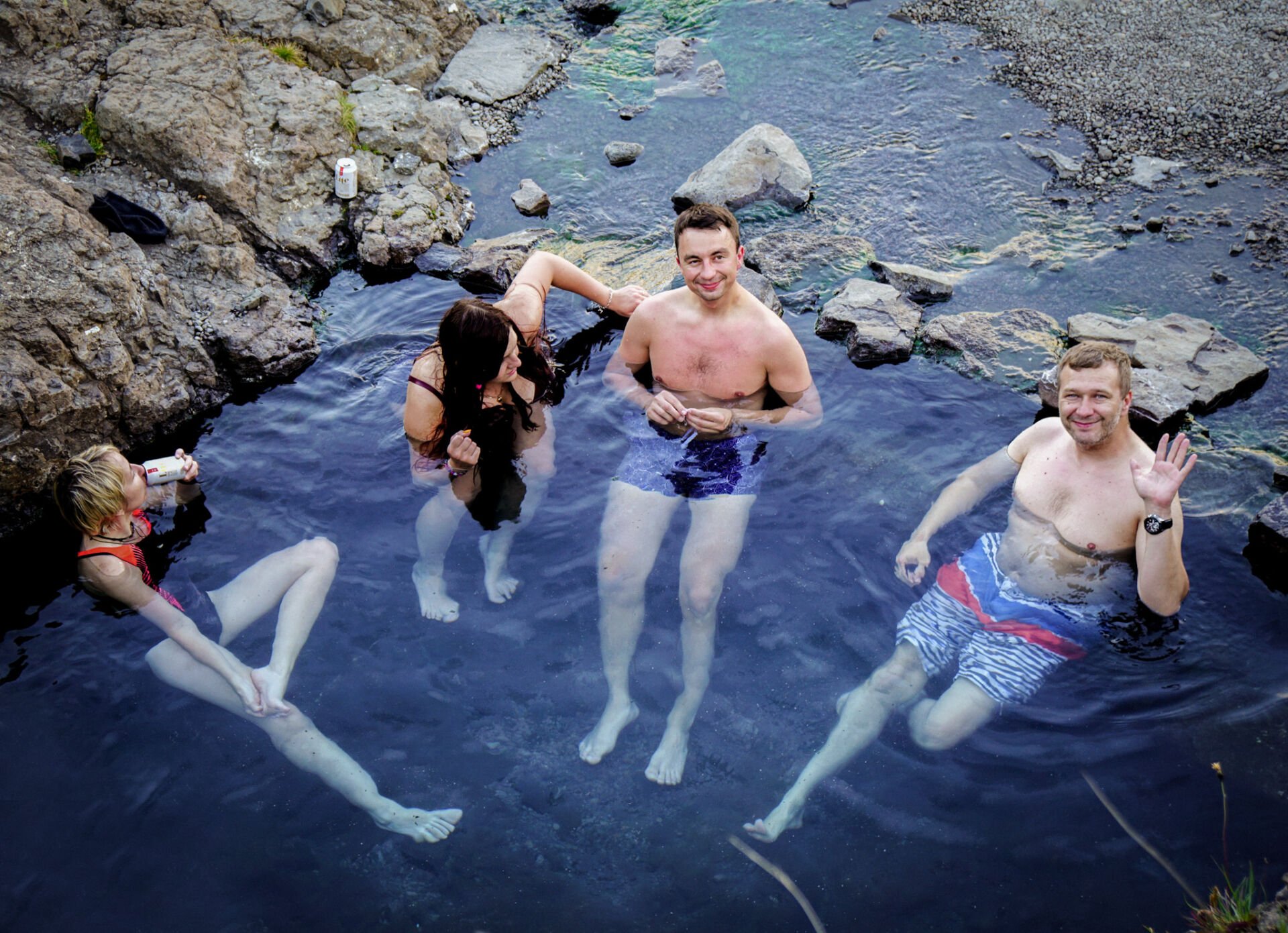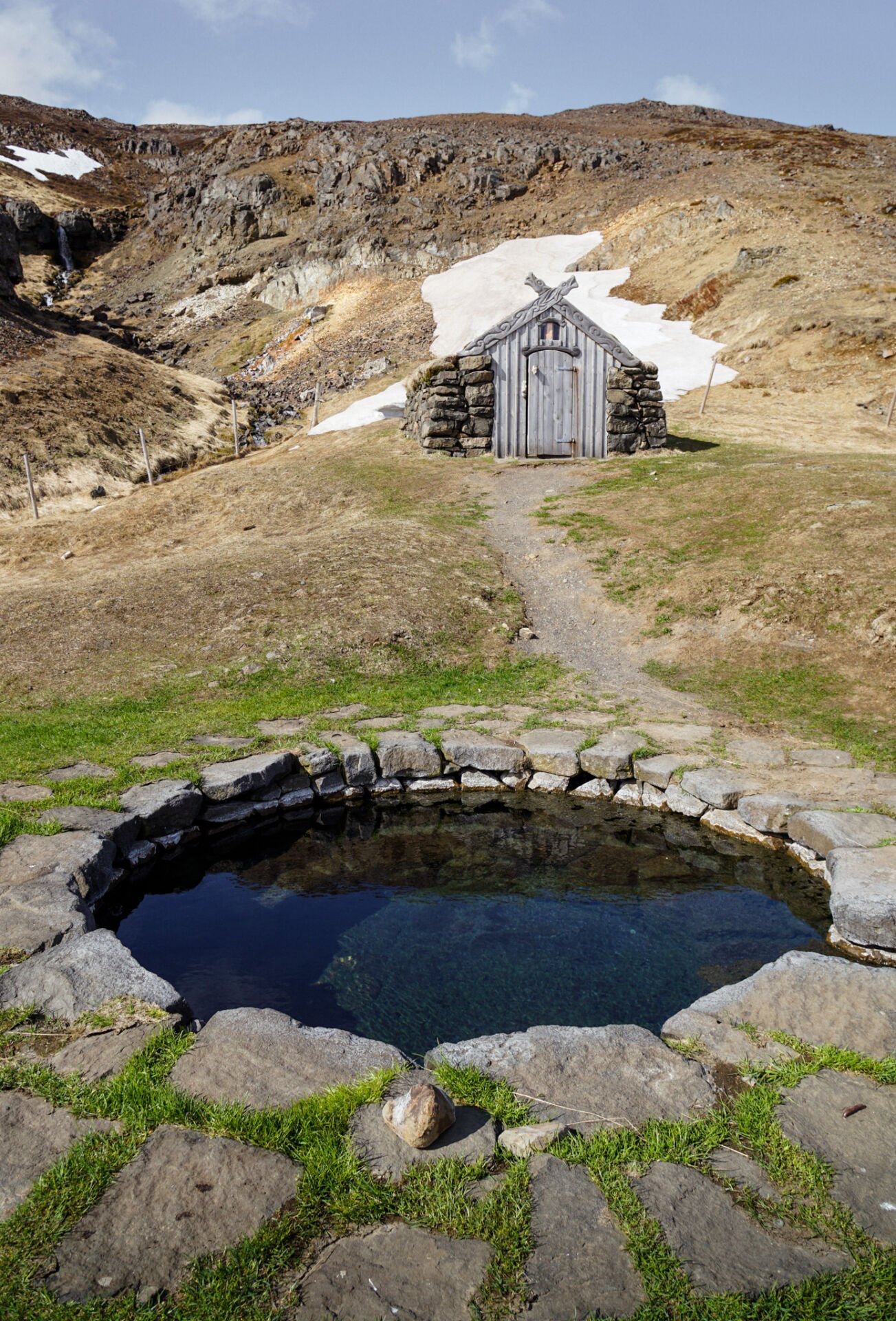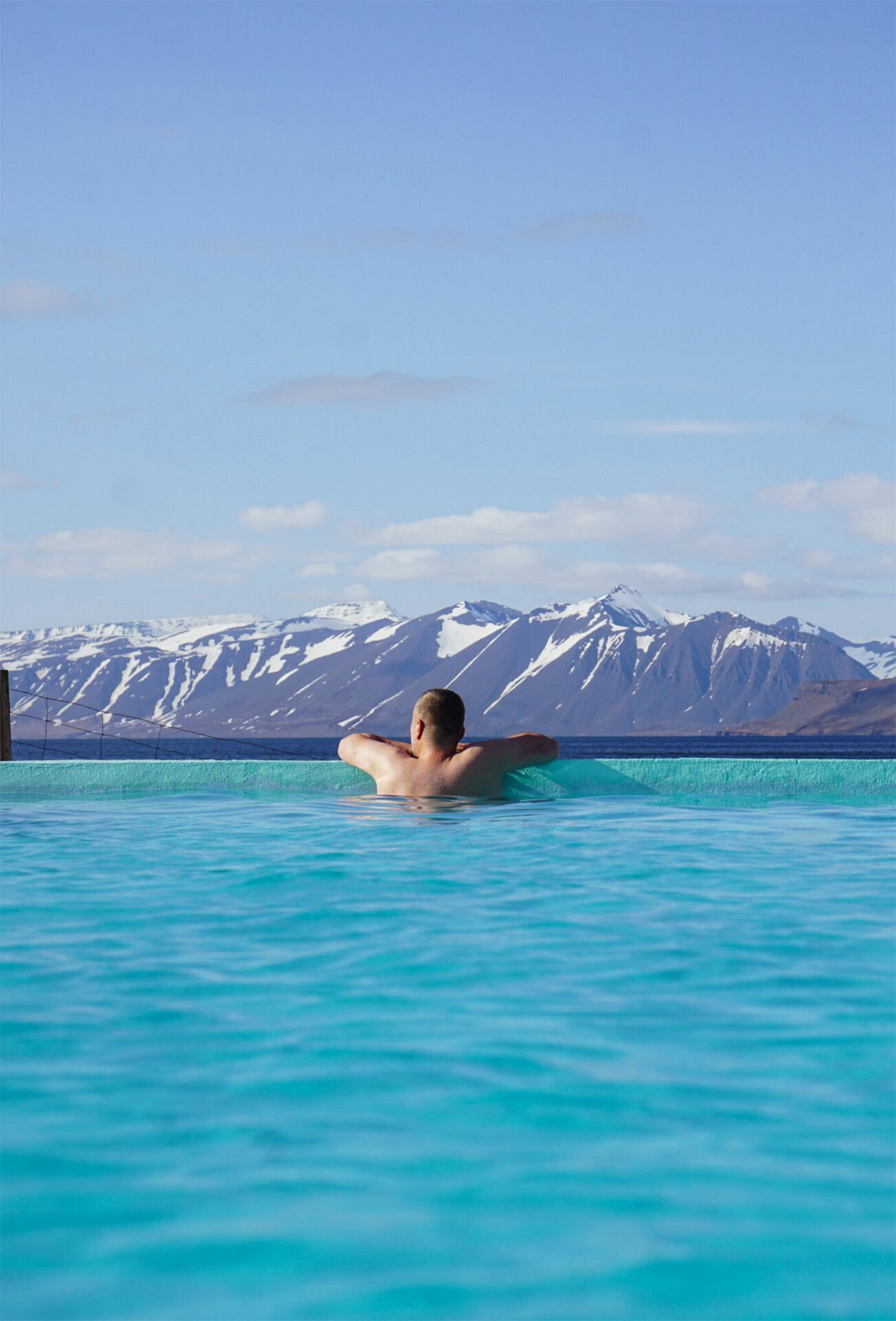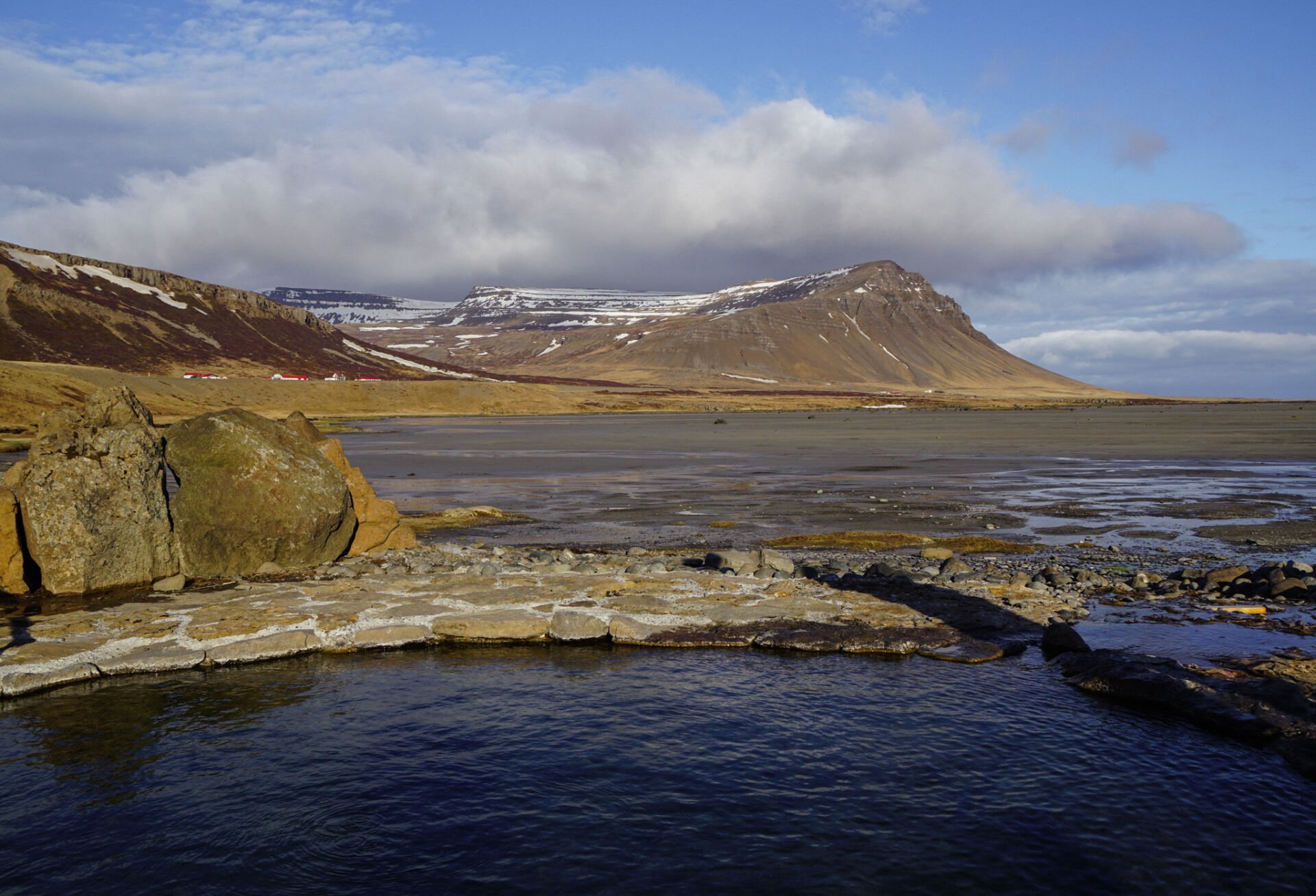 On the map we marked many more points of interest that we did not describe in the article. Which does not at all mean that they are not worth seeing, we simply described only our favorite places. Those that delighted and enchanted us. We hope you will find your own places and memories, and our guide to the West Fjords of Iceland will help you. :)))