After a few months of riding together, we found that a motorcycle trip without a chance to talk to each other during it is not so great. So we decided to buy the intercoms. We weren't sure if it would work, so we didn't want to spend a lot of money on it. Which doesn't mean that we didn't have certain requirements for such devices. For example, wireless connectivity, battery life, or the ability to connect the navigation/phone. Our choice fell on FreedConn T-COM OS intercoms.
FreedConn T-COM OS –

our first

intercoms
No, it's not a sponsored article. We have simply decided that many of you are thinking about buying intercoms like we are, and since we have already decided to buy FreedConn T-COM OS, we will write a short review of the set. These were our first intercoms and for two years we did not regret our choice. After two years, unfortunately, they ended up in the trash, a power connector was broken in one of them. Moreover, our expectations regarding intercoms have also increased, so we decided to change them. However, this does not mean that FreedConn T-CON OS was a bad purchase – in its price class – probably the best choice.
FreedConn T-COM OS –

price and quality
We were a little scared of the Chinese manufacturer, but what is not produced in Asia these days? In this case, however, the price was the decisive factor, and in this aspect, FreedConn leaves the competitors far behind – for 2 pieces we paid less than 80 EUR on a well-known auction site. We will not describe here what the original box, delivery, etc. looked like, because it's not about that, just mention that the set was properly packed and secured in boxes for transport from the seller to the buyer. It is known how couriers or post officers sometimes handle parcels, so it is important that nothing inside flies. The intercom itself is very decent, probably half of the people wouldn't say it came from China.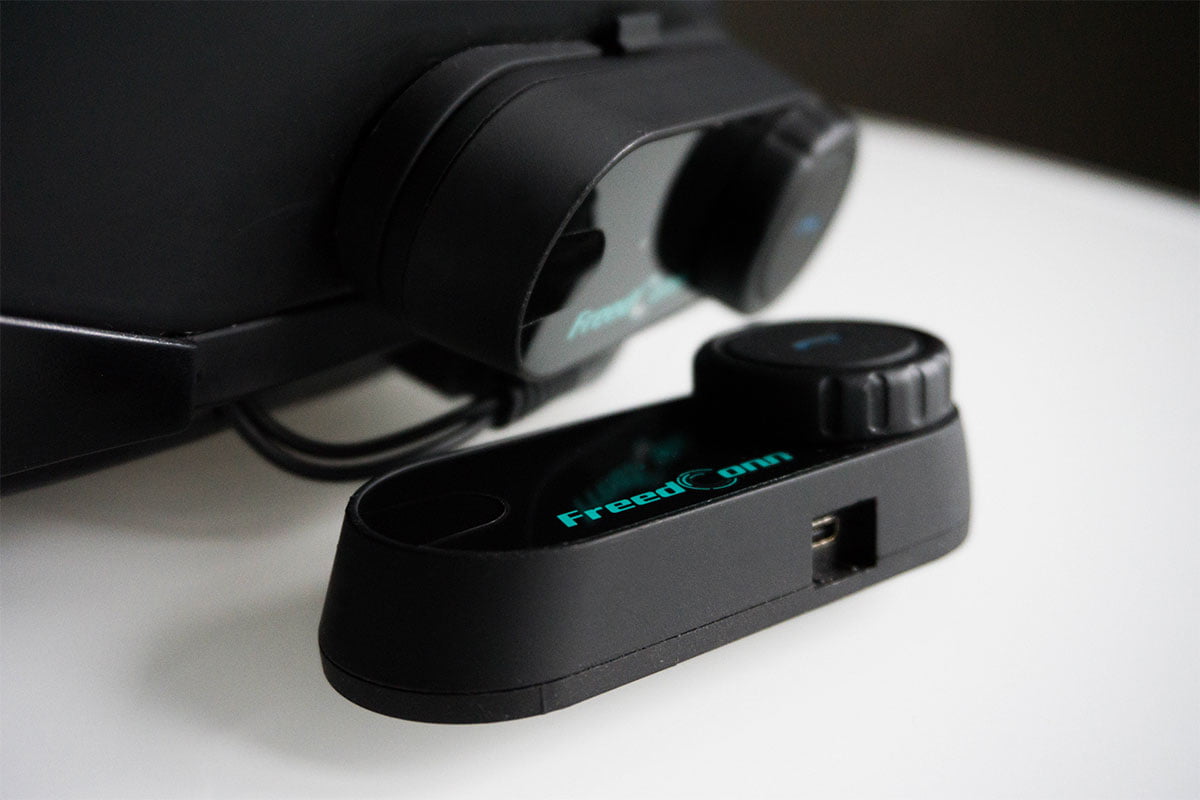 FreedConn T-COM OS –

installation
Installation of headphones and devices in helmets was very easy, whether using the manufacturer's supplied 3M tape holder for Nolan N44 helmet or, also included in the set, the clip for attaching the intercom to the HJC IS-7. The whole thing took maybe 30 minutes to complete with two helmets. The headphones are attached to the hook and loop stickers inside the helmets, which makes it easier to dismantle them later, e.g. when cleaning the helmet. It took the most time to fit the handset to the ear so that it was comfortable. Unfortunately, the best method, in this case, is simply the trial and error method.
FreedConn T-COM OS –

range
The model is designed strictly for conversation between the driver and the motorcycle passenger. The maximum range in a straight line (without any obstacles between the interlocutors) we managed to reach was about 150 meters, so it would be difficult to connect with drivers of other motorcycles unless we drive in a very compact group all the time. We didn't mind at all – for now, we're riding one motorbike.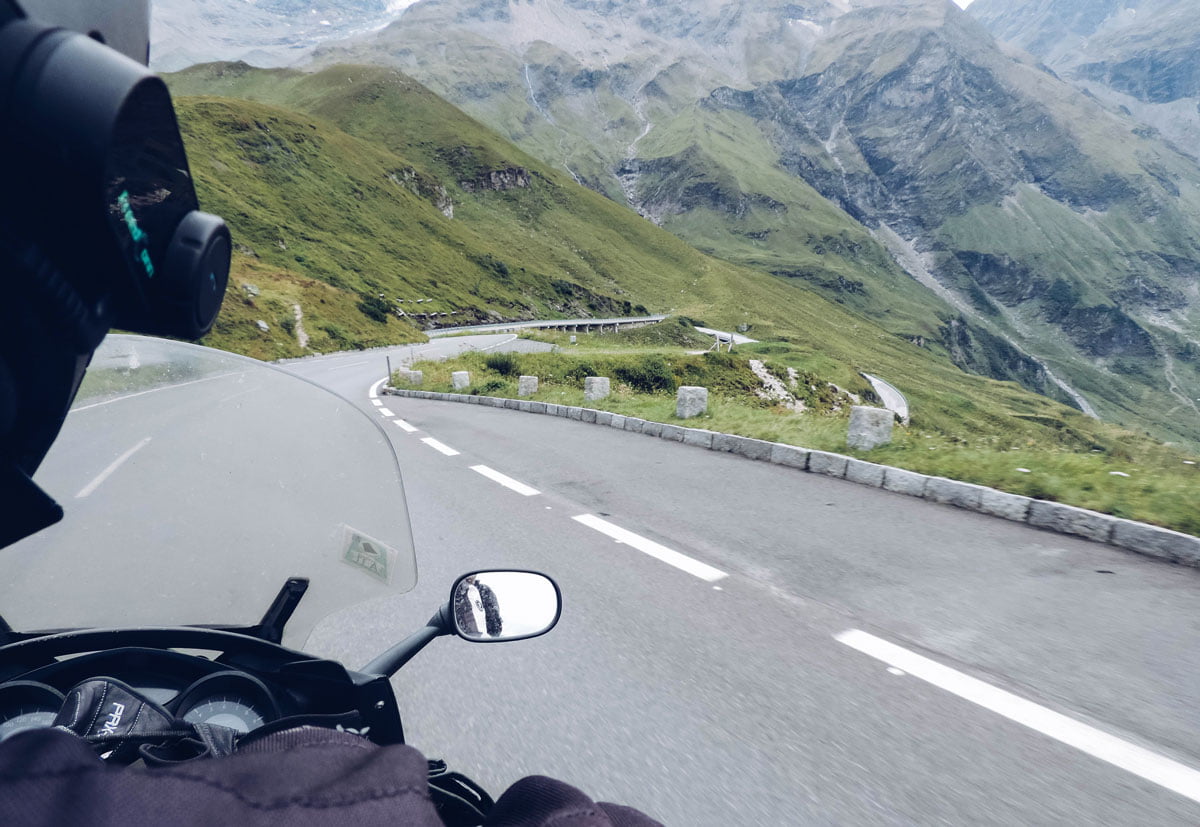 FreedConn T-COM OS –

the time of

operation
In the technical specification, the manufacturer has calculated the maximum talk time to 10 hours. Here is a nice surprise, because the manufacturer strongly underestimated the time of operation. Hopefully, only such mistakes will happen to them, because we managed to have interconnected and actively used intercoms for as long as 13 hours during our holiday trips. Although personally we think that the underestimation of the operating time results from the overestimation of the charging time. The time given by the manufacturer – 4 hours, we did not want to work in any way. Only after about 6 hours did the device's signal full "filling" with a green lamp. The longer we used intercoms, the shorter their operating time was after they were fully charged. After 2 years it was about 8 hours.


FreedConn T-COM OS –

usage
An unobstructed conversation while driving, at least in our case, took place up to about 100 km/h. Of course, this also depends on the quality and mute of the helmets you use. Above that speed you have already had to shout, so for those who want to "close" the speedometer in the BMW R1 and at the same time spoke about important things with the passenger: this will not pass. We didn't combine 3 devices, because we didn't have such a possibility or need, we take the manufacturer's word that it is possible. However, we juxtaposed both intercoms with each other and at the same time each of them with a different phone and it worked decently. The only problem, or rather the functionality that we lack, is the lack of simultaneous ability to talk between intercoms and listen to navigation messages. Unfortunately… either one or the other. Answering or ending phone calls went smoothly. The device automatically switches to a paired phone at the moment of an incoming call. Once the call is completed, it will return to the intercom call on its own.
FreedConn T-COM OS –

summary
FreedConn T-COM OS accompanied us during the whole season 2017, drove over 12 thousand kilometers with us and never let us down (UPDATE! They drove many more kilometers with us in 2018, although in the middle of the season there were problems with power). In general, we think that they are fully worth the money spent on them and we recommend them to anyone who counts on good quality at a reasonable price. We expected a much worse product, because what can we expect from an intercom for 40 EUR? Rather, we treated it as a trial purchase. It was a good choice and we can recommend it to everyone with a clear conscience.
For those interested in more detailed information provided by the manufacturer, visit the website of the Polish distributor of FreedConn brand – https://freedconn.pl