It is time for the next part of my report from my trip to Romania. For those who have not read my previous post yet, and for those who want to read about my adventures again, I invite you to the first part.
My next stop was Romania. I set off first thing in the morning and quickly reached the border, where an inspection was waiting for me, which consisted only in showing proof. Initial impressions after entering Romania seemed to be OK. Cool road, some city, not too much traffic, but what happened later was a real drama. I went to Hunedoara through one of the biggest expressways there – E79. It was a heavy ride. It is hard to believe that in the 21st century there is such a road in a country that is a member of the EU. Through about 100 km of terrible holes, gravel, earth, and stones. The maximum speed is about 50km/h, sometimes even 20km/h. My moto had a severe suspension test. The section I was supposed to cover in an hour I drove for 3 hours. Fortunately, the traffic was low so in many cases, I could use the whole width of the road to choose the best possible track between gravel and big holes. To meet there a uniformly poured stretch of asphalt with a length of at least 200 meters would be a miracle. After tens of kilometers, such a miracle happened. There was a real fresh asphalt. Yeah!!!! But everything beautiful ends quickly, after about 15 kilometers there was holes and gravel again. A road for Africa Twin, not Shadow. However, my machine bravely covered this Romanian road.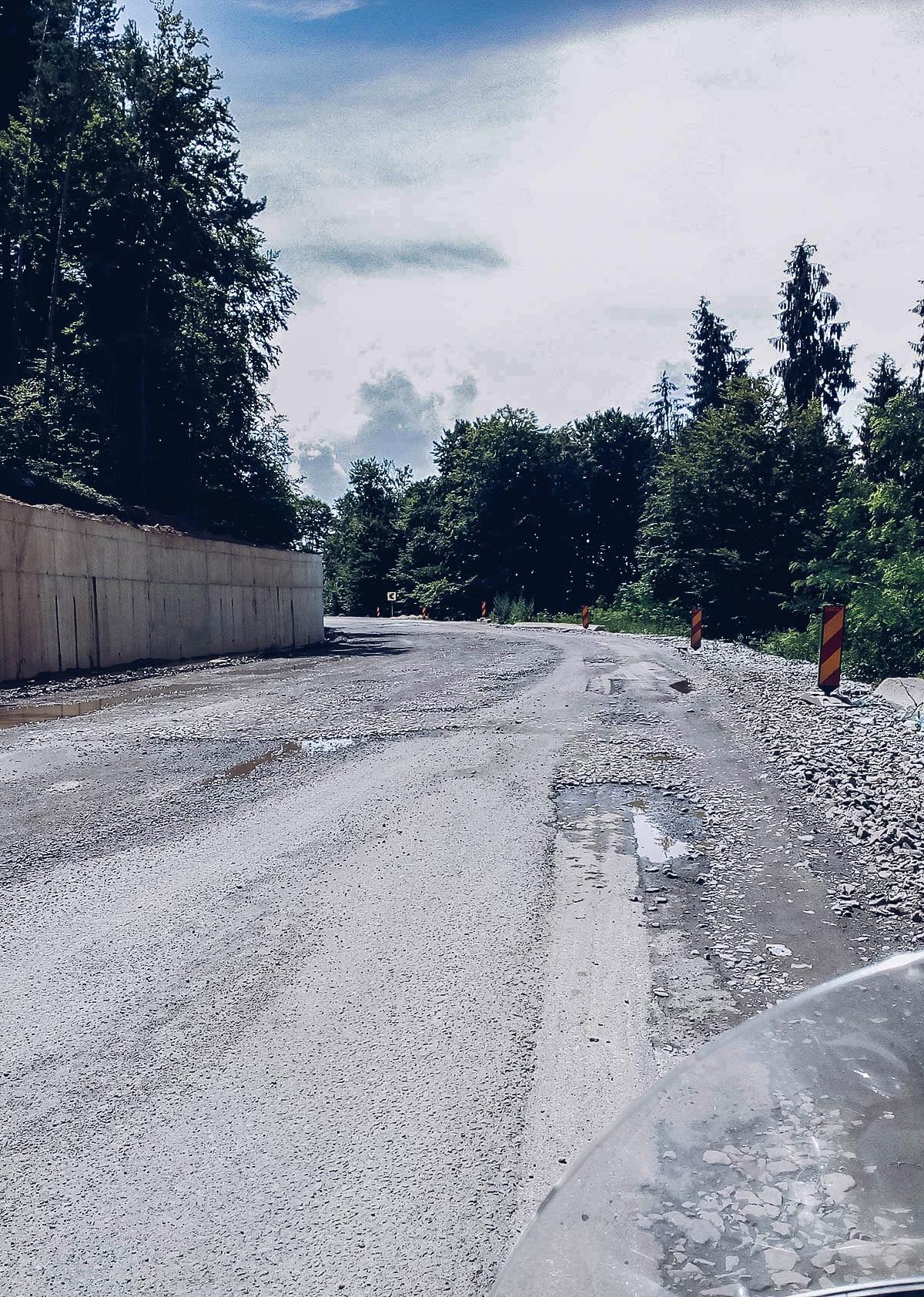 Day 4:

Berettyóújfalu (Hungary) – Cârţişoara (Romania): 426 km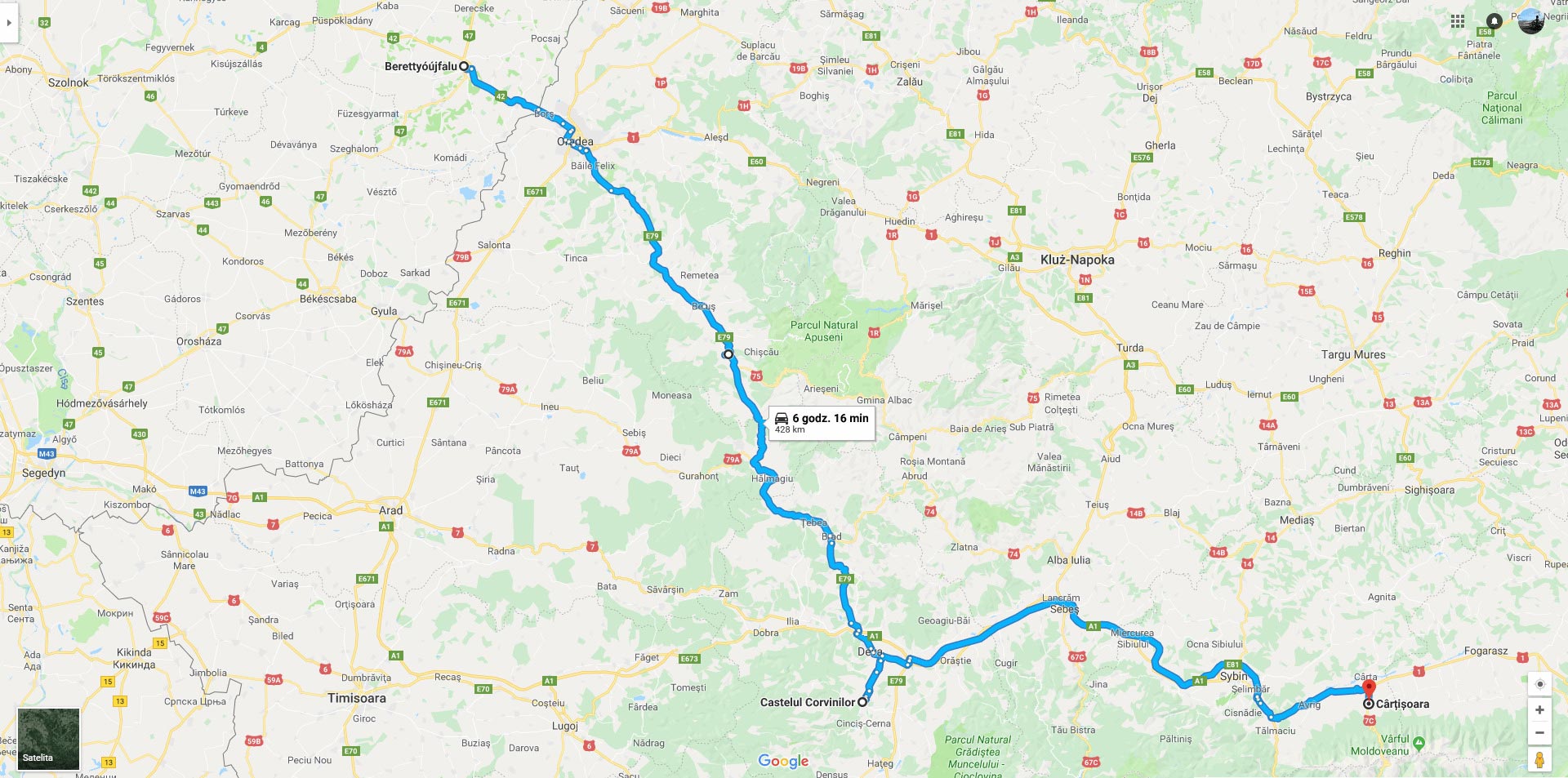 During driving, I was looking at the countryside. In contrast to Hungary, where I met a lot of arable fields, here huge areas of land were absolutely undeveloped. Sometimes serving only as pastures for flocks of sheep or goats, guarded by an aging shepherd. Everything seemed a little wild to me, but this wilderness in its own way captivated me. Driving through small villages, I often saw older women dressed in headscarves, sitting on benches in front of their houses, or some transported hay in a horse-drawn wagon. You could feel the old-fashioned, familiar atmosphere. People, however, were very positive and seeing a black rider on a steel horse often smiled, waving and greeting. The only pity was the neglected stray dogs, which I met almost everywhere in Romania.
Hunedoara Castle (Castelul Corvinilor)
Finally, I reached the castle in Hunedoara (Castelul Corvinilor). The price for entry 30 lei (7 EUR). The castle from the outside looked great. Although it was built in the Middle Ages, it looked a bit different from other buildings of this type that I had seen before. Unfortunately, the interior did not make such an impression on me anymore. I didn't spend much time on sightseeing because dark clouds were coming and I had to run away from the rain. Unfortunately, my escape was not successful. For a good 100 km, I drove, totally wet, just under the cloud. Fortunately, I found a highway, so I rushed as fast as I could while enjoying the nice road. I got where I wanted to go.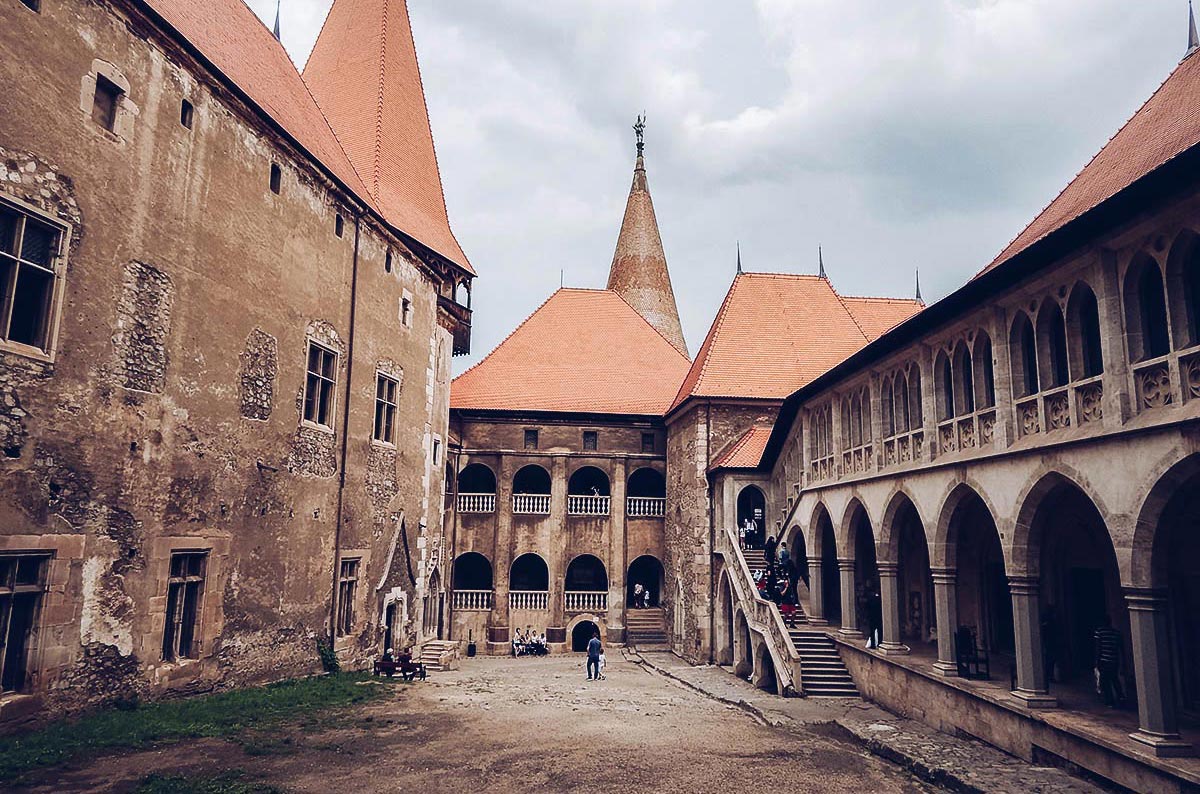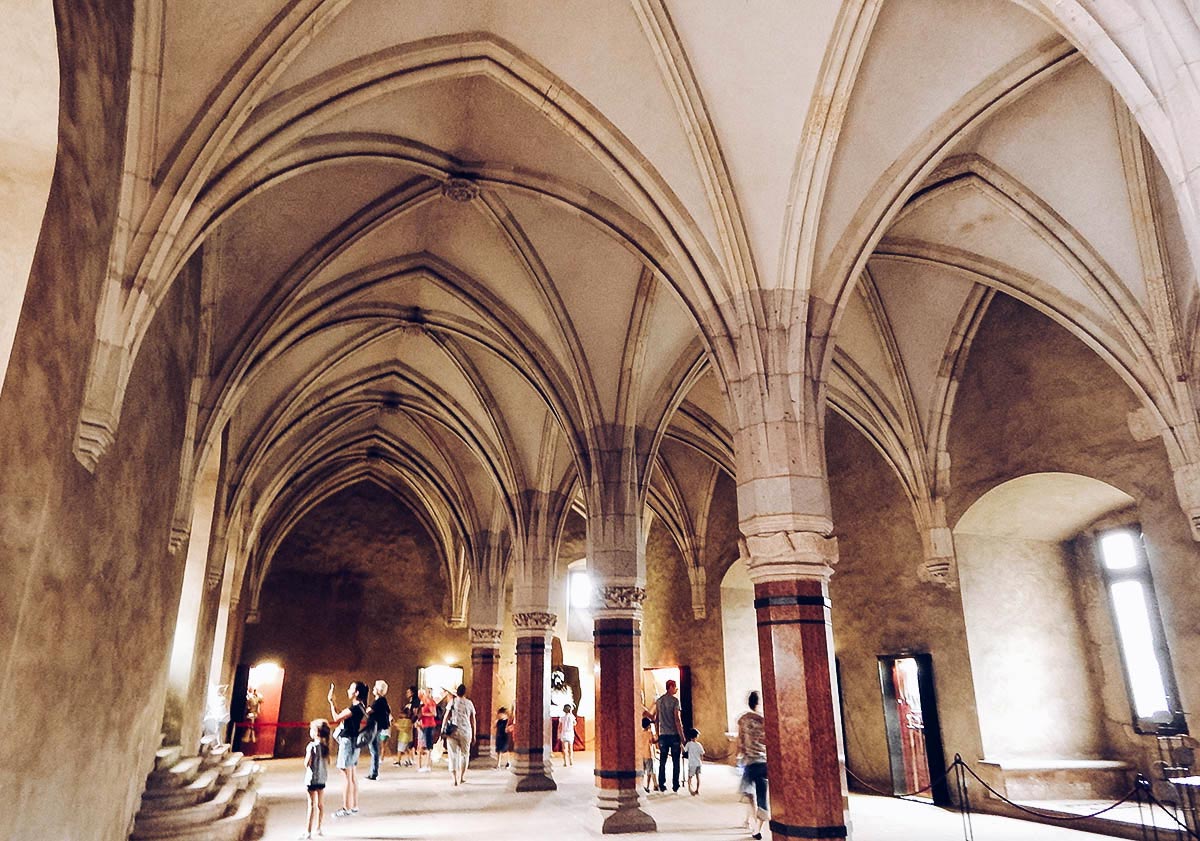 At the foothills of the Făgăraș Mountains
The Făgăraș Mountains, they piled up in front of my eyes, and I myself stood at the foot of the Transfogaraska road – the main goal of my expedition. My dream became a reality, although I did not think that on Sunday, the fourth day of my expedition, I would manage to get there, considering the difficult driving conditions. I found accommodation in Cartisoara, a small town of about a thousand inhabitants. The small hotel was managed by a nice old lady as if taken alive from a Latin TV-series. The hotel on the website was marked as it "offers meals", so I didn't buy provisions all day long, thinking "I'll have dinner at the hotel", but the reality turned out to be completely different. The situation was saved by the owner's son, who came later and took me to the only local shop opened on Sunday evening, where I bought bread and eggs. After such a hard day even an ordinary scrambled egg was a real feast for me. The rain and above all the terrible roads drew a lot of energy out of me, but the next day was supposed to compensate for everything.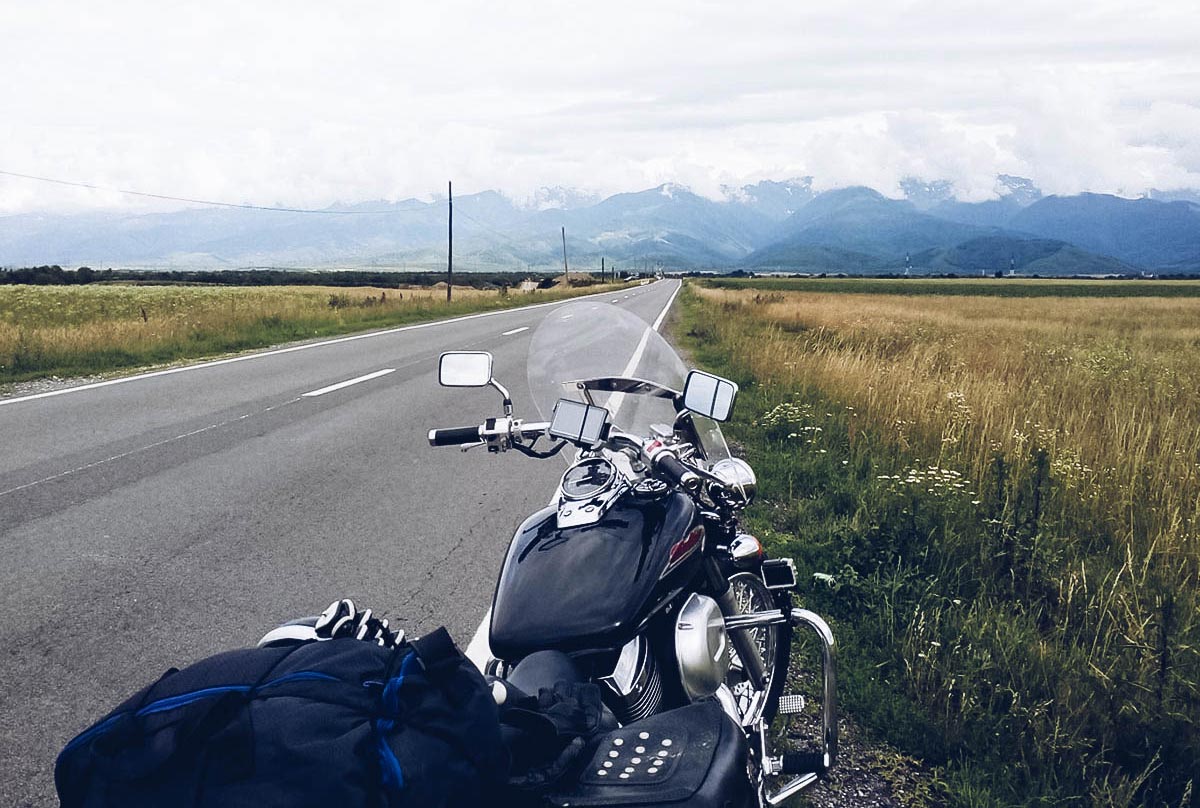 Day 5:

Cârţişoara (Romania) – Târgu Jiu (Romania): 275 km 
And finally, the moment has come! It's time to start the legendary 7C road, i.e. Transfogaraska. The morning was cool and cloudy, but I was lucky and I started my drive without any precipitation. The initial section led through the forest, already there started nice turns, although the trees covered most of the views. At some point I reached a rocky shelf on the slope of the mountain. From there, there was an amazing view of the valley and the Balea waterfall. The whole landscape was additionally beautified by the low clouds suspended in the air. Breaking through the Făgăraș Mountains in many moments I could literally feel that this road leads to "heaven" because time and again I was driving into the clouds.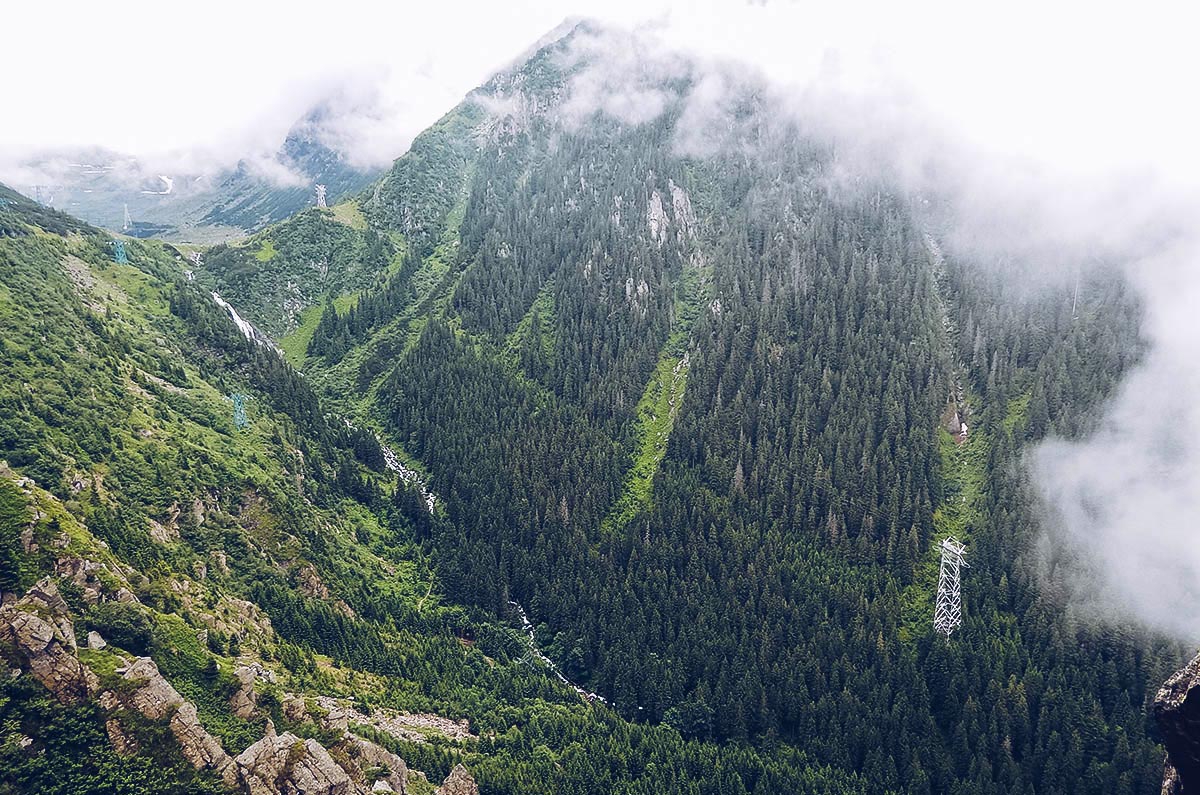 Riding on, I reached the point where the forests were behind me, and in front of me, there was a beautiful view of a huge rocky mountain, covered with green grass and a serpentine road climbing to the summit. It is difficult to choose words to describe the beauty of these landscapes. The Transfogaraska road asphalt was not of the best quality, after all, it was laid 45 years ago. There were some holes and unevenness in it, but I didn't care about it. Tens of tight corners and unbelievable views compensated for everything.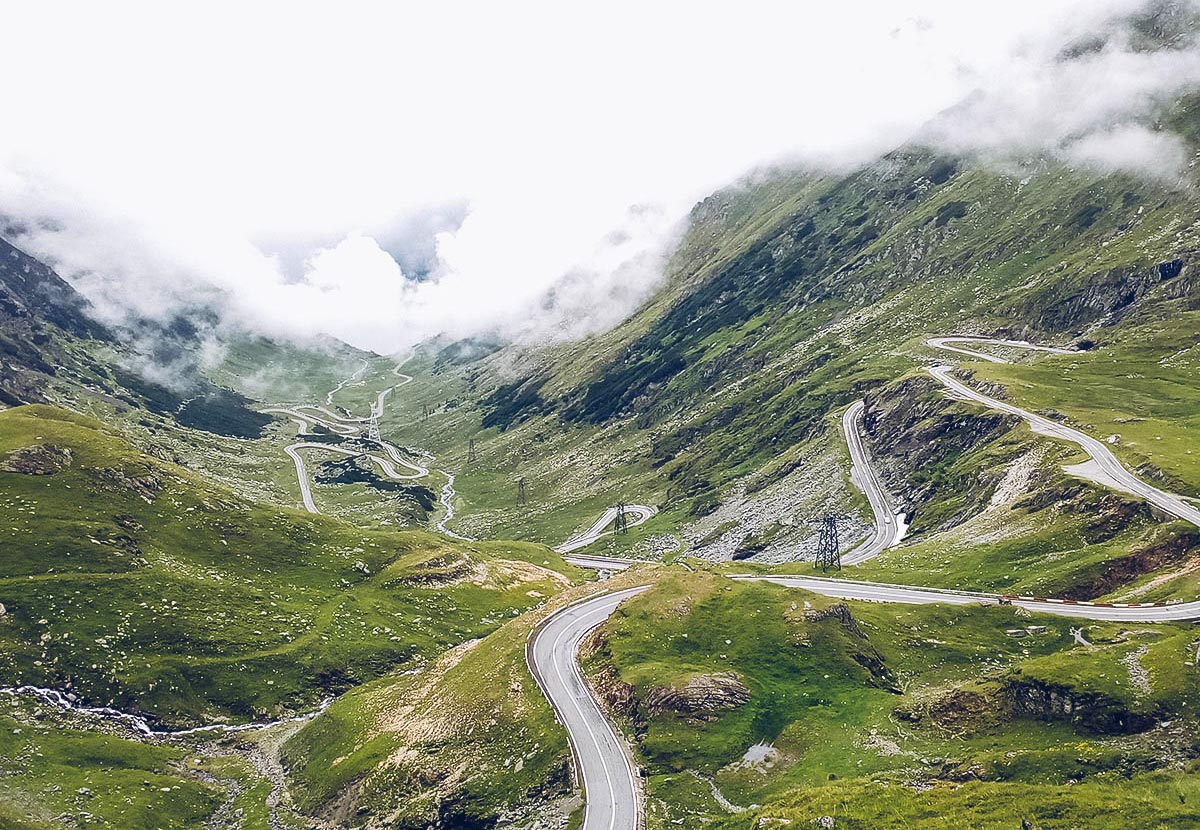 On one of the turns, I saw a shepherd who was sitting on a stone watching over the sheep grazing in the bottom. I waved at him and he reciprocated my greeting with a smile. Thousands of motorcyclists travel thousands of kilometers to see views, which one that guy has every day. But on that day, the traffic on Transfogaraska road was negligible. On average, once every ten minutes I saw another vehicle, so I could fully and loosely enjoy the ride, despite the fact that I was driving very slowly. Hanka (my Honda Shadow) easily climbed on the road, confidently crossing every tight turn, thus breaking the myth circulating among some fairy tales, that a typical motocruiser is not suitable for such winding roads.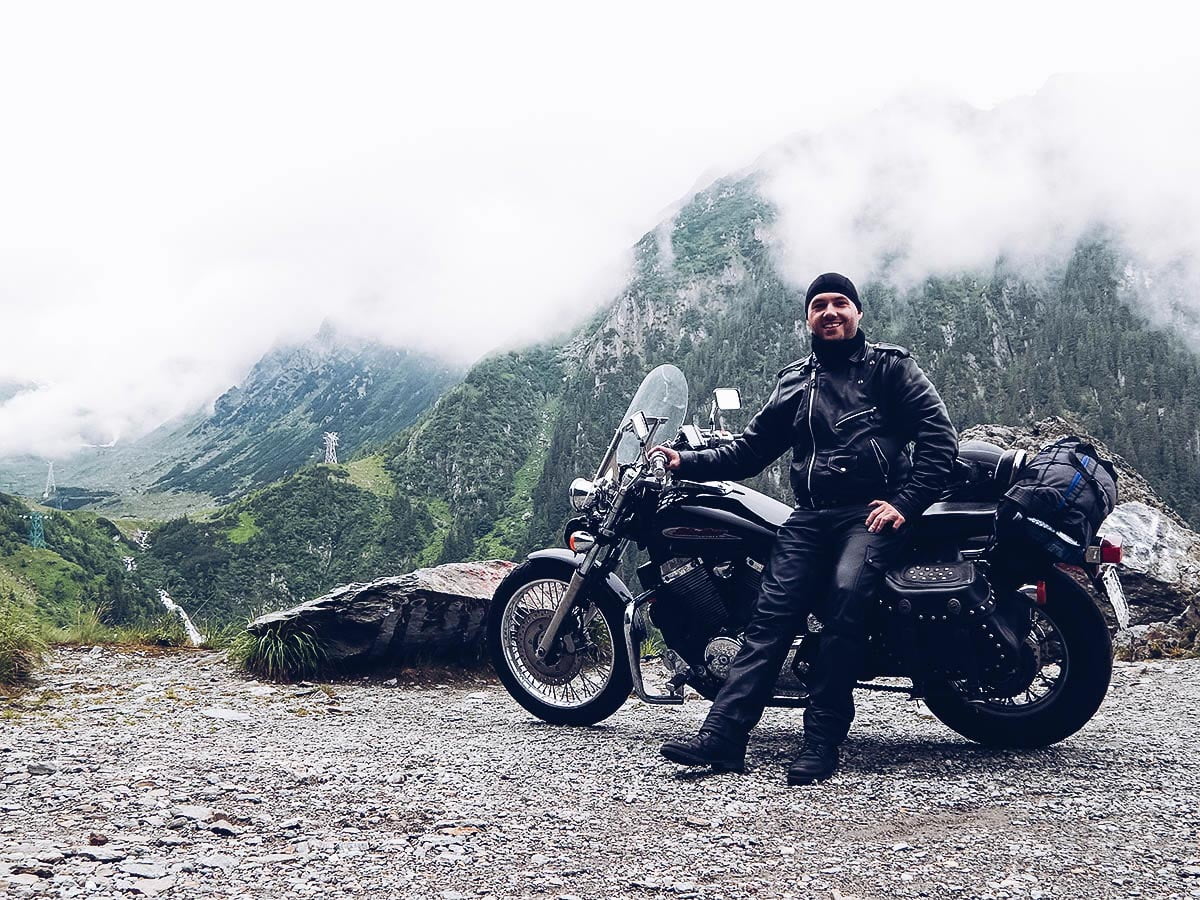 Unfortunately, this stage of the route has passed much too quickly. Driving like in a trance, stunned by the beauty of this place, I felt as if only a minute had passed, and I was already on the entrance to the tunnel, which pierced the mountain range to the south. The remains of a few meters layer of snow still clung to the walls in front of the entrance. There were also a few stalls and a few peoples bustling around them. On Monday morning there is no market there, but supposedly on weekends the route is crowded with tourists, so the locals try to take advantage of it.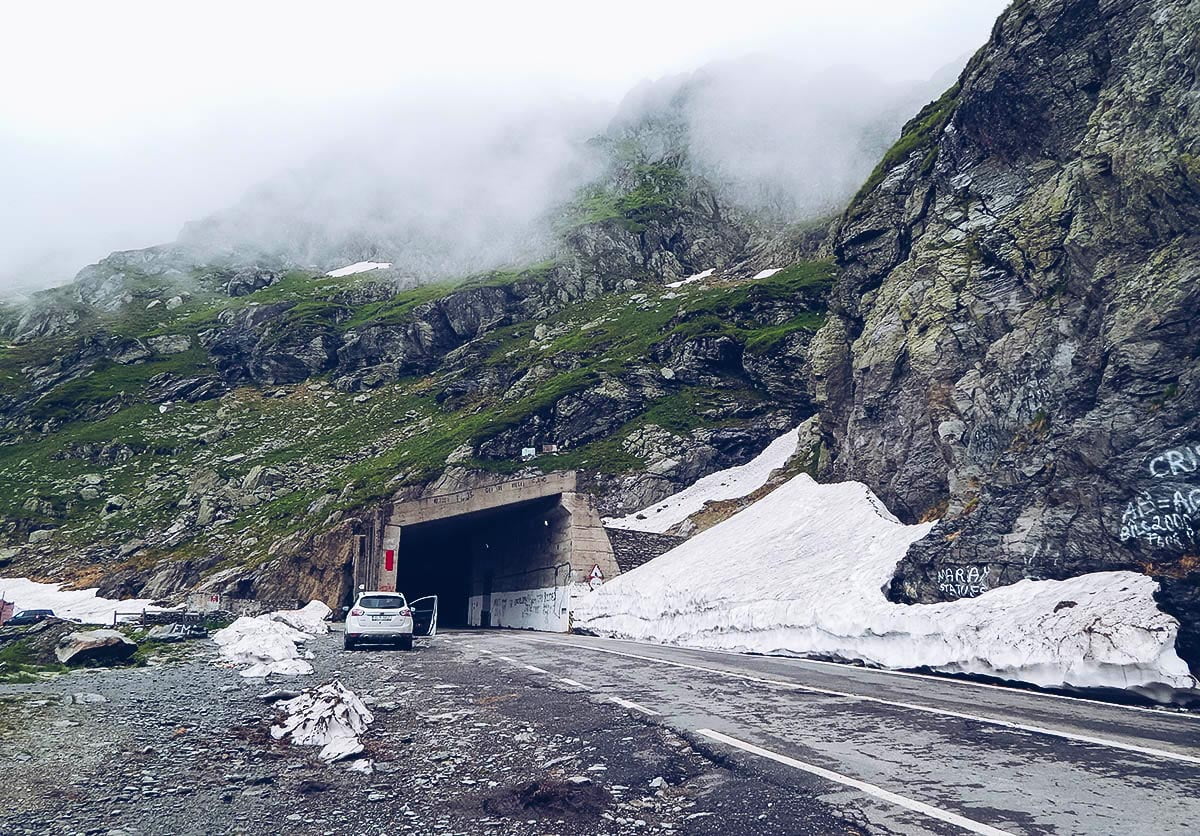 On the other side of the tunnel.

After crossing the other side of the mountain, the views were still as wonderful as on the northern part of the mountain, although the road did not turn into such a narrow serpentine as before. The road was going towards dense forests, where there were still plenty of bends. Unfortunately, the sky stated then that "enough of this good!" and cool rain decided to take me from a fairy-tale dream. Nevertheless, I was happy and said to myself "it can rain now" because I was able to visit the most important points of the route with good weather and visibility.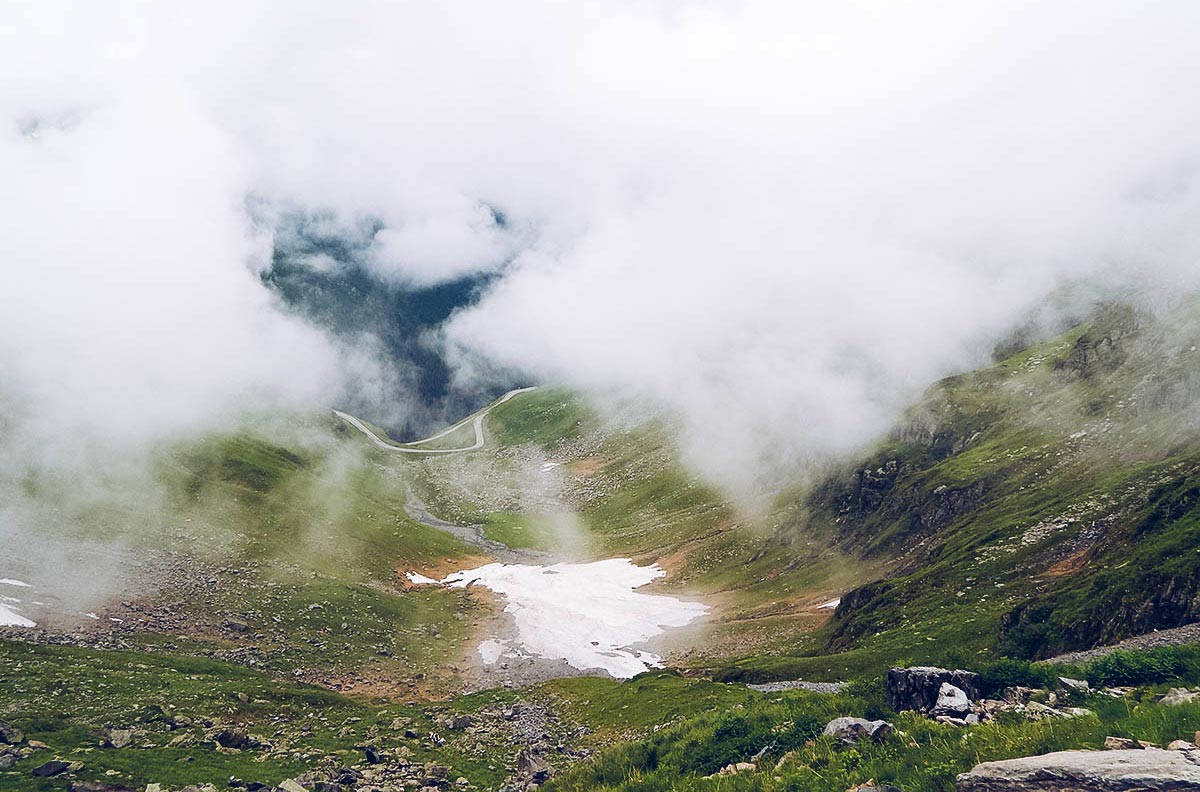 Continuing the journey I noticed Vidraru Lake, just behind the trees and when I finally managed to get to some roadside exit I could have a better look at it. It was located in the middle of rocky hills overgrown with trees and it looked fabulous. Oh, those Fogaraskie Mountains, had no mercy for me and once again poured "honey" on my eyes. Something wonderful. Then I went through the dam called Vidraru Dam, which was the main reason in the creation of Vidraru Lake.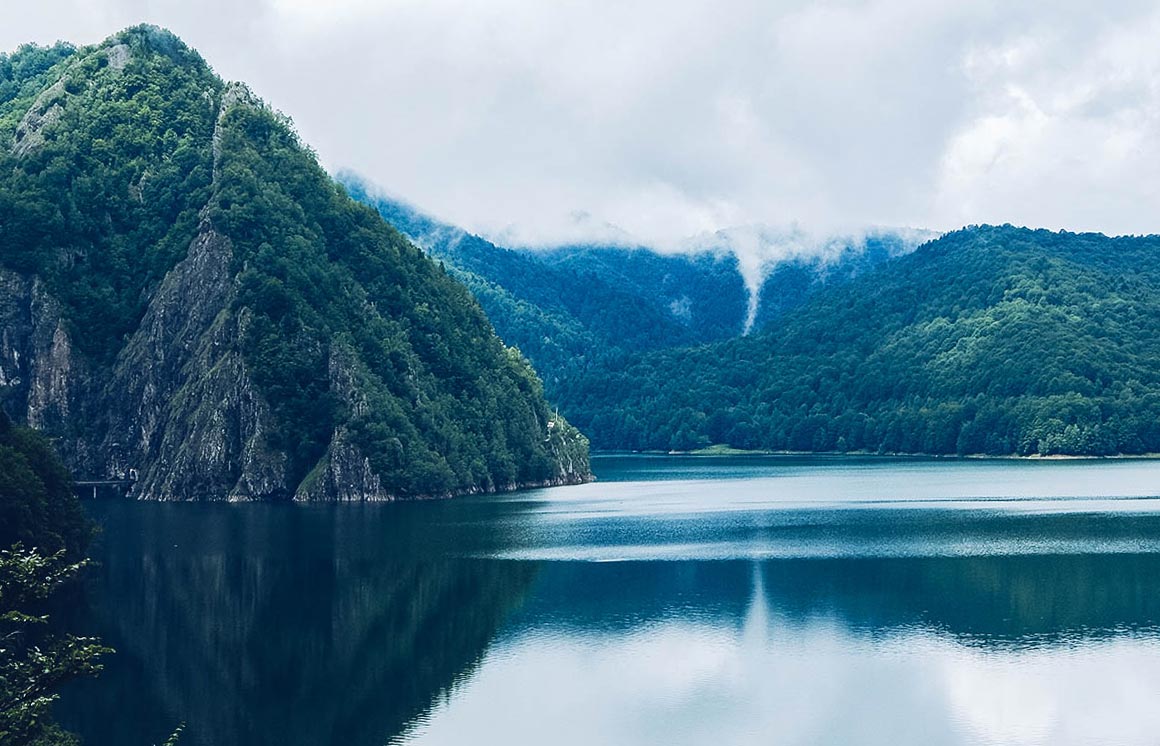 I had a plan to visit the Poenari Castle (Cetatea Poenari), the remains of the fortress of Vlad III the Impaler, also called Dracula. It was located on a high hill, and the road to it led up a steep staircase through the forest. There was a sign on the gate saying that the road to the castle takes about 30 minutes. I thought: "I have enough time", but I didn't take into consideration how difficult this climbing would be. I walked through stairs for about 15 minutes, when my legs slowly started to refuse to obey. Then I saw another information sign, which had to be placed there by someone with a good sense of humor. It said that I had already climbed 453 steps and I still had 1027 to go. Haha, very funny! As if they couldn't write at the beginning of how many stairs I have to climb! For the first time, I had to give up… Too bad, but this day was already such successful so I might have missed Dracula Castle.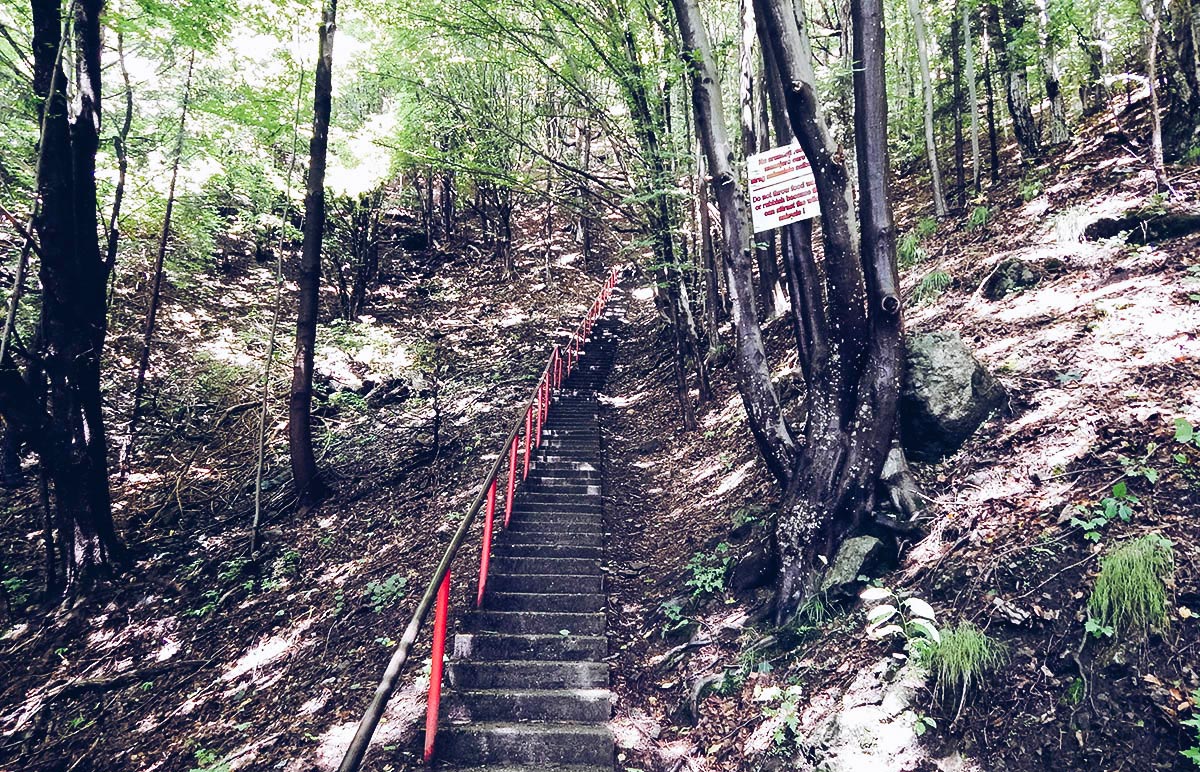 Sleeping in a mobster's room for 10 EUR…
The time has come to leave the Fogarsk Mountains. What incredible experiences I had. The best route I could imagine. Leaving behind Transforgaraska road I was already moving among the ordinary-looking terrains. I went to the town of Targ Jiu. I felt a breath of civilization there, which I missed a bit in the last days when I was wandering through empty steppes and small villages. I found accommodation there in a three-star hotel. The price for such a reputation was ridiculously low. The hotel cost about 40 PLN (10 EUR), but still, the conditions were cool, and the room itself was great, like for a king. I was only curious that all the rooms on my floor had broken door locks in their doorframes. Admittedly, now it was already screwed on again, but earlier there had to be some nice action there. Perhaps they were looking for a mobster? Behind the TV I noticed two fixed holes in the wall. Who knows if it wasn't bullet marks? But who cares? I got a gangster's room for such a cheap price and had a day full of positive adventures behind me. Dream fulfilled! I felt like a king of the world, like this mobster! Of course, before he was captured in my room.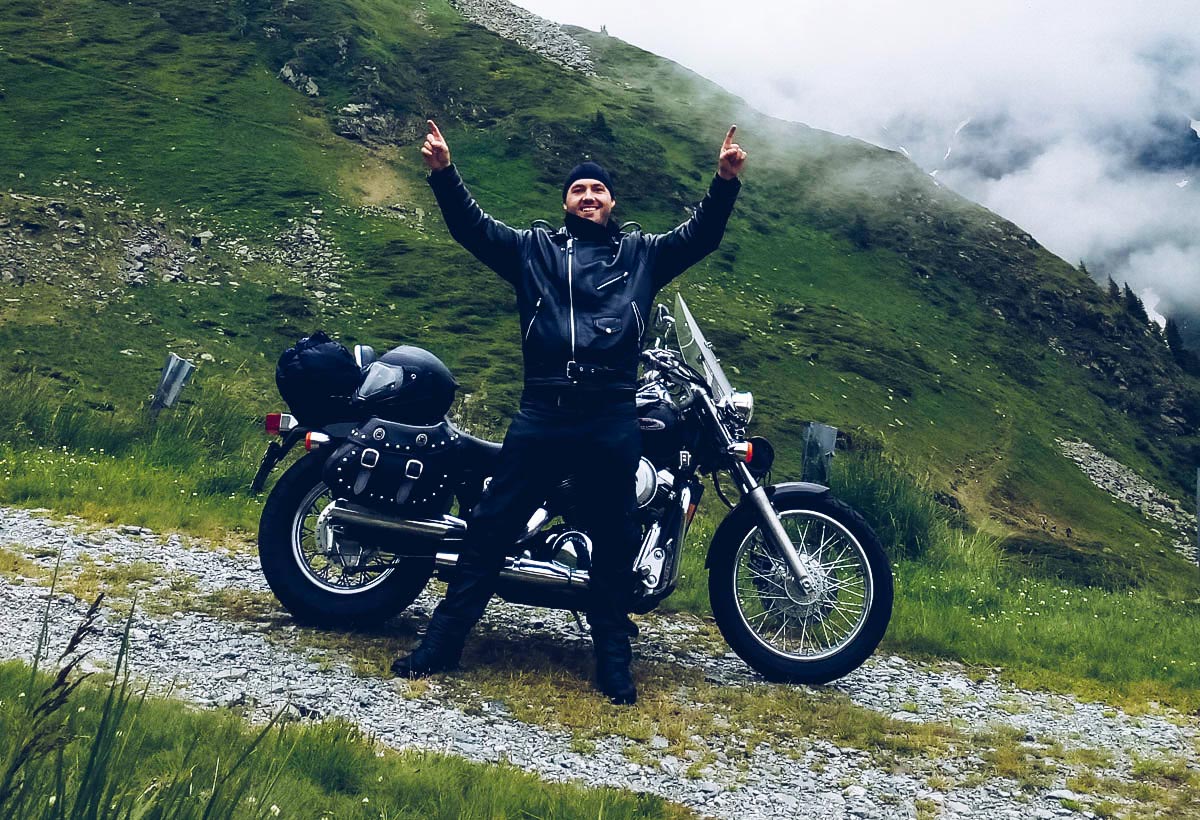 Day 6:

Târgu Jiu (Romania) – Reșița (Romania): 238 km
The next day didn't start so well. My navigation, which I bought especially for this trip, died totally before I left the hotel. Fortunately, I managed to find an electronics store in the city, where I bought the cheapest possible GPS (for 170 lei, which is about 40 EUR). Surprisingly, it worked cool and had a map of the whole of Europe. It was time to drive back because my plan was a return to Hungary. After leaving Târgu Jiu I was breaking through the mountains where the traditional Romanian road kicks my ass. But the views were wonderful. Steep mountain slopes and forests accompanied me for several dozen kilometers.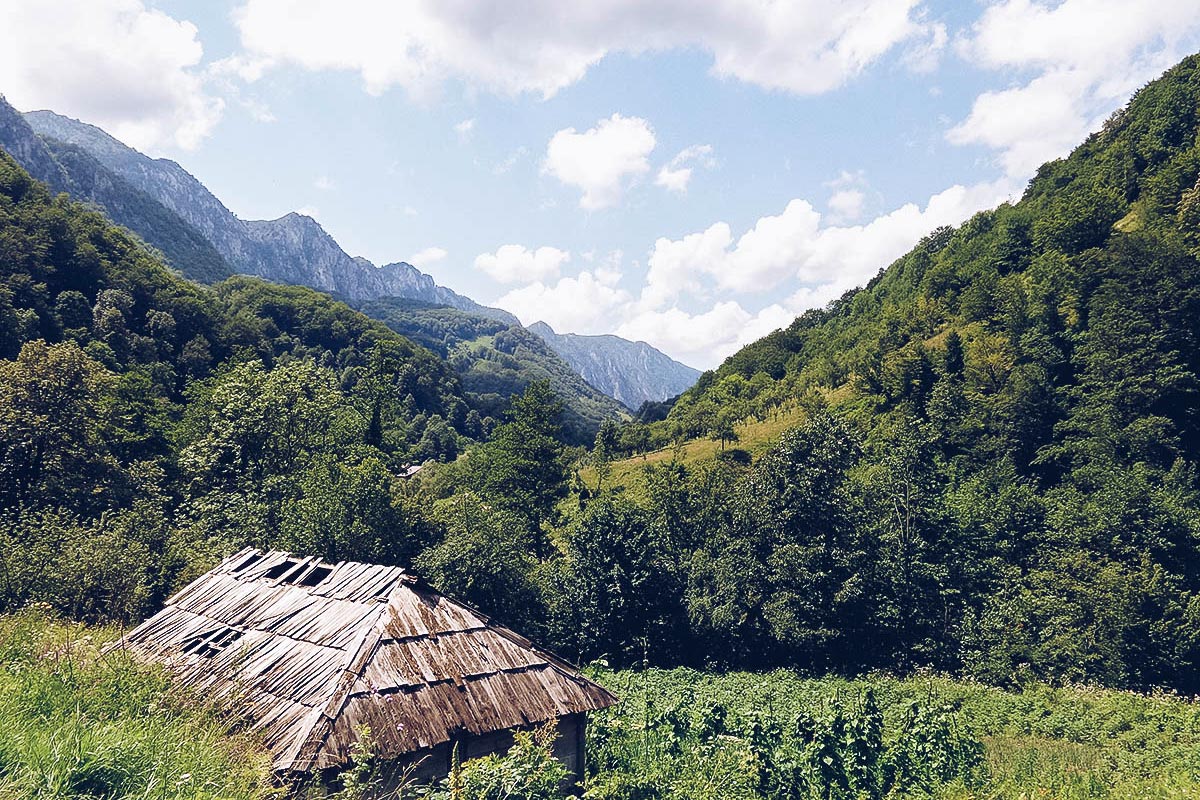 Then I drove into the 57B road. Finally, a decent asphalt and the road itself is divine! Transfogaraska has a lot of corners, but you can't go too fast on it, because most of it is a 180-degree turn, and every now and then a dozen or so meters of a chasm. The 57B is like a racetrack, hundreds of corners that you can go into at high speed lying down right-left-right-left and so on easily closing the tire. Only the views are average, but for a lot of fun, it's worth a ride there, when you're in Romania.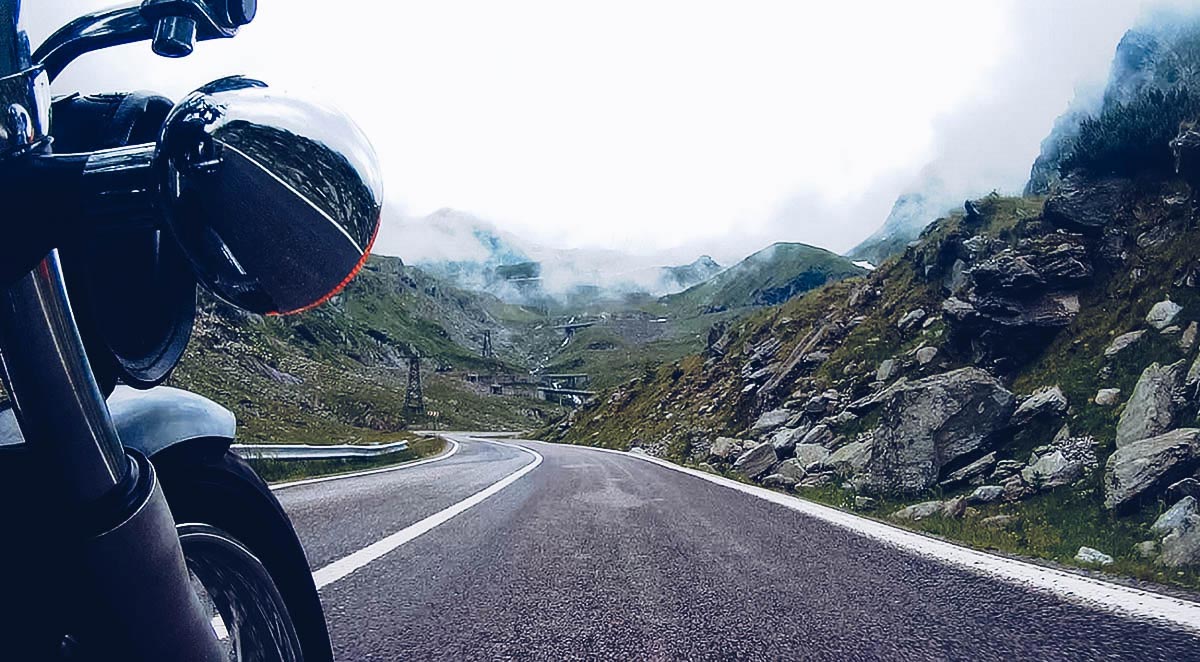 Cascada Bigar (lub Izvorul Bigăr)
Later I visited a small waterfall called Cascada Bigar (Izvorul Bigăr). It looks beautiful, but after it I didn't see anything else interesting there (just forest and small river). I was surprised that they charge there 5 lei (1 EUR) for the possibility to look at it, although you can also see it from the road because it is only a dozen or so meters away from it. Another incomprehensible point was a small cave in the depths of the forest behind the waterfall. Entrance to it led to dangerous, steep stones from where it was easy to fall, but the entrance was encouraged by the attached railing, and then only the line itself. Climbing turned out to be pointless because the cave itself is 3x3m in size and there was nothing in it. So why encourage tourists to go there? After a short sightseeing tour, I was continuing the return to Hungary. Driving on Romanian roads I liked the custom of drivers, who always warn about police control by blinking lights, and these happened there more often than in other countries, perhaps because of a complete lack of speed cameras. The sight of police officers with a "hairdryer" in bushes trying to catch drivers fruitlessly gave me a light smile. This is where the solidarity of the drivers wins.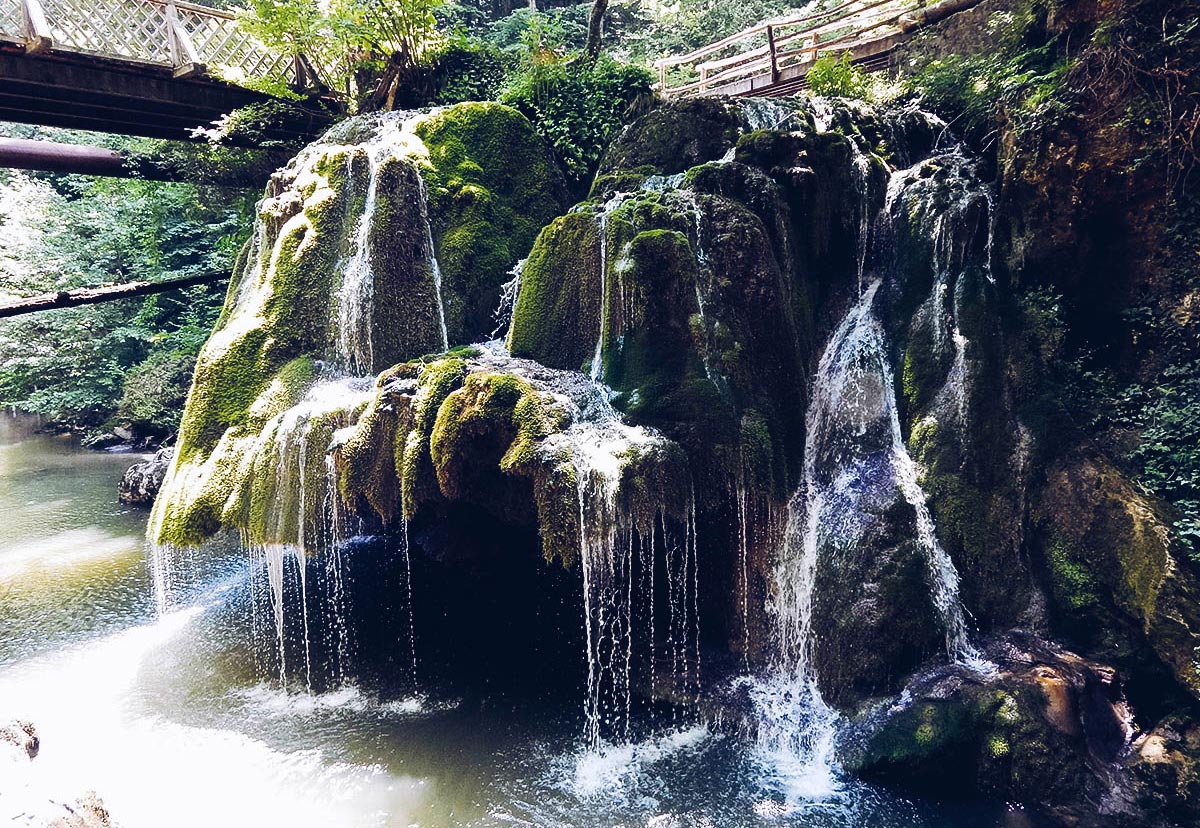 Silence before the storm – literally

It started raining. I quickly found a gas station where I hid for 10 minutes until the cloud moved a bit further. I checked in the weather application how it would move and saw that there were storms in the area. But as the storms were going in the opposite direction to my ride, I got on the moto and continued my journey with the certainty that I would not get wet any more. How cruelly I was wrong. After a dozen or so minutes I fell into heavy rain. Thinking that I would quickly avoid it, I continued driving, but with the next few minutes it was pouring more and more strongly, and the sky was getting blacker and blacker and became… I fell into the very center of the storm. Thunder and lightning added to the gravity of the situation and I found that it didn't look too cheerful. In addition, I had nowhere to stop, because I was driving through bare fields and forests all the time. Rain, wind and sometimes even hail limited the visibility to a dozen or so meters. The water was flooding the roads, the cars stopped at the side of the road and I was driving because there was no place with a roof to hide. I thought that if I didn't get hit by lightning, I'd get hit by a car. My heart, however, has an irresistible will to fight and cried out "drive, don't give up!". I drive like this for about half an hour.  Finally, I saw some abandoned buildings, but the gate was padlocked, so I ran away. Lightning illuminates the sky, a downpour and thoughts to give way. Finally, I saw the tunnel. It was about 30 meters long and it was not too wide, but it was always a shelter. I stopped there. Passing cars flooded me with a wall of water. I quickly pulled out a reflective vest, because the black Hanka, the black me, the black tunnel and the road, so I don't want to be hit by someone. I waited. I quickly checked the weather on the phone. Red and yellow dots signifying strong storms were above me and it didn't look like they would give way in the next few minutes. I was soaked to the last thread, the water was splashing in my shoes. I turned my face to the tunnel wall every time a car was passing by. I made the decision to leave the motorcycle alone in search of another shelter. Right behind the tunnel, I noticed buildings. The first hut was closed, but behind it, there was a small factory, an office and a car standing next to it. When I tried to get into the office, a guy ran out of the car. I told him I was looking for shelter. He immediately opened the door for me.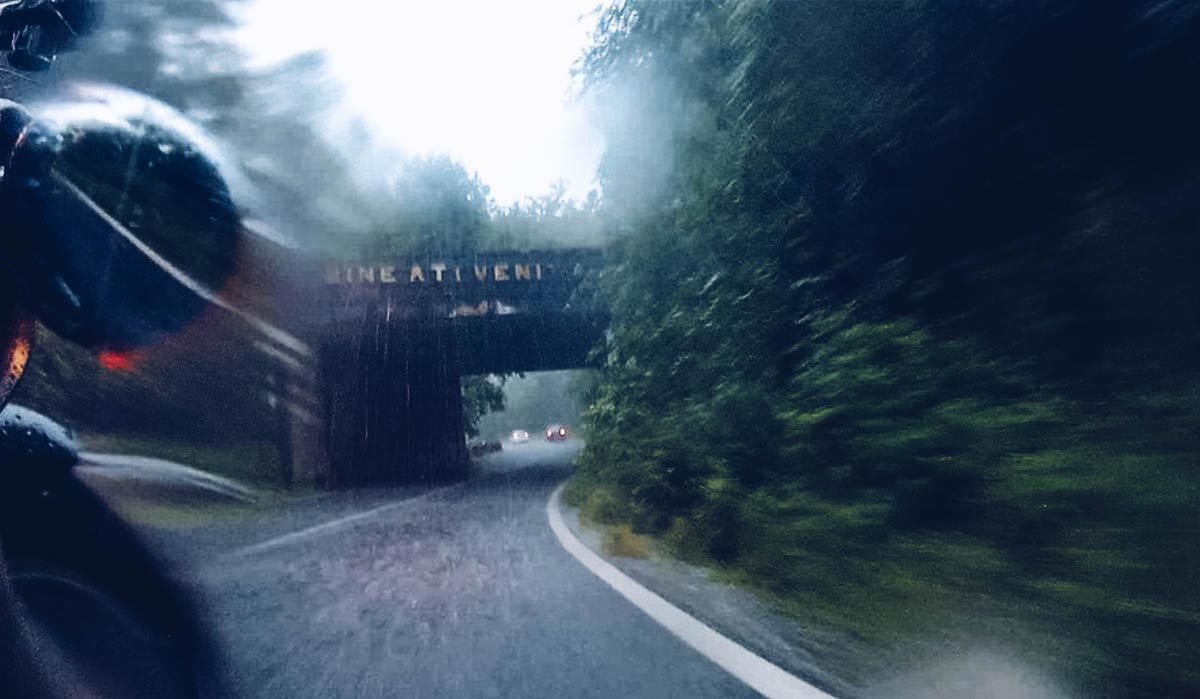 We managed to pull Hanka out of the tunnel and drive up to the office. Inside Marco (like he introduced to me) gave me a dry shirt. We talked for a while. He knew English, so there was no problem with communication. It turned out that he had a friend from Poland. He was very helpful. When the storm calmed down, he got into the car and led me to a nearby hotel where his friend worked. It turned out that the tunnel was an entrance to a larger town called Reșița, where I might have found some shelter without Marc's help, but how could I know that when I decided to stop in the tunnel. We drove a piece through the city. Fortunately, the hotel was located on a slight hill not so far from the city entrance. Marco explained everything to his friend, who was a receptionist there but did not speak English. She managed to find a free room for me and, thanks to Marco's help, she got me a garage in a workshop a few steps away.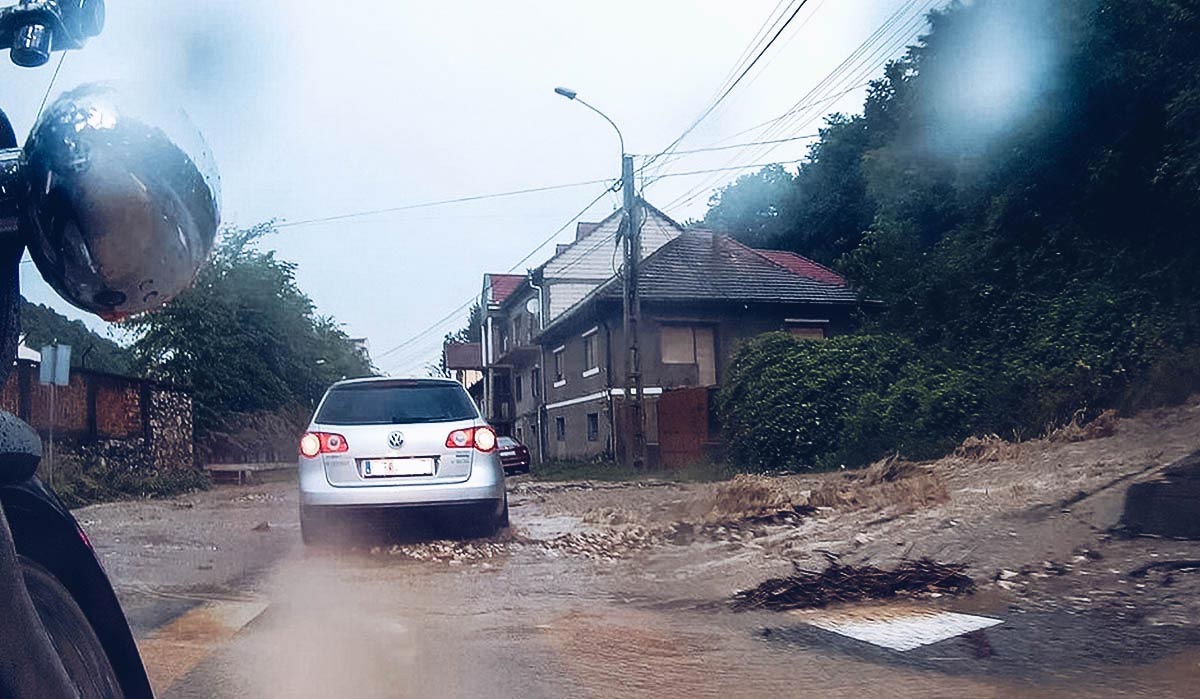 Yeah, Marco was such a great guy. Someone else in his place, if he would be interested in it at all, he would at most lead me only to the hotel, but he would not stay with me any longer to be my translator. Respect. The next day I bought him a bottle of wine and a box of chocolate, but unfortunately, I couldn't meet him anymore, so I asked his friend to give it to him. At the hotel room, there was a hairdryer, so I spent the evening drying everything. No clothes were dry even in my luggage. Still, I was happy to survive that adventure. It was the most hardcore ride of my life! Are you still curious about what happened next? See you in the last part of my report, which you can find here.