Motorcycle season has been started, so we decided to organize a motorcycle trip to the Czech Republic – for dumplings and beer. Beautiful corners, magnificent views, much to see and explore. At our southern neighbors, every motorcyclist will find something for themselves.
Žacléř is a picturesque village at the foot of the Sudeten Mountains, not far from the Polish-Czech border crossing in Lubawka. We arrived here on Saturday evening, quite spontaneously and unintentionally. When we were in Lower Silesia, we felt like getting dumplings and good beer is a good idea. We also wanted to check the condition of the roads with our southern neighbors.
We will describe the route to Žacléř another time because it deserves a whole post, and unfortunately our navigation, and at the same time the route recorder, refused to obey during the ride. We left quite late before dusk we managed to take only a few photos. But believe me that both the Krkonoše Mountains on the Polish and Czech sides are delightful and it is hard to convey their charm, and a motorcycle trip to the Czech Republic will always be a great idea.
Czech dumplings

with whipped cream

in Korálek restaurant
We spent the night at Penzion Sport in Žaclér. We have a nice recollection of both the conditions and the fantastic service. We especially recommend the delicacies of Czech home-made cuisine in the Korálek restaurant. Dinner was great, although the combination of whipped cream (yes, whipped cream), blueberries, roast beef sauce, and Czech dumplings may not appeal to everyone. In fact, the owner of the restaurant had only this to offer from the menu. Neither in Czech or Polish language, she assured us that it would be tasty. And it was – real, homemade, the best. We drank some more beer and we were in heaven. We must also mention the very original interior design, which, despite appearances, added only charm to it.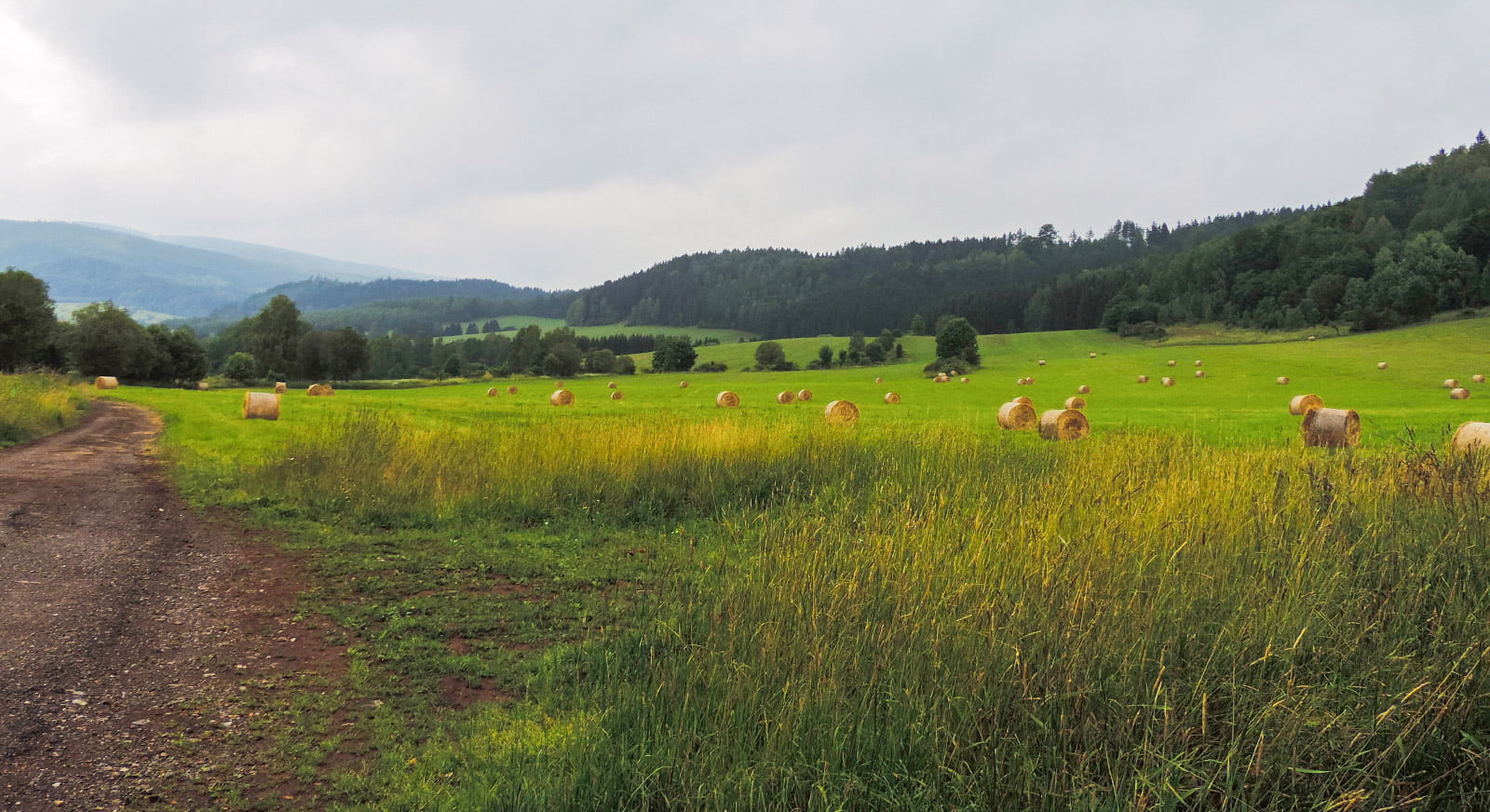 Sunday morning greeted us with light rain. Fortunately, all the signs on the sky and earth, and in the weather services, indicated that later it will only be better. Therefore, regardless of the unfavorable conditions, we set out on winding roads towards the Rock City, located in Adrspach. Beautiful lakes, narrow passages, fantastic sandstone formations growing up to a height of 100 meters and wonderful views, make this area a perfect place for lovers of hiking and mountain climbing. If you want to go all the way, green and yellow, you must reserve at least 3-4 hours of your free time.
Adrspach Rocks in a pill

– what it is worth to know
Motorcycle helmets for the time of sightseeing can be left with lovely ladies in the tourist information right at the entrance.

It is also worth mentioning that the Adrspach Rocks are well suited for family tourism, trails are designed for both hikers and families with prams, and the diversity of their level of difficulty, allows you to adjust the route so that it would be pleasant for everyone.

Make sure to take the opportunity to take a boat ride on the lake, just to taste the Czech sense of humor served by a raftsmans.

Visit the Great Waterfall. If you are alone, wait for the group and shout three times with them: "Krkonoše, give us water! Without spoilers, whoever was there he saw what will happen.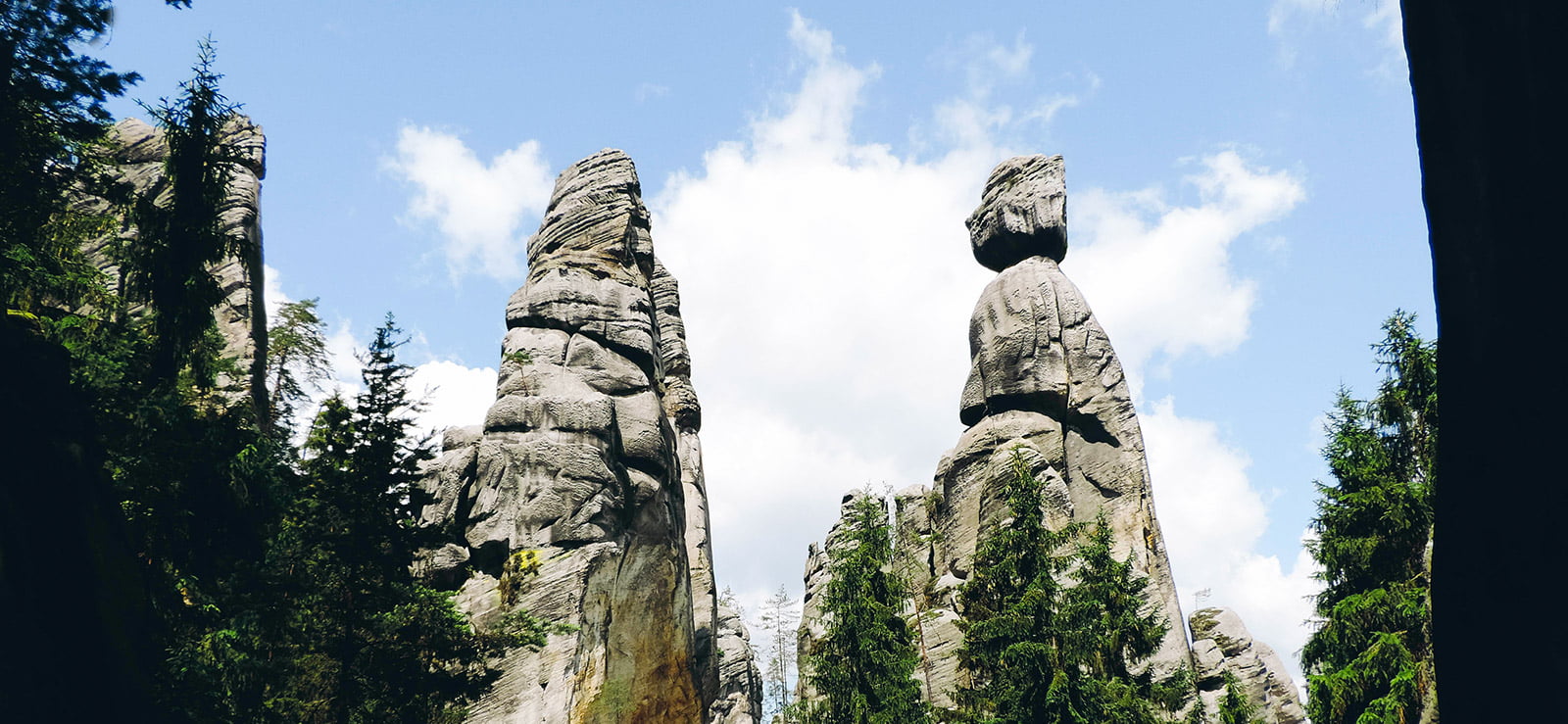 Through Nachod back to the home
A little tired, because the motorcycle clothes are not the best for hiking, we go further heading for Nachod. We only regret that we do not have more time to stop for a moment in the city, because of the monuments we have passed, including the Gothic castle from the 13th century, rebuilt in the 16th century by Italian architects in the Renaissance style. Great, majestic, on the hill above the city, looked very promising. Well, you can't have everything and we've long learned to forgive ourselves for not seeing something because there was no time or just power.
On a winding road, admiring the beautiful views along the Eagle Mountains we reach Zamberk. It was late, and there was still a long way to go to Upper Silesia, so we headed along local roads leading through picturesque Czech villages towards Olomouc, and then along the motorway to Ostrava and Katowice. However, if you have time, we recommend the route through Šumperk to Karniów. We will surely use it next time. We consider our motorcycle trip to the Czech Republic for dumplings and beer to be really successful. What about you? Have you already visited our southern neighbors? What routes have you covered?