For most people coming to Iceland and having only a few days at their disposal, visiting the island looks similar. Reykjavik and its surroundings, Golden Circle and Blue Lagoon. Okay, sometimes somebody will even head south, but having a limited time, it turns into fast driving from one to another punkt rather than sightseeing. We would like to suggest to you how to spend a few days in Iceland a bit differently. So that you don't feel overwhelmed by a million tourists, tour buses, queues in front of checkouts and don't regret any hour spent on the island – welcome to the Snaefellsnes peninsula.
Snaefellsnes Peninsula – Iceland in the miniature
This is how the Snaefellsnes peninsula is called – Iceland in miniature. You'll find everything you associate Iceland with here. Okay, there may not be any geysers exploding into the air, but there will certainly be waterfalls, these smaller and larger, sharp cliffs with all their winged boon, black and being a treat in Iceland – golden beaches, lava fields, hot springs (for free, not for millions of coins) and even a volcano, and not even a small one because Julius Verne himself has already written about it. All this is filled with calmness (it may seem strange, but sometimes it is hard to find such places in Iceland) and with changing, like in a kaleidoscope, "ordinary" Icelandic landscapes, makes the Snaefellsnes peninsula the most beautiful place to spend a few days in Iceland.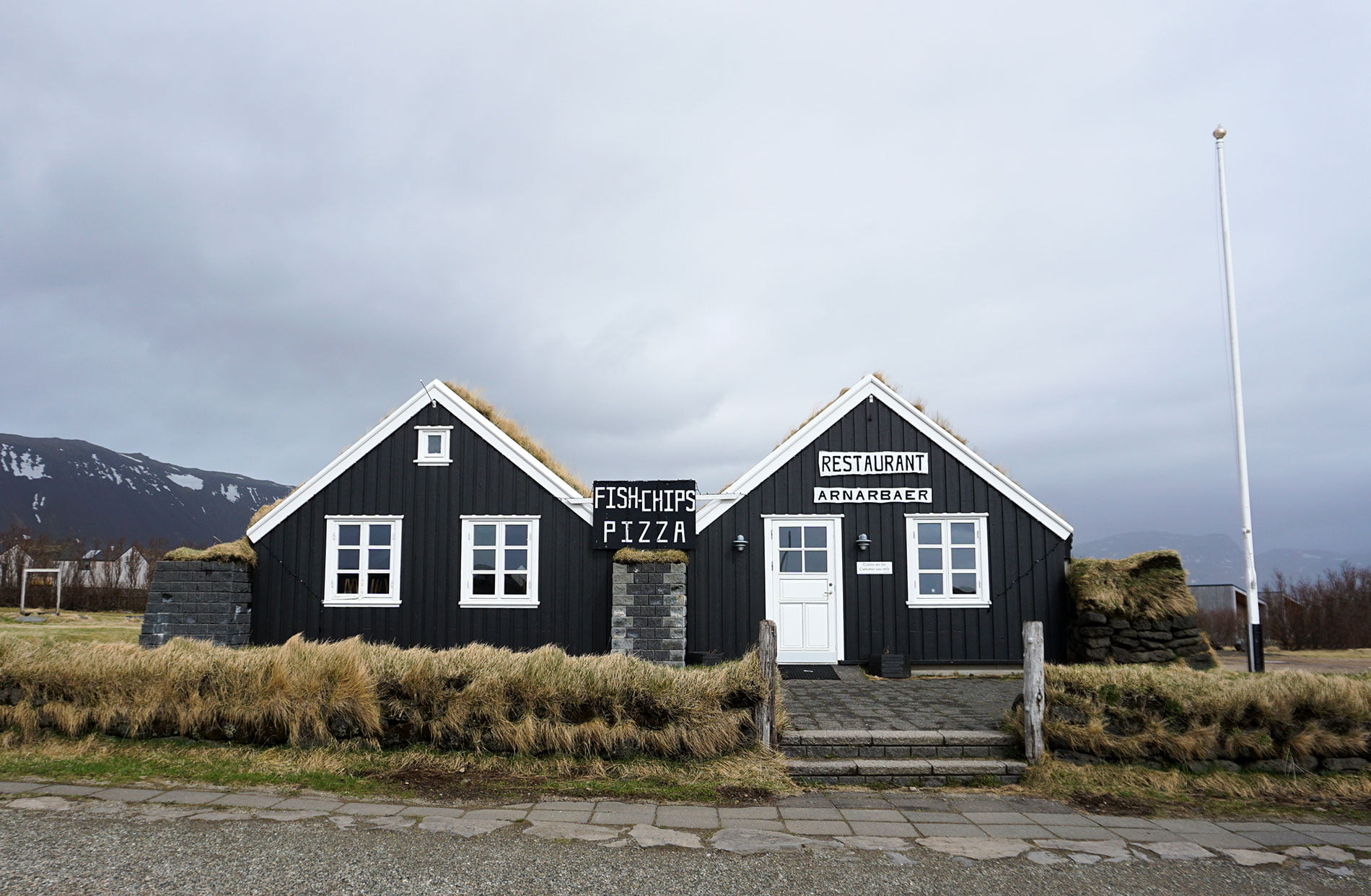 Below you will find a description of selected and most charming, in our opinion, places on the Snaefellsnes peninsula. Those that would be almost a crime to avoid. :))) Even lower you will find a map with all the places marked. This includes all the places that you can skip if you don't have time, although it's worth looking there.
Ytri-Tunga Beach – the best spot to watch seals
Ytri-tunga, at first sight, is a beach like many and similar beaches in Iceland, but in spite of its customary nature, it is unique. It is probably the best place we have found so far to watch the seals. We have been in several other places before, also recommended by guides, but it was only here that we were able to see them from quite close up, as much as of course, they allowed. :))) This is an obligatory place for lovers of these charming animals. We have already written about seals and Ytri-Tunga, a link to our previous entry can be found here.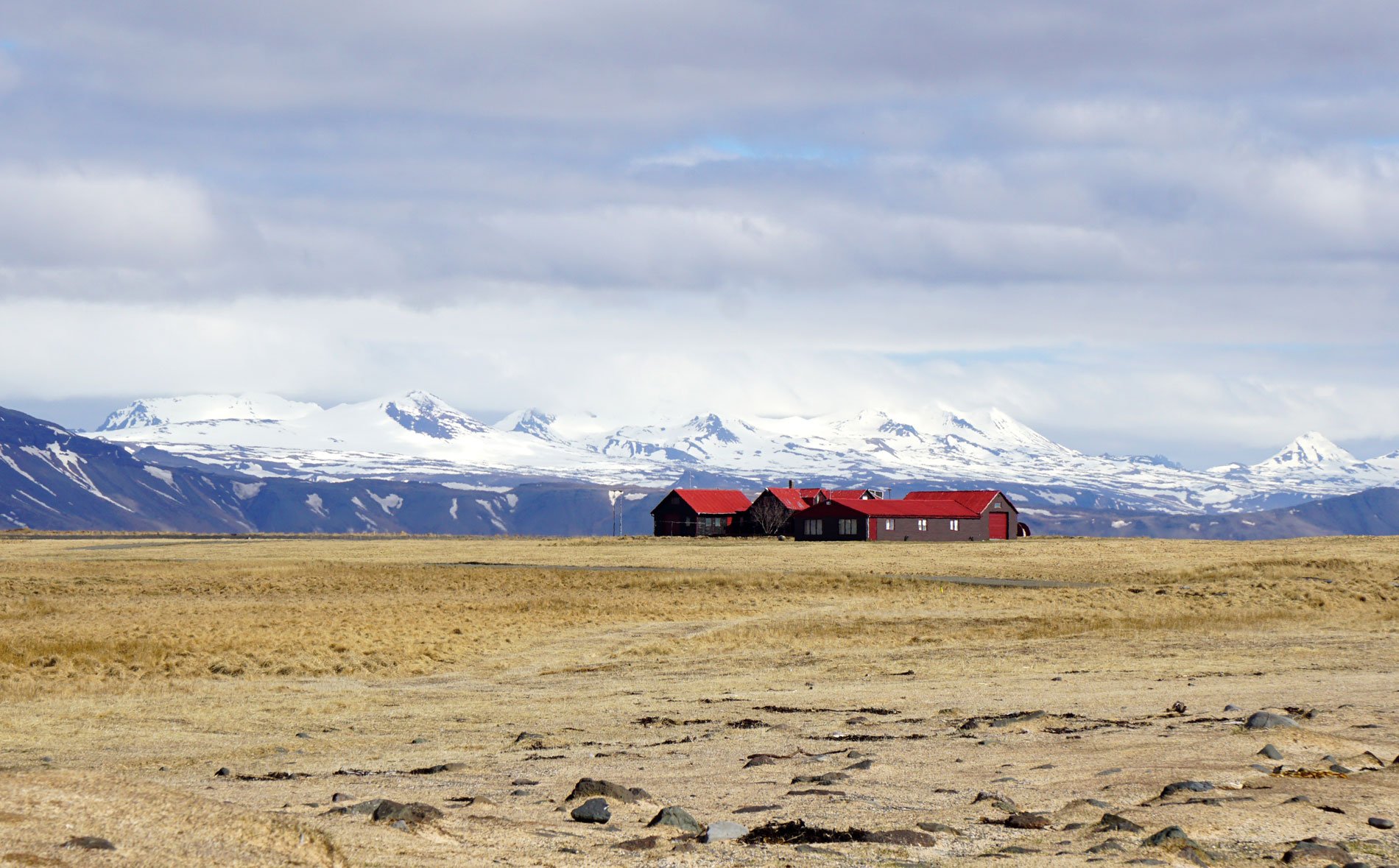 What is characteristic for the Icelandic landscape? It is the omnipresence of tiny churches and intimate, church-like cemeteries. Almost in every place where there are several houses, a wooden church rises next to it. The multitude of churches is a remnant of the times when there were no roads in Iceland, cold and dark polar nights were not conducive to travel, and religion required a presence in prayer meetings (the dominant religion is Lutheranism). As a thoroughly pragmatic nation, Icelanders decided to solve the problem in their own way – instead of building roads, they built small churches. It is estimated that there are now over 350 churches, which, with the small population of the island, gives a good result. The churches are often painted white, red, blue, and green, which is an unusual complement to the surrounding landscape. There are also those painted in black, like the one in Búðir, which are impressive for their minimalism and typical Scandinavian design.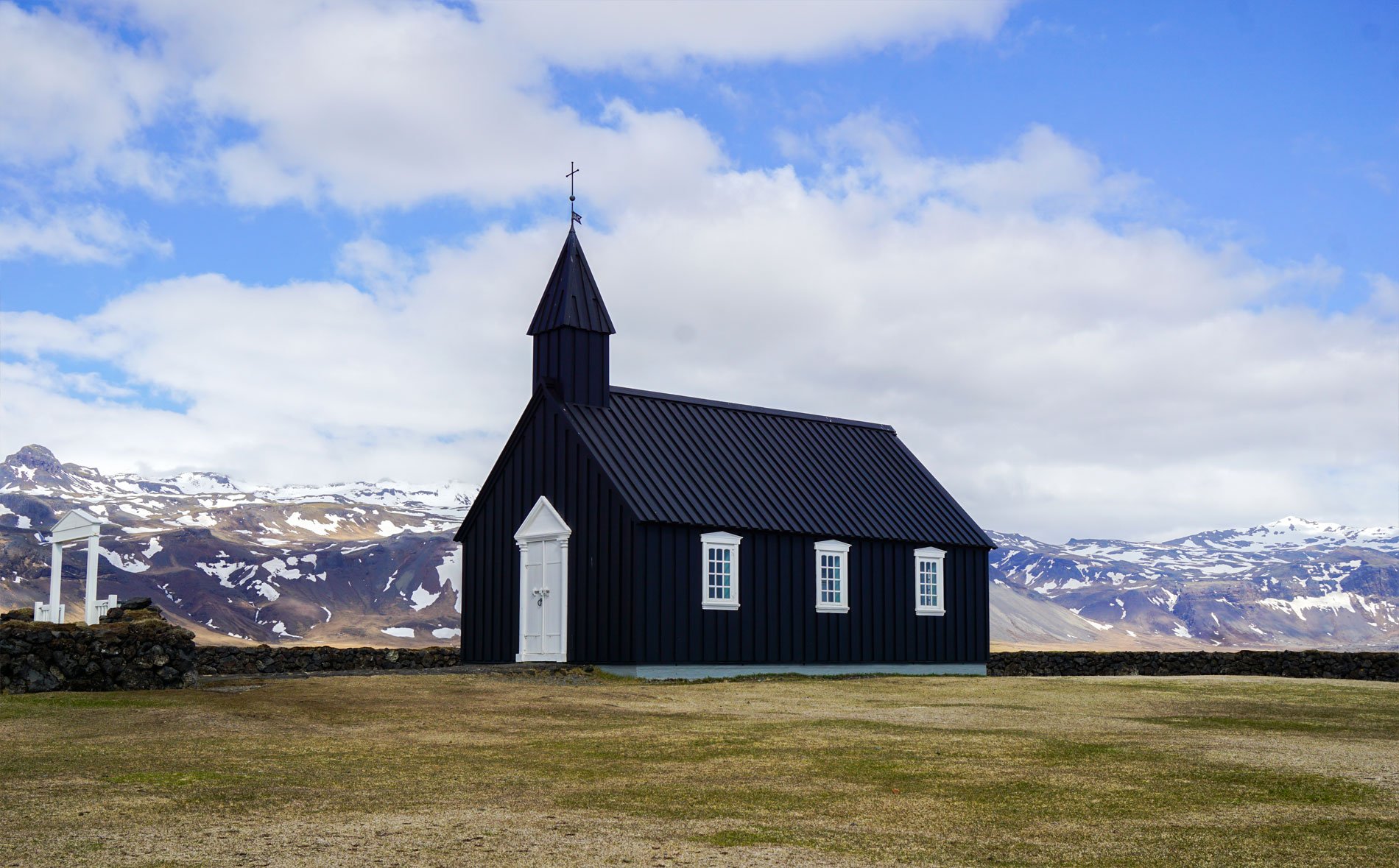 Right next to the church there are ordinary and unusual Búðahraun lava fields. Ordinary for Iceland peoples, unusual for any person who has never seen them before. Overgrown with soft mosses, sometimes discovering their rocky interior.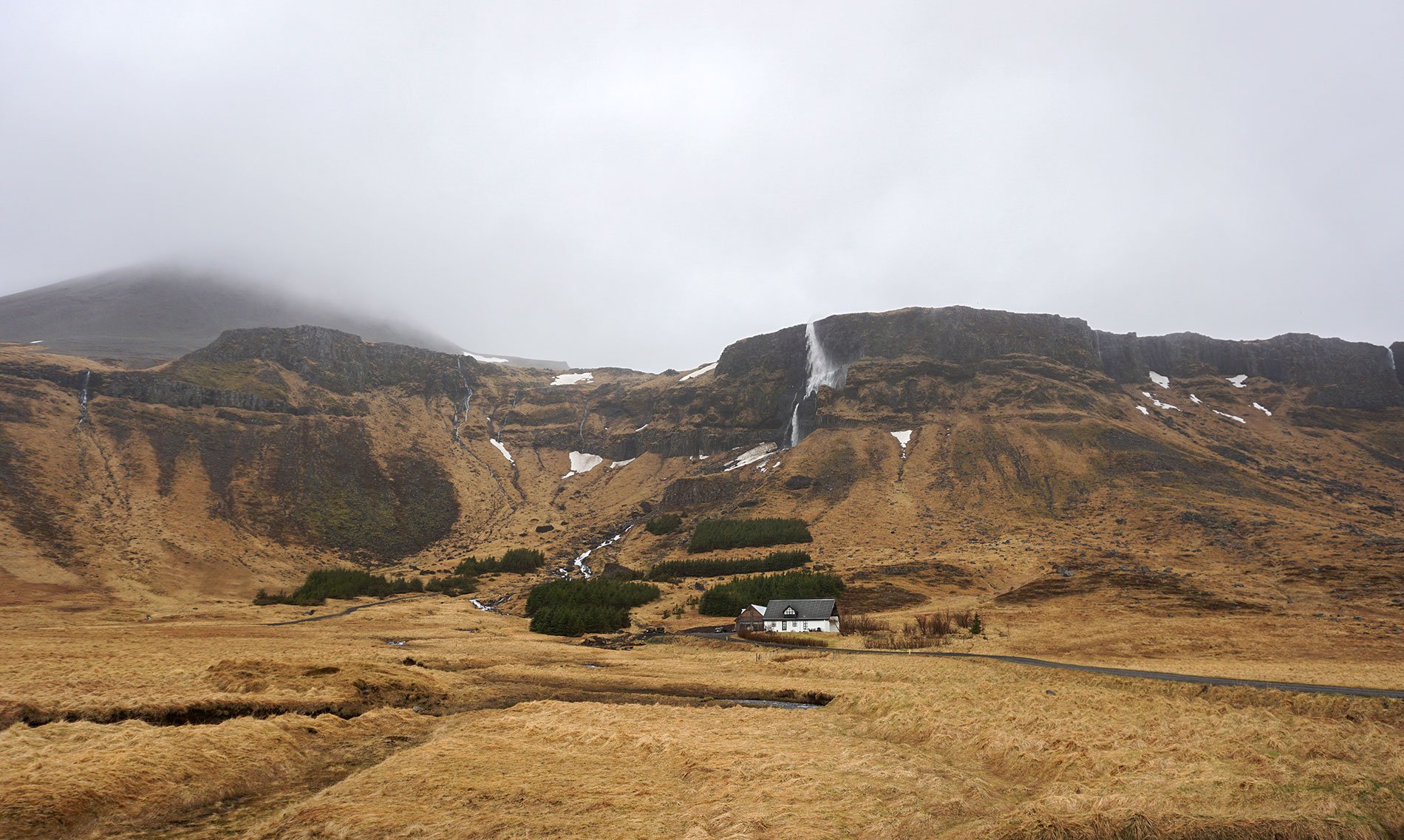 We remember when we first visited this place almost two years ago. At that time we thought that the conical mountain at the foot of which the tiny village of Arnarstapi was located was the Snaefellsjökull volcano. Now we know that at that time the real Snaefellsjökull was sleeping next to that mountain, covered with clouds, and this conical mountain was just an ordinary mountain. :))) Arnarstapi itself consists of several cottages, a small harbor, a gas station, a restaurant, and the biggest attraction of the place, the beach with fantastic cliffs rising above the water. You can spend here an hour, two or even a whole day walking along the surrounding trails. We especially recommend a trip to Londrangar – a really beautiful thing. :)))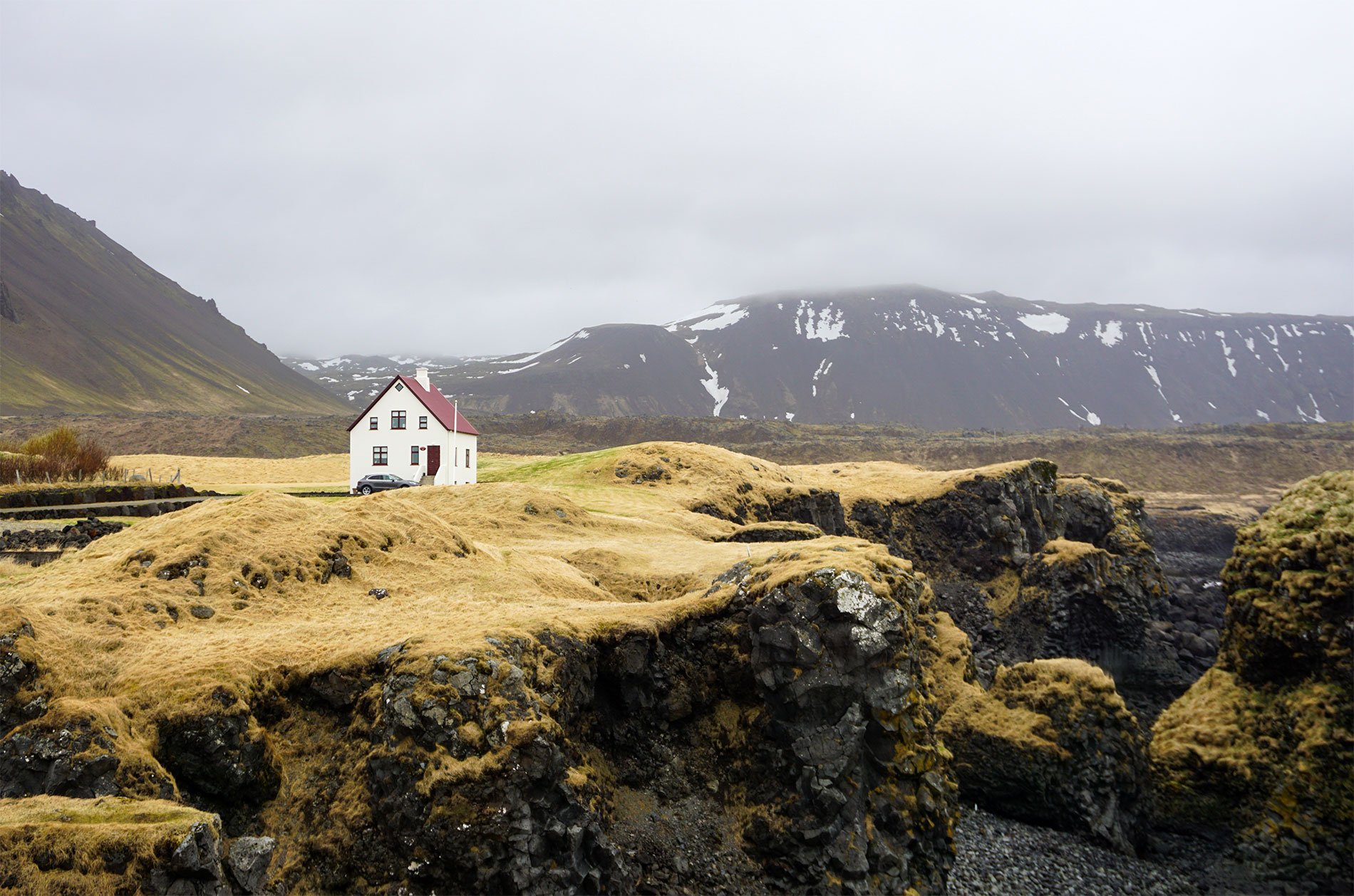 Beautiful Black Beach – Djúpalónssandur
It may not be as vast and stunning as Iceland's most famous black beach, Reynisfjara (we've been there and you can read about it here), but it certainly outperforms its competitor in one respect – you won't find hundreds of Asian tourists here. Those who were on Reynisfjara in the summer know what it means, it was these crowds that caused disappointment and sometimes even irritation. Because imagine a situation where you try to take at least one picture, and all the times you have someone's head or hand, or the whole person in cadr. In Djúpalónssandur you won't find such "pleasures", the opportunity to commune with nature in solitude is priceless. Djúpalónssandur was the first black beach we have seen in Iceland and we think so far it is one of the nicest black beaches we have ever seen.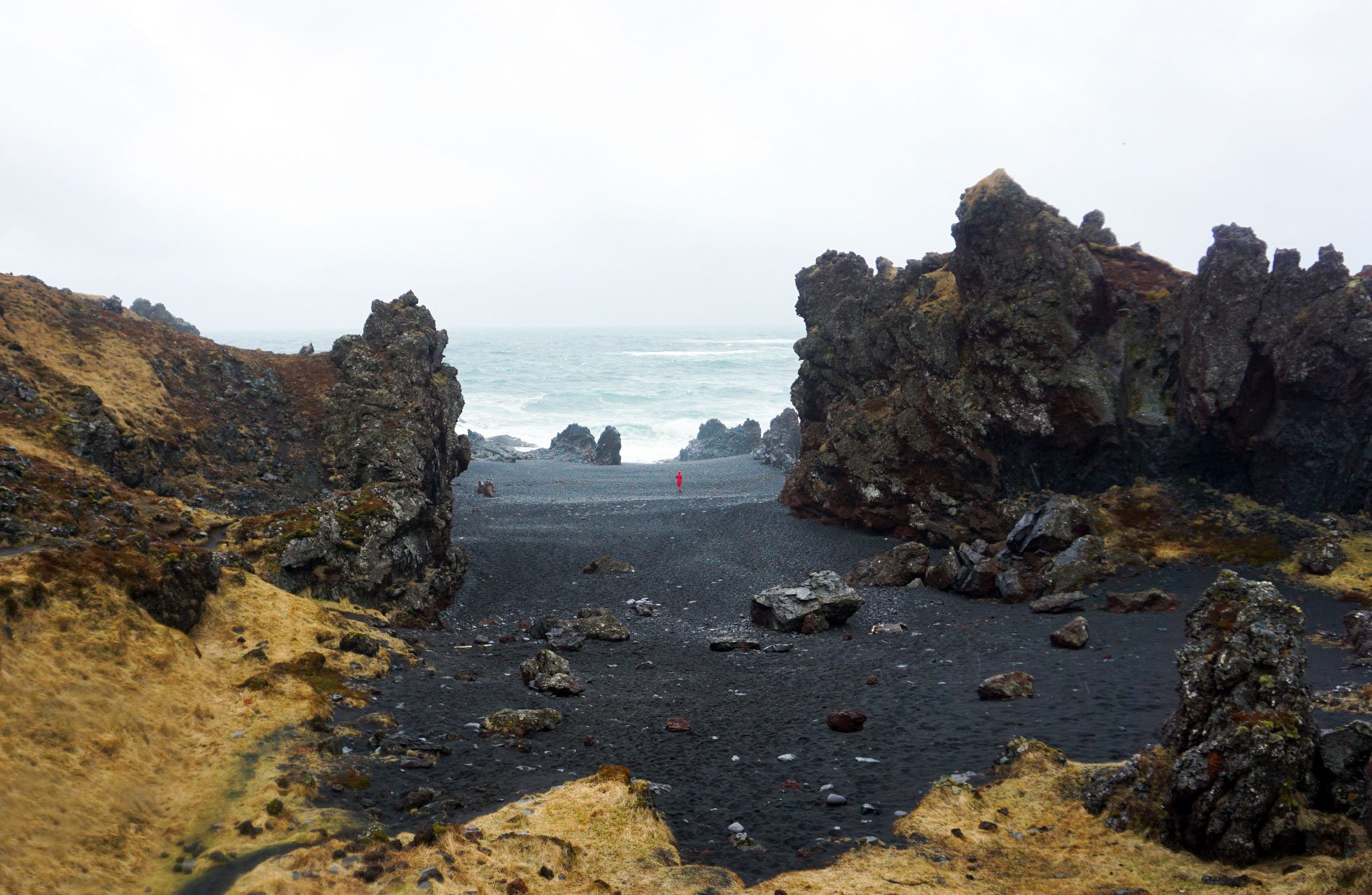 Skarðsvík, Öndverðarnes and Svörtuloft
In Iceland, we have probably discovered all the colors and shades of beaches – black, red, diamond, yellow and beautifully golden. The black ones dominate, so it was a nice change when we came to Skarðsvík – a small, sandy beach of the colour of fawn gold. Going further along the road (unfortunately of very medium quality) you will find two lanterns – Öndverðarnes and Svörtuloft. It is a perfect place to take great pictures of orange objects contrasting with the sky even on a cloudy day.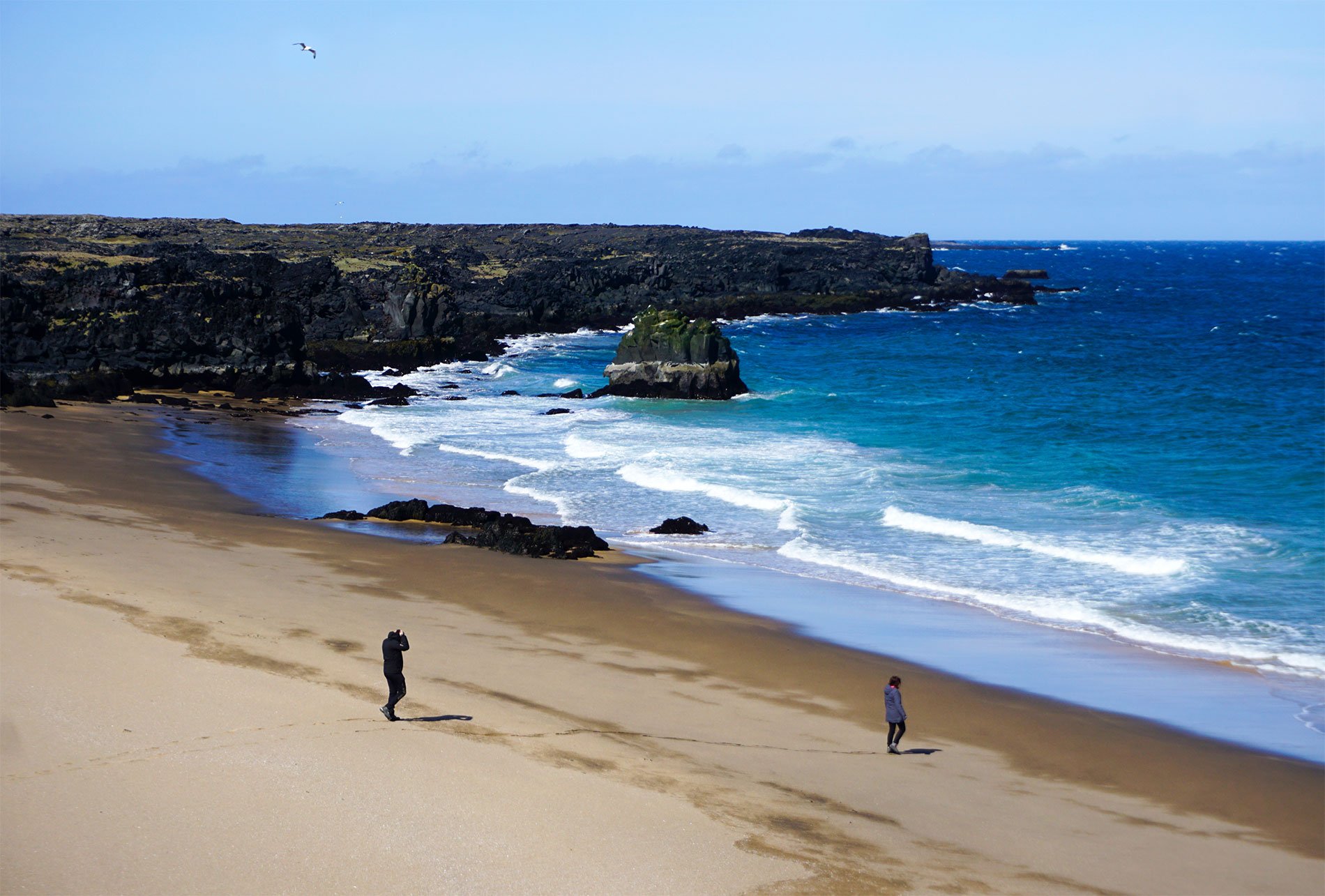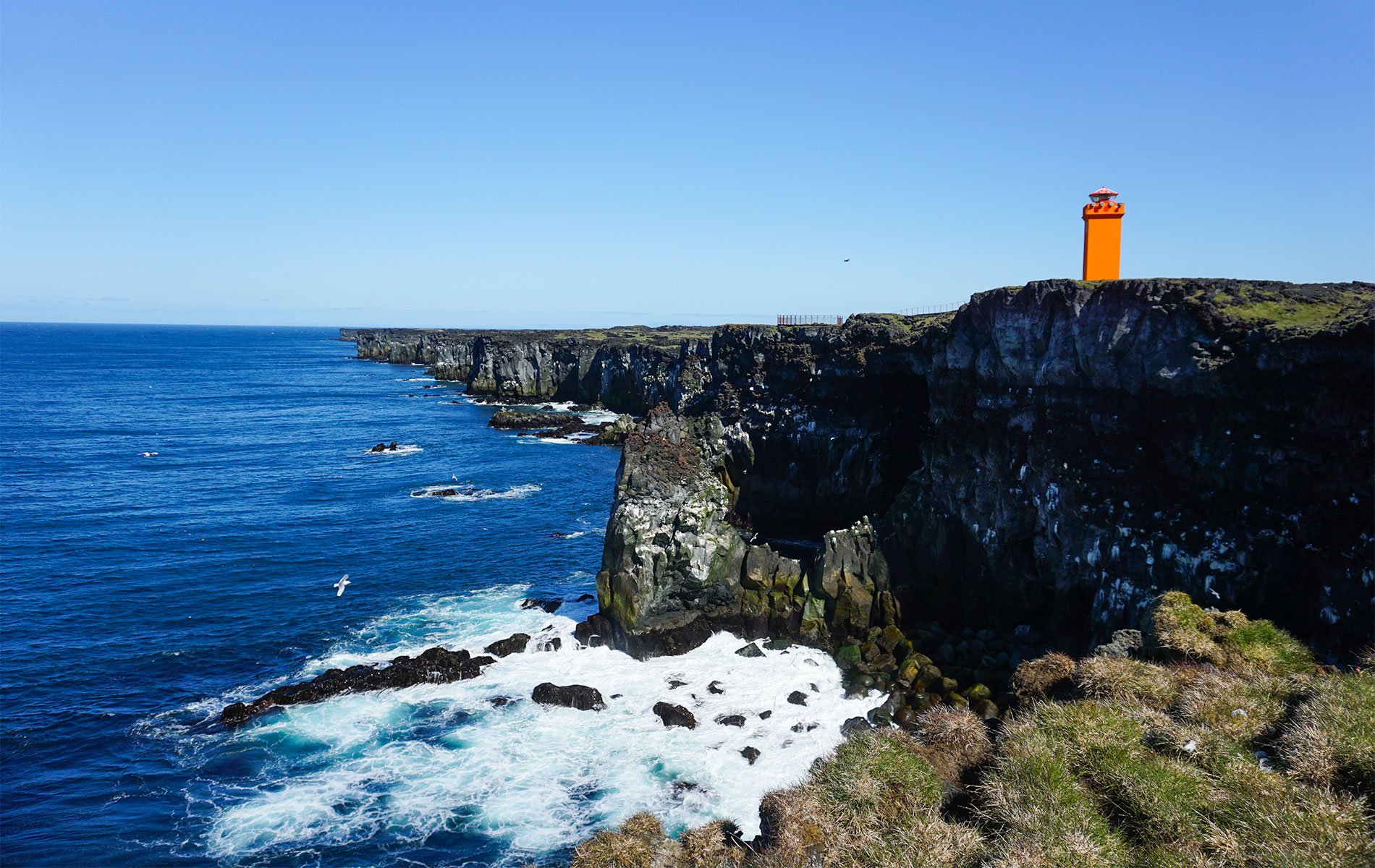 Kirkjufell – Icelandic national icon
Kirkjufell is practically an icon of Iceland and for a few years now also a favorite place for fans of the Game of Thrones TV-series. :))) This is one of those places on the Snaefellsnes peninsula, where there are always tourists, a whole lot of photographers, and now fans of the series and everyone wants to take a similar picture – a waterfall with a conical Kirkjufell mountain as the background. Nevertheless, the place is worth seeing, because it is impressive. Right next door is the charming town of Grundarfjörður, typical for Iceland, but unusual for visitors.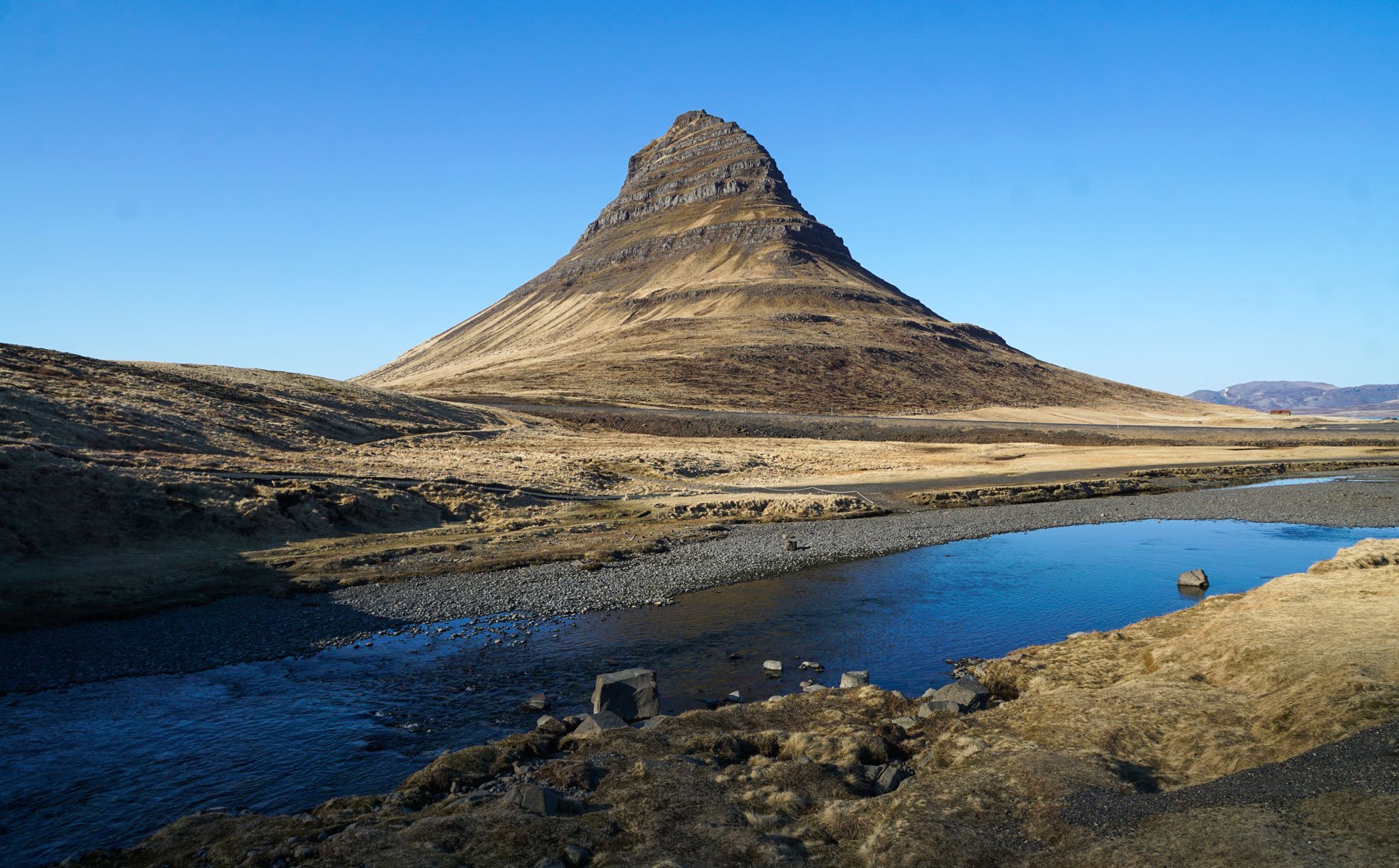 Snaefellsnes peninsula and hot springs
We've written about Landbrotalaug before and nothing has changed since then – it is still one of our most favorite hot springs. Small and intimate. Landbrotalaug consists of two small pools – one perfectly accommodating two people, the other one can fit several, but we definitely prefer the smaller one. The second one has been artificially built up, the bottom is muddy and water flows out of the pipe in the ground. You will find a map with marked springs below. Our previous post about Landbrotalaug can be found here.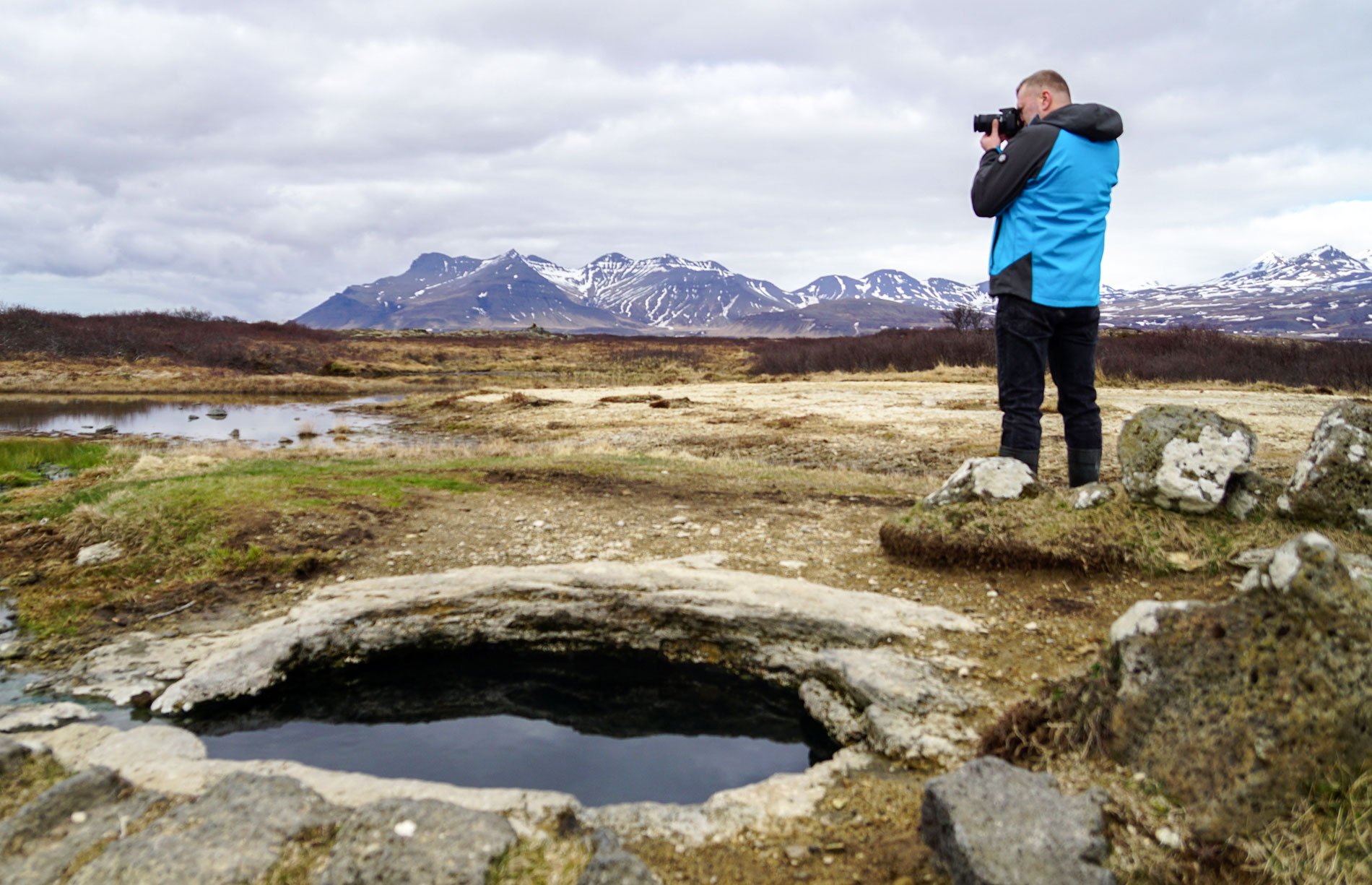 WHAT YOU SHOULD KNOW BEFORE YOU GO TO THE SNAEFELLSNES PENINSULA
The Snaefellsnes peninsula is easily accessible in winter. The main roads are accessible at any time of the year even by an ordinary car.
Out of season most of the restaurants on the Snaefellsnes peninsula can be closed, except maybe for those in Stykkishólmur, so keep this in mind and don't forget about a thermos with coffee and something to eat.
If you're going further, to Western Fjords, it's from Stykkishólmur that the ferry runs, which can help you save some time, definitely not money.
During your stay at Snaefellsnes, you can visit the Vatnhellir lava cave. The price list and description of the trip can be found under this link. Frankly speaking, we have never used this option because we are not fans of caving.
And as the caves were never chosen by us, we are always on the lookout for a trip to the top of the Snæfellsjökull glacier. We're giving you a link to the offer we were considering.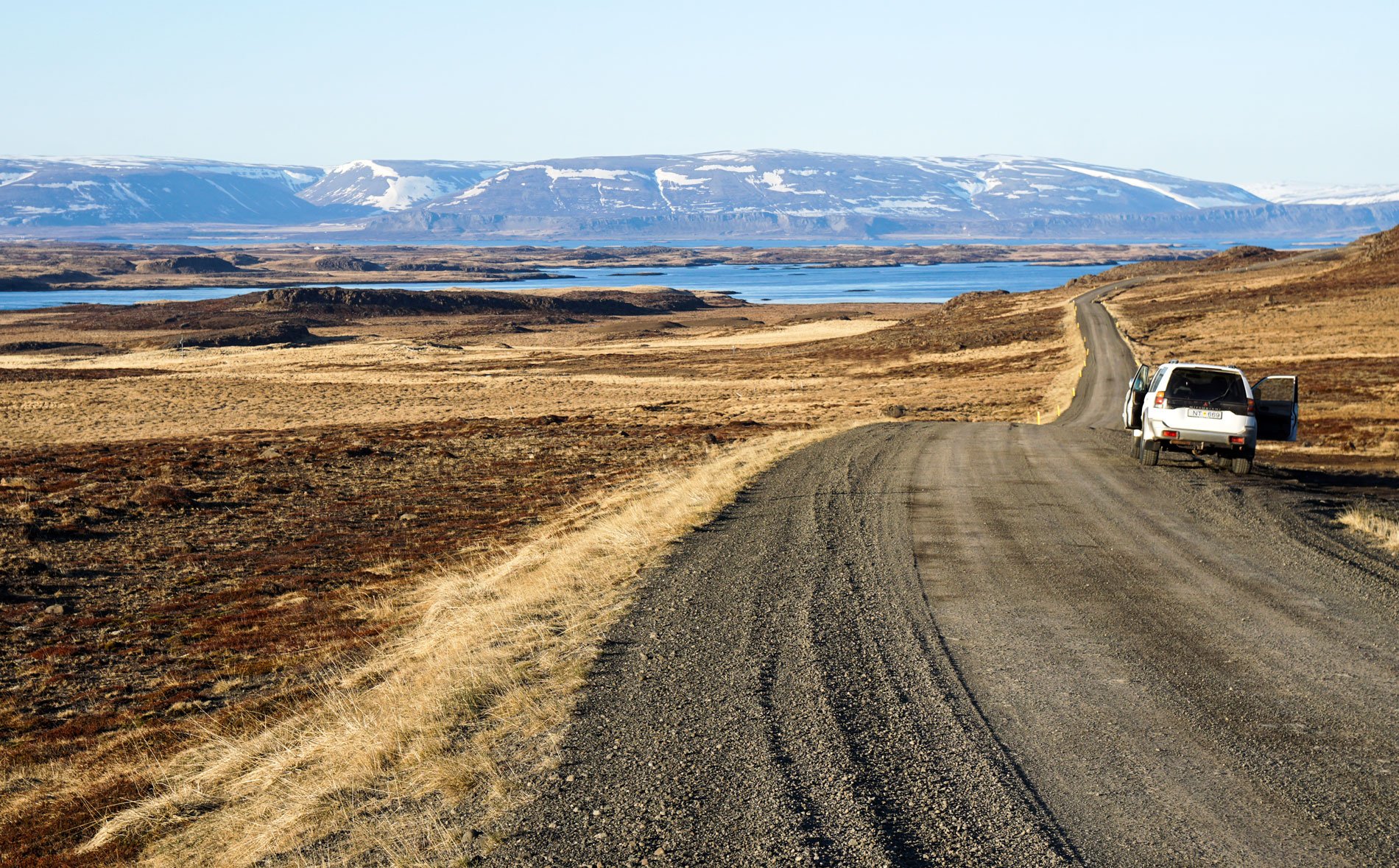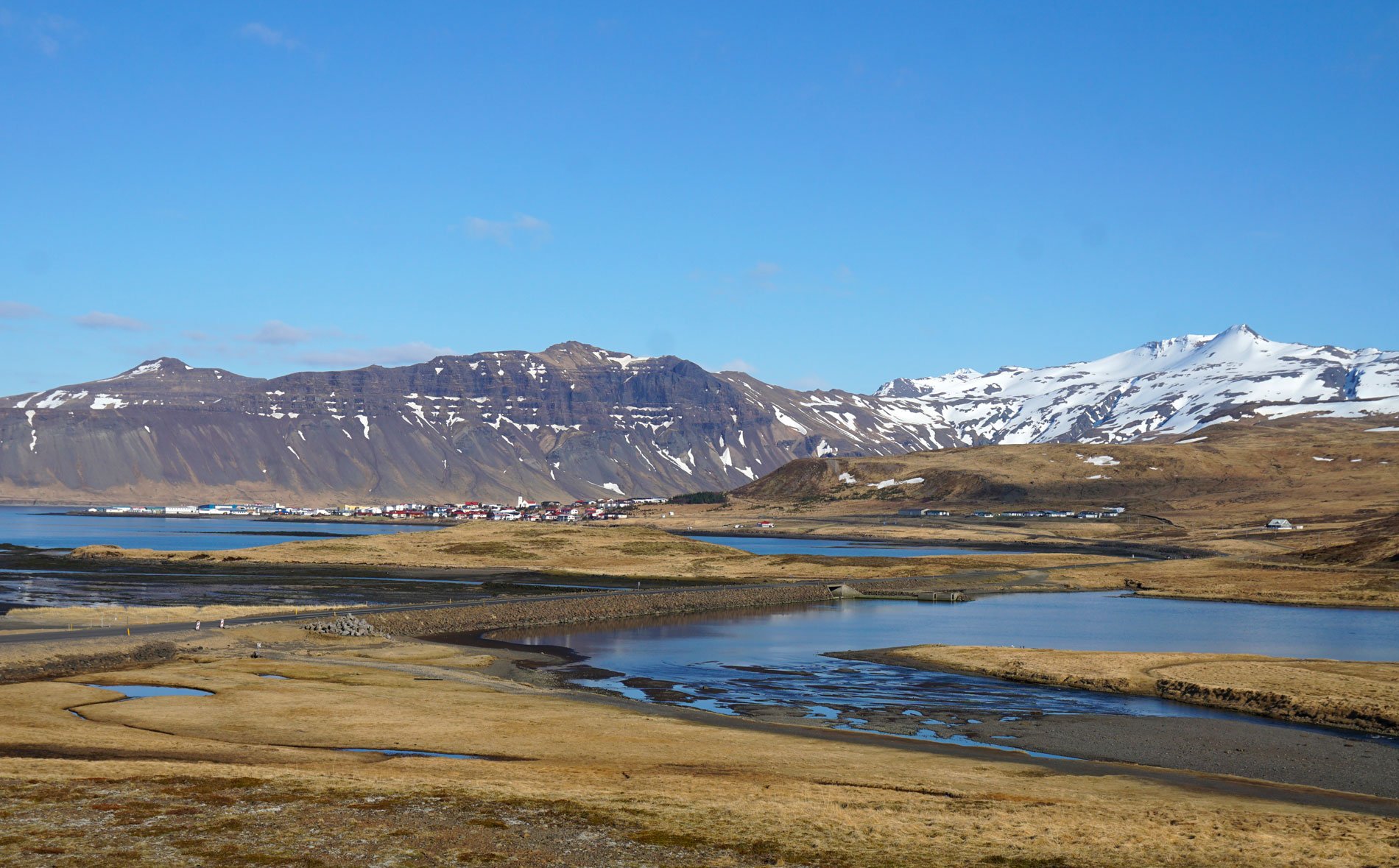 As we have already mentioned before, below you can find a map with all the points of interest on the Snaefellsnes peninsula, of course there is much more places than just the ones we described. There are also basalt columns, waterfalls, places known from the film The Secret Life of Walter's Mitty, and a magical mountain that fulfills three wishes if we climb to its top without turning back and without giving a word. We hope we have encouraged you enough to consider spending a few days in Iceland on the Snaefellsnes peninsula, instead of following the beaten track with many other tourists.