Rome, Venice, Florence, Verona. What connects those cities? They are loud, overwhelming and simply tiring. And sometimes you just want to walk along the cobbled streets and enjoy the beautiful architecture in calm and quiet. If you are looking, like us, for a bit of respite, then Padova will be an ideal city for you. It's a bit in the shadow of other well-known Italian cities, but still bears the nickname of the capital of art. And wears it not for no reason. Additionally, Padova, due to its location, is a great base for excursions. 40 km to Venice, 80 km to Verona, and the "cherry on the cake" for motorcyclists – San Boldo Pass, just over 90 km. Read our mini guide to Padova and see what's worth seeing.

Guide to Padova –

Venetian sister
Do you guys feel like you've seen all this stuff before? That the Palazzo Della Regione at Piazza Delle Erbe reminds you of something? You must have been in Venice before. Padova was under the rule of Seressinima since 1405. Four centuries of Venetian rule left a strong mark on the architecture – beautiful palaces, lions of St. Mark, which were the symbol of Venice, canals on the river Bacchiglione. Venetian sister – that's what Padova was called. During this period, Padova experienced its greatest prosperity, not only cultural but also scientific. Thanks to its dependence on Venice, the University of Padova was able to relax the teaching frames, imposed by the Church-State, and extend its scope with new courses.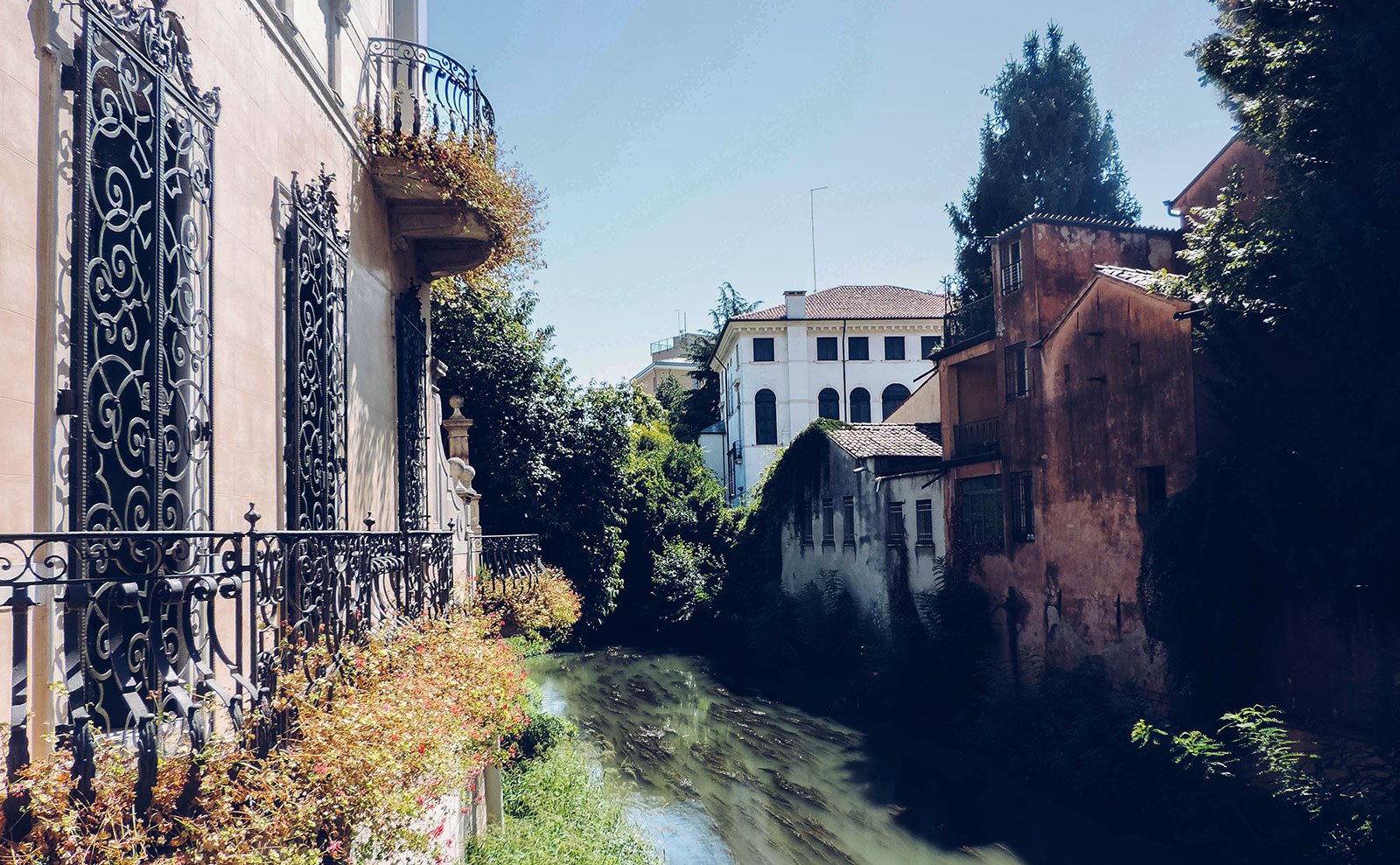 Padova –

a university city
What did we hear about Padova before we saw it with our own eyes? That her heart is the university. And it is not just "any" university, because it is the second oldest in Italy and the seventh in the world. It was founded in 1222. Galileo Galilei, Nicolaus Copernicus, Pope Sixtus, Jan Kochanowski and even the famous Giacomo Casanova was one of the students. It was there that Helena Lucretia, as the first woman in the world, received her diploma. And during his legal studies, Jan Zamoyski fell so much in love with Padova that after his return he built a city in Poland which had identical town planning assumptions. Do you guess which ones? Yes, it is Zamość. If you want to feel at least a little bit like in Padova, you don't have to drive 1600 km from Poland.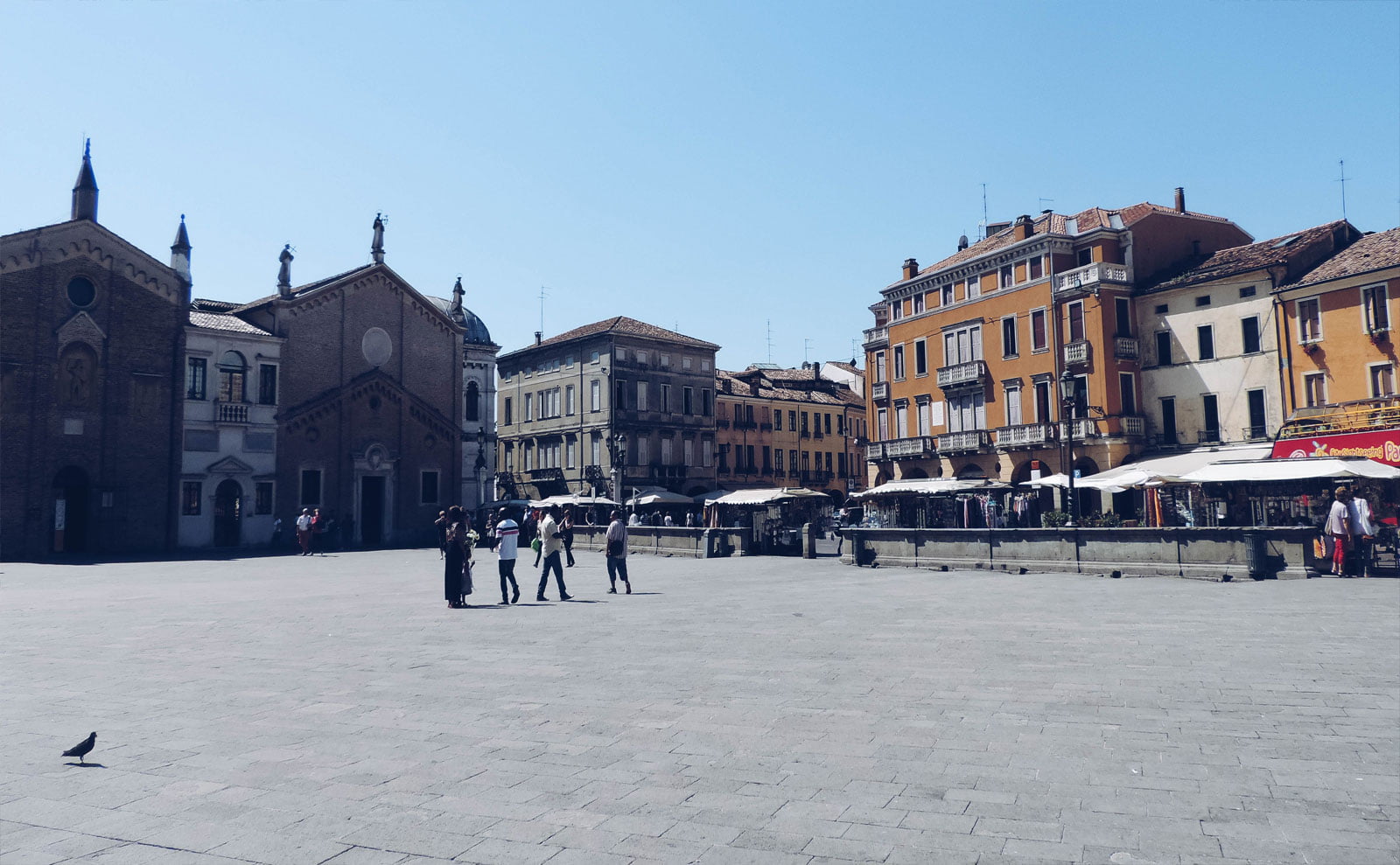 City of nameless – Santo senza nome
It's not just the University of Padova that's famous. Town also has its own "nameless" saint, which is none else, as the well-known St. Anthony, the patron saint of the poor and the lost. It is probably one of the most popular and loved saints in Italy. Why the nameless? Because the inhabitants of Padova simply call him "a Saint" – Santo senza nome, and the Basilica just a Basilica, without using the name of the Saint. Saint Anthony of Padova did not really come from Padova, he was a Portuguese missionary who wanted to go to the Middle East to convert the pagans, but his ship crashed on the shore of Italy during a storm and has already stayed here, preaching his sermons, which are said to have helped him kidnap crowds. His name was not Anthony either, but Ferdinand. When he joined the Franciscans' monastery, he changed his name. His statues are buried in letters from the faithful from the whole of Italy. When, after 30 years, his coffin was opened, the whole body of the saint was decomposed, only his tongue and vocal cords were left.
Place of Saint Anthony's worship –

St. Anthony's Basilica
There is one place in Padova where we can be sure that we will meet crowds of tourists and pilgrims – St. Anthony's Basilica. This is where the beloved saint of Italians is buried. Many miracles happened at his tomb, so it is believed that he has a magical power, and pilgrims from all over the world leave at his tomb small medallions and holy pictures. Interestingly, some pilgrims do not believe in God but simply believe in St. Anthony. From the outside, the basilica was made in the Byzantine, Romanesque-Gothic style. It was built on the plan of a Latin cross and covered with eight Byzantine and Venetian domes. Unfortunately, all of them are visible only from a bird's eye view, but they really make an impressive impression. The interior is modest and quite raw. If you expect something spectacular from the chancel designed by Michelangelo himself, you may be a bit disappointed.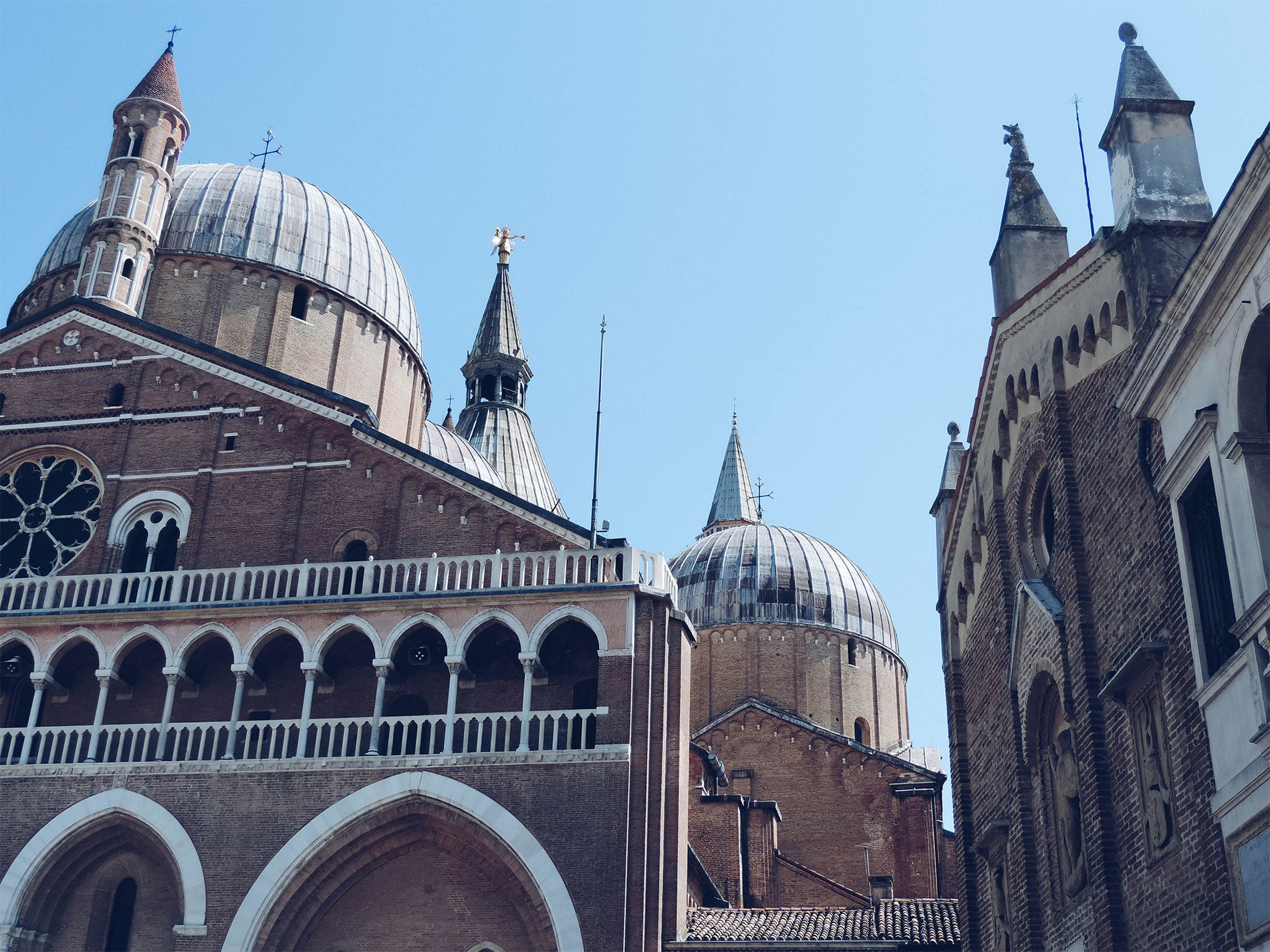 Prato Della Valle

– field without a grass
Not far from the Basilica, there is the largest square in Padova and one of the largest in Europe. This is where fairs used to take place. Today it is, in his central part, overgrown with grass and surrounded by a canal. And beware: you can freely spread out a blanket and relax or have a snack. We would like to write "in the shade of trees", but we were there at noon, so there was no such thing as the possibility of hiding in the shade of anything. Along the canal, 78 statues of famous figures who contributed to the development of the city were erected. Among them, there are also Poles – Jan III Sobieski and Stanisław August Poniatowski. Right next to the square there is the Basilica of St. Justyna. The building from the outside is quite ascetic and poor in architectural decoration, but inside it hides the beautiful works of Paolo Veronese. St. Justyna's Basilica is one of the largest Christian churches, built in the years 1532-1580. The Basilica is adjacent to the oldest botanical garden in Europe and one of the oldest in the world, built on the initiative of the University of Padova and thanks to the financial support of the Republic of Venice.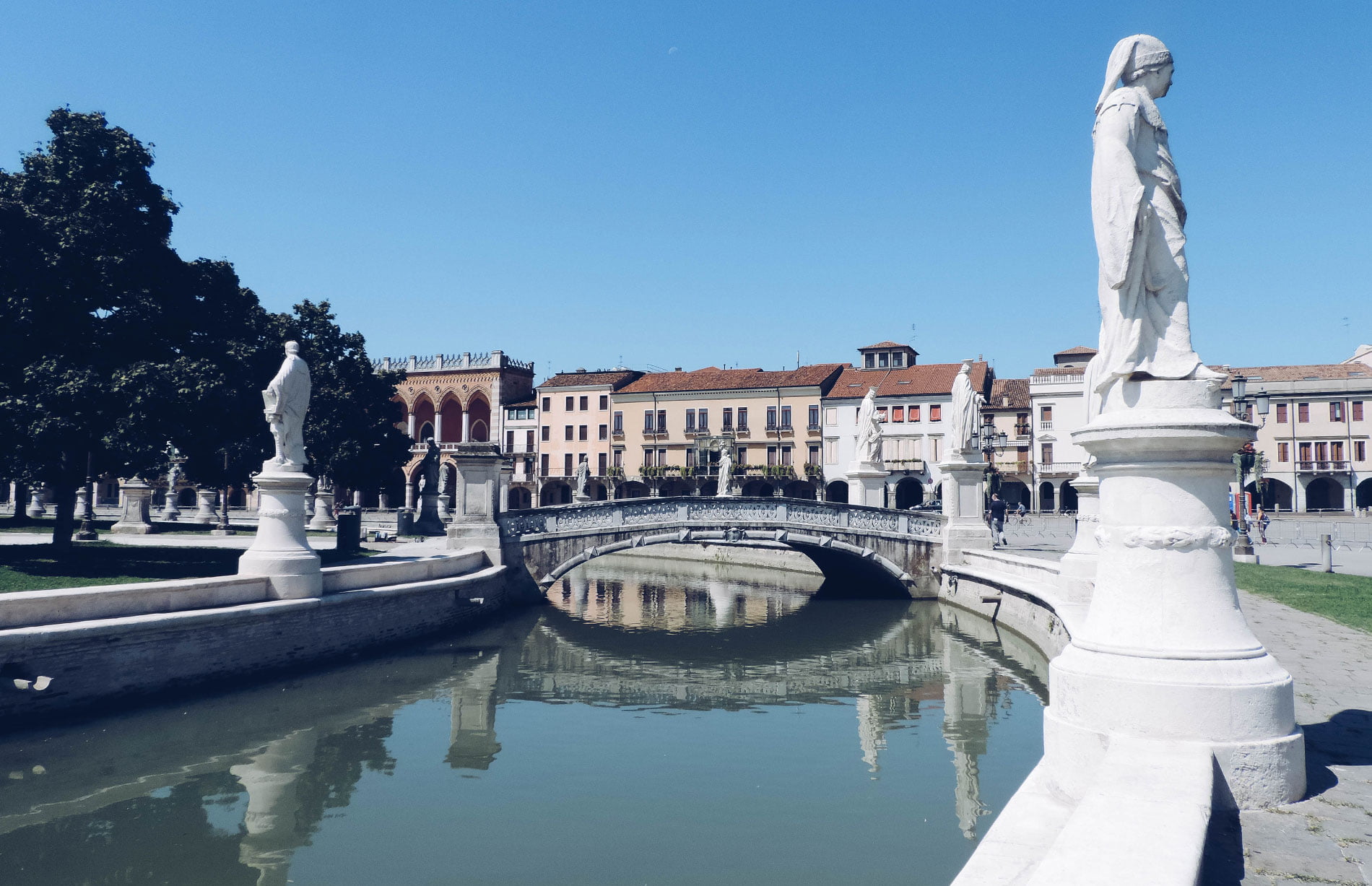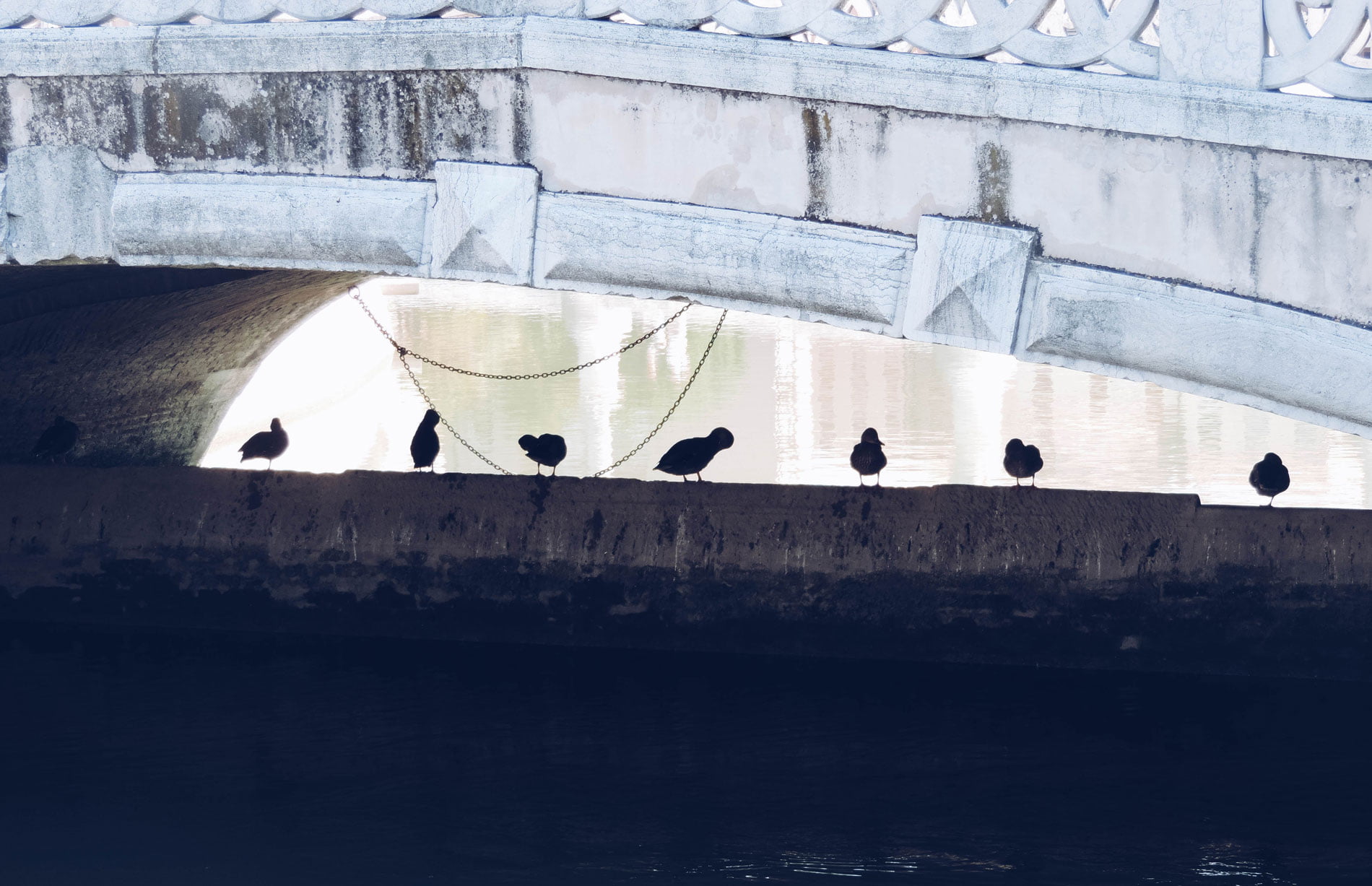 Guide to Padova – what else is worth seeing and what we have failed to do?

It's a shame to admit it, but the conservator (which I'm) hasn't found time to enter the Scrovegni chapel, whose vault is decorated with Giotto's own frescoes from 1305! But to see all the Padova frescoes, you have to spend at least one day, and the Scrovegni chapel is one of many. It is said that in order to enter the chapel you need a preliminary reservation, although we did not find such information on the tourist information page. It is worth checking it out, so as not to be disappointed later.
It was founded in 1545, making it the oldest botanical garden in Europe. Some people are delighted and others are disappointed. The entrance fee is 10€, so probably some people may think that the price of the attraction is too high. The garden has preserved its original shape and many valuable plants and tree species to this day. Among other things, there is the St. Peter's Palm, also known as the Goethe Palm, planted in 1585!
ANATOMICAL THEATRE AND A TOUR OF THE UNIVERSITY OF PADOVA
A guided tour of the oldest preserved Anatomical Theatre in the world will take you on a tour of the famous Magna Aula. It's worth paying 7€ to see the room where the first autopsies were performed. Unfortunately, the PadovaCard does not apply here.
Right next to the University there is the oldest café in Padova. It is called caffe senza porte – a café without doors. It used to be the intellectual center of Padova. It is especially popular among university professors and students. Apparently it was often visited by George Sand.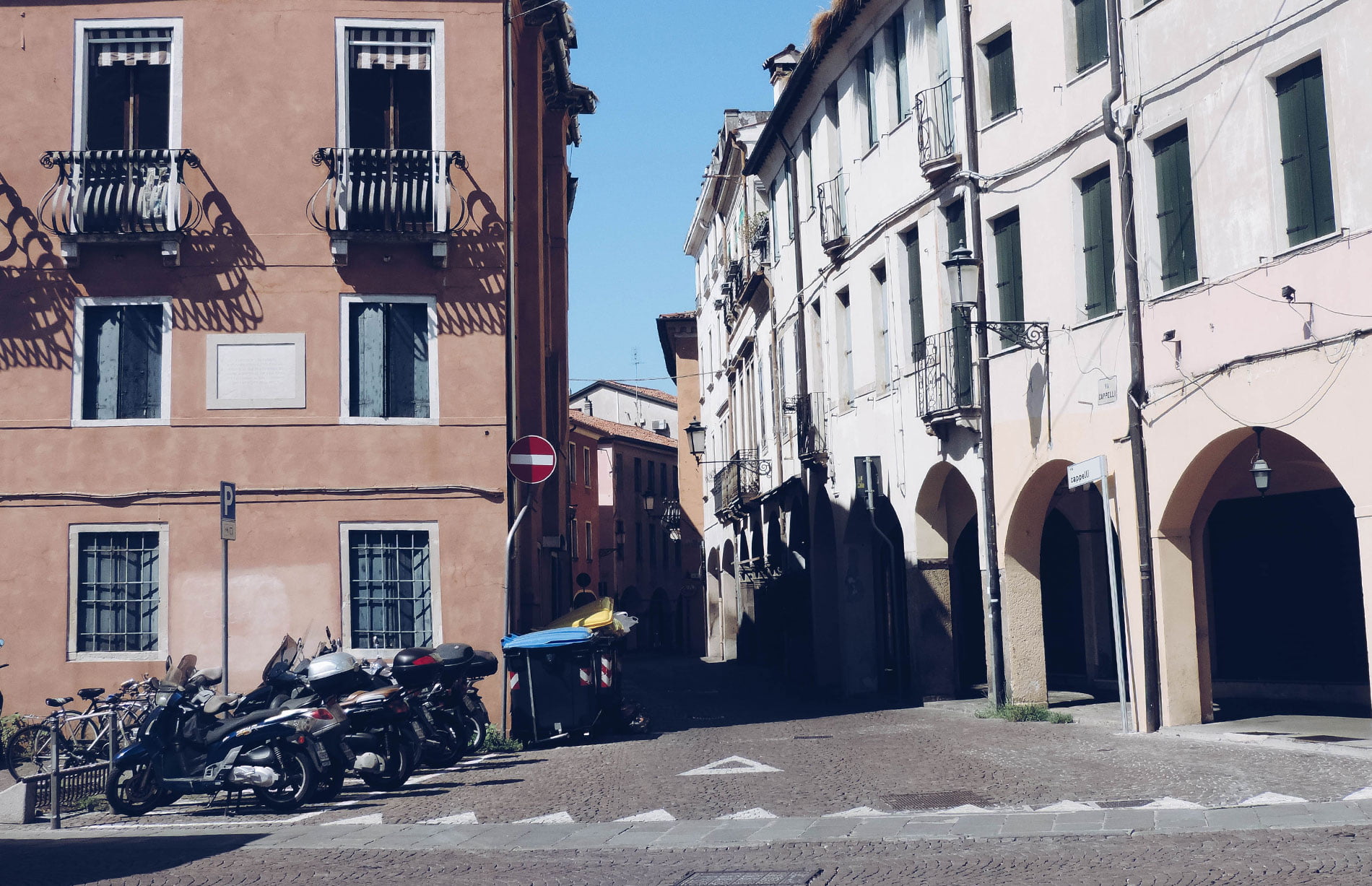 Guide to Padova

 – what you need to know more about
Padova is best explored by walking. Most of the attractions are concentrated in the center. You can also rent a bike, which is a very cool alternative. Bicycle paths looked very well maintained and pleasant, and tourists in Padova very gladly used this type of transport. In Padova you can rent a bicycle in

GoodBike Padova

– we passed many places where you could take and leave town bicycles.
If you want to visit museums, it is worth to buy a PadovaCard. Unfortunately, tickets to the main attractions are quite expensive, so you should be interested in tourist cards, which allow us to enter most of the monuments for free or at a lower price. The cost of a 48-hour card is 16€, a 72-hour card is 21€.
Remember that in Italy, the first Sunday of the month allows free entry to most museums, it's worth having in mind when planning your excursions. You'll be able to save you a little bit of money. On Mondays, most of the museums are closed, just like in Poland.

Entrance to St. Anthony's Basilica and St. Justyna's Church is free. Remember that there are museums near the basilica also and you'll need a ticket there.

It is also worth remembering that churches are very often closed for a few hours during the day, it is good to check the current opening hours.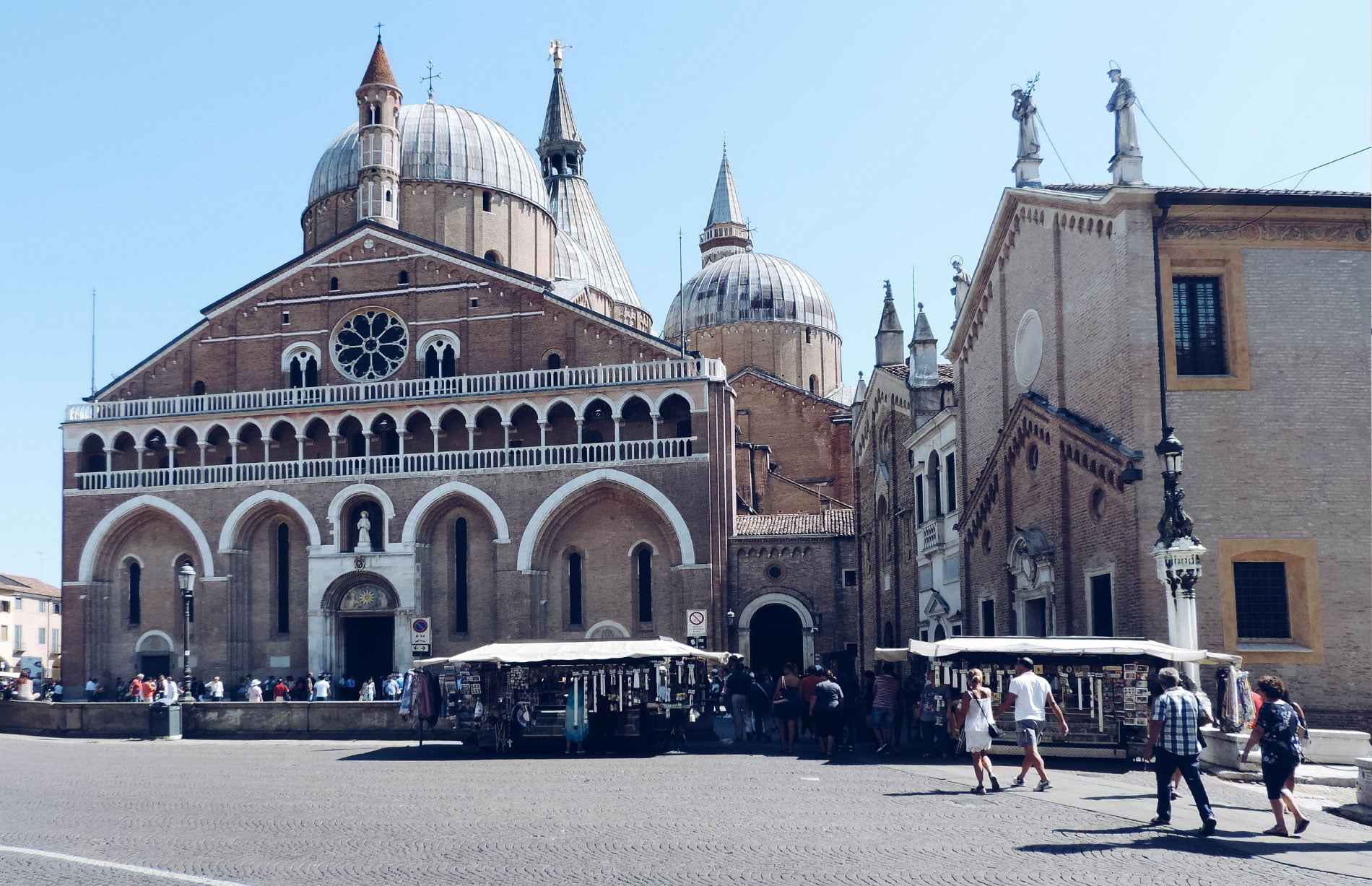 A bunch of useful information and links at the end
Are you looking for a place to stay in

Padova

?
We would be pleased if you could use our referral link to BOOKING.COM. You will appreciate the time we spend on running our blog and help us to expand it further. Below you will also find our suggestions for accommodation in Padova.
| Tulip Inn Padova | Residence Piazza Garibaldi | Bsuites Scrovegni |
| --- | --- | --- |
| | | |
| Nice hotel with parking in front, good breakfast. Very welcome and hospitable stuff. | Friendly owner, difficult to find location, but once finded you'll enjoy your stay in that beautiful apartment! | Apartment close to the center. Very well equipped and comfortable. |
| | | |
Tulip Inn Padova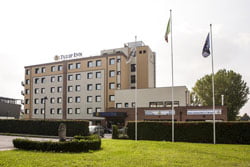 Nice hotel with parking in front, good breakfast. Very welcome and hospitable stuff.
Residence Piazza Garibaldi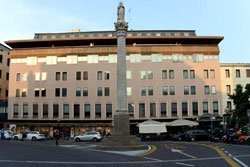 Friendly owner, difficult to find location, but once finded you'll enjoy your stay in that beautiful apartment!
Bsuites Scrovegni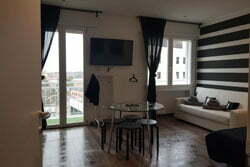 Apartment close to the center. Very well equipped and comfortable.